Exclusive Interview with former Celtic Star Tommy Callaghan…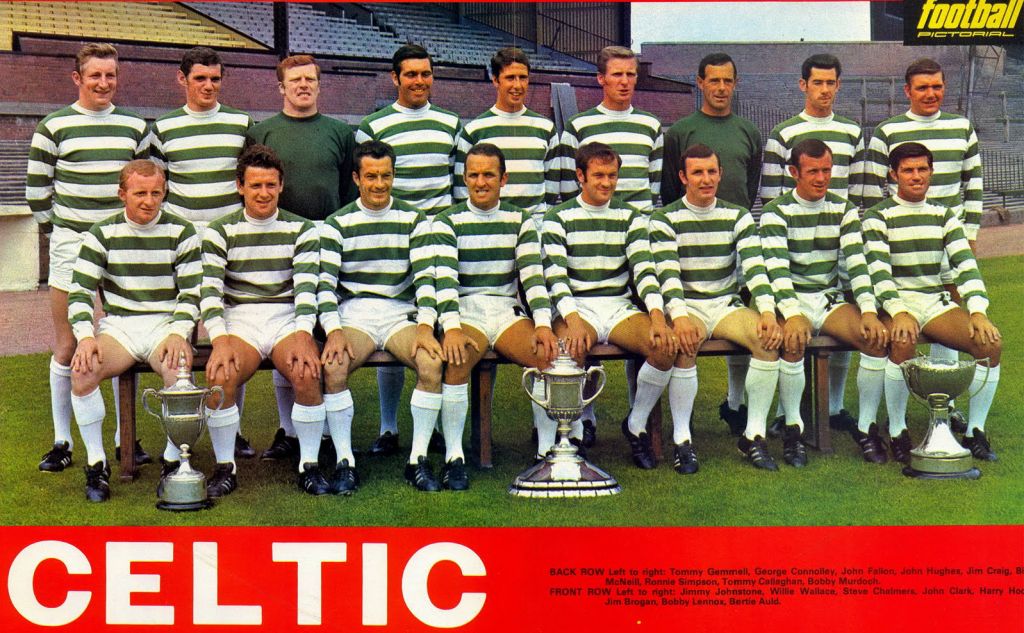 Just had the nicest chat with that wonderful Celt, Tommy Callaghan, an absolute gentleman with a host of great stories from his life and career. He has kindly agreed for me to share some of those with readers of The Celtic Star….
Matt Corr:

Firstly, Tommy, thanks a million for taking the time and trouble to talk about your time at Celtic, and indeed, before and after that great time of your life. First things first, have you always been a Celtic supporter?
Tommy Callaghan: I have indeed, Matt. And I owe that to a lovely man called Owen Moran, a Celtic-daft neighbour and family friend, when I was a kid back in Cowdenbeath.

I was the youngest of four brothers and Owen would take me to the games at Parkhead on the supporters' bus which left Cowdenbeath. He was one red-hot fan of Bobby Evans, I recall.

There's a nice story, there, actually. Some years later, when I had signed for Celtic, I took Owen through with me in the car for a few of the matches I was playing in. He was absolutely over the moon. He got very emotional and he couldn't stop crying. The wee lad he took to the games was now taking him to see him wear those famous Hoops. I loved being able to do that. To repay him for those early trips.
Matt Corr: I remember you initially as a player at Dunfermline, in that classic pin-stripe kit, before you signed for Celtic. Can you tell me how that all came to pass?
Tommy Callaghan: It was largely down to Jock Stein, to be honest. Back in 1962 I was playing with local Junior outfit, Lochore Welfare. I'd be about 17. They had a tremendous track record of young, talented players turning senior.

Alec Edwards had signed for Jock at Dunfermline the year before and Willie Johnston and Ian Porterfield would also turn pro around the same time and go on to have excellent careers. Anyway, I was training with Cowdenbeath at the time and their manager, Harry Colville, was really keen to sign me and it looked like I would go there.

A scout named Jimmy Paterson was also on the scene. He was one of those guys who just ate, slept and drank football. I don't think he ever went home.

He obviously liked the look of me, and recommended me to Jock, who promptly offered me the chance to sign for Dunfermline Athletic. I was really happy to do that, as Dunfermline were a top side at the time and were clearly going places under Jock.

My older brother Willie was already there. I do remember Harry Colville taking the news badly, though, which was a shame.
Matt Corr:

Speaking of the Blue Brazil, I remember Cowdenbeath being in the top division for one season, around 1970 or 71, Celts winning 5-1 at Central Park, the only time we've played there that comes to mind.
Big Yogi scored that day, I'm sure, and Harry Hood. There was a speedway track around the pitch and for some reason I remember the match programme talking about stock car racing. Did you get the opportunity to play on your old stomping ground for that one?
Tommy Callaghan: I did. I don't remember a huge amount about it, to be honest, but I did play.
Matt Corr: You played in two Scottish Cup finals with Dunfermline, losing out to Celtic in 1965 then beating Hearts in 1968, both times turning out with your brother. Those must have been very proud occasions for you and your family.
I read fairly recently that Rangers had been asked to move their League game with Aberdeen at Ibrox, which clashed with the final in 1968, to help attract a bigger crowd to the showpiece but that they had refused, and the attendance was around half what would normally have been expected, 50/60,000.
My brother was there, and I know that Jock Stein took the Celtic squad to Hampden. Celts then clinched the title in midweek at East End Park, amidst the most incredible crowd scenes. That must have been some atmosphere to play in?
Tommy Callaghan: Absolutely. Rangers drew or lost that match at Ibrox, which meant that Celtic were the champions without kicking a ball. They say there were 30,000 inside East End Park that night but it felt like 90,000!

I was approached by a Celtic supporter outside the ground looking for tickets. Told me he had travelled all the way up from somewhere in England to see his team play.

I would have loved to have helped him out, but I had no tickets. There was folk on the roof, and some climbed up a floodlight pylon. And crushing on the terracing, which wasn't good. Tiny Wharton was the referee, I don't know if you remembered that?

The game was stopped at one point as they tried to get people to come down from the roof. Astonishing night.
Matt Corr: And just a few months later, you were a Celt. What do you remember about your debut?
Tommy Callaghan:  First and foremost, I remember the size of the crowd as we drove up to Firhill. I had signed on the Friday and 24 hours later I made my debut against Thistle. I'd never seen as many people outside a stadium before.

I have to confess that I was nervous and had a few 'collywobbles.' Big Jock was brilliant, though. He said to me in the dressing-room, "Just go out and enjoy yourself, Tid. Just do what you do." He put me right at ease and I went out and scored on my debut and we won 4-0.

On the Monday, the team were flying out to Belgrade for the second leg of the Red Star European Cup-tie.

But I was ineligible, so I ended up at Barrowfield, training with wee Jinky, who as you'll remember, was excused from flying to Yugoslavia as he had helped get us a 4-goal lead in the first leg. I've never seen anybody as happy as him to miss out on a trip abroad!
Matt Corr: Other early memories of joining Celtic, Tommy? Getting to know the lads, on and off the pitch?
Tommy Callaghan: They were a great bunch, to be honest, Matt. For trips to Seamill and European away games, Jock liked to 'pair up' guys who would most likely get on well together. It was one of those 'Jock Stein things,' I guess, which inevitably worked.

Most of the boys had been there a while and the room arrangements were already established. So, Cesar and John Clark would share, Tommy and Bertie, the 'old guys' Faither and Stevie and Bobby Murdoch and John Fallon. Willie Wallace and Jim Craig was another, although I shared with Willie when I first joined.

A few months later, Harry Hood signed from Clyde, and Jock put us together. Harry and I just clicked, and we became great friends. He was a good lad. A smashing football player and he loved his golf.

Harry also had a very good business brain, and he was always thinking ahead. Some of the boys had moved into the pub business at the time and I remember he was thinking about buying a pub up in Uddingston or thereabouts, Sherwood Manor, I think.

His brother, George, God rest him, and wife Kathy were involved in running that from memory. Harry was great company and fitted in really well at Celtic.

Getting back to Seamill, those were wonderful times. Jock used to send Neilly Mochan and Bob Rooney to check we were all in our rooms at night. They were great characters who liked a laugh. I loved Neilly's stories. His opening gambit would usually be something like, "Right, lads, any wee Bacardi's for me?"
Matt Corr: I used to see you in church in Bishopbriggs when my kids were young. How did you end up living there?
Tommy Callaghan: I continued to travel through from Cowdenbeath initially and then, sometime in 1969, Jock took my wife and I around Bishopbriggs to look at houses. He said it was the Fife side of Glasgow, whatever that means! Joe McBride and Stevie Chalmers were already there, which was great. We've been here ever since.
Matt Corr:

What were your major highlights and disappointments as a Celtic player, Tommy?
Tommy Callaghan:  Well there's no doubt about the biggest disappointment. That was Milan in 1970. We underestimated Feyenoord, who were an excellent team.

Lots have been said and written about that match over the years, but it was their turn. They were a great team. European highlight would be the quarter-final against Basel at Parkhead four years later. I managed to score a good goal and you tend to remember those.

We qualified after Steve Murray headed a late winner. Stevie was another good, good lad.

Domestic match? That would be the 1972 Scottish Cup final against Hibs. Dixie was unplayable that day and I remember coming off the pitch at the end feeling like I'd played well. That was a brilliant day.

Another disappointment was missing out on the opportunity to play in Bobby Moore's Testimonial game at Upton Park in November 1970. I had been stretchered off against St Johnstone at Parkhead with a badly cut leg a few weeks before that game. A horrific injury that was.

Anyway, I was still out when the boys left for London. Bobby had been my idol as a kid. Gutted isn't the word. I would get to live the dream, right enough, by playing in the same team as the great man. You'll enjoy this, Matt. In the summer of 1976, towards the end of my time at Celtic, Jock Stein took a call from Harry Hood, asking about the possibility of me being made available to play some games for San Antonio Thunder in Texas.

Harry had been over there with his family for a few months and he said I would like it. I was really keen but Jock less so, for whatever reason. Anyway, long story short, the Boss agreed, so we headed over to San Antonio.

Apart from Harry, there were a few players I knew already at the club. Jim Henry, who played with Dundee United, Eddie Thomson who you might recall from his time at Hearts and Aberdeen, and Billy Semple who spent some time at Ibrox.

Bob McNab, the former Arsenal full-back from their double-winning team, was also there, although he was injured at that time. But the captain was Bobby Moore!

 

It was all a bit surreal, especially the time we played in Los Angeles and met up with George Best. He was an absolute God over there. Film star. They loved him.

After the game, we're all in George's pub. I'm coming back from the bar with a jug of beer in each hand and Bobby Moore is telling me to fill George Best's tumbler up! Totally surreal. George was a lovely guy. Great company.

I managed six games with San Antonio then we got knocked out in the Play-offs so that was that. I came back and signed for Clydebank.
Matt Corr:

Do you have a favourite non-playing Celtic story, Tommy?
Tommy Callaghan: Too many to be honest, Matt! Where do I start? OK, here's one you'll enjoy. I'm heading out to Spain on holiday with the family. It's my grandson's birthday and it clashes with Celtic playing Porto in the UEFA Cup final in Seville.

We'll be staying in a place called Los Boliches on the Costa del Sol and I'm talking about how we get to the game from there with a lad I know from the Celtic hospitality, Jim Brown.

Jim says, "I'm staying in Marbella and we're heading in a limousine so you're coming with me." And he's as good as his word. On the day, the limo is outside our place and we're travelling to the game in style. He's got all his wine and his champagne, you name it, in a bar in the car but I'm a beer man, so we stop off at a garage and pick up a few San Miguels.

My son Tommy is with me, so that makes the trip even more special. He was an absolute star. Looking after his dad and making sure the bar never ran dry! Pure bliss. We reach Seville and it's heaving with Celtic supporters. The car is crawling through the streets and we have those tinted windows, so we can see out, but the fans can't see in. I hear a guy ask, "Is that Rod Stewart?" I wind the window down, stick my head out and say, "Sorry, it's me. What a disappointment!"

But the guy laughs and says, "Tommy? How are you doing? Here. Take my hat!" And he hands me this absolutely beautiful sombrero. A work of art. I still have it to this day. That's the Celtic support for you. Brilliant.
Matt Corr:

Tommy. It's been an absolute pleasure. We have to do this again.
Tommy Callaghan: My pleasure. I'd be happy to do that. Brought back some fabulous memories.