MIKE KELLY has just summed up the Turnbull transfer saga perfectly saying this,"Expecting Lord Lucan to walk up the Celtic Way leading Shergar with David Turnbull in the saddle anytime in the next 3 years."
Expecting Lord Lucan to walk up the Celtic Way leading Shergar with David Turnbull in the saddle anytime in the next 3 years

— Mike Kelly (@Kel_tic_gawfer) June 25, 2019
News broke last Thursday evening that the Motherwell teenager had somewhat unexpectedly turned down the big money on offer at Norwich City in favour of a move to Celtic Park. He was even photographed in a leaked photo with Neil Lennon, presumably doing a Celtic TV interview ahead of the planned unveiling ceremony that's still not happened.
David turnbull my christ how long does it take to sign a player celtic are the slowest shower of cunts in transfer market turns into a ordeal just to bring in someone then they get link wait and someone else nips in buys no fucking about like the badly organised celtic mob

— la brigada verde (@CeltsteveSr) June 25, 2019
The 19 year old midfielder had to head down to Manchester for the scan necessary as part of his medical and this appeared to have happened yesterday – but didn't, it happened today. The Mothwewell Times seem to have jumped the gun by suggesting the transfer is set to be announced imminently.
Fun fact both Neil Lennon and Scott Brown are now officially a year older since David Turnbull agreed to sign for Celtic.
White smoke alert then!
Trying to figure out how @10DavidTurnbull isn't a Celtic player yet pic.twitter.com/AFvMPC9bzw

— Focus on Celtic (@FocusOnCeltic) June 25, 2019
David Turnbull: Celtic expected to officially unveil new signing from Motherwell imminentlyhttps://t.co/OTjENGVeVK pic.twitter.com/qRLTvn1l2w

— Henriklubo (@Henriklubo) June 25, 2019
Meanwhile following on from the nonsense from West Brom regarding Oli Burke, the Director of Football at Norwich has also had a dig at Celtic, suggesting that had he been in Turnbull's shoes he would not have joined Celtic after the comments made by the club on social media.
Sour Grapes at Carrow Road…
Stuart Webber has told @TalkNorwichCity that he will be keeping a close eye on David Turnbull's development at Celtic, after accepting his heart wasn't in a move to Norwich City at this stage of his career. #ncfc https://t.co/9vKaE6QsiG

— The Pink Un (@pinkun) June 25, 2019
Incidentally well done to Celtic for officially responding to the West Brom remarks, which apparently are referring to Neil Lennon's post match assessment of Burke's performance at Ibrox in May. Just as well he didn't read what Sandman had to say about him in his end of season review on Celtic Noise!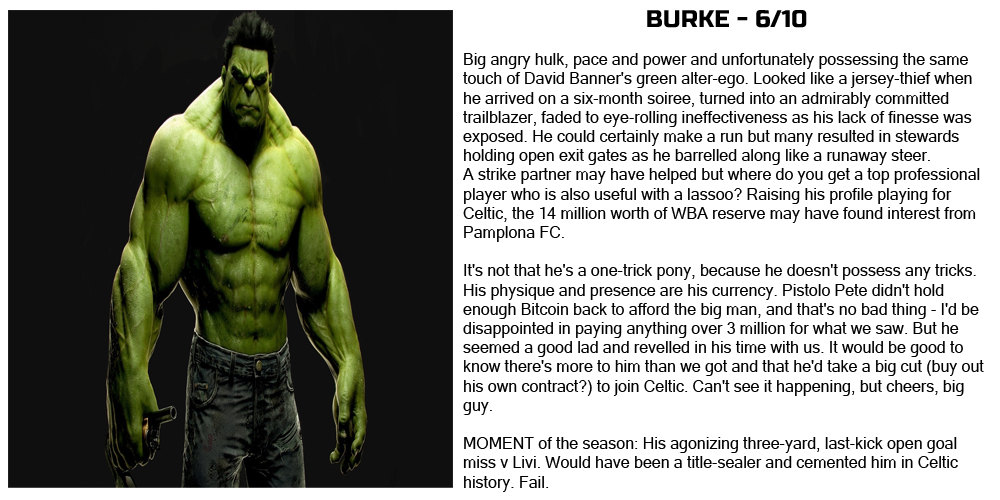 "Following comments by West Bromwich Albion regarding Oliver Burke's loan spell with Celtic in the second half of last season, the club has issued a statement.
"'These comments, which question the professionalism of both Neil and Celtic Football Club, are ridiculous and completely inaccurate. West Brom have made no contact whatsoever with either Neil or the club in relation to Oliver.
"'As with every player who comes to Celtic, Oliver received the very best of treatment and every support and opportunity. We wish Oliver the very best for the future.'"
So no Celtic bid for Oli Burke then while Neil Lennon is our manager (happy Birthday Neil!)
Celtic Football Club Statementhttps://t.co/n5ql0zRYMb

— Celtic Football Club (@CelticFC) June 25, 2019
David Potter on The Celtic Spring of 1968, 'a great time to be alive!'