It's fair to say the Celtic Fan Media experience when it comes to engaging with those at the club has at times made for entertaining viewing – the first press conference with Ange Postecoglou and Dom McKay for instance received a great deal of interest – and also of late become somewhat underwhelming. And we realise for many readers and subscribers to websites, podcasts and YouTube channels this has probably been evident too.
So far, the reception from the club to Celtic Fan media has been somewhat lukewarm and as a result some sites have chosen to pull away from the whole experience, believing they are being held at arm's length and not trusted to ask the questions the fans want answered from the people who matter. That of course is a sad situation considering we've only had this sort of access to Celtic since the start of the season in an initiative pushed through by our recently departed 72-day CEO.
The Celtic Star Editor

interviews

Celtic FC Women manager Fran Alonso

ahead of Sunday's match against Partick Thistle in the SWPL1. KO 2pm, Sunday at Penny Cars Stadium, Airdrie.WATCH BELOW…
It is also a perfectly understandable position to adopt by those within the Celtic Fan media platforms given to date the club have separated fan media and mainstream media and have limited Fan media access to the odd player interview prior to games, have avoided genuine interaction between those being interviewed and those asking the questions by limiting any interaction to one question per attendee and blocking, occasionally aggressively, any attempts at supplementary questions. For the viewer that doesn't make for great content and from those of us asking the questions a lack of follow up makes for a frustrating experience. Let's just say, to put it politely, it doesn't exactly flow.
There may be many reasons for this. The club themselves may be testing the water before expanding the whole thing or they could be working out who could be a liability and who could be professional, yet the worrying thing of late was in the absence of the man who invited these supporters' run platforms to the media party the show could have been over before it really got started.
Today however there was something of a breakthrough in that regard as the Celtic Star Editor was invited to a Media Conference with Celtic FC Women Head Coach Fran Alonso and new striker Clarissa Larisey and ended up getting more access than he bargained for!
The Celtic Star Editor

interviews

Celtic FC Women striker Clarissa Larisey

ahead of Sunday's Glasgow Derby against Partick Thistle in the SWPL1. KO 2pm, Sunday at Penny Cars Stadium, Airdrie…
The rules of engagement today were certainly slightly different. Not only was there no single question limit but the supplementary options were expanded somewhat, given the club invite turned out to be an exclusive one on one interview with both player and manager.
The results you can see for yourselves in the content below. What we get from this was an open and flowing discussion between the player, the manager and the interviewer. It wasn't the stop-start experience we've seen before and the result was The Celtic Star being able to ask the questions we wanted to ask and follow up where we wanted clarification or to expand on the responses received. It was a far better experience for all parties and perhaps something Celtic may wish to consider as a promising development from their end as much as we did from ours.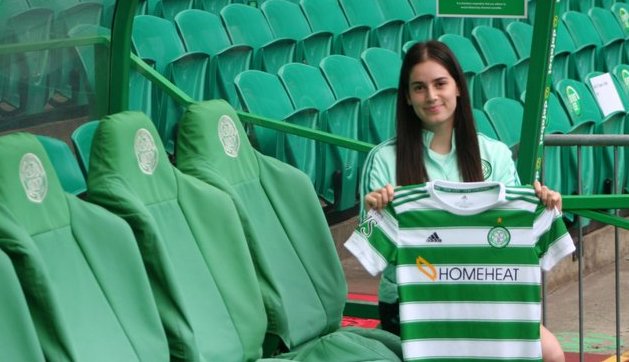 Today demonstrates that Celtic as a club have nothing to fear from Fan Media. All we've ever wanted is to put the questions the fans want asked politely and respectfully and in a non-condescending manner to the people at the club who make the day-to-day decisions on the team and the future plans for this club, something we don't believe the mainstream media do sufficiently well. In fact if they did, there would be no need for Fan Media at all and given how many platforms are out there now it is fairly evident there was and remains a great appetite for it.
Hopefully today and the one-on-one interviews with both Clarissa and Fran can reassure the club that Celtic Fan Media is not something to be wary of or shy away from and instead could well be something worth expanding enough to allow proper access to all areas of the club and open much needed lines of communication with the support. If they did, they might even find some of the sites and podcasts who have decided to step away from the whole thing may well be tempted back and surely that can only be a good thing for both these platforms and the club itself.
Niall J