The supporters groups who intended to gather at Celtic Park on Saturday ahead of the friendly against Preston North End have decided to call off their planned rally ahead of kick-off. In a joint statement last night the collective explained their reasons for cancelling the protest against the board which also was planned to show support for the team and the new manager Ange Postecoglou.
However with 2000 supporters at this game – the first Celtic Supporters allowed into Paradise for over 16 months – and with Dom McKay applying for permission to allow up to 20,000 supporters to attend the Champions League match against FC Midtjylland – any such gathering could have impacted on the Scottish Government's decision on this application which came into play after Nicola Sturgeon's statement yesterday which allows 2000 fans into games at the moment but leaves the door open for clubs to apply for higher numbers on a case by case basis.
The joint fans group comprising of Bhoys, Celtic Shared, Green Brigade, The Celtic Trust and the North Curve issued this statement last night:
"We have been notified that the Celtic team and coaching staff will unfortunately not travel to Saturday's pre-season friendly against Preston North End in a team coach in the usual manner. The players and staff will instead arrive for this game individually in their own cars.
"As a result of this, we are sadly no longer able to meet and greet the team to give the new manager the welcome that we sought to. We are therefore cancelling Saturday's planned rally, thought we hope to be able to return to the stadium soon to provide our full support for Ange Postecoglou and the team when this is possible.
"We are growing slightly alarmed at the slow pace of change within the club as the UEFA Champions League Qualifying Rounds approach. The board must demonstrate that they have learned the lesson of previous years and provide the new manager with the tools to succeed within his role."
— Celtic Shared (@Celtic_Shared) July 13, 2021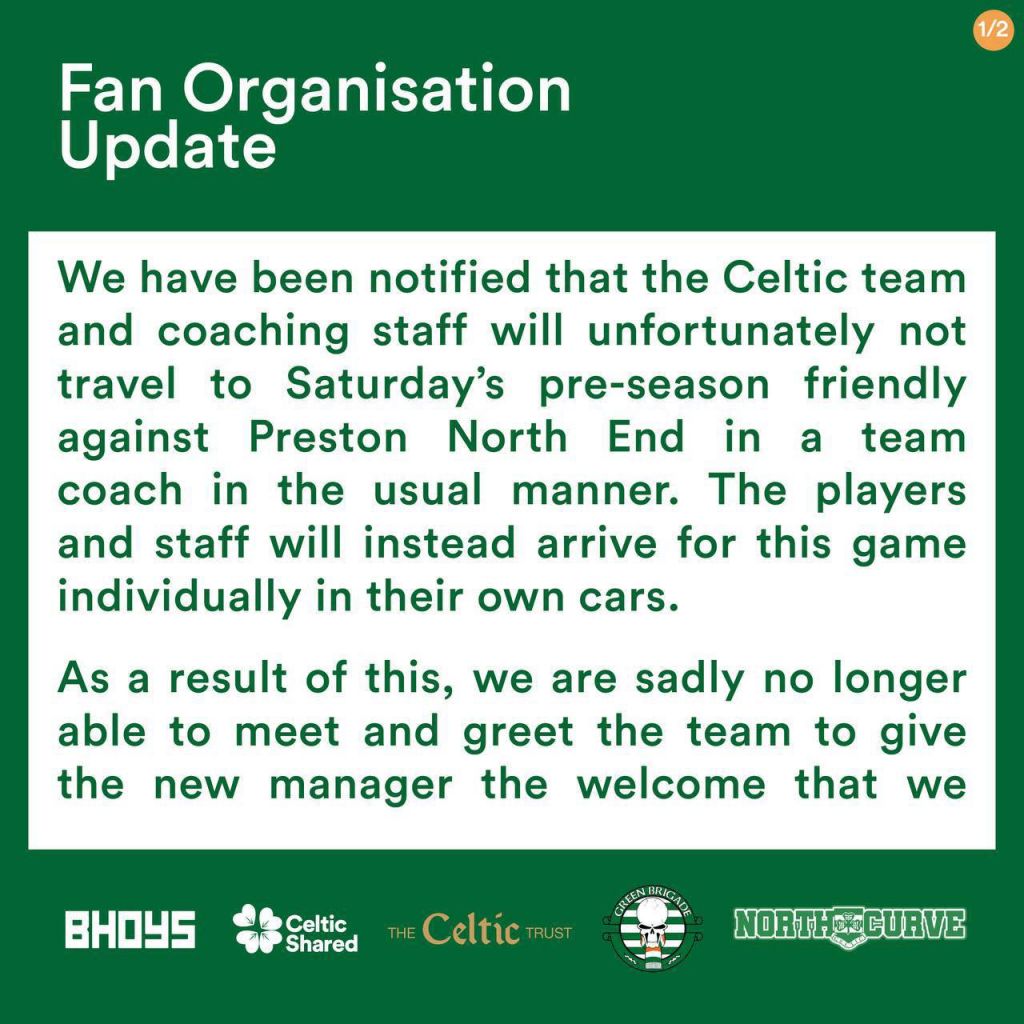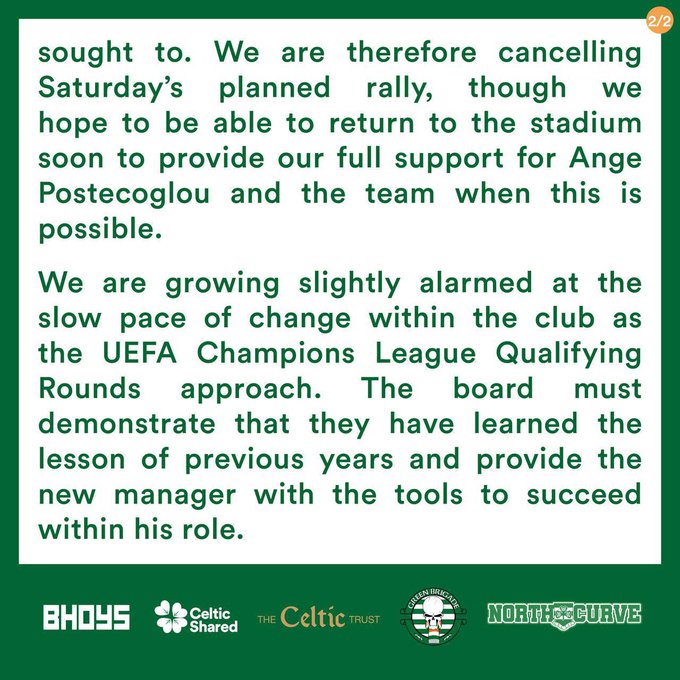 The Celtic CEO acted immediately on hearing the First Minister's statement and has requested permission for up to 20,000 supporters to be at Celtic Park in Tuesday night. What a boost that would be for Ange Postecoglou and his side for their first competitive match of the season!