Daizen Maeda took the limelight with a debut goal, but it was Reo Hatate who grabbed the man of the match award on his Celtic debut against Hibs on Monday night. It was a deserved award as the Celtic midfielder fitted into Ange Postecoglou's system seamlessly and produced an impeccable introduction to the Celtic support.
And it appears from a recent article he's written himself, for fromtheathlete.com, and one well worth taking the time to read, Reo Hatate is a very focused individual who has great belief in his abilities. As such we can expect even more to come from our cultured midfield signing, and his views on his commitment, mentality and tactical awareness makes for interesting reading.
Article written by last night's Man of the Match Reo Hatate…https://t.co/SbLgSwj9zR

— The Celtic Star Editor (@CelticStarMag) January 18, 2022
'I'm kind of a perfectionist, so naturally I want to give it my all whether in practice or in games. Sometimes coaches and trainers advised me to "Take it easy", but I couldn't let myself slow down because I was committed to doing my best in every moment, and I wanted to keep that mentality all season.

The beginning of the season was tough, because I wasn't playing the position I wanted to. I always faced this dilemma: "I want to do my best, but is this position (side back) right for me?" Then I realized that I should focus on contributing to the team no matter which position I am given. That is the only way to play in games and compete against such intense competition as an athlete.'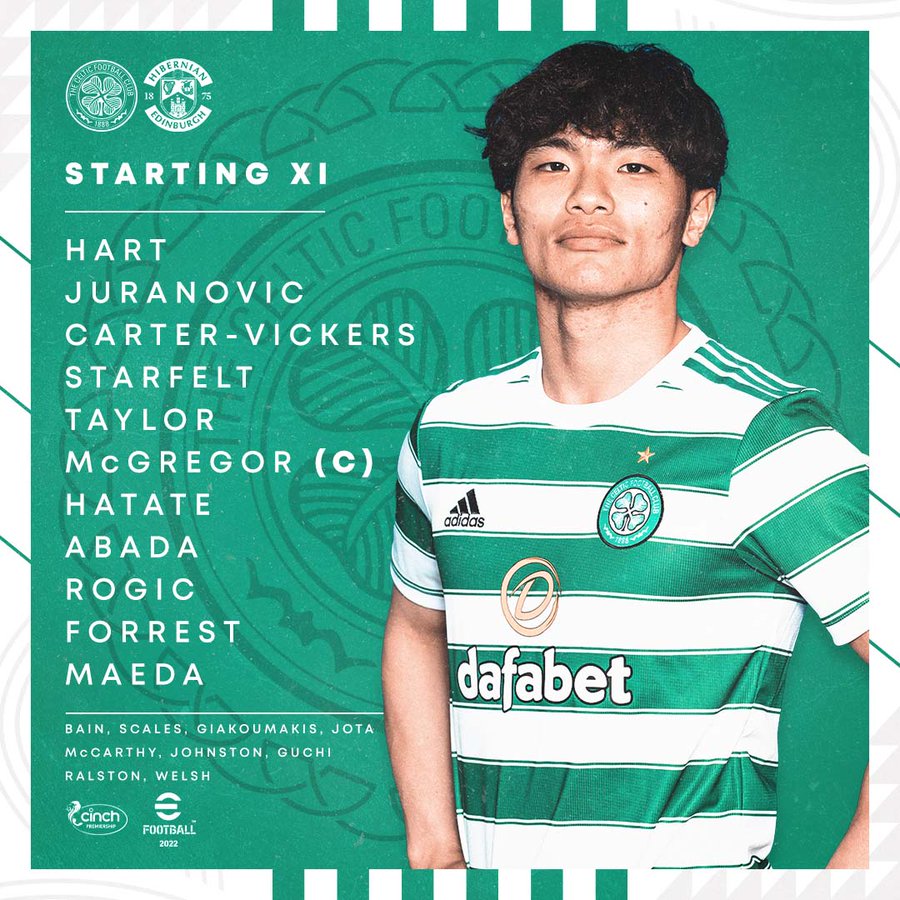 There is one thing that I always keep in mind during games throughout the season. I always play with attention to details.

For example, if I'm the player with the ball, I think about how I can put the player I pass the ball to in the best position possible. When I receive a pass, I stop the ball carefully to give myself a chance to make a quality next move. I am working on these basic points to perfect the nuances of my game.

In the process, I think I have become able to dictate the timing between the ball and the opponent, control of the game, and the play-making, which have become intuitive.'
And Hatate has realised he's come a long way in only two seasons as a professional. With two J-League Championships under his belt and an experience of the Olympics with Japan, Hatate knew he had to challenge himself, and this he explains is why the move to European football was the next logical step for a player Ange Postecoglou has stated is determined to reach the very top of the game, though it appears the move didn't come without nervousness attached.
'After experiencing the Olympics and winning the league championship, I have decided to take my game to a new place across the ocean.

To be honest, I'm anxious about leaving what I've established with my current team and heading to a place where I know nothing about the culture and my teammates. However, I am also excited about that. I have a great opportunity to grow.

Of course, I am going abroad to contribute to a club team that needs me. But at the same time, I want to use this opportunity to grow as a person as well.

In everyday life, I am sure I will encounter obstacles, big and small. I believe that learning how to adapt and move forward positively in the midst of these obstacles will bring a positive effect on how I play. For me, everything in life ultimately leads back to soccer.

And I am a human being before I am a soccer player. It is my belief to strive to be a better person. There will be times when the way things have always been done will not work, but I am open to experience and want to prove to myself that I can overcome it.'
Reo Hatate's debut was highly impressive and although no-one is getting carried away after just one game, it is clear Hatate is as self-critical as he is talented.
That sort of introspection and self-awareness can only help the player reach the levels in football he strives for. As such it could be his wonderful debut performance is just a signal of even greater things to come. If so, Celtic and Reo Hatate could be very good for each other indeed.
Niall J