FERENCVAROS have issued a statement pleading with their supporters to behave when they travel to Glasgow for the 3.30pm kick-off at Celtic Park for the Europa League Group match. 
Last night Hungary fans caused havoc at Wembley as they protested against taking the knee. They also overwhelmed the Met who were forced to withdraw from the away end. Police Scotland will have been fully briefed and ready for the Ferencvaros fans who are going to be allowed inside Celtic Park – despite incidentally no Celtic fans being allowed to attend the away match at the Groupama Arena on 4 November.
Lazio's ultra  fans were the last group of fascists to attend Celtic Park and it remains to be seen what the Hungarian fans are going to be like on Tuesday afternoon for the incredibly unusual kick-off time, just as school bells are ringing around the country.  Normally Celtic Park would have 60,000 inside the stadium for a big European night but that seems highly unlikely as so many fans will be unable to attend.
Ferencvaros though are more worried about the behaviour of their own supporters and have issued the following statement pleading with them to behave.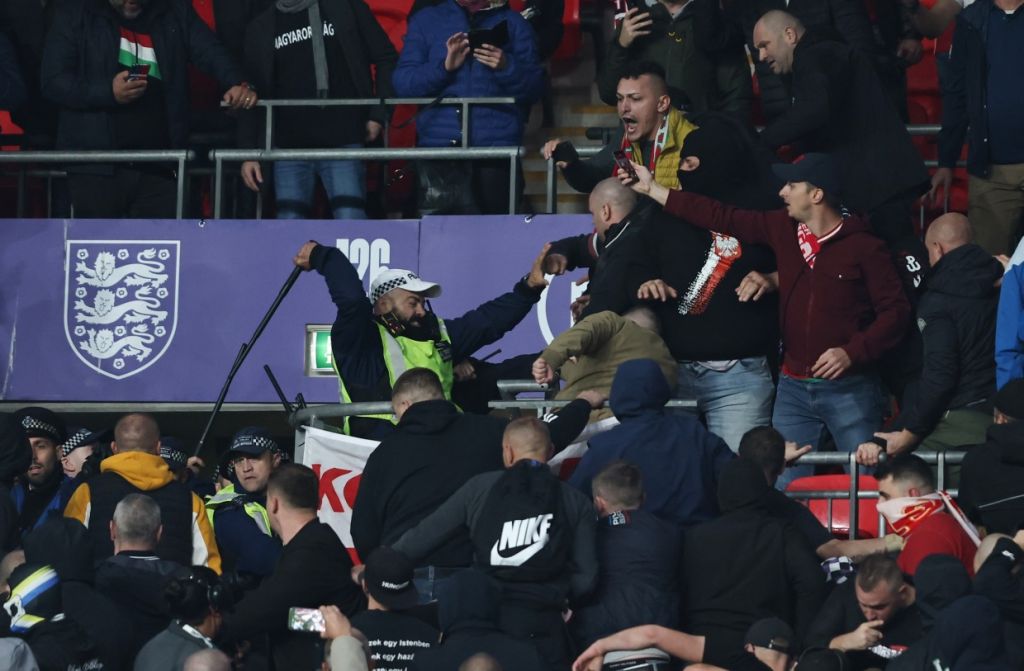 "We would like to draw the attention of all our ticket buyers to the fact that during the match, in the immediate vicinity of the stadium, any hand gestures that UEFA may interpret as a Nazi flattery or an anti-Semitic symbol should be warned by their fellow fans.
"The "heart to sky" arm movement with one hand cannot be done at all! The spectator may not bring any pyrotechnic devices, incense, firecrackers, sound grenades into the stadium.
"We would like to draw the attention of our fans to the fact that expressions that offend the opponent, the opponent's supporters, the judges, the referees with a gender identity tag or a reference to gender are also defined by UEFA as discriminatory, obscene, discriminatory, insulting or politically discriminating against sexual minorities, even if it happened in Hungarian.
"The European Football Association (as well as UEFA) interprets the rigm and inscription as a criminal group, a criminal organization, as an insult or a political manifestation, and the club can be severely punished.
"As a result of the experience of the Germany-Hungary European Championship match and the Hungary-England World Cup qualifiers, the behavior of the Hungarian fans, and thus the Ferencváros fans inside and outside the stadium, is given special attention.
"We ask that no one sit up for any provocation and represent the club and Hungary in an exemplary, sporty and calm manner, as FTC fans have done in recent years at home and abroad in all cases."