Time flies. 27 years ago to the day since Fergus McCann and others, saved our club.
Since then we have
* A 60,000 all seater stadium
* Won 16 League Titles
* Won 11 Scottish Cups
* Won 10 League Cups
* Reached a European Final
** All done despite being in competition with serial cheats.
"We've done well and we have a lot to thank Fergus for," says Gary67 on Celtic Noise.
Add to this list…
* Our second 9IAR
* Quadruple Treble
"Incredible to think of the success since the disappointment of the early 1990s" added Kevza.
"It would've cost less, and left the previous owners with nothing, to go into liquidation. But it would also be humiliating for Celtic. So we paid all the bills. Celtic means the same to me as it does to other fans. I identify with the club and wish to be proud of it," Fergus McCann said at the time.

"Celtic supporters want to be proud of their Club. That's all they want. It is what they deserve," is another Fergus McCann quote worth noting.
Frank Owen reminded us of the debt we as the Celtic support owe to Fergus by saying: "Never have so many owed so much to so..well, one man. And yet for some it wasn't enough. I still cringe at the booing The Bunnet had to endure."
Fergus McCann & The Celtic Takeover

'My message to the fans is sympathy and appreciation.They have tolerated so much and put up with a terrible situation for so long. I would urge them to get behind the club again and morale will quickly rise.' (1994)https://t.co/PIYi7wmbub pic.twitter.com/J0FSZIrg2w

— JoeBloggsCity (@joebloggscity) March 4, 2021
It is worth mentioning here happened at a time when the mainstream media were able to drive the agenda as they saw fit – succulent lamb was on the menu at the other side of the city but for Celtic it was entirely different.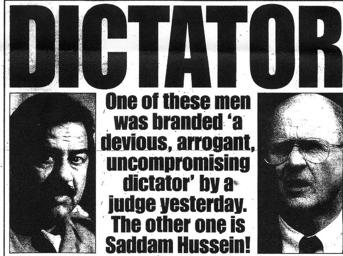 In those days the Celtic support didn't have much more than the mainstream media, led by the red top tabloids, to get their Celtic news. Today things are much different. It's not a case of just the monthly release of a fanzine that could put forward a different view on things, today we have numerous Celtic fan media sites all doing their best to present a more authentic view of things for the Celtic support.
That booing may not have happened had the Celtic support had such alternative media sources available to them in 1998. Fergus wasn't there to make friends, he was there with a business plan to save Celtic and to build a 60,000 seated stadium, which he understood would give us a durable and significant strategic advantage over David Murray's Rangers.
🗓️ #OnThisDay in 1⃣9⃣9⃣4⃣…

The history of #CelticFC changed forever as Fergus McCann saved our club.

Thank you, Fergus! 💚 pic.twitter.com/MePsBLCNrO

— Celtic Football Club (@CelticFC) March 4, 2021
"He was a wee bandit frankly but you have to respect the Bunnet," Lmcbhoy added.
Frank Owen added: "I started watching Celtic from the jungle Garry, and even then I knew I was in a very special place; when Fergus came along my special place became a beautiful oasis of magic.
"As a club, a support, a community, we've come a very long way. Lest we forget, we could have ended up with a wee stadium similar to Ibrox somewhere in Cambuslang. Given the disappointment of the current season, Gary67's post is a timely reminder of how much we have to be proud of, and thankful for. All thanks to The Bunnet."
WHO BOOED WEE FERGUS?
Below is a magazine feature that I put together a few years ago and it's worth recounting today.
"Who booed Fergus McCann the day he unfurled the flag that stopped their Ten-in-a-Row? If you did, can you try to explain?" was the question asked on our Facebook page and here are some of the responses received. Fair play to everyone for participating.
Stephen Mullen – "Easy, two word answer: Tommy Burns!" Chris Quinn – "Never have, never will boo anyone while they are representing Celtic. Not a player, board member or any other member of staff."
Stephen Finch – I had this discussion with a mate of mine who hated him. He hated him for allegedly saying the fans were bigots rather than the issues with Tommy Burns. I must admit I didn't know anything about those supposed comments. The Bunnet doesn't get the recognition in our history he deserves IMO.
Joe Paterson – The treatment of Tommy Burns, and I'll tell you what, the memories still haven't faded with time and neither has my willingness to forgive or forget. Bryan John Foley – I never booed personally but the ones who did probably subscribed to the media notion that Fergus was a tight wad who never followed Rangers(1872-2012) path to destruction. Neil Young – Remember Jock Brown!
#OTD in 1994: Fergus McCann and Brian Dempsey stood on the steps of Celtic Park to deliver the news all the fans had been waiting for – The Rebels had ousted the board. Give this man a statue 🍀pic.twitter.com/GXCBhZlH00

— 🍀 Celtic1967.com 🍀 (@Celtic1967_com) March 4, 2021
Kevin Brewer – Hail Hail The Bunnet. He sank RFC. Jim Mulholland – I didn't boo, but I was in the main stand around ones that did. I remember seeing Tommy Boyd do the "gonny calm it" hand gesture to the crowd when they booed just as Fergus took the microphone. I think it was because they saw him as responsible for Wim Jansen leaving and not making any big signings. He liked keeping hold of his "One Thin Dimes," I seem to recall, but the booing was disrespectful in light of how he stepped up to save us when no-one else would,
Gerry Diamond – He was booed as he was trying to replace Celtic's Irish heritage with a more Scottish one. He had mentioned this publicly & had also tried to canvas support within the executive club. The next time he addressed the fans he saw the error of his way and proclaimed 'the Irish flag will always fly above Celtic Park'.
Fergus saved Celtic and I'd name the north stand after him!
Kevin McGoldrick – He was booed because of the way the Irish supporters were treated
. Damien MacAodha – I never booed. However people were angry at the treatment of Tommy Burns and the treatment of Wim Jansen. Celtic Football Club should not be solely about producing results (be it on the park or on the balance sheet). I like many other fans felt that Celtic owed these men much more than the treatment they received. The instability also robbed Celtic of the chance to build upon the progress and achievements the club made during the tenure of Burns and Jansen.
Garry McCloskey – Like him or dislike him. He saved our club and he should be recognised. Name North Stand after him in my opinion. Without him stepping up we wouldn't have what we have today Paul McMenemy – at that time I did boo. I was wrong
.
4th March 1994 a day that will remain with us forever our club seconds away from the End, and up Steps the Bunnet gives us a life line put his money down and let us share in his vision building a stadium to be proud of god bless Fergus McCann done what he said he would ⚽️💚🍀 pic.twitter.com/pV5fjfyRCD

— Mandy (@hoopsghirl88) March 4, 2021
Rab McCready – the man wi' the bunnet dunnit, he did everythin' he said he'd do, and did that well, he was a business man, not an out and out football man, he made mistakes, e.g the Tommy Burns carry on, among others, but the club we know and love wouldn't be here in it's present state if it wasn't for him, hats off to the bunnet!
James Campbell – Ashamed to say I did. Back then the media IMO intentionally tried and succeeded to divide the support, and because online sites were not yet around, the media was the only conduit for 'news'. Barry Gallagher – Bhoys against bigotry, when we never had any bigotry.
Stevie Mac – Sometimes I question myself as a Celtic fan. Wondering why I don't go along with other fans point of view. Fergus made some very unpopular decisions but he made them for the club, not to p*** the fans off. At the end of the day he was/is a businessman and stuck to his business plan – to right the club and walk away again. He did that. He hired some people that some of us disagreed with, he cut players when they got demanding, he didn't bow to every supporters wishes and would retaliate. He was tough but that is business. Because of that, we are where we are. In the future, more unpopular decisions will happen at the club by others. We've already seen fans booing John Reid, booing Neil Lennon, booing players, booing Dermot and as always criticising the lack of spending. Yet in all of this, we have survived and gotten stronger in what is a very poor league. This was all instigated by Fergus. I never booed anyone at Celtic in my life. That won't change. If you do decide to boo, ask yourself why am I booing? Could there be another reason for this unpopular decision other than my own selfish point of view?
Sean McLaughlin – Some of these comments are ridiculous. Without him there wouldn't be a Celtic or Larsson or Lambert the list goes on. I can remember asking my Dad why are people booing and his words were because son some people are morons.
On this day in 1994 ..Fergus McCann took over the club.
Hail Hail the Bunnet🍀🍀 pic.twitter.com/J2GNvwEl5A

— Steviebhoy (@stevie75bhoy) March 4, 2021
Colin Stephen – I wasn't happy with him for multiple reasons and especially for not signing big when trying to stop them getting 10iar, if we never stopped them doing that I honestly don't know if I would've forgiven him as he was getting plenty of money back at the time from the fans. But looking back to the day we stopped 10iar was probably the greatest day in my life and I agree he does deserve something named after him for saving our club and for choosing to pay the bills instead of doing what RFC have done, for that and building the stadium he deserves enormous credit.
Stephen Mcmaihin – I can honestly say yes I booed. Back then I thought he was penny pinching whilst the newco's oldco were spending like there was no tomorrow. It was only when they went bust last year that I understood why Fergus did what he had to do.Brian Booth – I booed and my reasons were that, just like today, he allowed some of our support to be vilified. Remember the banner: "We're Irish, we're Catholic, we're Celtic fans, but were no bigots Mr McCann"………. I'd do it again and again!
Hugh McGarrigle – I didn't boo him and it was because he delivered what he said he would. He put plans in place for a new stadium, he put a team to be proud of on the park and left a legacy that lets us compete in the higher echelons of European competition.
27 years ago today, this man, saved our club from going bust. Fergus McCann, paid the bills, and kept the unbroken history of Celtic Football Club going. Raise yer Bunnet to our saviour today 😀🍀🍀 pic.twitter.com/6lKjZ8kA9Z

— Kenny Millar (@Kennymillar1) March 4, 2021
Lawrence McNeill – Just the usual social sheepery. Boo-ing happens like a domino effect. Half of them probably didn't have anything against the man. Gary Shek – I did boo wee Fergus that day. Because I was young and daft and read the Daily Record. Believed its lies and thus booed the number. However I did spend 1400 quid buying 500 shares from him which are now worth nowhere near. So I reckon we're even.
Kevin McLaughlin – It was years ago – the club has changed and moved on an awful lot since then. Of course Ferguson saved Celtic and no one can ever say otherwise – he took the risk but also left with a big fat cheque in his sky rocket !!! Celtic were as good for Fergus mcCann as he was for Celtic.
James Campbell – Looking back, Fergus saved the club and stopped 10 in a row. I was sad the day he sacked TB, but it WAS the right decision, would Tommy have stopped them doing 10? I don't know. Look at the man's legacy of his time at CP, he saved the club at the 11th hour ( can you remember the feeling when the news broke? I shed a tear or two). He built us a Stadium to be proud of. He took on the SFA and won (Farrygate) and he stopped the cloven hoofed ones from beating our record. Hail Fergus
Stephen Reid – Surely you never bought shares for profit, Gary ? It was an emotional investment. I wasn't happy with a few things around that time. But, I never booed him. I've never booed a player in the hoops either. I have slaughtered a few though, ha ! Hail wee Fergus. He did what he said he would do, he was true to his word. He also exposed the SFA for what they are (Cadette registration.) He stood up for Celtic. He never took any nonsense.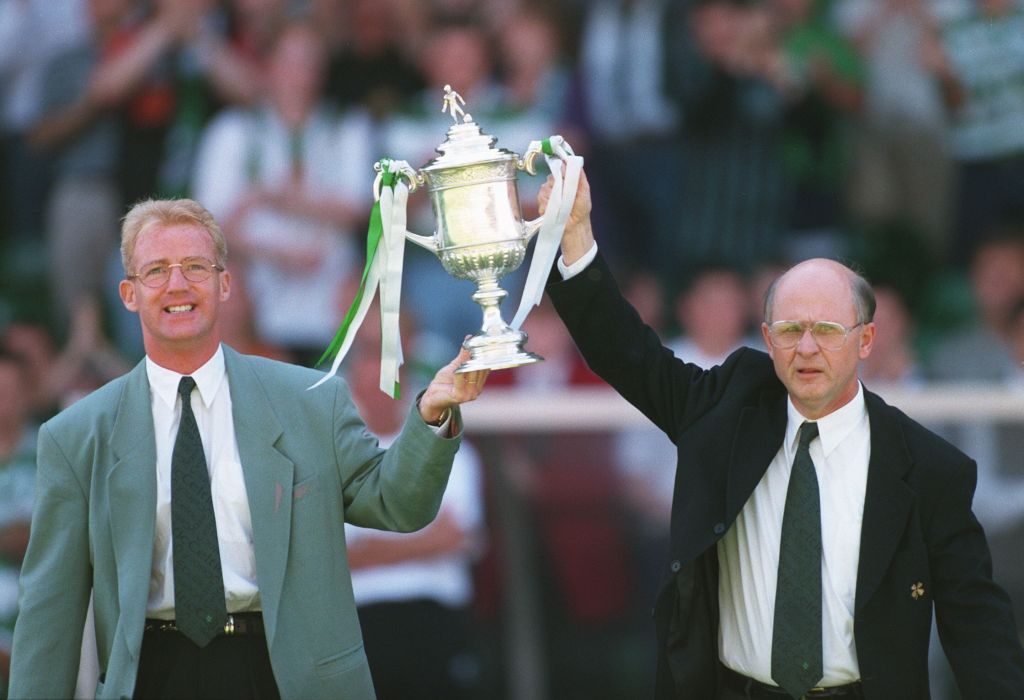 James Campbell – When you look at the bigger picture being revealed now, With Murray, Masterton, Cummings etc controlling the finances of Scottish football through the BOS back then, it makes Fergus's achievements more impressive. He changed banks and kept the clubs finances from prying eyes.
Stephen Lynch – If you booed you are an absolute disgrace to the club
. Wayne Mcmullan – Fergus McCann we owe you so much always be grateful. Kevin McLaughlin – It's always great to see how opinions differ – I agree with the comments against the booing but Fergus was no angel and wasn't immune from criticism. Wim Jansen was given far more resources than Tommy Burns to buy the players that Burns had identified – Burley, Lambert, Reiper etc. Burns also was denied the opportunity to sign the likes of Colin Cameron, Neil McCann and an Italian playmaker who's name escapes me … Allegedly after McCann had agreed the funds. He still saved us though, Fergus.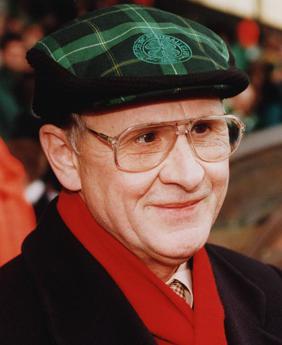 Mick Doran – He was booed from some due to his lack of spending in the transfer market
. Michael Johnston – have to say Fergus McCann was some business man – it did not mean you had to like him
!
Ross Carroll – I think McCann was a business who was very cold, ruthless and focused. He sacked TB, he sacked Wim the Tim, he employed Jock Brown, he didn't invest in the team after we stopped 10 in a row. All of the above are reasons why Celtic fans were never universally won over by him. Also, the media did their best to portray him in a negative light causing further division amongst our support.
Kevin Cherry – Got to admit least you knew what you were getting with Fergus McCann. Never bullshitted -said what he wanted to do with the club, team, stadium and the debt!!! He made mistakes, ie jock Brown,Tommy Burns and penny pinching on signings, but at least he left his calling card on Jim Farry who if he had done his job fairly , we would have won the league in '96.
Cary Griffin – I didn't boo him, but I do believe that the people that did boo him believed the utter guff which was feed to them in the papers, which we all know now was being control by Sir Minty Moonbeans – pretty simple brainwashing really
. Macky Makatak – He did what he set out to do . Can't deny that.
Peter McKenzie – After his intervention and his transparent business plan I have always been a fan and grateful to wee Fergus. I have stated for years that he is such an important part of our great history that there should be some sort of statue at Celtic Park.
Robert Donnelly – Fergus was booed because of what he did to Tommy Burns, simple fact was Tommy would not leave quietly he left by the front door. I believe if the board had a little more insight and backed the manager a little more than they did, we would have stopped them a lot sooner. That's why I booed him and for that reason only. In hindsight he was the man that changed the direction of our club and I will be forever grateful to the man now.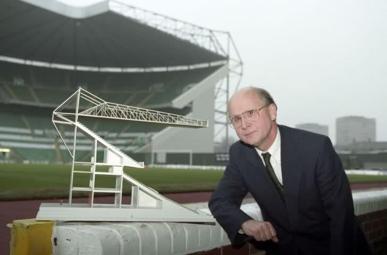 Daniel Birrell – The fans then in my opinion were not as educated on club finances as they are now. I didn't boo that day I was young but my dad did and he told me it was because of 'the biscuit tin' etc. Also the sacking of Tommy Burns.
Edward Anthony Coyle – I can't honestly remember, it's all a bit fuzzy but I did have a few bones of contention with him. I seem to remember many articles regarding TB and Fergus, then later Wim. He made a few mistakes but I'm sure it wasn't easy for him. I'm sure he really wasn't fussed either way.
Thomas Cochrane – Get a statue up for him. I bought the shares, season book,all the stuff …..Those were the days I can tell you. Never to be forgotten! We are where we are to-day because of the guy. Ghod bless him,Tell you what we booed that big fat"Jock Brown every chance we got!
ADD YOUR COMMENTS BELOW….
World Book Day special offer…

Order INVINCIBLE🍀🍀🍀 at https://t.co/g3nyj3qDtI or on Amazon TODAY…

…and we'll throw in one of the remaining copies of WALFRID & THE BOULD BHOYS FREE, whilst stocks last.

I'd also be happy to sign, dedicate or personalise either or both. pic.twitter.com/9M58Cbzhkp

— Matt Corr (@Boola_vogue) March 4, 2021