YESTERDAY news broke that Celtic will face their second charge of the season from UEFA, this time relating the flares set off in the Standing Section at Celtic Park last Thursday evening ahead of the 2-0 victory over Cluj. You can read about the UEFA charges HERE.
This afternoon Celtic have reacted by releasing a statement pleading with the supporters responsible to bring an end to the use of pyros at Celtic games. The club's statement can be read HERE. The club will be taking further action and have stated in no uncertain terms that it has to stop.
On Celtic Noise supporters have been discussing the news from UEFA and debating the use of these flares and fireworks at games.
"So yet again UEFA will punish Celtic for the selfish self-centred idiots who love their pyro more than their team. Enough is enough. Celtic should pre-empt the UEFA enquiry and close the standing section for at least four home games. This is the area of the ground that could see our stadium closed. We have to be more determined than UEFA to stop this once and for all. I do not care about the 99% who did not set off the fireworks. None of them dobbed in the perpetrator(s). It will only get worse as we approach 5th November. They are slow learners so four games may not be enough," Fisiani, a well-known member on Celtic Noise argued.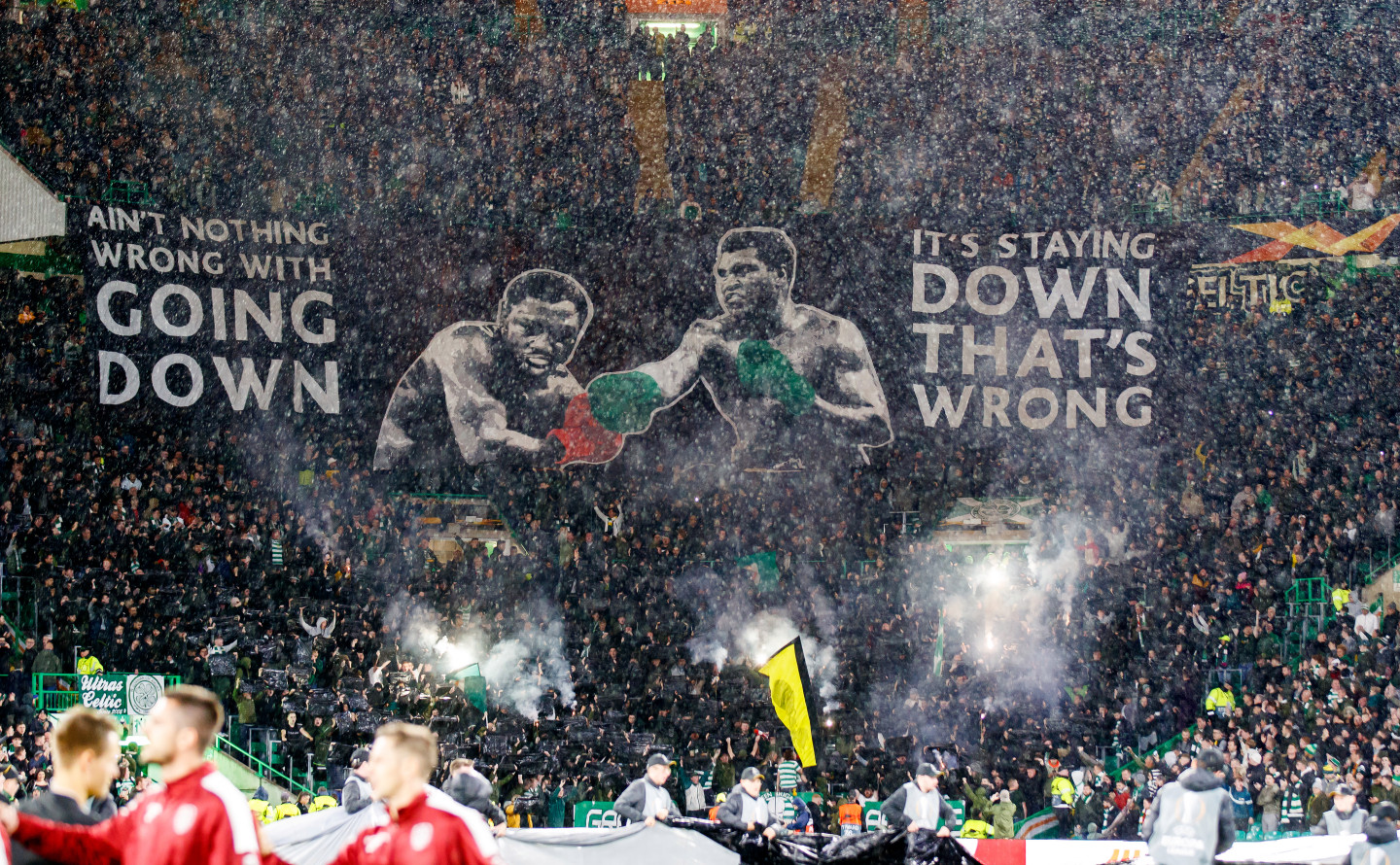 "So what you're proposing is 99% innocent people be punished for 1%'s actions because no one 'dobbed' them in? Is it their job to 'dob' them in? Or do they buy their season tickets to watch a match? What about the stewards or the Police who are constantly filming that section? Is it not up to them to catch the perpetrators and deal with them?
"This is the area of the ground that could see our stadium closed." A bit hysterical if you ask me. They do not chant racist chants or racist songs, they do not attack opposition fans so why it will get our WHOLE stadium closed puzzles me.
"It will only get worse as we approach 5th November. They are slow learners so four games may not be enough." Sorry but what has 5th Nov got to do with it? Oh you mean the availability of fireworks, well yes I think they should all be banned for public sale but I cannot remember a rise in firework occurrences in previous years.
I think you need to calm down what is it you have against that section of the ground? Something more? The standing section in my view bring a lot of atmosphere and we would be poorer without it. Ok they shouldn't be doing it, they're very naughty boys, but I don't hear a loud backlash from the fans in or around that area," replied Brimcbhoy, also a well-known member.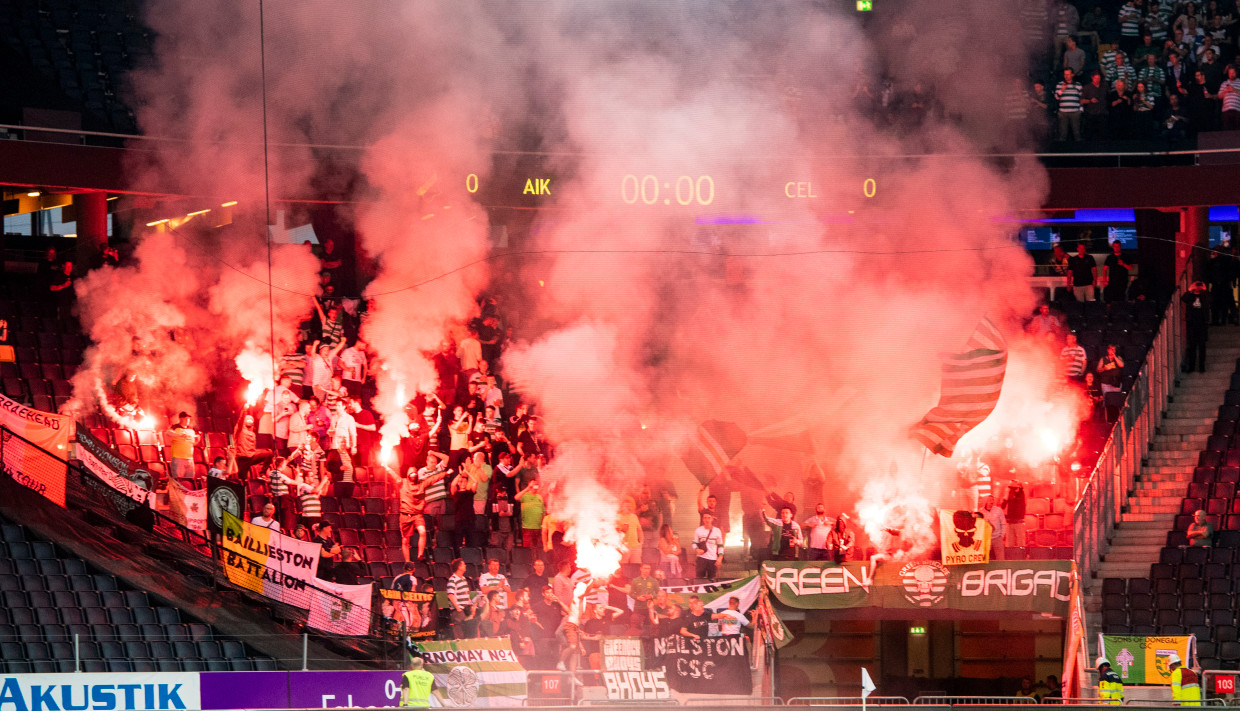 "So what would be your solution? Just wring your hands. You are right about there not being a loud backlash from nearby fans, that's the problem. Those fans should point out the morons," Fisiani replied.
Next to enter the debate is 50 Shades of Green: "Firstly I'm against the pyrotechnics, however in this instance they were let off as part of a tifo display as the team came out for a European tie and you want fans to point out or boo them, the press would be reporting that we booed the team on to the park.
Officer officer that guys got a pyrotechnic…seriously is that what you want other Celtic fans to do? Perhaps Celtic should be asking the police how many did you arrest? Oh and these "morons" as you called them have done more to feed the poor and needy in Glasgow than the last 5 bloody Governments, so before you start to label Celtic fans perhaps do a bit of research on them…And I will be looking out for you in Gdansk come May to see if you practice what you preach…"
Fisiani clarified his position: "Close the area for four games and the anger from the innocent fans would be enormous. I'm just sick of these idiots believing they are immune and justified."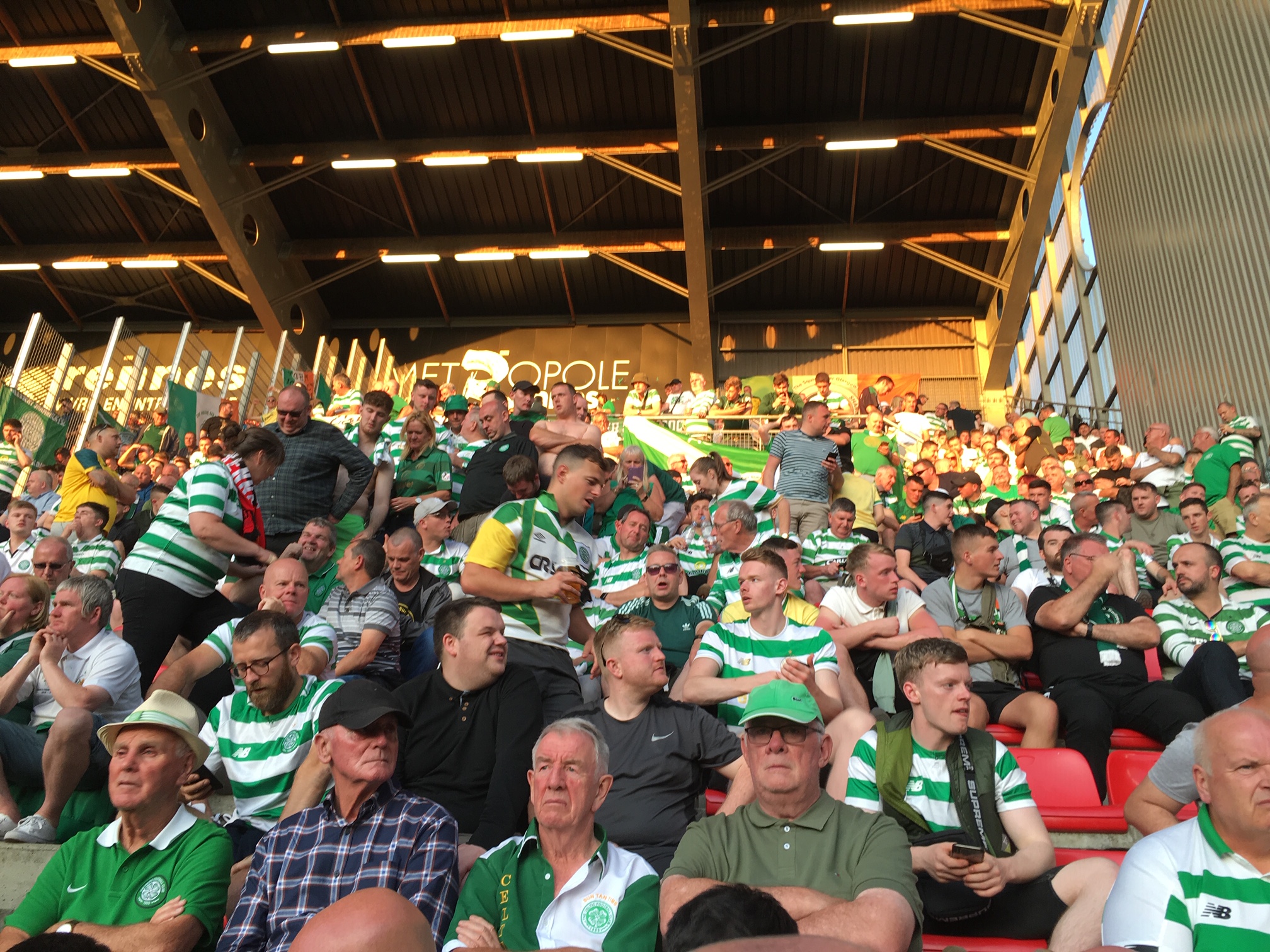 Brimcbhoy was straight back in: "Yet again you come out with that "close the area for 4 games" why that number? Not even UEFA would do that. You seem to be going for a very extreme punishment that far outweighs the crime. What have you got against the Green Brigade? Is the some deep seated animosity you're not telling us about? Oh and another thing, imagine what that would do for the atmosphere, and the only people that would please are the Rangers."
Steviebhoy67 joined the debate: "He does have a point. How many times have the club been fined? Probably sooner than later UEFA won't be dishing us out a fine. It will be worse. Yes, the Green Brigade bring a lot of atmosphere which we love. However when idiots ignore MANY warnings then something will give."
Michael Duffy was next to add his opinion: "No pyro, no party, no pyro, no fine! No section closure! No ground closure! when will they learn!Jeeezuuuus!"
Boab1916 has his own theory: "Wonder if that wee incident with the raising of money to double the fine for the PLO flag still rankles with UEFA? They seem to have a problem telling Russian and Turkey fans what they can do or cannot do."
"Look ok, it's against the rules, we've been fined, but our guys are nowhere near the likes of these guys, lets have some perspective before you go laying into our OWN," stated Brimcbhoy. "The alleged pyro display we did last week was like a kid holding a sparkler compared to what some in Europe get up to, wind yer necks in."
"Doesn't matter, we still get done!" Michael Duffy responded.
"Our really are nothing compared to these, yet some want us to close down part of OUR OWN ground, eh??? WTF?," Brimcbhoy continued.
"Break the rules a wee bit, instead of a big bit, we all know what the rules are! Remember we've got previous for this stuff, so we're in the spotlight! if ye cannae see that 'when UEFA hit us wi' a closure, we can always whinge, aye we dae pyro's but other teams dae merr pyros than us! whit part of NO PYRO'S are ye not gettin!" Michael Duffy continued.
"So now compare all of those examples I've shown you compared to this. And THIS is what you want us to close this part of the ground for?" Brimcbhoy argued.
Next up is Tartantim: "Ach, they'll just double the fine. But the Green Brigade don't need the pyros for their tifos so the quicker they stop using them the better it will be for everyone.
UEFA can be guilty of double standards. Do you hear of Italian, German, French, Spanish, or Dutch clubs getting fined for flares, naw cause they turn a blind eye."
Hoopy427 was next to state his view: "Personally I think the contribution of the Green Brigade to Celtic Park's atmosphere is immense and it annoys me off that some people alway have it in for them. But for heaven's sake boys leave the fireworks for bonfire night, no good comes of it."