It is the custom in quite a few Celtic families (well it is in mine, anyway!) for a grandparent to cradle a newly born child in his arms, take hold of the five fingers of the new baby and say something like "Johnstone, Wallace, Chalmers, Lennox and Auld" instead of "This little piggie went to the market…". Sometimes it can be "R Thomson, A Thomson, McGrory, Scarff and Napier", " Delaney, MacDonald, Crum, Divers and Murphy" or "Bennett, McMenemy, Quinn, Somers and Hamilton". It is a sort of initiation ceremony or even (and I hope I don't offend anyone) a sort of Apostolic Succession.
It is a pity we don't play with five forwards nowadays, but I suppose we could say it is a midfield three and a front two – but then again I have always believed that team formations are on the theoretical, academic side of football. What matters is HOW we play, far more than WHERE we play.
However I would submit to the museum of great Celtic forward lines the five of 1926  –  Connolly, Thomson, McGrory, McInally and McLean.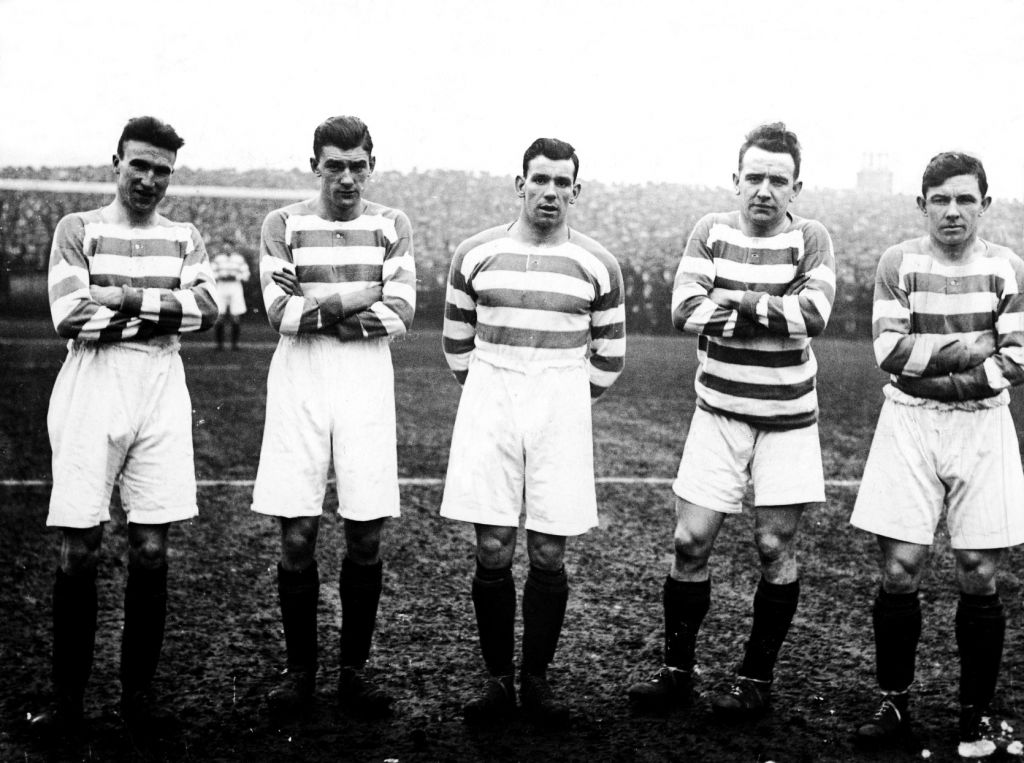 Paddy Connolly was commonly known as "The Greyhound" for his speed and his lithe, lean frame which disguised a great deal of strength and vigour. He was fast, and an accurate crosser of the ball providing loads of ammunition for McGrory's Golden Crust to head home. He came from Hamilton and died in 1969.
And then there was Alec Thomson, "Mr Ever Ready" "McGrory's fetch and carry man" "the supplier". Again, his thin, almost consumptive look was deceptive. There was a great deal of strength there, and even more footballing brain. "Eckie Tamson" as he was known in Fife, came from Buckhaven and was a great friend of the other Thomson from Fife, the peerless John. Alec died in 1975.
Jimmy McGrory? Now what can we say about him? 410 League goals and 550 overall should be enough – but it doesn't come close to expressing his contribution for Celtic! Supporters who had followed him in their youth were still in awe of him when they reached their 80s. His death in 1982 caused widespread mourning among the older generation.
Tommy McInally was in some ways Celtic's best ever ball player – or at least he could have been if he had not been cursed with that most pernicious and deadly traits of Scottish footballers, that of self destruction! He achieved only a fraction of what he could have, but he remained a cult hero among the support. Maley tried appeasement with Tommy; firm discipline might have been a better idea. Tommy died in 1955. A bit like Bonnie Prince Charlie, Tommy was a romantic and only sporadically, was he a successful player
Adam McLean was grossly underestimated and underrated. He had the misfortune to be around at the same time as Rangers' Alan Morton to whom he was only slightly inferior – hence the reason he won only four Scottish caps. A thoroughly reliable and professional player, Adam much loved by his team mates and supporters.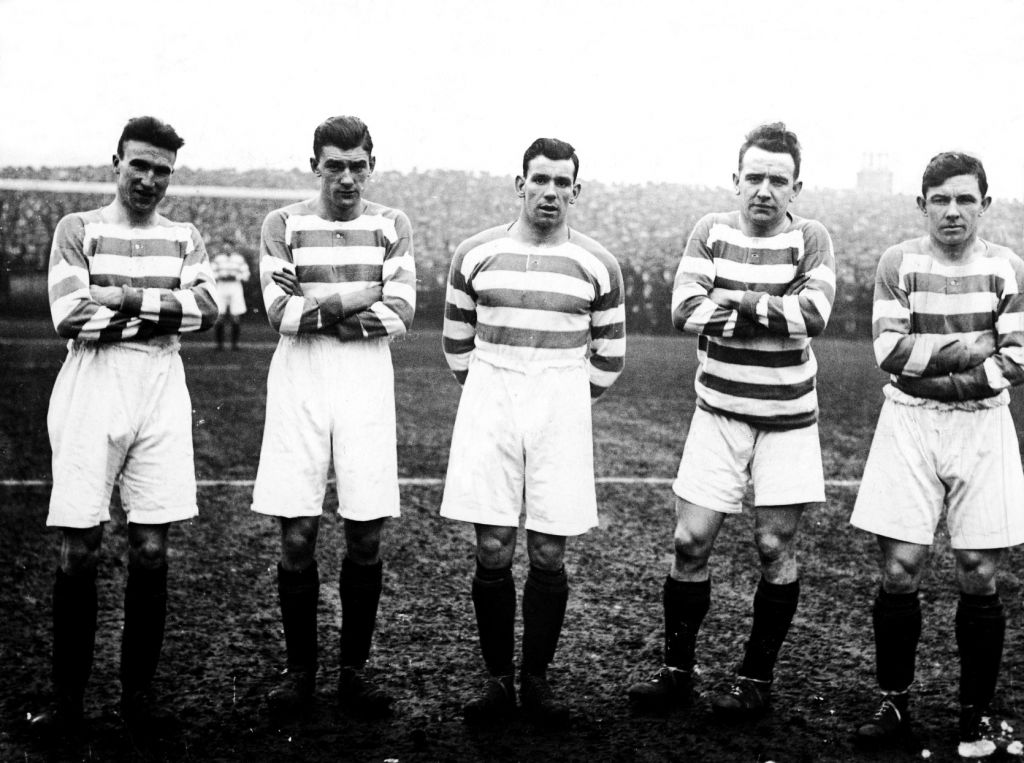 These five came together to play in the 1925/26 season, rather putting an end to all the stories that there would be no Celtic after Patsy Gallacher. They swept all before them and won the Scottish League by a fair distance. It was McInally's best season for the club and there seemed to be no limit to what this five could do. They played brilliant co-ordinated football and had the fortune to be comparatively unaffected by injury until McLean got hurt in early March. This threw things out of gear, and with respect to Willie Leitch who replaced McLean in the Scottish Cup final against St Mirren, Adam was badly missed. Had Adam stayed uninjured, the Scottish Cup would have been Celtic's as well in 1926.

It was  a similar story in 1927. The honours were the other way round, however. At the key point of the season, McInally, McLean and then McGrory sustained injuries and the League was lost at the end after some great football from Celtic's five forwards in the middle of the season. But they won the Scottish Cup, beating East Fife 3-1 in the final. 1928 saw the end of this great forward line. McInally, having pushed his luck in a Scottish Cup tie at Keith in the Highlands in February, fell out again with the Celtic party at their Hydro Hotel in March, and although he was back for the Scottish Cup final that year, the self-destruct button had been pressed long before Meiklejohn's penalty kick which set Rangers on the road to their 4-0 victory.
Yet 1925/26 will long be remembered as a great year for Celtic's forward line. The defence wasn't all that bad either with Shevlin, W McStay and Hilley, Wilson, J McStay and McFarlane, but it was the sparking forward line that had all the newspapers singing their praises and the fans lauding them to the heavens. And my, didn't the fans need a great team to cheer them up in those dark, poverty-stricken days of 1926!