Celtic fans aren't going to be allowed to attend away legs of the European qualifiers this year but there is hope that the away trips will return by the group stages, hopefully with Celtic participating!  We've been looking back at the European stories from previous trips from both Matt Corr and Liam Kelly and today it's back to Liam to give his account of the game against AEK Athens almost three years ago…
Liam Kelly – From Panic In Paris To Agony In Athens: Recounting AEK Away
After the absolute disaster that was our trip to Munich, myself and Paul had been waiting for the new season to make amends in terms of following Celtic abroad. Paul was the more experienced European away match-goer and said that the qualifiers often spring up good trips, so we decided to wait and see what the draw brought.
Celtic had beaten Rosenborg 3-1 at home in first leg of the second qualifying round, at which point the draw was made for the next stage. "I think I'll save my money for the play offs or group stage, unless we get Athens," I said. Then it was time for the draw. I sat in work with a live stream on my phone. "Celtic will play… AEK Athens."
That night we looked at travel plans and hotels. We wanted to avoid the mistakes of Munich so had to make sure that all the I's were dotted and T's crossed. I had seen on social media that a lot of fans had already taken the chance and booked cheap flights to Greece, before our second leg with Rosenborg had been played. We couldn't risk this after our experience in Germany, but the prices were going up by the day. Fortunately, Paul spotted an opportunity to reserve flights for 24 hours on the Air France website. We waited until 22 hours before the second leg kicked off in Norway, and I reserved the flights, which offered unlimited alcohol and the luxury of business class for an extra £10!
Half time in Norway, Rosenborg 0-0 Celtic. This prompted many others to book up before the inevitable price hike at full time. The scoreline stayed that way so I immediately confirmed our booking at the end of the match and we could look forward to a trip to Greece. All we had to do now was book a train from Poole to Bristol, sort transport from the centre of Bristol to the Airport and make sure we caught our flight to Paris and then our connection to Athens. As ever things didn't go that simply.
Celtic had dominated the first leg against AEK Athens at home. We took the lead through Callum McGregor in the first half, but the visitors equalised against the run of play. Athens had a man sent off with half an hour remaining, yet we couldn't find a winner and the result was a disappointing 1-1 draw.
A week later, I met Paul at a pub round the corner from Poole train station. I had all the paperwork and packed the essentials down to a two pin plug adapter, to ensure there was no room for error. In Munich we had Irish hurricanes to contend with, this time it was deadly wild fires in Athens. Nevertheless, we cracked open a couple of dark fruits on the way to Dorchester, where we had to change trains and with a 20 minute wait, Paul made a typical Irishman's suggestion in the form of going to the Brewhouse for a quick pint. From there, we made our second train no problem and so began the three hour jaunt up to Bristol. The songs were playing and drink flowing by the time we made a final change to get to the centre of Bristol, where we would sample the local liquid delicacy or Pilsner as it's better known.
We mixed with a few locals in the bars by the harbour, none of whom gave us a chance of victory in Greece. Paul and myself agreed, having felt that it was a missed opportunity against ten men in the first leg. Our European away form was well known to be abysmal and the fact we now had to score to avoid elimination made matters more difficult, yet we both maintained an underlying hope that Celtic could get the job done.
Talk of tactics and team line ups dissipated at closing time as our attention switched from football to finding somewhere to see in the next six hours before our flight to Paris. Eventually we found a bar with music blasting in an otherwise empty street. We went inside but promptly performed a u-turn when the barman, wearing high heels and a dress, commented on our football colours. One look around the place soon revealed that it wasn't our sort of establishment – no harm to those with a penchant for cross dressing, but it's not our scene! Therefore, a taxi was flagged down and we saw in the next few hours at the airport bar.
Weary and worse for wear, Paul and myself boarded a tiny 20 seater plane bound for Paris. As a West Belfast man, Paul didn't boast a wardrobe conducive to seaside visits. He had invested in a new pair of flip flops for the trip, which he put beside his rucksack in the tray at security. I breezed through the scanners, retrieved my bag and then turned around wondering where the hell Paul had gone. "Some barsteward's stole my wallet!" I heard someone shout in a Belfast accent. I moved in for a closer look and arrived just in time to see Paul launch his brand new flip flops at the scanners when a security guard said that they'd checked all trays and his wallet was not there. At that point, I had no option but to turn away absolutely howling, whilst Paul threw his arms in the air in a fit of rage, convinced that someone had robbed him.
"That's it, you go on to Athens, I'll just see if I can get home, I'm not going with no money. I've already focked my flip flops at the queue and I had everything in cash," Paul exclaimed. I tried to talk him round but he was having none of it. We still had four hours before our connecting flight, so I thought it'd be worth speaking to the customer service desk to see if they could search the plane in case the wallet had been left on there. The Air France staff radioed into the stewardess to see if anything had been found, which convinced Paul that the wallet had fallen out of his pocket during the flight. He perked up waiting for good news, only for his face to drop like a sulking puppy when he was told that there was nothing, but if anything turned up then we could visit lost property on our return.
Eventually it was time to go to Athens and Paul had a decision to make. He boarded the flight with me and asked his girlfriend to transfer money into my account, which we could then withdraw in Greece for his spending. Instantly, he was in a better mood after finding the solution and we got a few cans of complimentary Heineken on board, before getting a couple of hours sleep.
A 38oc heat confronted us in Athens, which was almost as warm as the reception we got from the infamous Stripey Cat, who had flown over from Scotland! The three of us hadn't even reached the bus terminal before Stripey had outlined his plans to "take over the world," whilst in the "home of democracy and the birthplace of civilisation." We disembarked the bus near our hotel and got the first of many pints of Fix lager. Sat outside a busy street, Stripey stared at the huge office blocks across the road: "Athens is at a low point man, look at this graffiti. It will rise again though, you can't keep her down. I'll come back here, buy them offices, turn them into a backpackers hostel. It's an attitude man, take over the world." Already, the convictions of his madness from Munich were confirmed, if they hadn't already been so by a story Paul had told me of their trip to Zenit, when Stripey Cat was robbed at knifepoint in a kebab shop at 4am! The robbers took all his cash, then returned in a car and threw his wallet back with all the cards intact. Stripey reportedly ran after the car and shook the driver's hand, saying: "That is how you do a robbery man, thank you for giving the cards back, you are the best robbers in the world."
Mon then Athens. We can Fix it Celtic. 😎 pic.twitter.com/qFKKXRePnb

— CC (@celticchampionz) August 14, 2018
Several Fix's later, we checked into the Hotel Artemision, which Paul had kindly booked on our behalf. It came at a cost of eight euros per night and was surrounded by female street workers. "Enjoy your stay, you can smoke, drink and bring prostitutes to the room if you like my friends, welcome to Athens," the receptionist said. This was not a place to take your wife as Paul remarked, but it was a place to get the head down for us and get a shower…
24 hours travel to Athens, for the 3 of us from the highlands, Belfast and Bournemouth. A wallet with cards and cash lost but no problem when you stay in this sort of luxury 😂 pic.twitter.com/JpeNXRu82n

— Liam Kelly (@cfcliamk96) August 14, 2018
We opened the door to the room and were greeted with a sight similar to a scene from the prison comedy 'Porridge'. There were metal bunk beds, no running water and the shower across the landing was vile. To add insult to injury, the first two floors were reserved for prostitutes only, and there was blood on the balcony!
Well out of all the shit holes you've taken us too Mr Pigeon this is one of the worst/best, mate. Hot n cold running water would be a start. @pigeoncfc @cfcliamk96 😆 pic.twitter.com/jlS0BH778v

— CC (@celticchampionz) August 14, 2018
With our bags dropped in hell we decided to have a walk around the local area. A Norwegian man working in Athens got speaking to us in a bar. He took us to James Joyce Irish pub, where he suspected that most Celtic fans would be. He was right, so we settled in for the night, where the atmosphere was electric. Our Norwegian friend was shocked at the noise and our vast song book, which prompted Stripey Cat to say "This is Celtic my friend, no Mickey Mouse." It was a great start to the trip with everyone in good voice.
Celtic fans sing George & Pop in an Irish bar in Athens last night. Place was bouncing pic.twitter.com/sJGT00zurt

— Liam Kelly (@cfcliamk96) August 14, 2018
Game day began a bit unusually for us in that we had food for breakfast and got tickets for the open top bus tour around the city. This gave us a chance to see the Acropolis, the Temple of Zeus and the old Olympic Stadium, among other incredible sights.
After the tour, we visited the many street vendors selling Fix and bumped into a familiar face within the travelling support, Liam. Liam was in Argentina and Uruguay, as a teenager, with his friend for the World Club Championship in 1967. The pair still travel to almost every single European away game together and we had a great time listening to the story of their last visit to Athens when Celtic played Olympiakos in 1974. We shared a can of Fix, brought things back to the modern day and discussed the night ahead. Liam was more optimistic than us. He felt Celtic would score early and get through, whereas the three of us still felt it was a tough task, despite being of the opinion that we were the superior team.
The time for finding out the result would come, but first we had to collect our match tickets at the team hotel and then join up with the rest of the travelling contingent. With the tickets collected, word was given that there was a rooftop party across the road at the Stanley Hotel. No time was wasted in finding out, as we jumped in a lift and walked out to a roof top swimming pool surrounded by Celtic flags, the sound of the Irish Brigade being played over the speakers and the roof top bar selling Fix at every given second.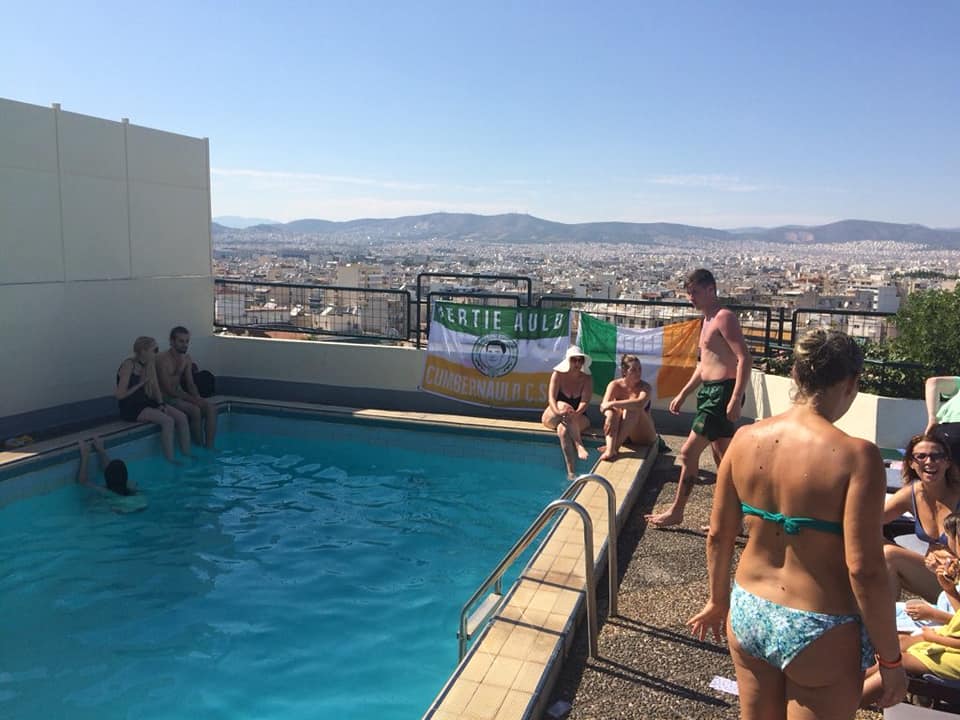 By 5pm the drums were out and members of the Green Brigade led the rooftop party down the spiral staircase and through the hotel to the beat of Let The People Sing. Cue bemused looks from holidaymakers. We all gathered at the front entrance ready to begin a corteo to the underground. The train station erupted to the echo of This Is The Day, before we scaled the steps and arose in one of the city squares after getting off at several wrong stops. The police began escorting us at this stage, with locals crowding round to catch a glimpse of the Celtic support making way through their town. Firecrackers lined the pavements, with overhead clapping and chants of Celtic, Celtic. We walked for an age in extreme heat, yet the atmosphere remained top drawer.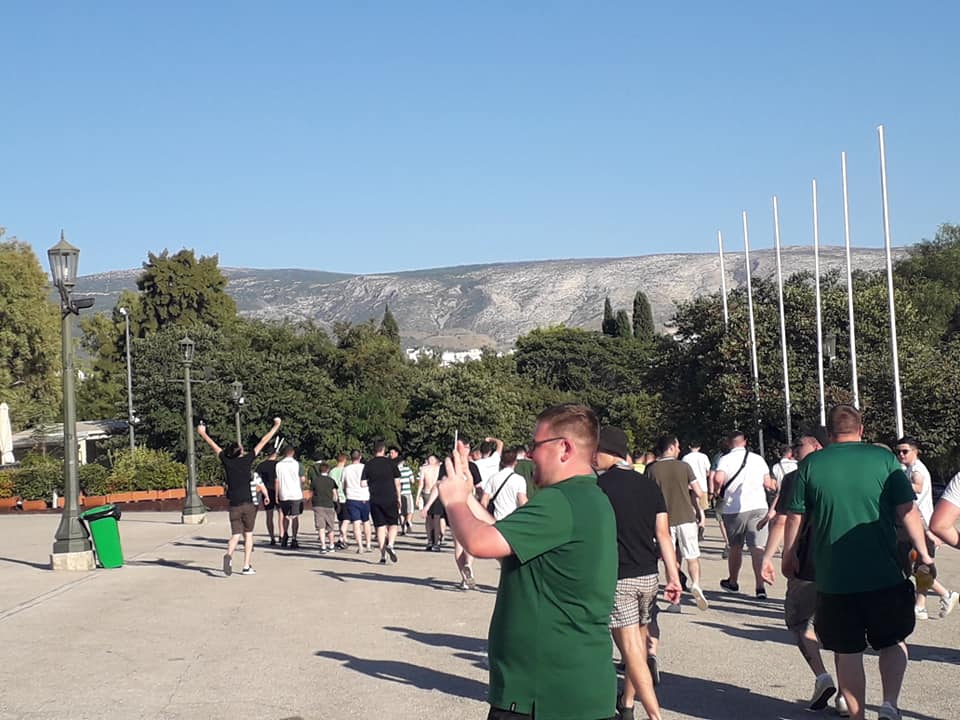 Finally, we reached the Old Olympic Stadium, where JP Taylor (Celtic SLO) was ushering fans onto buses which had been hired to take us out the ground a couple of hours before kick off. The convoy of green and white burst into the Celtic Symphony and sang for the full thirty minutes up to the new Olympic ground. Upon arrival, a banner from the AEK Ultras greeted the away support…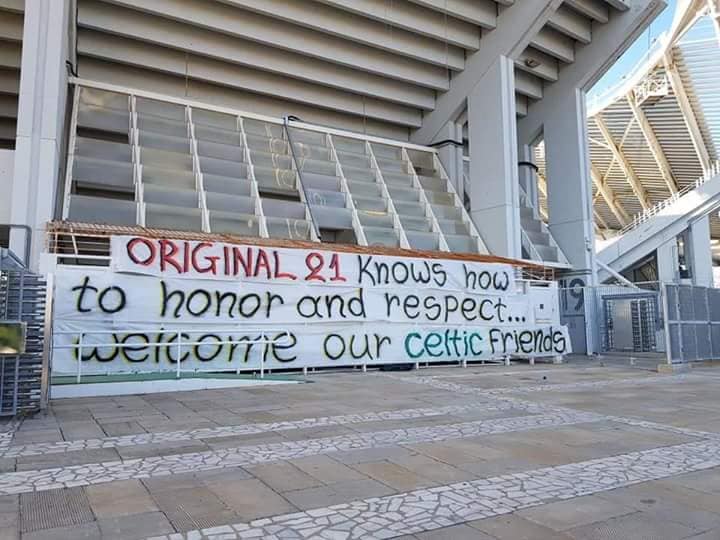 The Celtic supporters were handed bottles of water on arrival, which was most welcome. Yet, there was a lot of disappointment inside the stadium when there were no catering facilities, from which to buy alcohol. With another couple of hours until kick off, all that remained was to sing and try to boost the Celtic players as much as possible.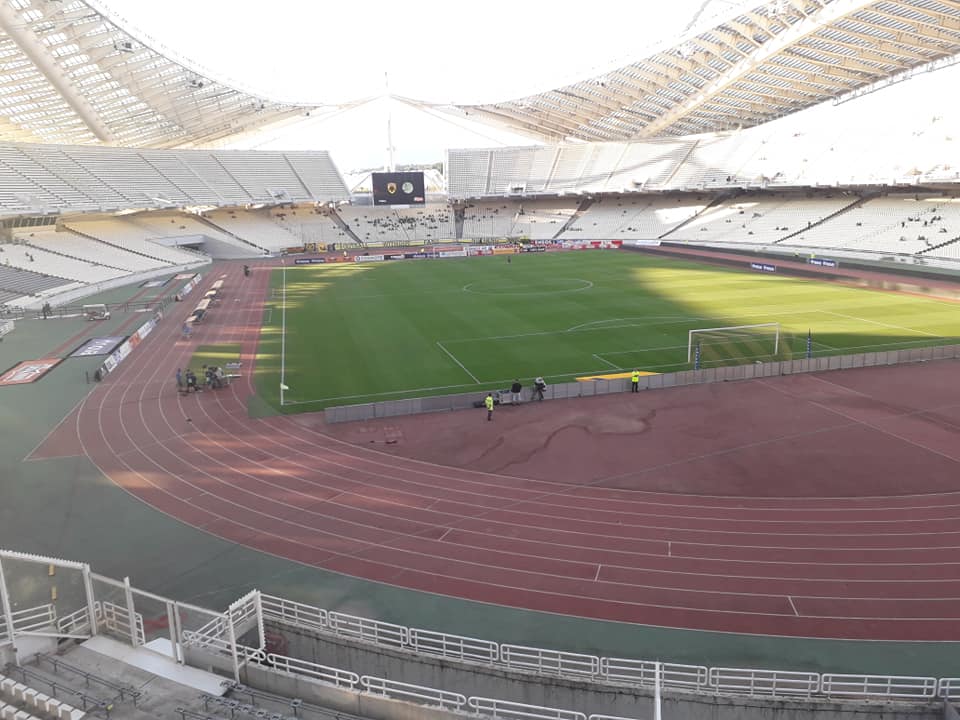 Kick off time eventually rolled around and my attitude had completely changed by this point. I was now in no doubt that Celtic were going to get the job done. Clearly, it was thinking with the heart rather than the head though, as AEK burst into the lead inside six minutes. Not much had changed as we needed to score regardless and should we equalise then we would be level in the tie again. Half time came with the score still at 1-0. I led those around me in a chorus of the Boys of the County Armagh, whilst a variety of Irish ballads were roared through the interval.
AEK went 2-0 ahead moments after the restart. This subdued the atmosphere at the Celtic end until Scott Sinclair's header restored hope in the 78th minute. We bombarded the Athens goal in the closing stages but it wasn't to be. Celtic fans were held back for some time after the game, before being bussed back to the city centre. There, everyone gathered for a few quiet drinks outside and assessed where it went wrong. Some felt it was a lack of belief, others blamed Lustig, whilst most commented on Boyata's refusal to play. Regardless of the reasons, we were out.
The next day, myself, Stripey Cat and Paul headed across to the Celtic team hotel once more. Wearing Celtic training tops and armed with a Celtic beach towel, we blagged our way to the roof top pool as members of the club's backroom staff. It was a magnificent spot, offering panoramic views of the city and a birds eye view of the Acropolis. I jumped in the pool to cool off from the 40oc sun. At which point, Stripey Cat removed his shorts and dived into the pool in his y-fronts. This was a five star hotel with business guests, yet there was Stripey, a grown man in his underpants splashing around like a child without a care in the world. When he had enough of his aqua play, he went to the bar where three ciders amounted to 24 euros! "Put the drinks on our tab, room 592," Stripey said. To our astonishment, the barman agreed and a tab was opened up. Perhaps more astonishing was when I turned to see Stripey Cat back in his y-fronts lying on the sunbed! Paul and myself were howling, whilst doing our best to disassociate ourselves with him.
In the Celtic team hotel today. Unreal spot pic.twitter.com/L9qq6pEMFs

— Liam Kelly (@cfcliamk96) August 15, 2018
We were finally caught out and ejected. I then suggested that we try a Greek kebab, before visiting a nice outdoor cafe. This prompted an outraged response from our resident lunatic, as Stripey Cat burst into a tirade to oppose me eating. "Vitamins, minerals and irons – that's all you need. You get those from beer and nuts at the bar. No kebab! It's an attitude man, stop thinking about food." Try as he might, I headed for the kebab shop before a low key evening in some nice spots around the city.
Our last day was spent on the beach. Stripey noticed the number of elderly locals floating in the water and, wearing his famous y-fronts, he shook hands and bowed to an old man. He then turned to us and said: "Respect man. This old guy is 94! You know how he survives, he bobs in the water." We laughed at his craziness and observed this manchild floating in the sea without a care in the world. That night, we got a sleep and I fended off requests from the other two to stay longer and miss our flight home. When at the airport, Stripey shunned his flight home, preferring to book a £40 domestic flight to Corfu on his own for the weekend! Myself and Paul parted with him at this point and headed to Paris.
We landed and had plans to get a train into the city, see the Eiffel Tower and have some lunch. Instead, we crashed out in the airport in utter exhaustion. I awoke with another six hours to kill, so headed to lost property to see if Paul's wallet had turned up. No such luck. However, worse was to follow as a flight of Rangers fans heading back from Maribor landed. I was alone in my Celtic tracksuit top and got all the expected venom, along with mockery as they had progressed in the Europa qualifiers. Yet, they seemed unaware that Celtic were now in the same position. I laughed it off and met Paul back at the departure lounge. I broke the bad news about his wallet and he returned the favour by pointing to the screen, where it was revealed that our flight to Bristol was delayed by two hours.
When we did eventually board the plane for our short flight home, we were treated like royalty with pillows and lunch offered as part of the business class bonus. We had an hour to kill in Bristol, so tried lost property there. Paul gave a description of his wallet and the amount of cash that was inside it. Ten minutes later, a man in a fluorescent jacket appeared with a wallet containing Paul's ID and all 400 euros. It had been handed in at the Airport bar!
On that positive note, we got the 3 hour train back to Poole, where I slept for the full weekend. Just as in Munich, the football was dreadful and the trip had its problems, but the atmosphere and the laughter was top drawer.
Liam Kelly