THE STORY OF THE BOOK…FOOTBALL WITHOUT FANS – THE HISTORY OF CELTIC SUPPORTERS CLUBS…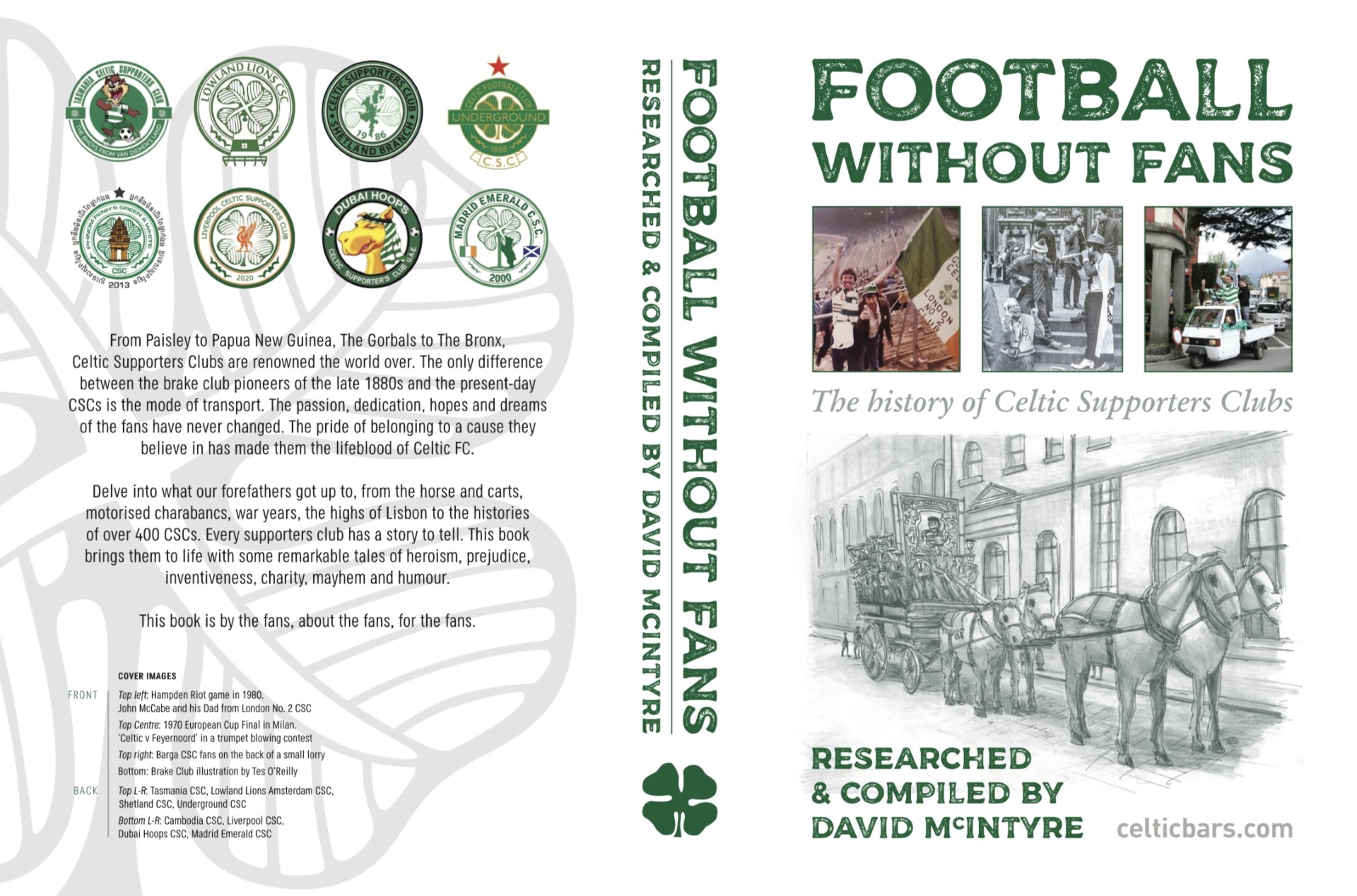 From Paisley to Papua New Guinea, The Gorbals to The Bronx, Celtic Supporters Clubs are renowned the world over. The only difference between the brake club pioneers of the late 1880s and the present-day CSCs is the mode of transport.
The passion, dedication, hopes, and dreams of the fans have never changed. The pride of belonging to a cause they believe in has made them the lifeblood of Celtic FC.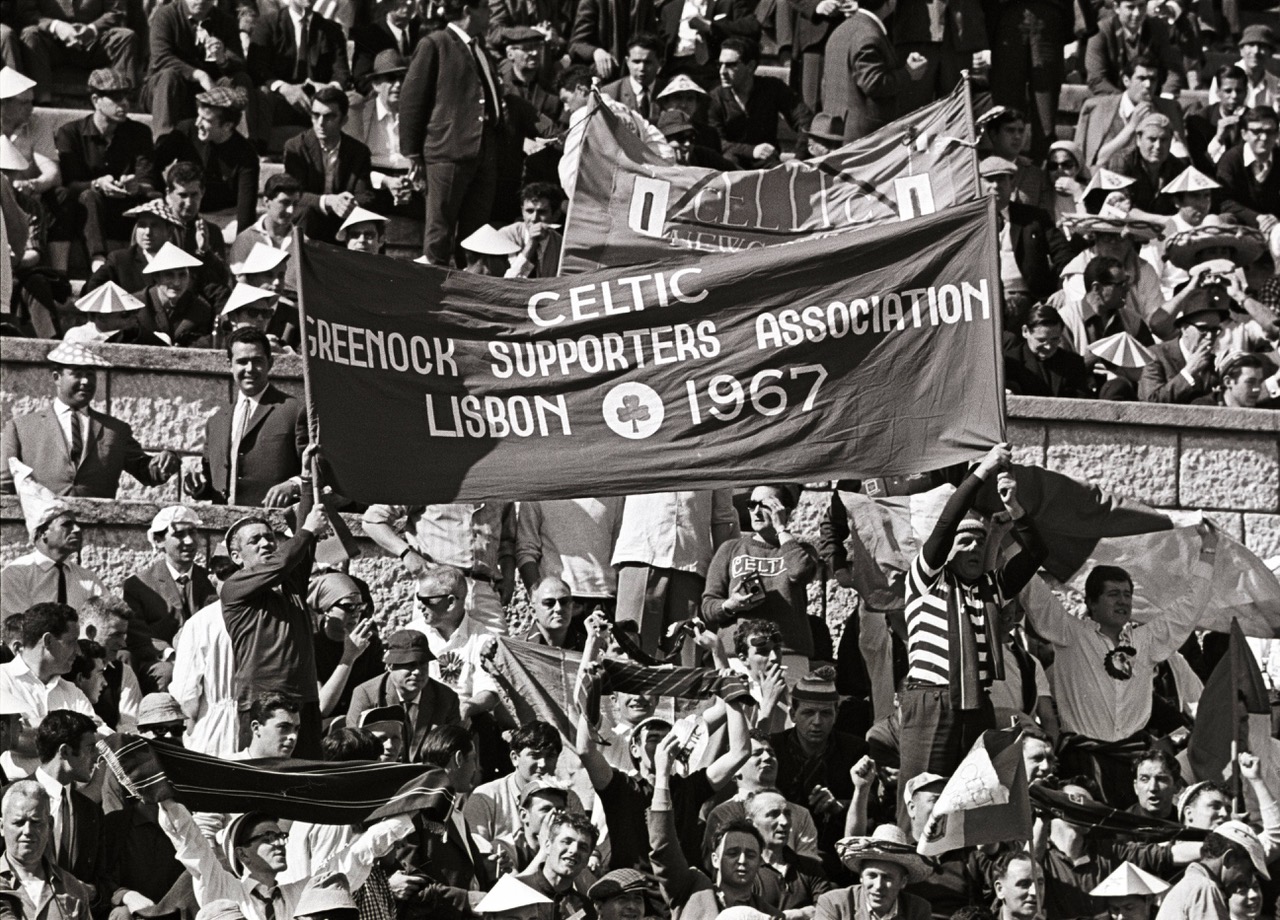 Delve into what our forefathers got up to. From the horse and carts, motorised charabancs, war years, European finals to the histories of over 400 CSCs. Every supporters club has a story to tell, and this book brings them to life with some remarkable tales of heroism, prejudice, inventiveness, tragedy, charity, mayhem, and humour.
Since I started the Celticbars website in 2001, I have had a great interest in Celtic Supporters Clubs and have a huge database of the clubs going back to that date, including 581 current CSCs and 644 disbanded CSCs.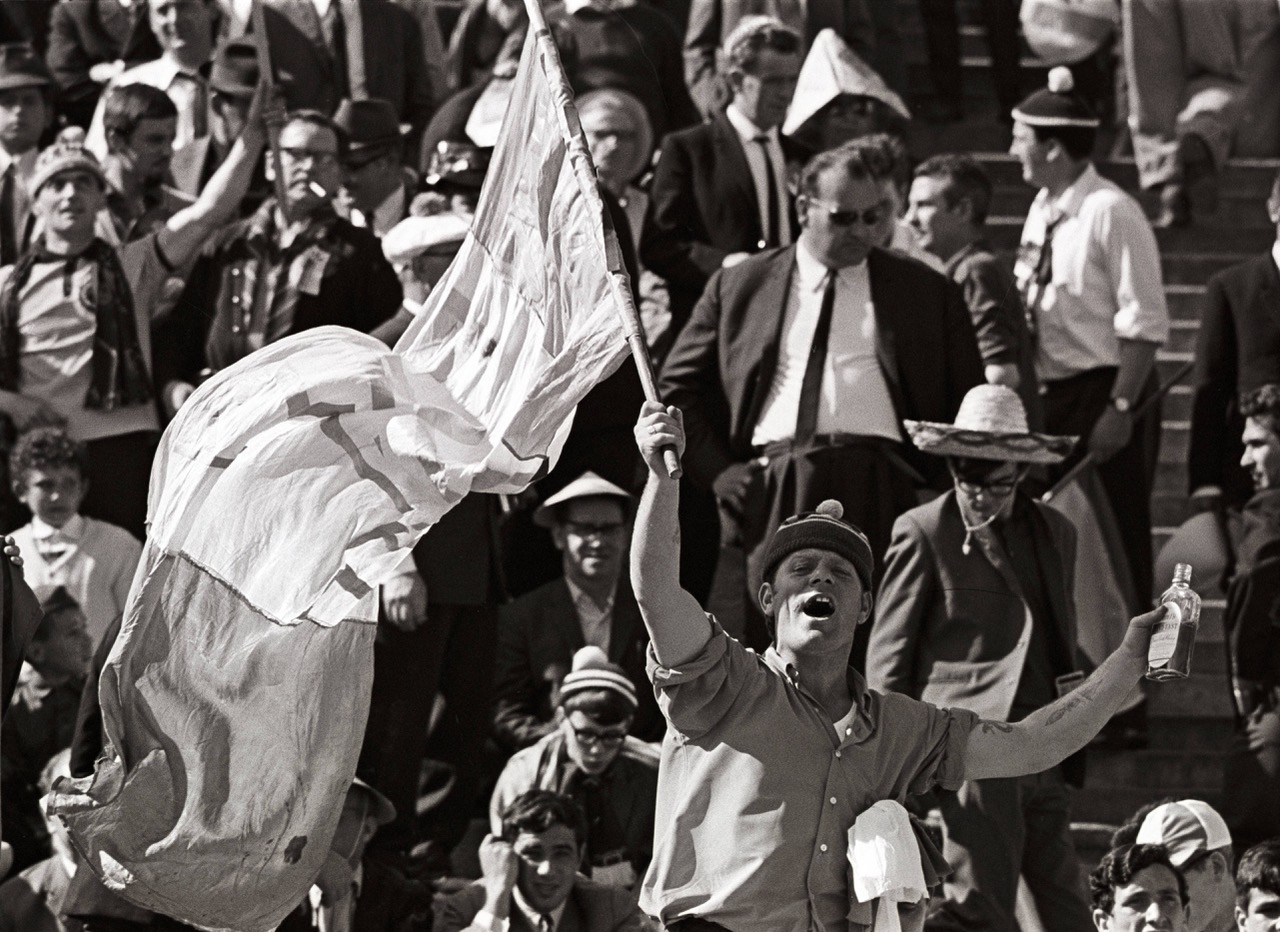 Over the years, I have came across disbanded clubs like Paisley Harp CSC, Newcastle CSC and from my hometown Dumbarton Phoenix CSC which I never knew existed. They preceded Dumbarton Harp CSC and in the research of this book, I discovered that there was also a Dumbarton CSC who were one of the first member clubs of the newly formed Celtic Supporters Association in 1944.
Delving back further, I discovered that there was also a Dumbarton Brake Club, which was formed not long after the formation of Celtic Football Club. All memories of these clubs seem to have been lost in the midst of time. To this end, I decided to contact the current CSCs on my website and get their histories chronicled for reference and posterity.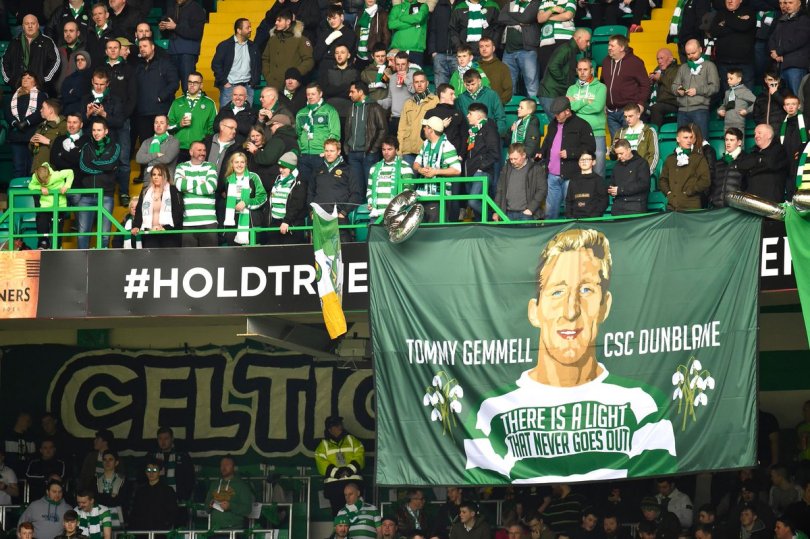 The clubs bought into this idea and I managed to get the histories of 403 CSCs. The book obviously has Celtic FC at its core, but it focuses on the impact the supporters have played in the history of the Club.
This book is by the fans, about the fans, for the fans.
This was never going to be a quick project, eventually taking 19 months to complete. I wanted the clubs to contact their older members, get their stories and memories, and get everything just right before sending me their entry for inclusion. I also encouraged CSCs to send me photos of their club heirloom items, from old minutes of meetings, team groups, old handbooks etc. From the histories I received, there were some common themes.
Clubs having several generations of families who have been members, the pride of belonging to a public shared cause, charity work they all do, the remembrance of old pubs they were based in, European trip capers, characters of their club, the humour and the memory of members who are no longer with them.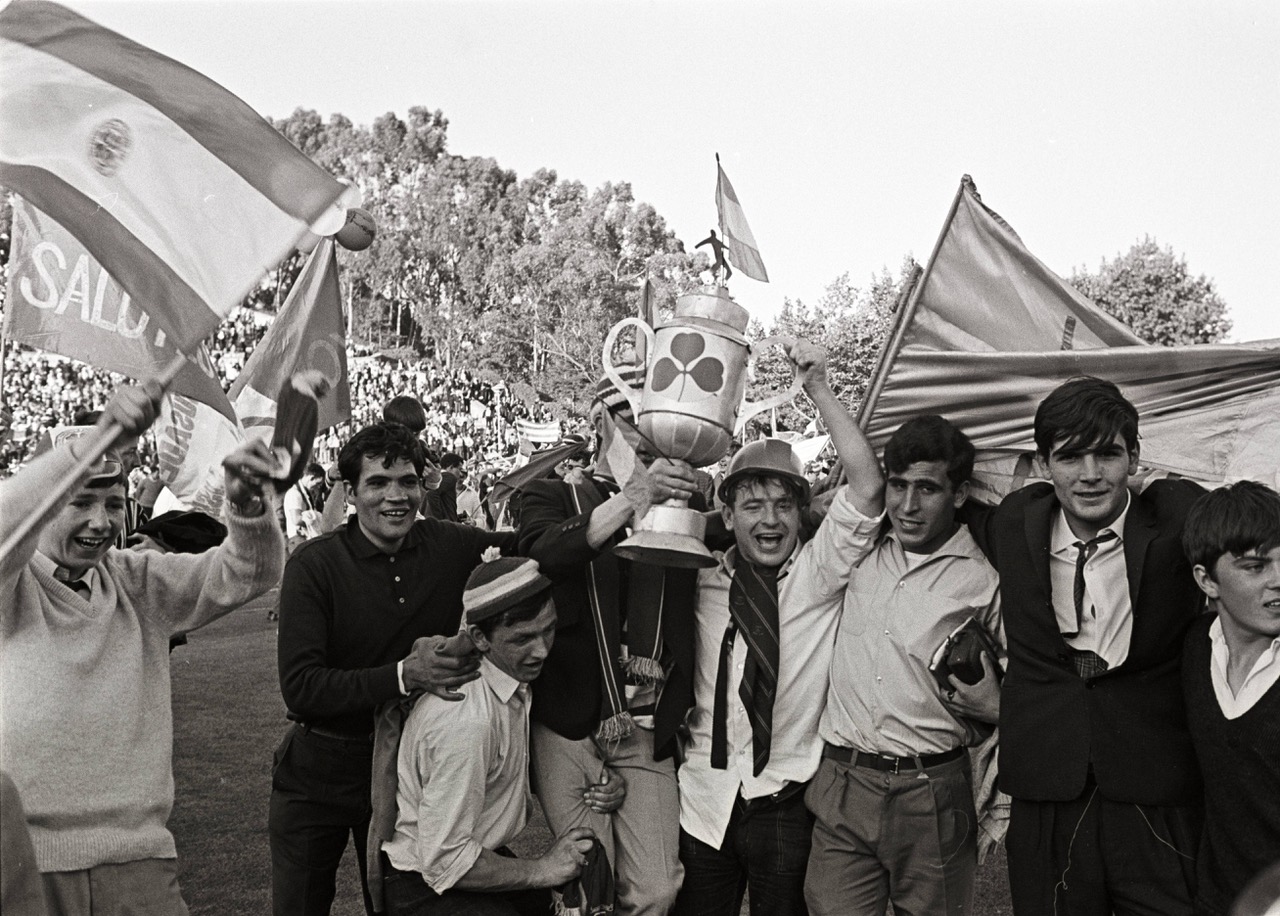 A few clubs changed their CSC name to honour their friends who have died. The clubs proclaim to be the best supporters club in the world. These clubs would be nothing if it wasn't for the dedicated committees over the years, who give up so much of their own time to ensure the smooth running of the bus. Not always the easiest job in the world, but the respect they get from the rank and file is testament to their efforts.
From the beginning, I wanted the book to be as unique as possible and with over 400 CSC histories from 400 different supporters, that was a decent start. The book comprises of
The Foundation of Celtic Supporters Clubs
Life after the Brake Clubs
Lisbon
Milan
Seville
On our way to Paradise
Celts for Change
Rio Fergus McCann CSC
Kano Foundation
Celtic pubs
Celtic Fan Media
Celtic Entertainment
Variations of CSCs
Histories of present day CSCs
Gone but not forgotten
With plenty of information online on fantastic websites like Celtic Wiki (who were a great help,) I wanted my own take on what I uncovered and never took the easy option of copying and pasting. I actively got to work contacting guys who could further help me with this project.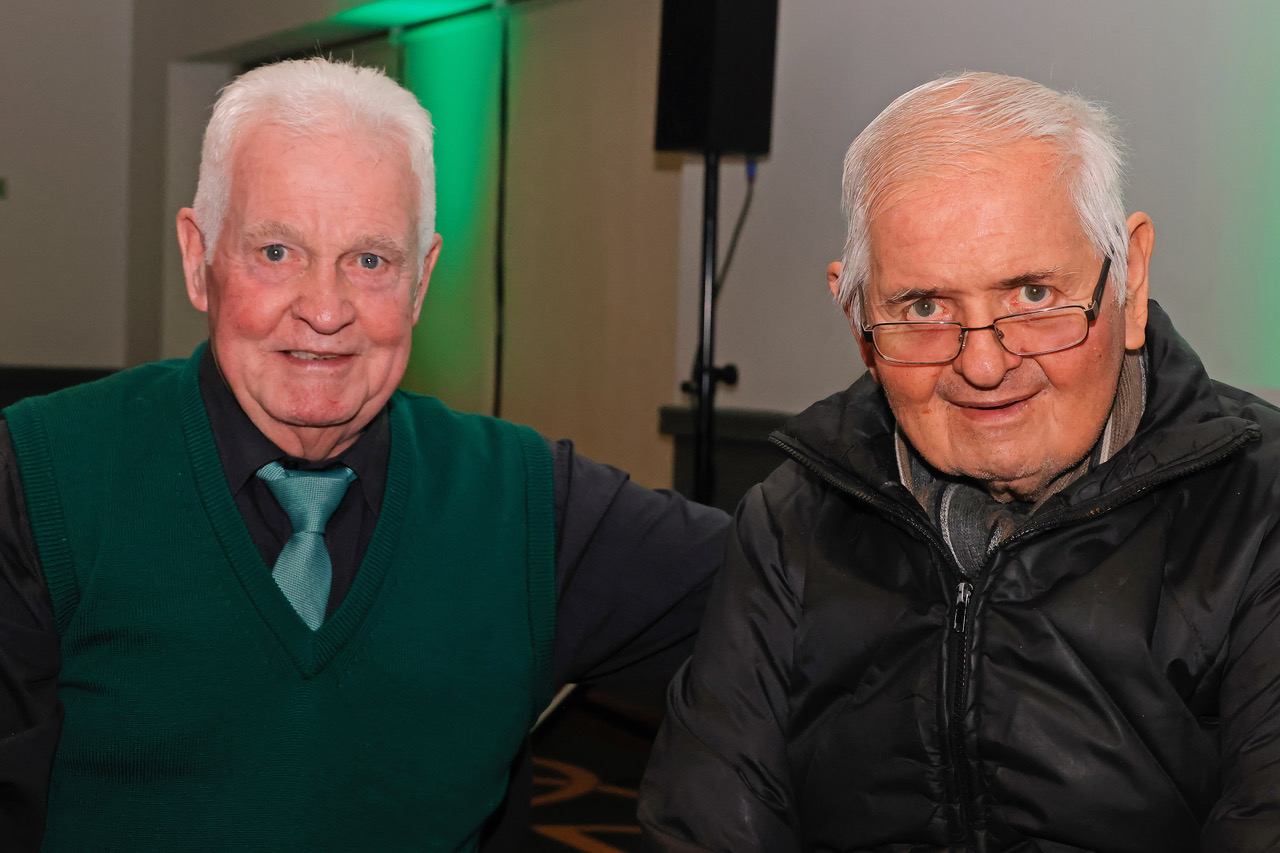 First person I phoned was renowned Celtic Historian Pat Woods, where we reminisced about Shettleston No1 CSC and the Hart Street Hippies from the 1960s when he was a member. Pat sent me the history of the Celtic Supporters Association which was first printed in The Celt fanzine in 1996 after he interviewed the founder Willie Fanning and kindly gave me permission to use his words.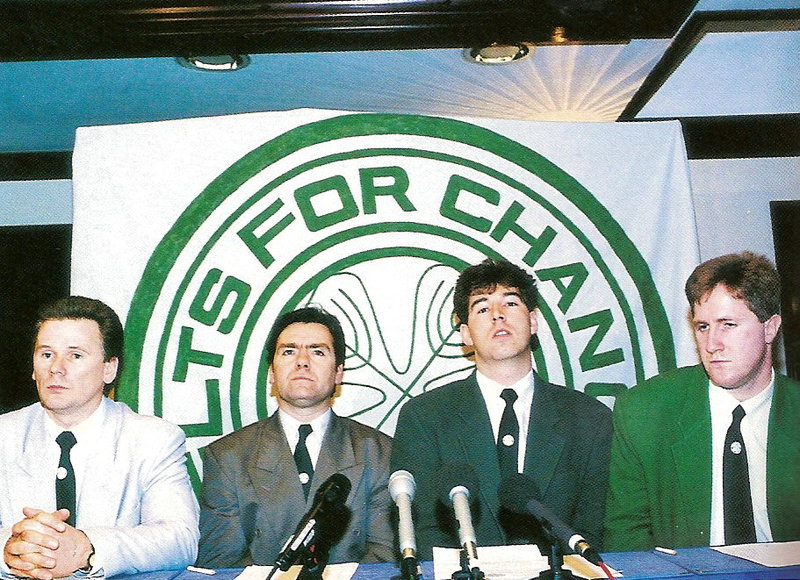 No book about Celtic supporters could be complete without mentioning the Celts for Change campaign. I contacted Matt McGlone and arranged to interview him in The Horseshoe Bar in Glasgow. Between copious amounts of drink, he gave me a great insight to what happened behind the scenes and when I wrote the chapter about them, I sent it to Matt for him to confirm it was accurate, which he approved.
I spoke to Jackie Meehan who was the founder and first president of the North American Federation, a post he held for 20 years. He pointed me in the direction of the other North American CSCs and regaled me with some of their stories, like the CSC who had a 'whip roon' for the driver, which just happened to be on a plane where the treasurer went to the cockpit to give to the pilot. They did of course have a few sherbets by that time. From The Celtic Star, David Faulds, Matt Corr and Cartuja (who suggested that I should title the book "Football Without Fans") gave me valuable advice about the workings of getting a book published. I met them in a pub on Byres Road.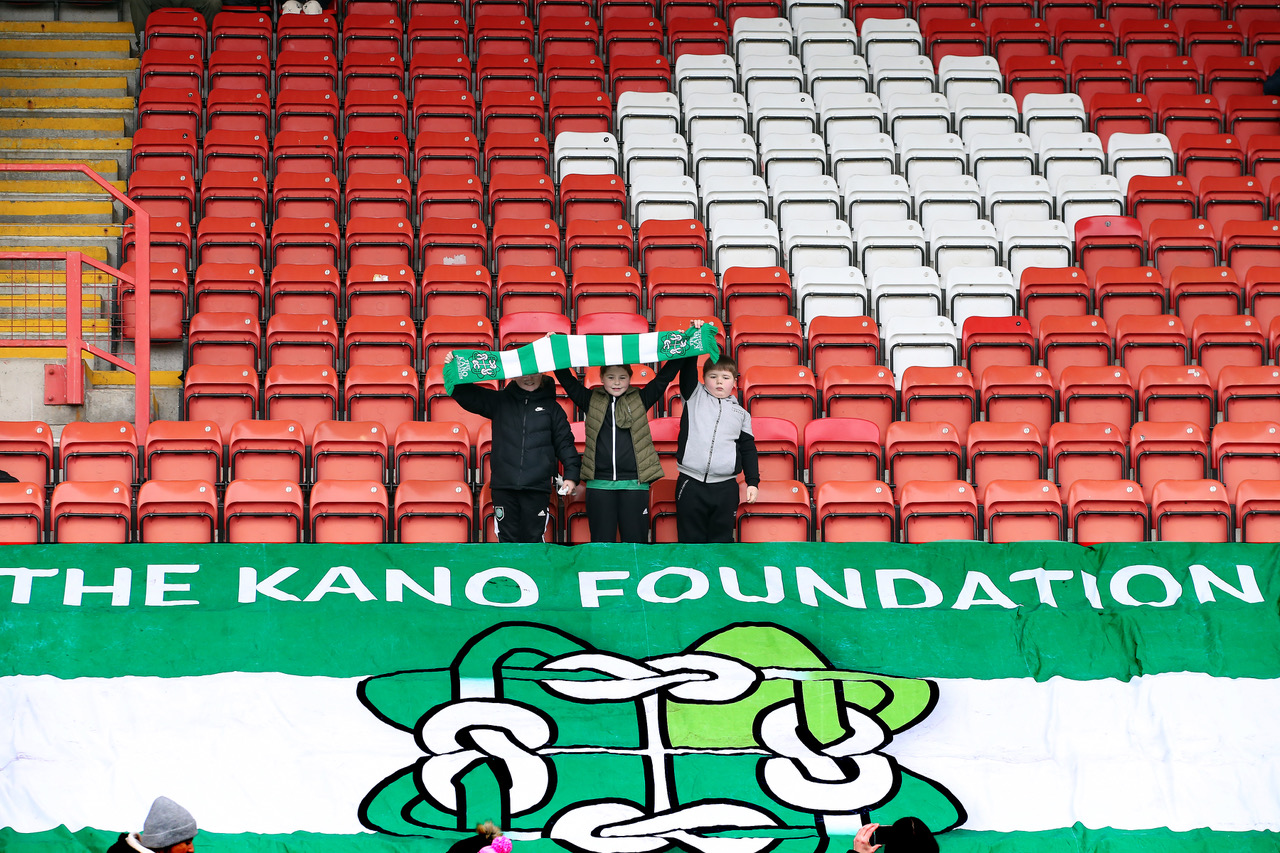 For The Kano Foundation history, I wanted to know more so I arranged to meet one of the founders, John Paul Gilmartin, in The Oak Bar. With both of us being Dumbarton Bhoys, we were in the same class at school and hadn't seen each other for over 40 years.
As well as finding out more about The Kano Foundation, we had a great catch up on what we had done since we left St Patrick's High School. The Foundation are a credit to Celtic FC.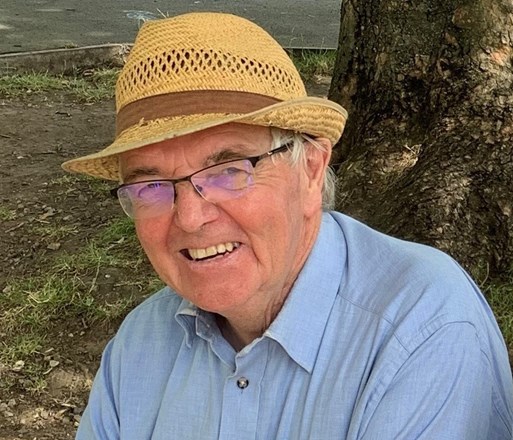 The late great Celtic author David Potter was always a phone call away. The last time I spoke to him, he said, 'You can never have enough Celtic books.' He also gave me another of his words of wisdom for the book. 'Nae sweery words.'
He passed away not long after I spoke to him and I count it as a privilege and an honour to have spoken to him and tell him all about my book, which he thought was a great idea.
Celtic Fan Media is an important part for supporters now. These include podcasts, blogging and being represented at press conferences. I spoke to James Forrest, who gave me more about the history of what his blog is about. He came across well and I enjoyed our conversations. Andrew Milne was very helpful about what his More than 90 Minutes was about.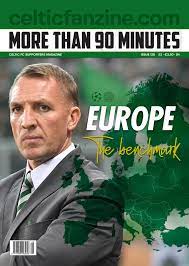 I have some great stories about Celtic entertainment throughout the years. Did a CSC really enquire about hiring Bing Crosby for their End of Season dance in their local Welfare Club? You bet.
This was in 1948 when Bing was the biggest star in the world. Its like a present day CSC trying to hire Beyonce to play in The Squirrel. Musical entertainment has been a part of our supporters history from day one. From the United Brake Club Dances, James Gallagher's Glenties CSC functions, to Glen Daly and the current day bands.
I spoke to Tam from Charlie and the Bhoys who gave their history, which goes back 34 years. Did you know Billy McNeill gave them their name? Along with speaking to well known guys like Gerry Dunbar from Not the View magazine, Paul McQuade from The Shamrock magazine, I was also introduced to some unsung supporters, who played their part in our fans history.
Liam Ferrie ran a bus from London No1 CSC to Lisbon and got a piece of Billy McNeill's torn jersey after the game. He sent me a photo of it and it is a stunning piece of memorabilia for his family. One other character was Jimmy Drain, also from London. His stories were off the radar from the 70s and 80s and most couldn't be printed in the book! I hope one day to meet him for a few beers.
A vital tool for the research into the brake clubs was the UK Newspaper Archives, where I spent hours browsing through the years. The pioneers of the first supporters clubs were fiercely proud of their club and often wrote letters to the newspapers to proclaim their pride.
In the early days, they had a close relationship with the Celtic Board, where prominent directors would attend their functions. Over the years, this relationship would be tested to the limit with the violence and disorder from the clubs, which led to public condemnation from Celtic.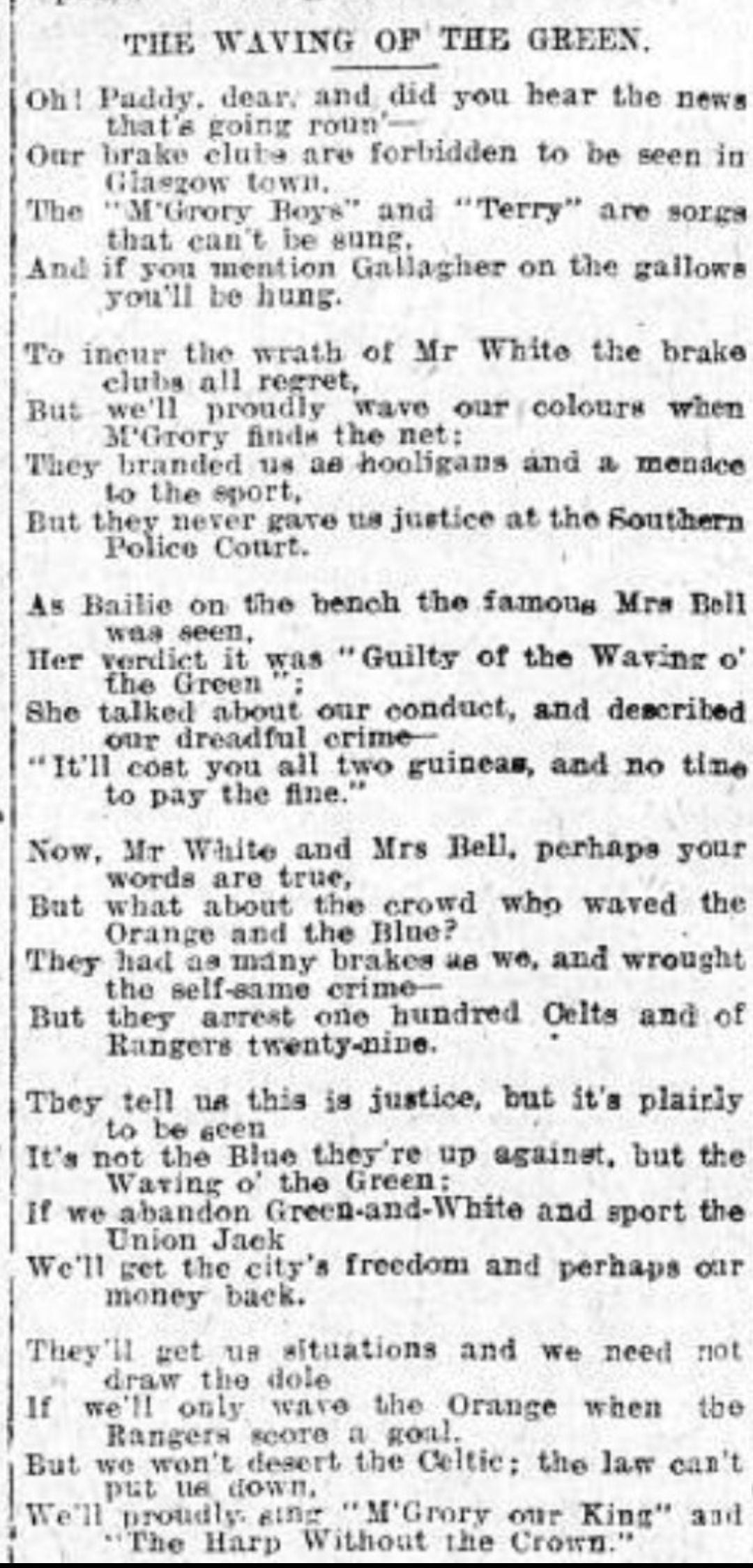 The brake clubs in turn, would complain about the injustice from the authorities who they claimed targeted them more than other clubs. This would often include being arrested for waving the wrong colour of flag. The brake clubs weren't for the faint hearted.
The newspaper archives regularly reported brakes getting stoned by rival fans. Brake clubs were highly organised, which also included looking after their members who needed a helping hand. The forming of the United Brake Clubs gave them a powerful voice at the time.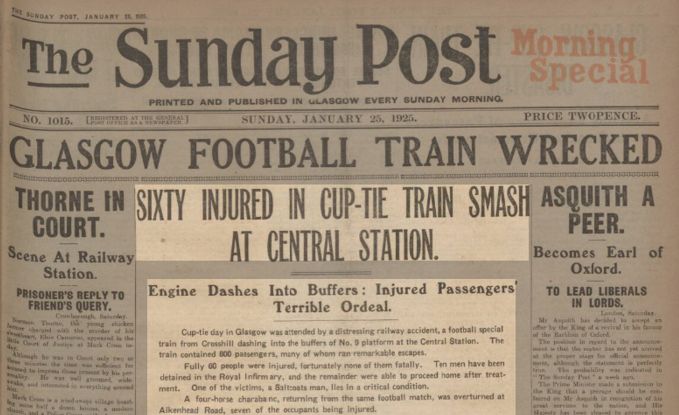 Football special trains made travelling in numbers easier and this was an initiative instigated by the football clubs themselves. Accidents involving the supporters were commonplace. Horse and carts often had collisions with trams and there were several reports of train crashes involving the fans.
The war years and the dole changed the brake clubs with their reputations in tatters by then. A more organised approach happened in 1944 when Willie Fanning started the Celtic Supporters Association. This kick started other clubs to reconvene and join them. By now, bus coaches were the preferred travel, with some having the foresight to have optics on them for their 'wee drams.' Some members would take accordions for the journey, but some would take the travel hospitality too far, often entering the ground ten sheets to the wind.

The social side to CSCs was just as important to them in those days, as it is today. It seems like players were more pro-active in attending their functions in those days compared to nowadays.
The popularity of The Celtic View gave clubs more exposure and publicity. Kearny CSC was the first overseas and they precede the Celtic View by two years, but other clubs overseas were starting up, including the first CSC in Africa.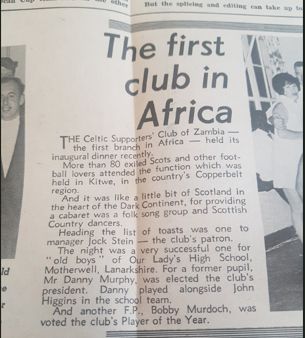 Lisbon saw the first mass travel of Celtic fans abroad. From the archives, it seemed like every CSC that travelled had an eventful journey with many just making it in time for the game.
This also included lost fans, mis-placed passports and being bailed out by the British Consulate. They all returned with memories of a lifetime. These epic tales set the marker for our other two European finals in Milan and Seville with fans determined to be part of our history.
The 'Supporters Notes' in The Celtic View were a joy to read. 'Names for Motherwell to be in by Thursday. Names for the European Cup Final to be in by next Monday.' as if it was just a normal occasion.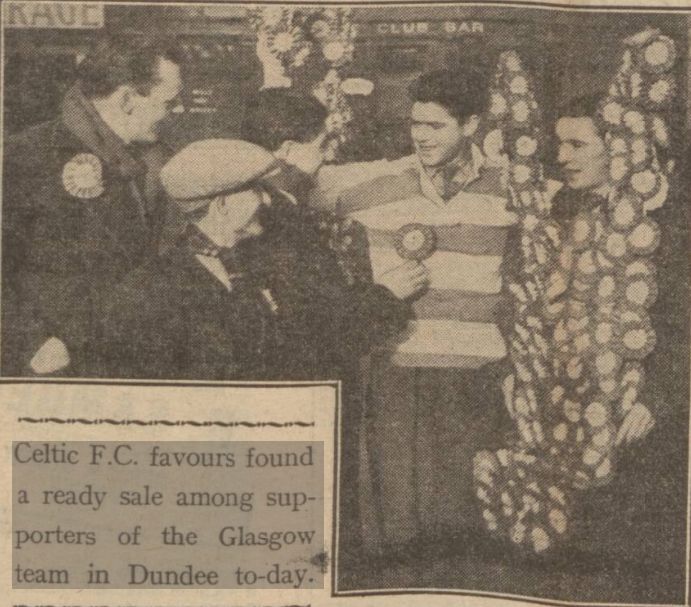 With the old stadiums having vast terraces, tickets for away games were never a problem and most clubs ran a bus to these games. From the histories I have received from today's CSCs, these away days seem to be a thing of the past for a lot of clubs.
I loved unearthing the different types of supporters clubs, from the pioneering Celtic Cine Club, Businessmen Club, Visually impaired Club, Barlinnie CSC to the more current ones like Proud Huddle CSC and a Strava Cycle Club.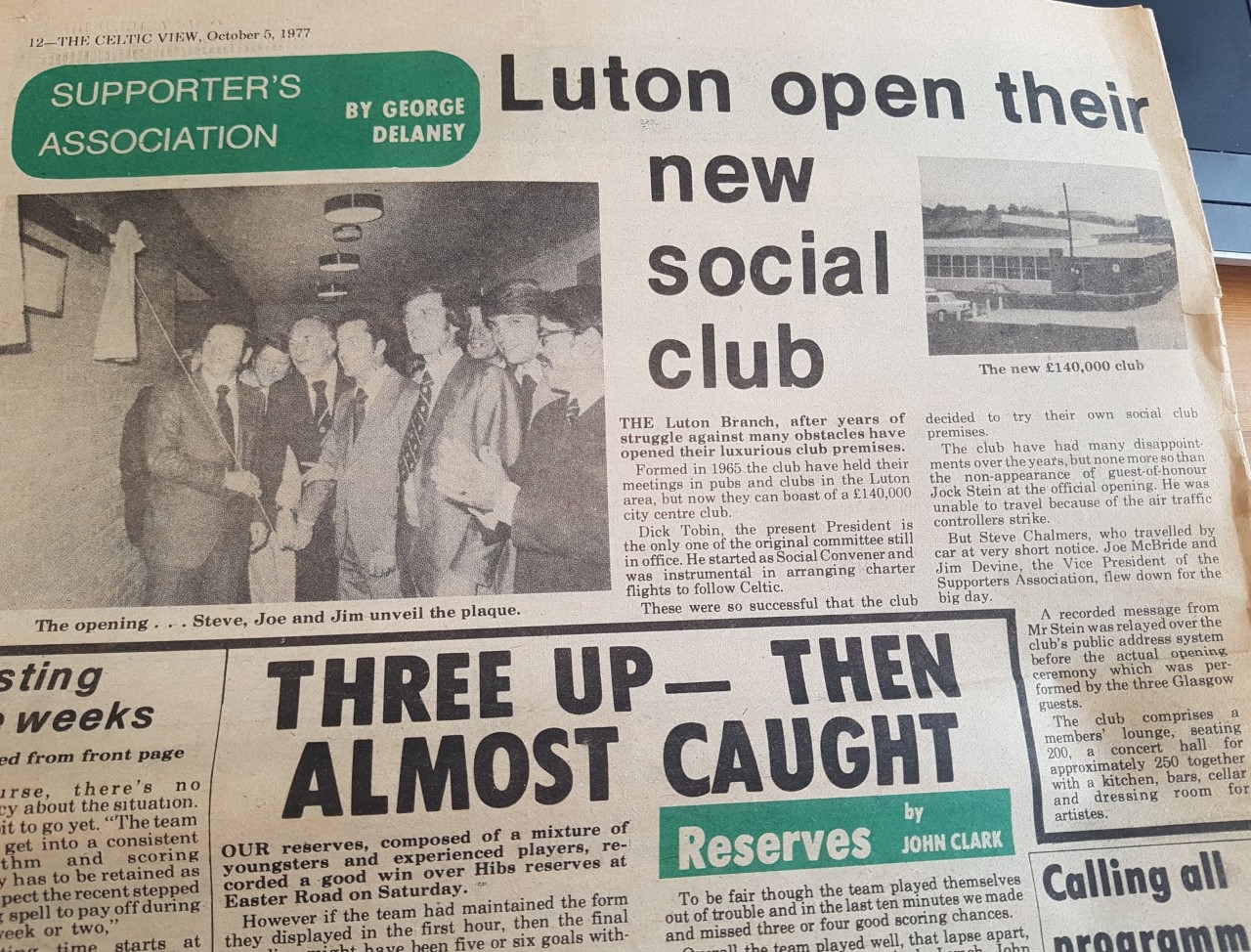 Each club bringing people together that they wouldn't have otherwise known each other. Supporters Clubs are an important part for folk in them, but I would say friendship is the main thing for them. If you are new to a place, they are vital in help settle in that area.
Throughout Celtic's history, some supporters have made a huge contribution. Often unsung and their names and not widely known. The president of the first Brake Club was James Gowans who was a major player in the supporters club movement at the time.
Others include CSA founder Willie Fanning, John McFadyen, Pat Anderson from Castlemilk, Bill Ford from Paris CSC, Hugh Doherty from Port Glasgow, John Casey, Joseph Rafferty, Bobby Hollywood, Phil Cole, Arthur McKenna, Jimmy Cowan, Tommy Sherlock, Flax Flaherty, Austin Waters, Mick Dinning, Francie Hinton, Gerry Madden, Joe O'Rourke and many others.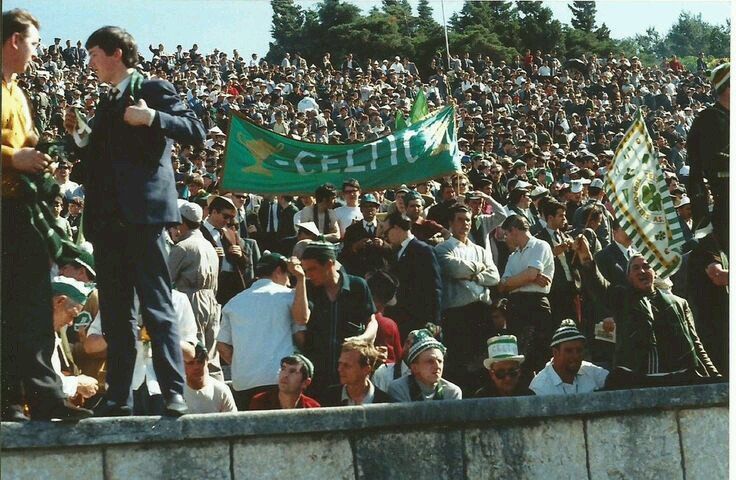 The histories of the current CSCs are full of similar guys who go over and above in their dedication to help their fellow supporters of their bus. Their places will be taken in years to come by the next generation of fans and the cycle will continue.
A big win in Dingwall this morning! Great to have some guests joining us from @DetroitCSC and @huddlebreakdown @jucojames ! Roll on Tuesday! Hail! Hail! 🍀🍀 @celticbars pic.twitter.com/1cB7ns4tGQ

— Pittsburgh Celtic Supporters Club (@pittsburghcsc) November 4, 2023
Supporters Clubs mean so much to so many people. I love seeing new clubs like Pittsburgh CSC flourish. They started off with a couple of guys who wanted to meet up with fellow fans. By word of mouth, social media and a bit of hard work and effort, I see their Twitter posts after games with healthy numbers attending. I look at their photos and see supporters who never knew each other last year and who are now friends. Supporters Clubs continue to bring people together as they did all those years ago when Celtic were founded.
With regards to the histories, they threw up some interesting facts and anecdotes. The CSC president who was invited to meet Pope John Paul II when he visited Scotland, for the recognition to the charity work his club done.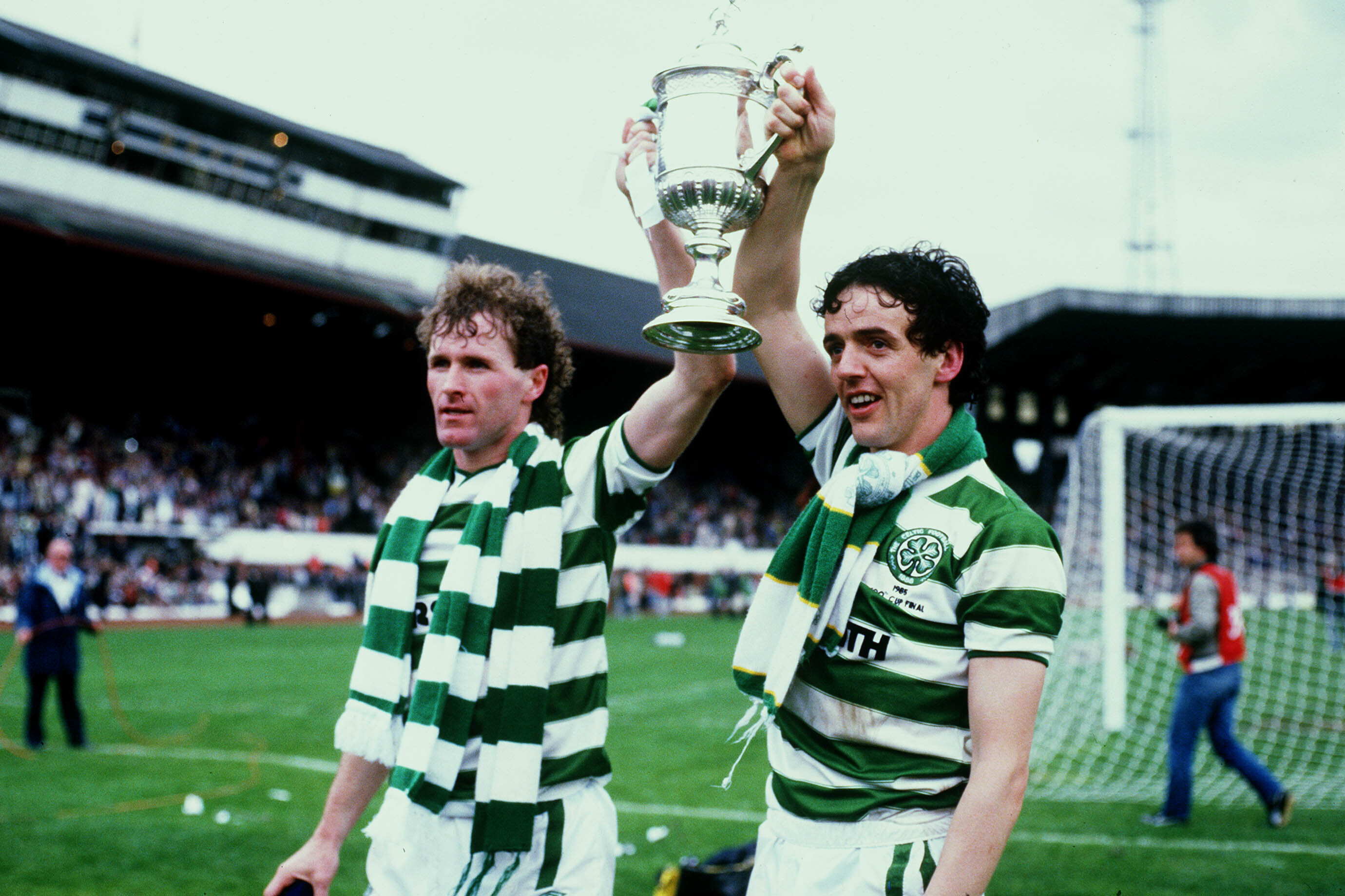 The CSC that was nearly called Yasser Arafat No1 CSC…
A club that once travelled to a game in an ice cream van, the member who appeared on University Challenge with the hoops on…
The club who had to leave their bar because the landlord would sometimes watch adult films on the big screen instead of the game, the CSC member who is the Godson of Lord of the Rings author JRR Tolkien…
The member who played himself in the 1935 Alfred Hitchcock film adaptation of John Buchan's famous book the 39 Steps, Frank McGarvey's unusual Player of the Year award, which was typical Frank…
The club members which climbed Mount Everest for charity, the club which was the base for the filming of The Sopranos…
The member who dressed up as Orinoco when they filmed a song on TV, the supporter who came back on his bus after a game with a German Shepherd dog he stole off a policeman,…
And the supporters club who went on a pre season tour and went to the wrong country and attended a deaf and dumb athletics event instead. The story of Doha CSC and their ban from Iran.
David McIntyre
Celtic Bars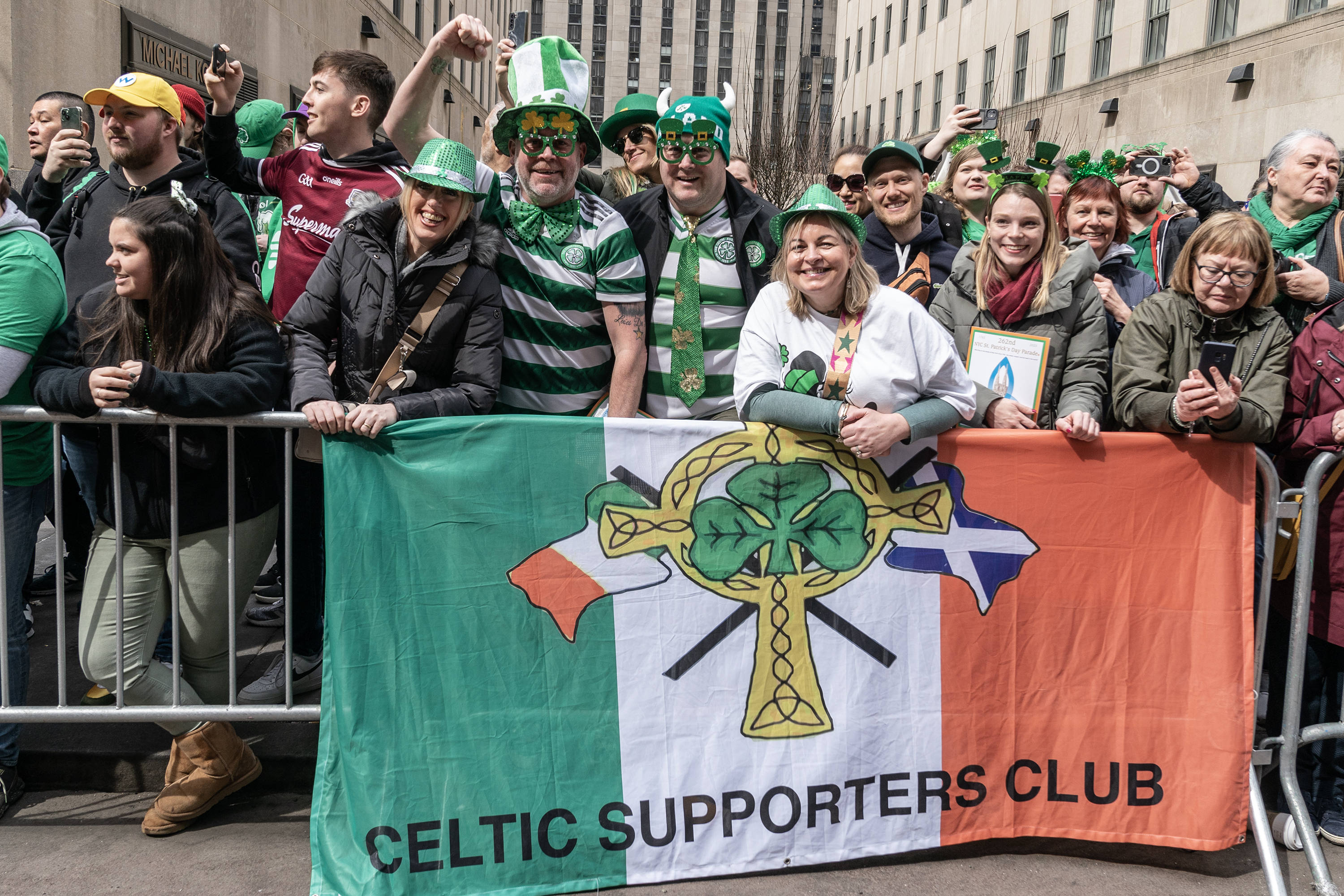 These stories and many more are included in Football Without Fans, The History of Celtic Supporters Clubs which has been researched and compiled by myself, David McIntyre from Celticbars.com Football Without Fans will be available across the World in print version from Amazon and also as an e-book on Amazon Kindle. In this way Celtic Bars is able to get copies of the book to Celtic CSCs around the world without prohibitive postage charges being added for international shipping.
FOOTBALL WITHOUT FANS – The history of Celtic Supporters Clubs, researched and compiled by David McIntyre is coming soon…