A groin injury sustained at Paisley would rule Scotland's top goalscorer Harry Hood out of the rescheduled match with Ayr United, played at Hampden two nights later, Thursday, 29 April 1971. I have to confess that I never really understood why this game was moved there, as the 25,000 crowd could easily have been accommodated in the three open sides of Celtic Park, just as a much larger attendance would be in the final fixture against Clyde two days later.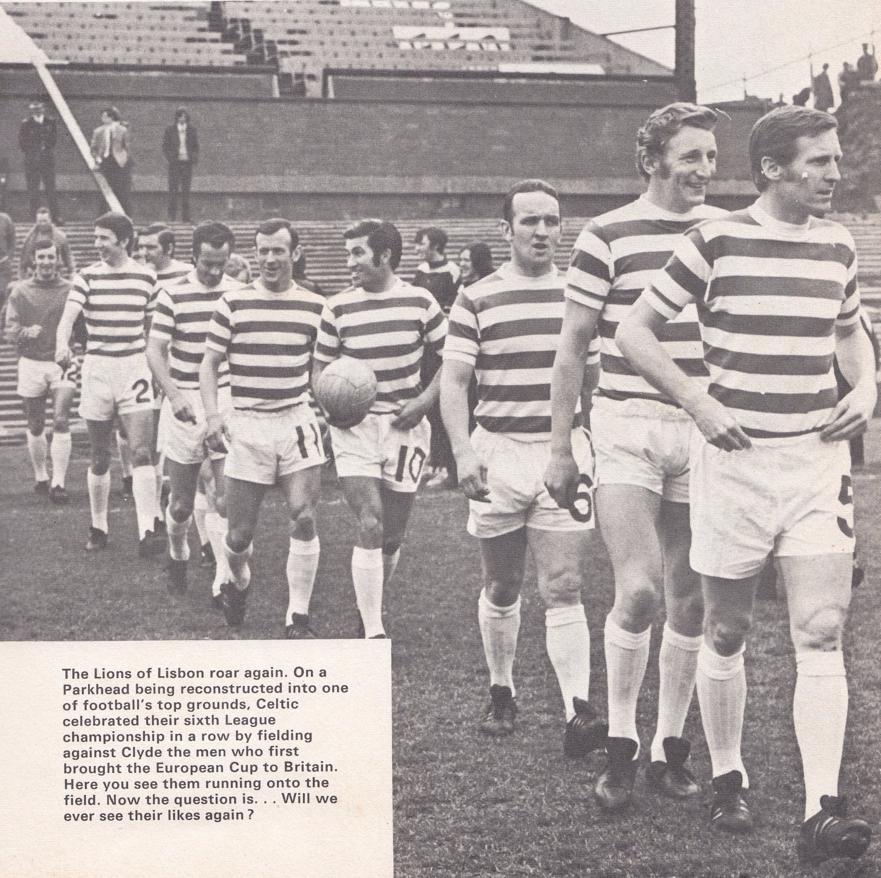 History will record that Celtic won six consecutive Scottish League titles for the second time in their history that night, as goals from Bobby Lennox and Willie Wallace either side of the interval gave Jock Stein's men the two points required to match Aberdeen's final tally of 54 points. And the Celtic supporters would no doubt enjoy the moment – including Ayr United's second-half substitute, a teenage Johnny Doyle – albeit I recall being inside Hampden that night and feeling a slight sense of anti-climax, the match at Aberdeen regarded by pretty much everyone around me as the day the title would be won or lost.
However, I have a slightly different take on this. If a catastrophic defeat in the final League game of the season had to be avoided at Fir Park, Motherwell in May 1966 and then again at a dangerously overcrowded East End Park, Dunfermline two years later, games recognised as title-clinchers in the original nine-in-a-row era, then exactly the same scenario existed on that first day of May 1971, where a 12-goal defeat at home to Clyde would have seen the flag flying at Pittodrie rather than Parkhead.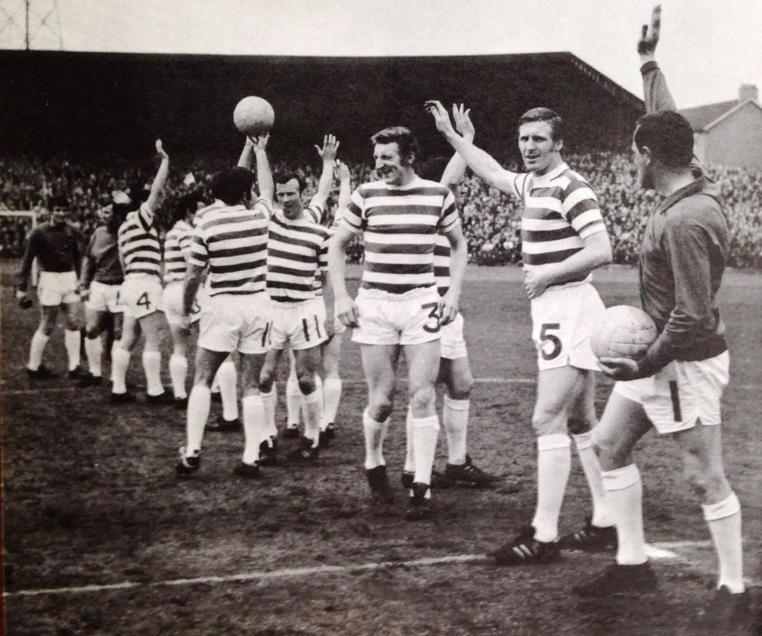 Improbable?
Absolutely, however, also mathematically possible, just like those others at Motherwell and Dunfermline.
Thus, I believe that the historic record-equalling 1970/71 League Championship was clinched on Saturday, 1 May 1971…by the Lisbon Lions making their final appearance together. Now that's truly 'fairytale club' stuff.
Jock Stein's decision to field the Lions one last time was a PR masterstroke, drawing 36,000 supporters to Celtic Park to pay homage for the last time and allowing those youngsters like myself to tell their own kids, "I was there with my dad," 50 years after the event.
50 years ago today, Celtic 6:1 Clyde.

The Lisbon Lions line up together for the final ever time. Ronnie Simpson injured but leads the team out and subbed at kickoff.

Bobby Lennox hattrick, Willie Wallace double and Stevie Chalmers.

Bertie Aulds last game for Celtic. pic.twitter.com/7FVj1BRN7w

— Li'l Ze (@LilZe_7) April 30, 2021
The retired Ronnie Simpson, wearing that iconic green keeper's kit, led Celtic's greatest-ever team down a makeshift ramp through the old enclosure onto the pitch, 'Faither' warming up then passing the gloves to Evan Williams before kick-off, as the crowd roared its approval.
The game had been postponed from New Year's Day, fate now decreeing that we would witness a final 90 minutes from this magical team as they destroyed a Clyde side featuring a young Dom Sullivan 6-1, Bobby Lennox with a hat-trick, Willie Wallace with a double and the last word going to Stevie Chalmers, just as it had in Lisbon.
There was not a dry eye in the house as the Immortals finally waved goodbye to their adoring support, Hibernian-bound Bertie Auld carried shoulder-high off the field by his friends.
It was beautiful, wonderful Celtic theatre at its finest, as we watched an era come to an end.
Matt Corr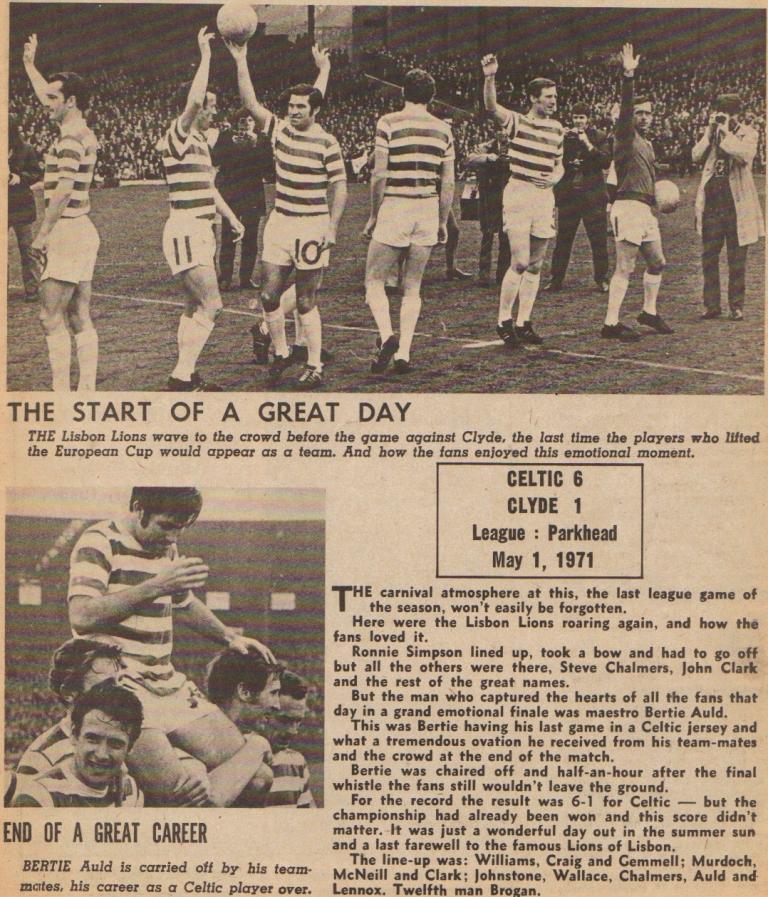 Order a signed copy below...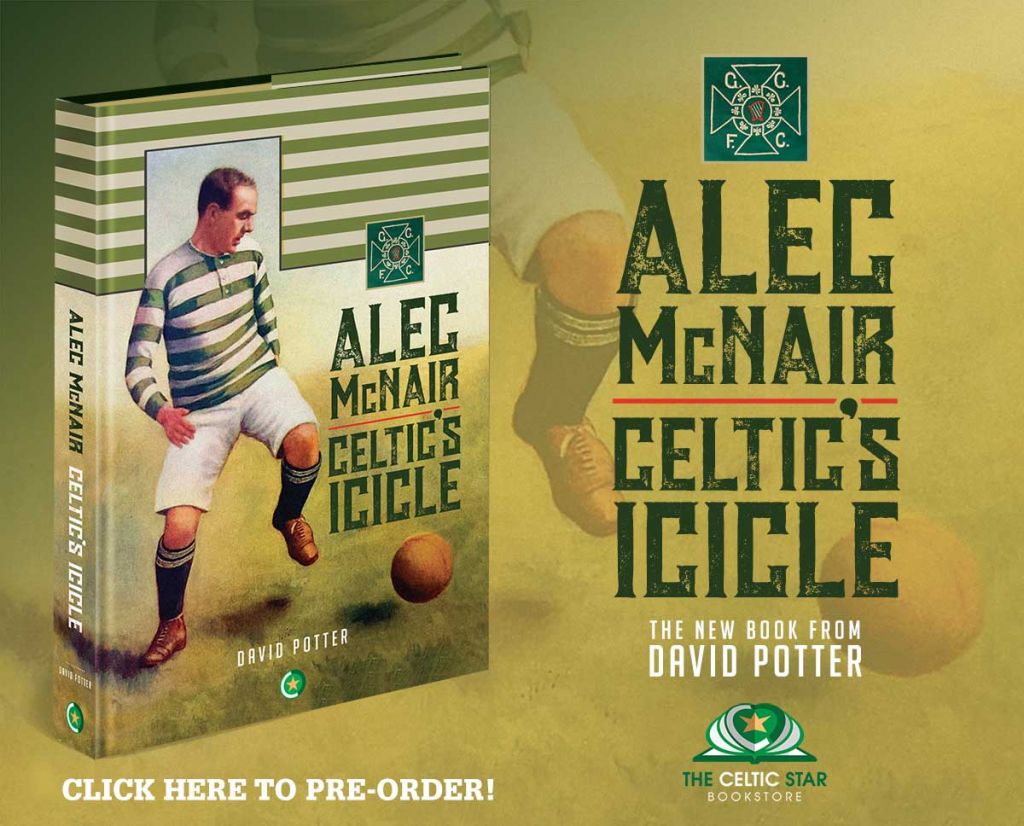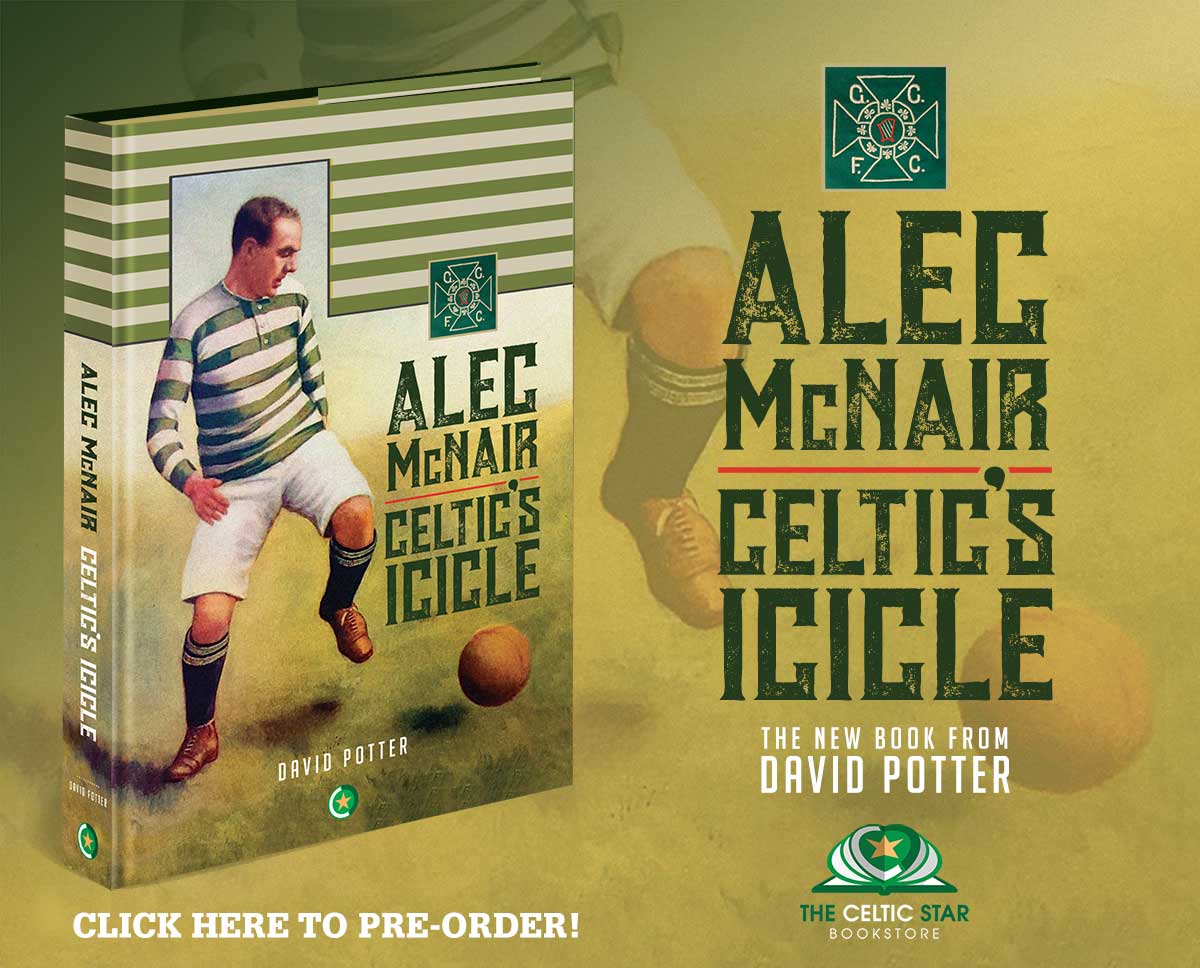 Good start to the weekend, meeting a Celtic Bhoy who is fully behind our cause!!! Hail Hail Aiden McGeady!! Top Bhoy. I wonder if any other Ex players or supporters will support our cause also?? COYBIG @chris_sutton73 @JohnHartson10 @StanPetrov19 @martin_compston @LewisCapaldi pic.twitter.com/Xk5C44DeRC

— Newry Willie Maley Memorial Group (@MaleyNewry) April 30, 2021