FRASER FORSTER and not for the first time, saved Celtic from a defeat in European competition last night with an absolutely stunning penalty save to deny Copenhagen the win that they desperately chased in an uncomfortable second half for Celtic.
Afterwards the big goalie, nicknamed 'The Wall' by the Celtic support, spoke to Gerry McCulloch from Celtic TV about the save and how the second leg could pan out next Thursday.
"It's always nice to make them. It is what we play football for. I am on a nice run," Forster said to Celtic TV.
"I don't really overthink it, I go with my gut feeling and sometimes you are lucky and sometimes you are not so it's nice to make the save."
And the big goalie had plenty of sympathy for Ryan Christie who was cautioned for the handball that led to the spot-kick. 
"There's no way he can get his hand out of the way — it's not deliberate. With VAR, if it hits the arm, it's going to be a penalty. You have to take it and move on. It was a good point in the end but it could have been more."
Forster's manager Neil Lennon was once again after a European night left with his usual task to talk, talk to the media about just how fantastic a keeper big Fraser is for Celtic.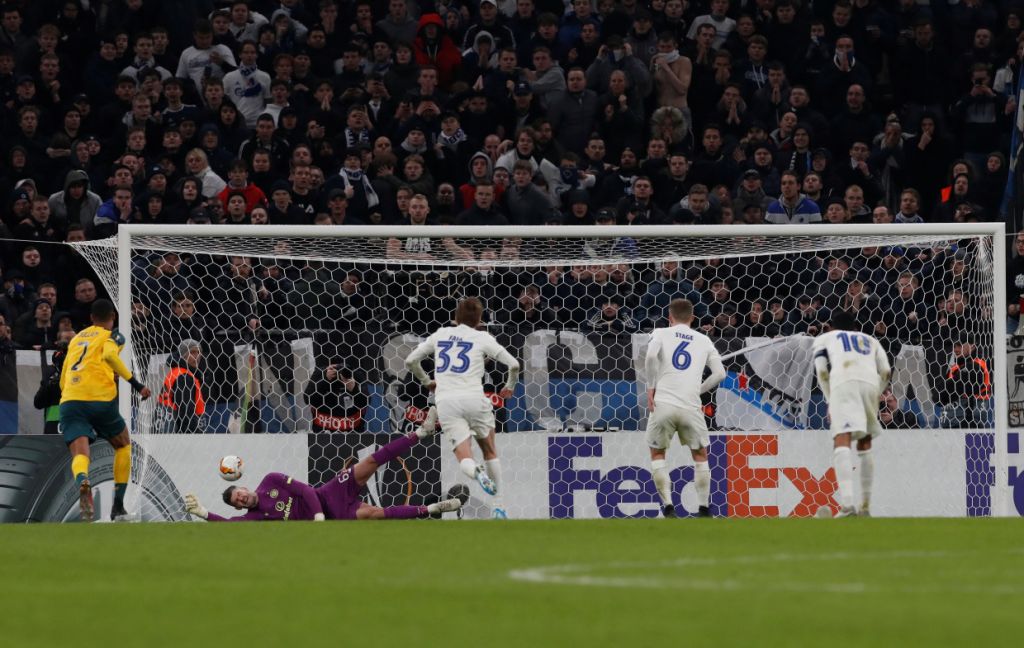 "Fraser is brilliant but that's down to the work that he and Stevie Woods do behind the scenes. I have no real complaint about the penalty – it does come off Ryan's arm in an unnatural position if you want to call it that.
"Credit to Fraser, he's done brilliantly with a magnificent save. I think it would have been really harsh on us if we'd lost the game with the amount of chances we had, especially in the first half. But we have the away goal so the tie is set up nicely for going back to Glasgow," Lenny said to the Media, as we reported last night.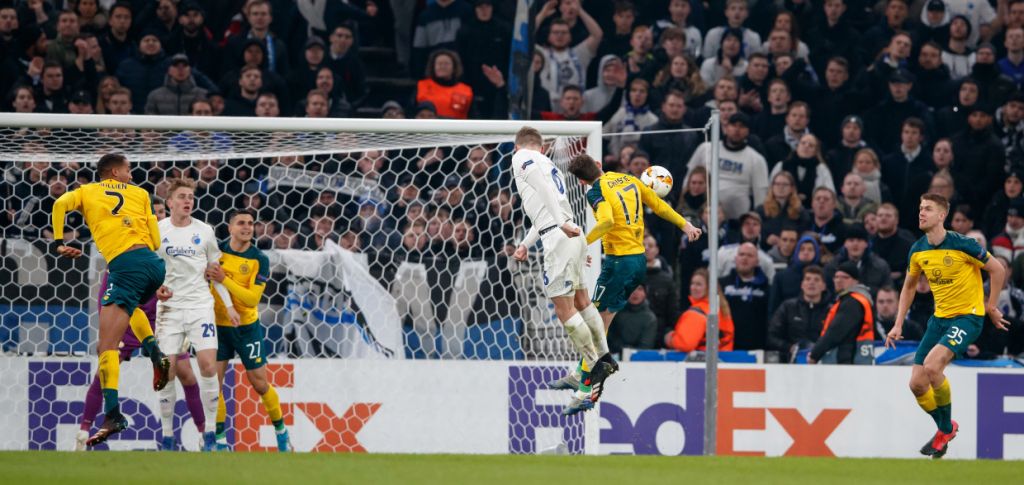 And Ryan Christie, who picked up a very harsh yellow card for the handball that means he's suspended for the second leg next Thursday at Celtic Park was so grateful to The Wall for making the save.
"I went straight up to Fraser after the game to thank him. It is incredible the amount of penalties he has saved," Christie told the Media, as reported by Irish Times.
"Every time someone steps up you have confidence in him to save it and it is pretty strange to have that. It did hit my hand, I am honest enough to say that but there was nothing I could do about it, I was so close and to get the yellow card is a frustrating thing.
"The referee booked me for a deliberate handball, it certainly wasn't deliberate and now I'm the one who misses out again. It is frustrating and the whole game I had that in my head. I was keeping my composure and not jumping into tackles. It is frustrating to be on the wrong side of what I think is a tough decision."
Here's Big Fraser's interview with Gerry McCulloch, followed by the BT Sport Highlights. And don't miss Sandman's Definitive Ratings – they are especially funny this time around.
Sandman's Definitive Ratings – Celtic at Fairy Tale Land | The Celtic Star https://t.co/oFJUBWWM7m

— The Celtic Star Editor (@CelticStarMag) February 21, 2020
Honours Even in Copenhagen so Home Advantage should edge it for Celtic next Thursday | The Celtic Star https://t.co/QxU1iJUeJm

— The Celtic Star Editor (@CelticStarMag) February 21, 2020
Read Former Celtic Director Willie Haughey's Grovelling Apology from Craig Whyte | The Celtic Star https://t.co/p6Y4OuDgop

— The Celtic Star Editor (@CelticStarMag) February 20, 2020
Help raise money for Celtic Youth Development by joining the £1 weekly lottery and you could win up to £25,000 – just click on the photograph below to join. Lots of our readers have already done so and they're now doing their bit to help fund Celtic Youth Development that can deliver the stars of tomorrow and beyond. And you might even win a few bob too!