WE promised to publish your feedback to yesterday morning's worrying article – Four Celtic men paint an extremely worrying picture about the way our club is being run…see HERE.
We published some of your comments yesterday – 'Charlatan' – Lawwell under increasing pressure after '4 Celtic Men' article…see HERE and more are below, with another batch to follow. If you want to have your say, please email editor@thecelticstar.co.uk or you can post on Celtic Noise, the new Celtic supporters forum where this is being discussed independent of board control….
A PERILOUS STATE
Read your recent comments with interest. It would seem that Rodgers left the club in a perilous state especially regards the backroom staff. But there is also the failure of Peter Lawwell to recognise this and fix it.
Peter Lawwell has built the brand that is 'Celtic' but as time has gone on he has failed to recognise that the most important part of the operation is the players in the first team and most importantly the quality of these players.
It would be interesting to discover the business model that is being applied at the moment. If it is the 'Ajax' model, then perhaps he should recognise that experienced players are required to ensure success. Similarly with teams from Portugal. Another area of failure on Lawwell's part is his apparent refusal to confront the SFA regards what is commonly known as Resolution 12.
I find it difficult to accept that Neil Lennon did not approve the signings of Julien and Boli; if these were made without his approval then he should resign immediately.
So where to now; do we back the manager to purchase the necessary players or do we cast him adrift; do the shareholders request an emergency general meeting of Celtic PLC with one agenda item; How to take Celtic forward and address the role of the CEO and manager and building of the football operation.
Finding a suitable new manager might prove difficult but I'm certain that an ambitious CEO could be found.
It was said some time ago that the most important person at Celtic FC is the manager; is this being applied now by the actions of the current CEO.
Regards,
Laurence McMahon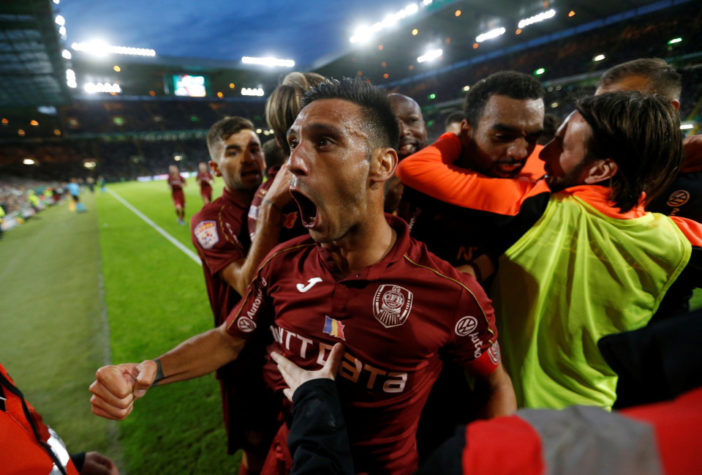 RUBBING THEIR HANDS IN GLEE
So many points you have made here. And so much finger pointing from others that it hurts more then the Cluj result.
Firstly, if Lennon has any sense at all, is to pull us all together and be the link between the board to the coaching staff, players, even the cleaning staff and ball-boys. United we stand, divided we fall and our rivals will be rubbing their hands in glee at this potential minefield which could end up in an implosion. And this must not happen. Lennon simply must unite us all. Or go. This is his test.
Obviously the board are back in control. Before Jock Stein returned he insisted he had complete control of team affairs. We all know he took us to unthought of glories. Only a few years later, with an out of touch board we slipped and courted with disaster. The bonnet saving us at the last and rebuilding more than the stadium.
Again we are showing weakness in our management and Lennon needs to shake a fist and pull us together. He needs to sit down with Scott Brown and the players and suck it up. Discuss tactics and what the players want and feel and to admit his mistakes. Lennon is actually new again. Since the last time he held the position, many faces have gone. Can Paul McStay be brought back in, a Celtic man and respected by all to help his and our cause? He must learn to demand a say in players and who goes or stays. Losing Lennon would leave Lawwell in an even worse light.
I do feel that Lawwell does have Celtic's well-being at heart. He just doesn't realise players bought on statistics are not the answer to recruitment and agents are after more money than he has and this is their only reason for being. Unless Desmond has a change of heart, Lawwell is staying. If so, he must take a back seat and allow the coaching staff to do just what he hired then to do, coach and coach to win.
Financially, the European Cup exit is a disaster, but we have funds to see us through. We recovered last year, but the Treble, Treble, wonderful as it is, is a rod to our backs. We are used to swanning it and haven't been able to lord it consistently over our rivals for many a day. And we are enjoying it a wee bit too much?
We are believing our own publicity and beginning to feel we just need to show up. Getting back to basics, quite rightly, signing players who have been checked out thoroughly and at the start of the window so whoever the coach is can help them settle in, both with a new country and also the team.
Season has just started. We must come out fighting and silence the critics. Then sort out this turmoil once and for all, for the good of Celtic Football Club and her many followers. HH!
Mark McDonagh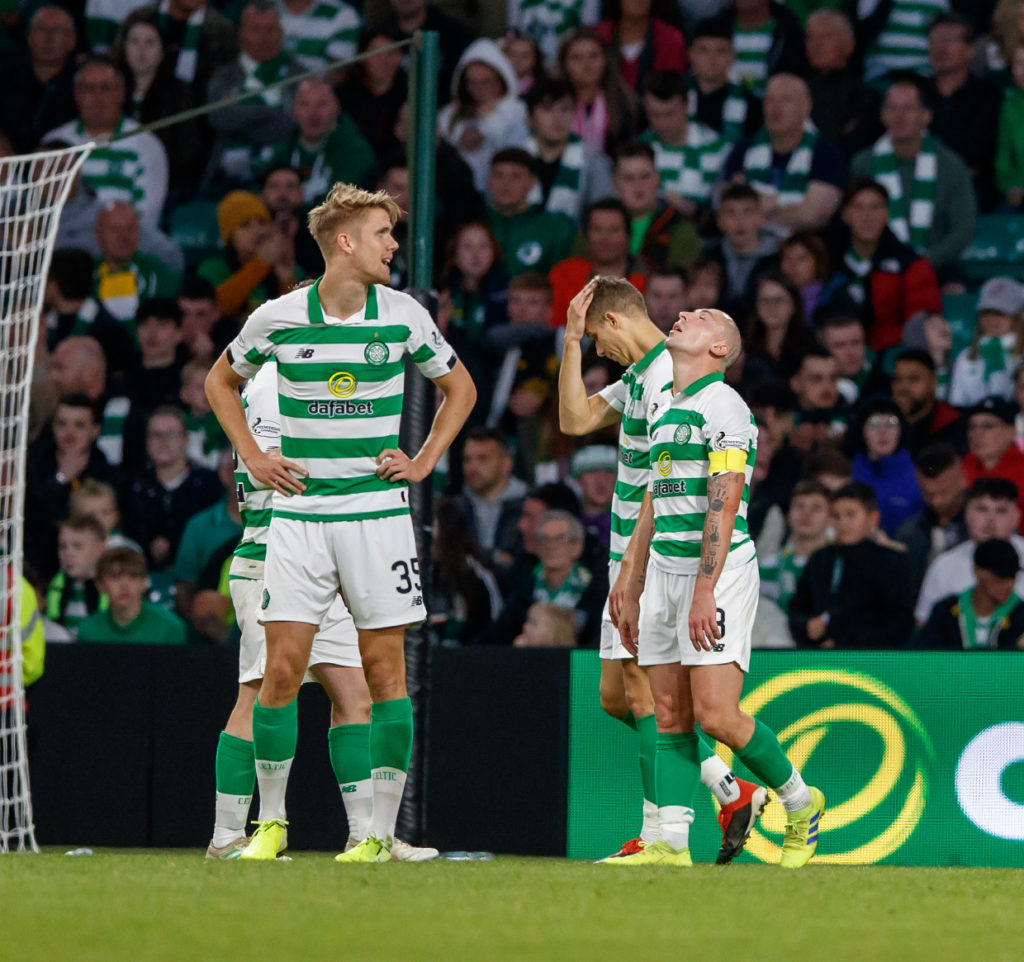 HARD TO STOMACH
As an exiled Celt living in Canada I have to say that Tuesday was extremely hard to stomach. But I wasn't shocked as I thought even though we won 5-2 on Saturday we easily could have been down 3 0 if Motherwell would have taken their chances. Lenny's assessment of the game on Tuesday didn't help to ease the pain by saying McGregor at left back wasn't to blame which scares me to death that he may contemplate using him at ibrox if left back situation isn't sorted before hand. Thank you for all that you guys at The Celtic Star do, the articles always make great reading and I loved the Lisbon on a fiver diary this week as it reminds all of us that we were once Kings of Europe. Hail Hail.
Jim O'Rourke
BURN-OUT
I would like to view my concerns about our present team line ups in midfield week on week and the nature of our substitutions. We are now only in to the second week of the SPFL and we are continuously playing Scott Brown and CaLlum McGregor.
I fear burn out for these 2 players, we go 3 goals up and we are resting other players.Brown is ageing, McGregor played the most minutes in the world last year and isn't the same player. Time to let Ntcham on the loose as he is the best midfielder we have given time to bed into the team. Henderson is also a good prospect.
Plus Bitton has started the season quite well. Aussie Tom still to recover full fitness. Give Brown and McGregor a break now and again "Lenny or Peter ". PS: defence is work in progress.
Gerry Hillis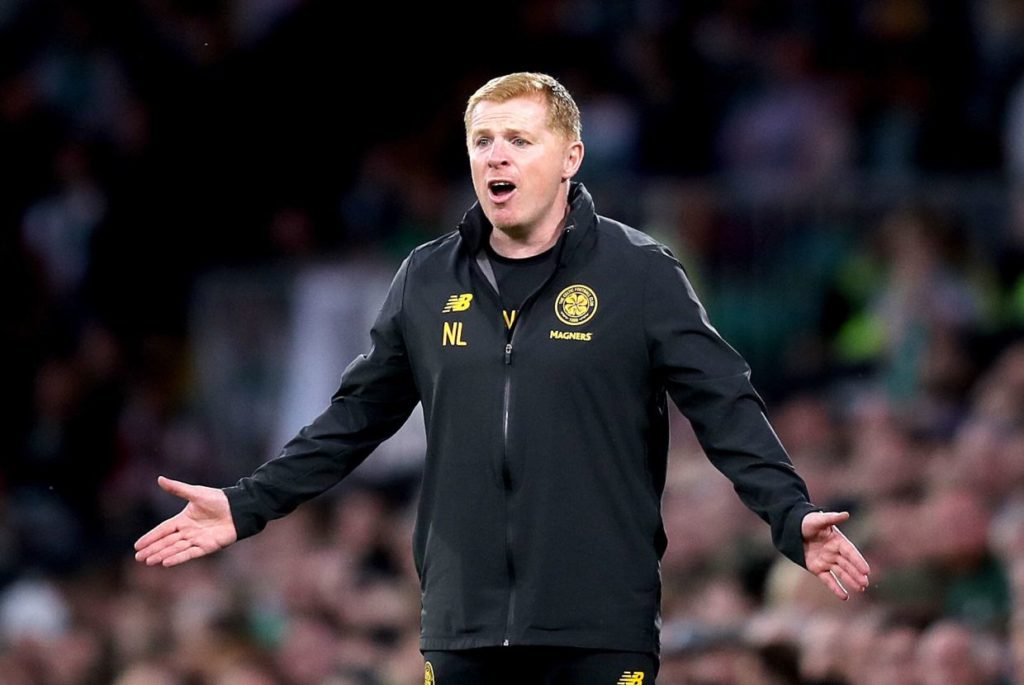 ENRAGED ABOUT TUESDAY
Met my son before he travelled from Glenrothes for game against Cluj. He's been season ticket holder since a boy. The comments about Peter Lawell and his negative influence at Celtic Park are spot on. My friends cannot believe how enraged I am about Tuesday, I'm still giving my son some space because I'm a fan these days how must it feel to be a supporter getting this shoved down your throat every year?
Peter Devlin
COMMUNICATION CRITICISM
Eight titles in a row and a treble treble ? Of course I am happy. My one criticism is that communication between `Celtic` and the support is poor. I know we have John Paul Taylor to liaise with but he can simply pass on queries etc to those higher up the Food Chain.
Fortnightly meetings with the Captains of the more popular Blogs would, I feel, prove beneficial.
James A Barr (Section 106)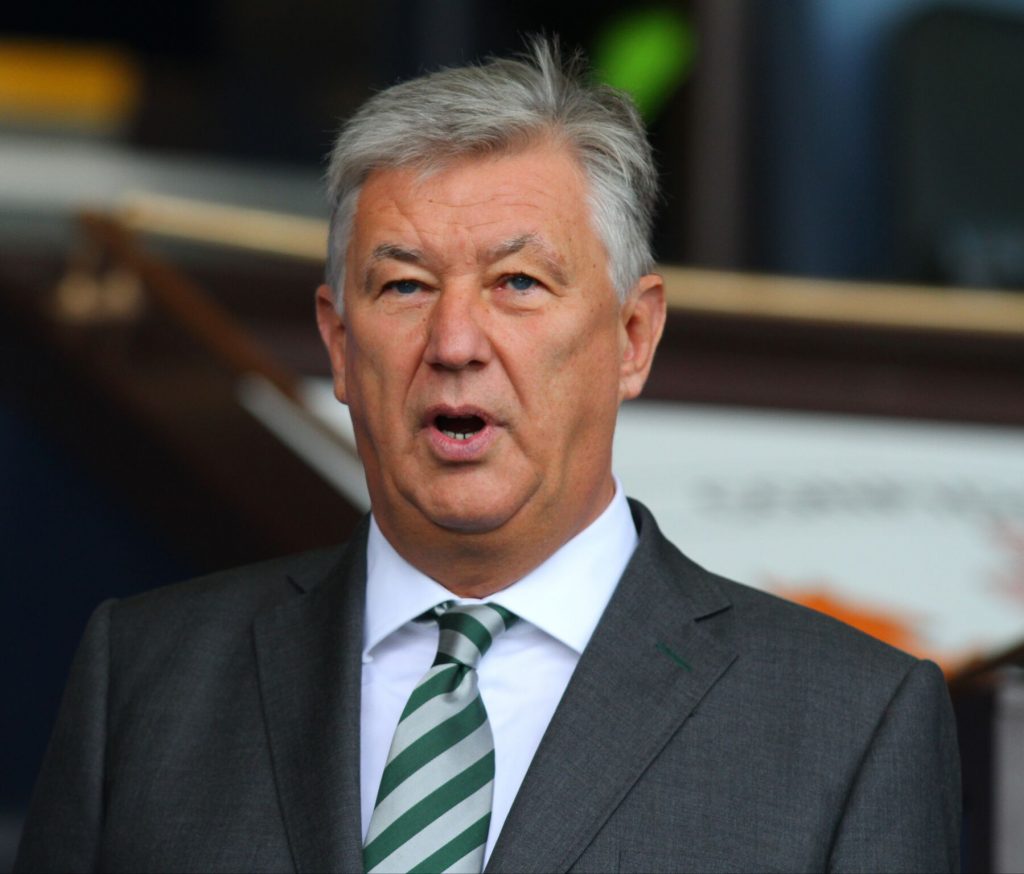 RISK AVERSE
My confusion is very simple, as an accountant he knows that money in the back is money that isn't making you money, so we must be hoarding it for a reason. My question is simply what that reason is.
I understand that we have a risk averse transfer strategy, but after several years of failing in CL qualification by continually having to play midfielders in defence, that strategy must be altered. It's not working, unless success is judged solely on cash in the back and domestic trophies.
Stevie Clarke
McGREGOR MUST BE FUMING
Surely the writing was on the wall as soon as Brendan walked out and Lennon walked in?
A man with a great Celtic connection but also a man who left under a cloud at Hibs. The club embarrassed themselves by giving him the job in the dressing room after the final.
You can take it as read there was never another candidate who had been interviewed. The rest from that point has been horrendous culminating in that disaster on Tuesday night.
I imagine McGregor must be fuming and looking for a way out. While the damage done to Bolingoli may never be reversed. Anyway that's my thoughts.
Charles Donaghy
EMPTY SEATS
While I'm in total agreement that Lawwell has too much say in all things at Celtic Park, at the end of the day he's the absentee landlord Dermot Desmond's appointee, so in my opinion, pressure has to be put on Desmond, namely financial pressure in the form of empty seats in order for him to take notice.
Kevin Eardley
BONUS PAYMENTS
Without doubt, Peter Lawwell has been rewarded handsomely over the past 17 years, making millions in bonus payments, together with a very attractive salary!
As CEO, his job, as I see it, is to manage the balance of keeping the Club in reasonable profit and putting a successful team on the park that can compete both domestically and in Europe on an annual basis.
In my opinion, it could be argued that Peter Lawwell's main motivation and concentration over the years has been consolidation of his personal wealth, via his bonus payments, rather than carrying out THE most important aspect of his job which is the successful progression of CELTIC the team we all love!
Currently we are REGRESSING, simply because of a man whose ego and catastrophic decisions has cost the Club millions throughout his years in charge . He cannot be allowed to continue.
Regmcatee455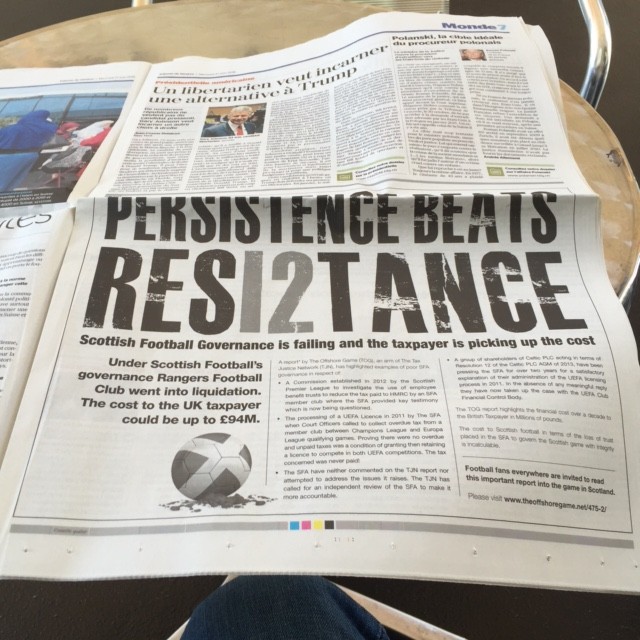 THE KELLY'S FLEECE
The club is being run in a way that mirrors the society we live in.(exact opposite of what we stand for). The people in charge creaming everyone else for their hard earned. It's no coincidence everything is done at the last minute ie. Lennon's appointment, new scouts appointment and KT being sold on the last day of the window, a tactic used so they can spend as little as possible on the team while lining their pockets with huge bonuses. We need to wake up and make a stand and hold them accountable.
A start might be to boycott the next European home game.(short term pain for long term gain). Are we really going to allow these charlatans to fleece us the way the Kelly's did for years.
Kevin Jones
FIRST CLASS CEO
The man without doubt is a first class CEO but I think he should never be around the actual playing side of the buisness, and anything to do with the Identifying of possible players coming to the club, other than to discuss the financials.
Hoy Donnelly
ENTRENCHED
I would like to thank you for compiling the content and writing the article. Until reading this I had been entrenched in the Lawell camp – feeling that fans who criticised him were ungrateful and would come to regret their treatment of him, like many do Fergus McCann.
However, this article has changed my stance. The 4 men are informed people (perhaps sutton less so). But I now appreciate that Lawwell is in fact to blame. At least in part. I certainly do not want to see him go, he is a Celtic fan and an extremely good financial head for Celtic.
He does, however, have to relinquish his grip on football matters immediately or risk causing long, irreversible damage, to the club he and we all love.
Coll Austin
IF you would like to tell us what you are thinking about all of this please email editor@thecelticstar.co.uk and we'll do our best to publish your thoughts.
Try this. How would u feel if there was good case that Celtic/SFA conspired together to kill Res12 rather than address the issue? If it's a shrug of the shoulders we r fucked. What if Celtic's response to LNS & later correspondence was a sham 2 create impression of unhappiness?

— Auldheid (@Auldheid) August 15, 2019