Queen Victoria, increasingly senile and now seldom seen, was still on the throne. She was still, however, used as a reason for young men to go to South Africa to "defend the Empire" against the Boers, ironically enough a group of embattled Dutchmen with astonishing similarities to a certain mob in the North of Ireland.
The difference was that the Boers had some diamonds, and the British, as all good Empires do, wanted to take their diamonds away from them. It was a loathsome war, and we are astonished to read that the Irish community in Glasgow supported it, hoping, presumably that sending young men to fight in South Africa might in some way earn "brownie points" for Irish Home Rule!
1900 had started well for Celtic. On New Century's Day Celtic had beaten Rangers 3-2 at Celtic Park. It was however a hollow triumph, for Rangers had already won the Scottish League by some distance (the Scottish League with only 10 teams in it was usually completed in those days well before the turn of the year) and it would have to be admitted that they had a good side, and Celtic's victory was their first defeat in the Scottish League for over two years! Yet, Rangers were not "invincible", for Celtic had won the Scottish Cup in 1899, and it was to this tournament that attention now turned.
Celtic advanced with easy and indeed spectacular victories over Bo'ness, Port Glasgow and Kilmarnock scoring 16 goals and with Sandy McMahon and Johnny Campbell looking on song. But with respect to the opposition in these three games, Celtic had not really been tested and everyone knew that the real test would be Rangers at the newly rebuilt and impressive Ibrox Stadium on 24 February.
But there was another dynamic at work here. There was a tendency for Cup game between these two to end in draws. Now, the teams were equally matched and a draw was likely to be the case, but when they teams attracted a huge crowd of over 30,000 and a replay would produce another big crowd… well people wondered, and the Press insinuated statements like "these two teams are so noted for drawn games that little surprise indeed was caused" (The Dundee Courier) before mentioning the receipts!
Be that as it may, (it is an uncomfortable area for those of us who believe in the integrity and indeed the sanctity of Celtic FC) Rangers equalised through McPherson with practically the last kick after Celtic had gone ahead a few minutes earlier, and the replay was scheduled for Celtic Park on 10 March.
34,000 (almost the same attendance as had been at Ibrox a fortnight ago) saw the following teams take the field:
Celtic: McArthur, Davidson and Battles; Russell, Marshall and Orr; Hodge, Campbell, Divers, McMahon and Bell
Rangers: Dickie, Smith and Drummond; Gibson, Neil and Robertson; Graham, Wilkie, Hamilton, McPherson and Smith
Referee: T Robertson, Queen's Park
The score was only 4-0, but there were also two goals dubiously disallowed, and newspaper reports are unanimous that Rangers were simply played off the park. Barney Battles was immense at left back, the half back line of Davie Russell, Harry Marshall and Willie Orr simply took over, and Celtic's two inside forwards of Sandy McMahon and Johnny Campbell ran the Rangers defence ragged.
It was a defeat as total as it was unexpected (for Rangers were still rated the best team in Scotland) and the effect on Glasgow was akin to the 7-1 victory some 57 years down the line. Indeed, it was widely believed that there was some internal dissension and strife in the Ibrox side (no unusual charge, it has to be said) but the truth was that Celtic simply lived up to their capabilities.
Johnny Hodge scored with a header in the first five minutes, then Sandy McMahon ran through and scored a second, with Rangers forwards totally unable to string passes together. In the second half with the wind behind them, Celtic were simply immense and the wonder was that only another two goals (from Sandy McMahon and Jack Bell) were scored. Celtic finished the game well on top and the supporters in full cry with "The Wearing O' The Green" and "A Nation Once Again" being sung with gusto, if not always melodiously, by those who wanted to see Home Rule in Ireland.
Icing was added to the cake a month later on April 14 1900 when Celtic won the Scottish Cup final by beating Queen's Park in what became known as the "hurricane final" because of the strong wind. It was however one of Celtic's most famous victories, and symbolically at Ibrox that day, perhaps one could say that amateurism was "blown away", for it would be the last time that Queen's Park would ever play in a Scottish Cup final. It would be Celtic's third victory, still a long way beneath Queen's Park's 10, but the times were changing!
But a note of perspective has to be added when one notes that the crowd at Celtic Park for the Rangers semi-final was 30,000. A month later the same venue hosted a crowd of twice that amount for the Scotland v England International. That was still the highlight of the season. But in the meantime that piece of Imperialist bullying in South Africa continued, and blood continued to be shed.
David Potter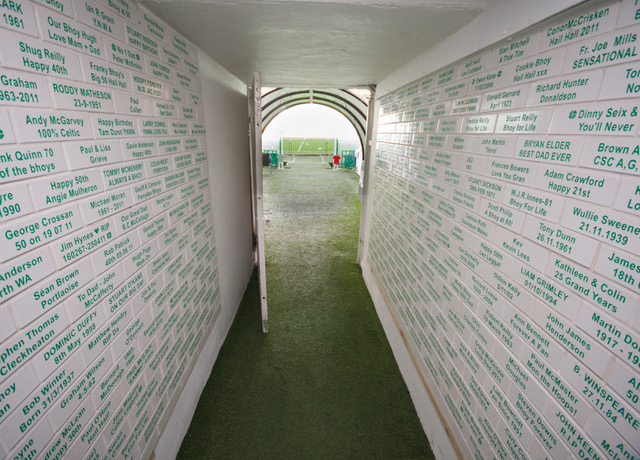 Take The Celtic Star's Photo Tour of Celtic Park and enjoy our stunning photos from inside Paradise RIGHT HERE, RIGHT NOW.
Support Celtic Youth Development
Help raise money for Celtic Youth Development by joining the £1 weekly lottery and you could win up to £25,000 – just click on any one of the photographs below to join. Lots of our readers have already done so and they're now doing their bit to help fund Celtic Youth Development that can deliver the stars of tomorrow and beyond. And you might even win a few bob too! And a special thank you to all The Celtic Star readers who have already signed up and are now supporting youth development to give us the Celtic Stars of the future…