After last Sunday's trip to Tannadice Street fell victim to the cancellation dictate on all football due to the death of the Queen, Fran Alonso's Celtic FC Women side are back in action tomorrow afternoon when Hamilton Accies are the visitors to the Excelsior Stadium in Airdrie. With the kick-off at 3pm there's plenty of time to watch the St Mirren v Celtic game on Sky Sports then head over to Airdrie if you are nearby, to cheer on the Ghirls.
There was no pre-match media conference this week, presumably as the Celtic media team's focus was elsewhere with the first team and Celtic B team in action in the Champions League against Shakhtar Donetsk and of course the premier of Celtic the Musical on Thursday evening, which was attended by both Kelly Clark and Olivia Chance.
It was a blast #CelticTheMusical 🔝 pic.twitter.com/dQKgAN4LZM

— Kyogo Furuhashi 古橋 亨梧 (@Kyogo_Furuhashi) September 16, 2022
🍀🎶 @Celtic_Musical charts the life of the Quinn family, as they move through the decades while witnessing the amazing story of Glasgow Celtic Football Club.

Limited tickets remain for the rest of the shows so get your tickets now! ⤵

— Celtic Football Club (@CelticFC) September 16, 2022
Fran Alonso and winger Tegan Bowie however did speak to Colette Carr from Celtic TV to give a preview of the SWPL1 game against Hamilton Accies, as Celtic FC Women look to maintain their 100% record this season.
"We were in great form and we've worked very hard in training to keep this form, but we will see on Sunday," Fran Alonso said. "'It's a fresh week and the girls have been fighting for a spot. Today is another day where they will fight.
"I expect a tough game against Hamilton. They already have four points, so if you compare them to last season, they're much stronger and they've already picked up points. They didn't have points at this stage last season so they are much stronger. Last season when we played them at Airdrie it was 1-0 for so long and they had a chance to equalise before we killed the game, so it was very tight and if we underestimate them we will suffer.
"Hopefully we are at our best, focus on our performance, impose our style and fight for the three points. If we manage to defend with the same intensity and keep another clean sheet that a will be a bonus as well."
Fran Alonso also provided an insight into his summer transfer stategy which he reckons will stand Celtic in good stead as the season progresses. "This year we have recruited players specifically for our formation and I think it has had an impact on the team," the Celtic gaffer said.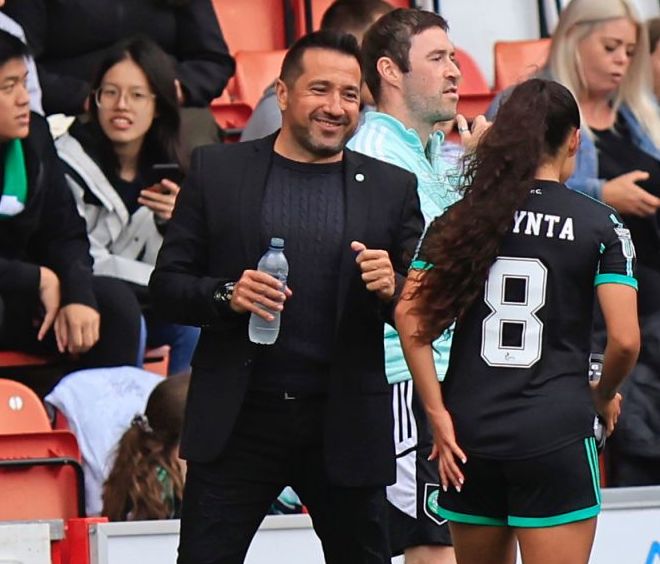 "It's eleven players defending and that's key. It's not about the goalkeeper or the defensive line, but about our pressing from the front and the defence that our midfield does, so it's a team defending together and so far it's been really good. Hopefully it will carry on like that and it's credit to the work-rate and concentration levels of the team."
So far this season Celtic FC Women have scored 23 goals and have yet to concede and that's an indication of the plan working, although the real test will come against title rivals theRangers and Glasgow City, who also have maximium points but have conceded.
Tegan Bowie reckons that the Ghirls can pick up from where they left off with that 8-0 win on the afternoon Celtic won 9-0 against Dundee United. "It's never ideal having a break when you've just started back," the 19-year-old winger said, "but it should be good to build up the momentum again and kick on.
"We played Hamilton in a friendly and it was a good game for us, so we know what they're like. They're physical, they look to hit their strikers and go behind and they can be threat at times so we'll look to play our game and hopefully it all goes well.
"It's important for us to know their weak points and where we can hit team and how we can use our strengths within the game," Tegan added, who also gave an insight into what the squad have been working on in training during this matchless fortnight, which also had players away on international duty.
"We're still working on things on the pitch that will help us in the future and throughout the season and getting used to the new players as well and adding their abilities to the team should really help us as well," Tegan explained.
"Seeing players come back from positive international experience also gives us motivation to see how players can get into their national teams. It brings positivity into the team and uplifts us all to do better and progress as a team."
A moment to remember for our debutants last night 🤩

Clarissa Larisey x Simi Awujo 🔥#WeCAN pic.twitter.com/eRAM06Rylf

— CAN Soccer's WNT (@CANWNT) September 3, 2022
Fran Alonso explained that had the Dundee United game gone ahead last Sunday, Clarissa Larisey would not have  started as she's traelled back from Australia where she made her international debut in Brisbane for Olympic Gold Medalists Canada. Larisey had no intenational recognition at any level prior to her emergence as a top striker for Celtic and that propelled her into one of the best women's teams on the planet. What an achievement this is for the Celtic star.
Larisey will be back tomorrow and for Hamilton Accies at least, that signals some bad news.
🗣 "Hopefully we are at our best, focus on our performance, impose our style and fight for the three points."

📺 Watch the full match preview with @FranAlonsoFA ⤵#CELHAM | #SWPL | #COYGIG🍀 pic.twitter.com/QV6Yu8v43s

— Celtic FC Women (@CelticFCWomen) September 17, 2022
Go to the next page to check out The Celtic Star Photo Gallery from the previous game, our 8-0 win over Motherwell…