Tickets went on sale today for the Women's Scottish Cup Final between Celtic and Glasgow City at Tynecastle on Sunday 29 May. At just £5 for adults and free for children it's a great chance to get along to a major cup final and cheer Fran Alonso's side on to hopefully complete an historic cup double after already picking up the League Cup back in December, again against Glasgow City.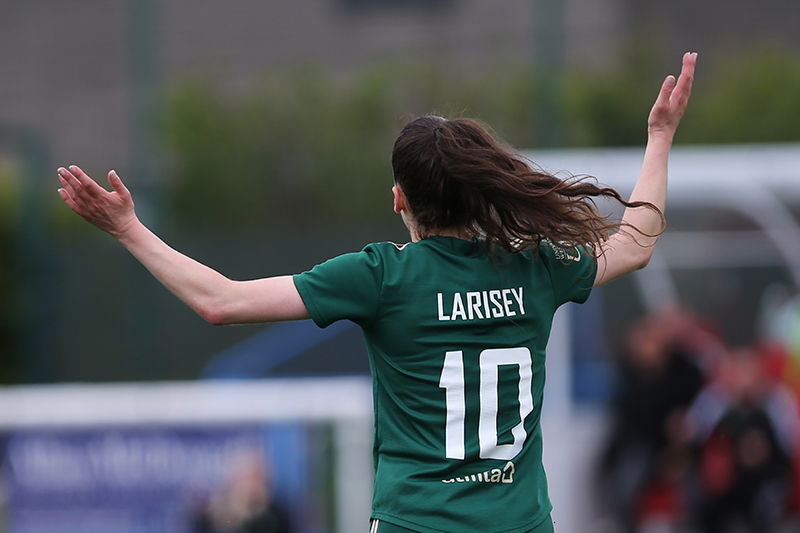 I purchased eight adult tickets today for myself and family members, and the other seven have never been to a women's football match before. They've all heard me raving about this exciting young Celtic side that Fran has been putting together over the past few seasons and now they're going to get a chance to see what all the fuss is about!
Well it's simple really, it's all about watching Glasgow Celtic putting on a show!
Two league games to go…🍀

🏆 SWPL1
🆚 Hearts
🏟 Penny Cars Stadium
🕢 7:30pm
📲 Live updates on @CelticFCWomen
🎟 https://t.co/lDxglqXhMR
#SWPL1 | #CELHEA | #COYGIG pic.twitter.com/rZz5qvPHjR

— Celtic FC Women (@CelticFCWomen) May 11, 2022
The Women's Scottish Cup Final is also a great chance for many Celtic fans to sample the atmosphere at Tynecastle, home of Hearts who Celtic edged past in extra time in the semi-finals after having disposed of theRangers in the quarters. Celtic welcome Hearts this evening to the penultimate SWPL1 fixture of the season before the big spending Ibrox side, who at the weekend ended Glasgow City's 14 year run as Women's Scottish Champions, arrive at the Penny Cars stadium on Sunday looking to wrap up an Invincible league campaign.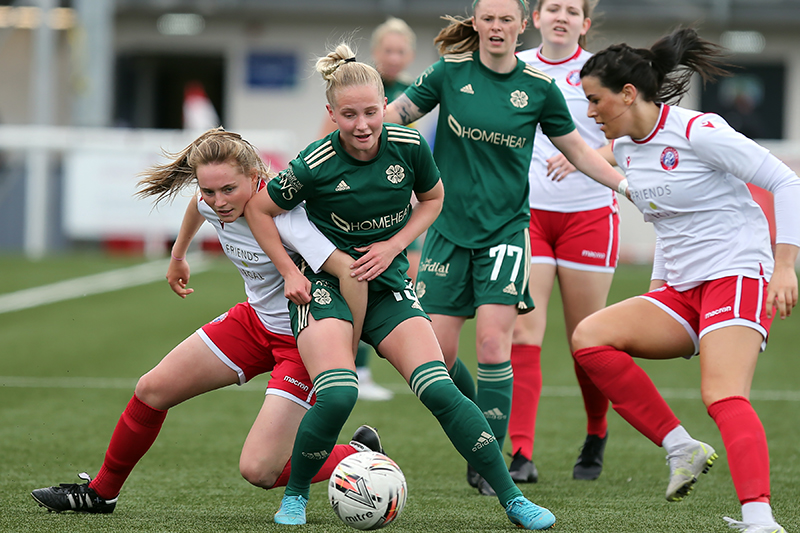 Fun fact, the last time theRangers lost a league match was on 6 June 2021 and had they avoided defeat that day then Celtic would have been champions. Hopefully there will be a wee bit of extra revenge this weekend as the Celtic players continue this little build up period for the cup final which began on Sunday with a 3-1 win away to Spartans. Here are the highlights and just admire that eye for goal on the league's top goalscorer Charlie Welling who has 36 goals for Celtic this season, and counting.
Speaking ahead of this evening's dead rubber match against Hearts, which is understandably low profile when you consider what's happening up at Tannadice, the Celtic FC Women manager Fran Alonso had this to say:
"We don't have any easy games in this league, which is a good thing. On Wednesday we play Hearts and we saw in the cup semi- final how difficult it is to play against them, how well-organised they are and how difficult it is to score against them so we know it'll be another tough game, but that's what we want.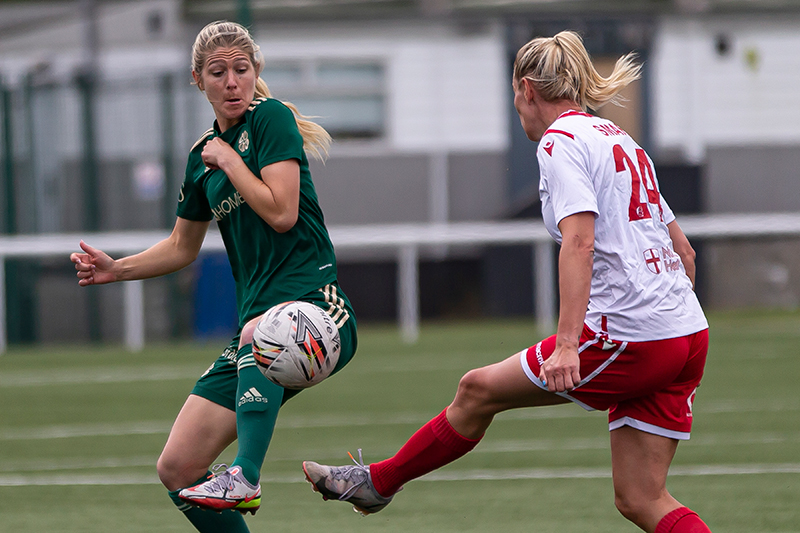 "We want tough tests ahead of our toughest test of the season which is the cup final and we definitely want to put in an outstanding performance and try to lift the trophy, but it's two tough tests before it. We managed to rest a few of the girls against Spartans and we will rotate the squad over the week to make sure everyone feels fresh enough and gets chances."
The Celtic captain Kelly Clark who we'll hopefully see going up to lift the Scottish Cup in a few weeks time also talked about tonight's match against Hearts.
"Our penultimate home game of the season sees us welcome Hearts to the Penny Cars Stadium. We are on a good run of wins and with each game our performances are improving – a climb we want to continue in the lead up to the Scottish Cup final.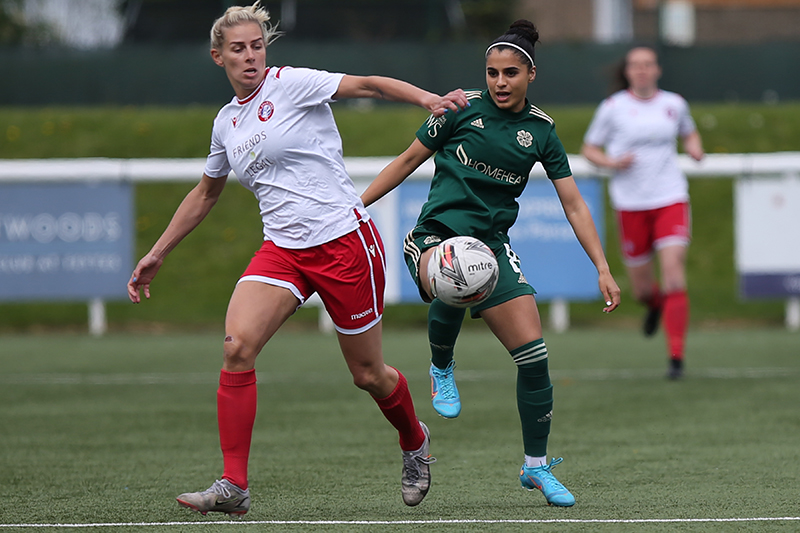 "Hearts were our opponents in the semi- final of the Scottish Cup and they showed what they are capable of – forcing us
into extra time. We know that they are defensively a very well-organised team and they can be difficult to break down.
"We will look to start quickly and on the offensive, working hard to get an early goal and ensure the happenings of the semi-final don't reoccur.
"We're on the final stretch of what has been a long and hard season – starting with the unbelievable experience of playing in the Champions League and now ending in two weeks' time with the opportunity to make it a cup double. We hope to see you at as many of the last few games as possible, cheering us on through the final push."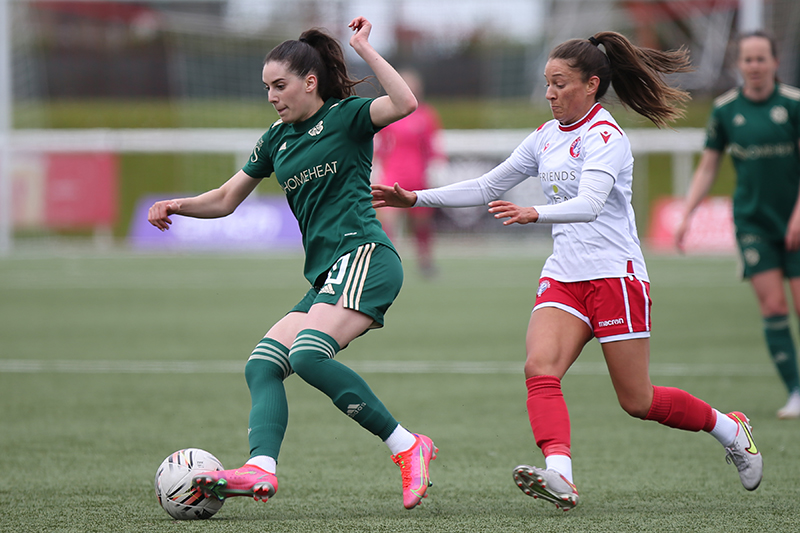 Maybe not tonight Kelly, but the Celtic support can turn its full attention to supporting the Women's team in the last few games, a bit of revenge at the weekend then on to Tynecastle for the chance to make Celtic history and bring the Scottish Cup back to Paradise to sit alongside the League Cup.
Celtic's New Zealand international midfielder Liv Chance is coming to the end of her debut season at Celtic. "It's a good first season in Scotland – it has been a long season, but with New Zealand there's a lot of travelling as we never seem to play in Europe, so I've been travelling a lot but I've enjoyed the football – playing football is always better than training, so it's been a great first season.
"I want us to win another Cup so I can go back to New Zealand and say we've had a historic season with two cups and hopefully next season can be even better."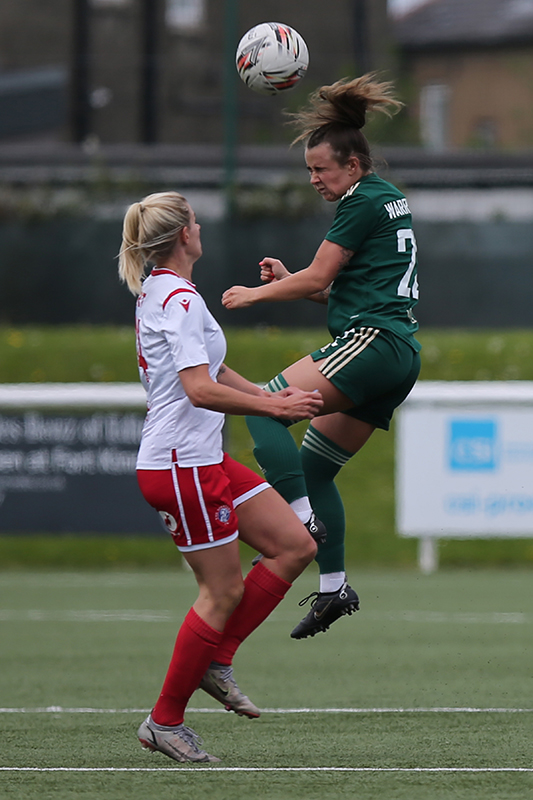 Remember folks, the League and Scottish Cups Double is in sight for Celtic FC Women with the final of the Scottish Women's Cup just a few weeks away.. After winning the league Cup 1-0 against Glasgow City in December, both Glasgow clubs will be going head-to-head once again for Cup glory at Tynecastle on Sunday 29 May and you can be there.
Around 5500 supporters attended the League Cup Final on Sunday 5 December at Firhill and around the same size of crowd turned out at Celtic Park for the League match with Hibs being the visitors. Celtic won both matches and other than knocking theRangers out of both cups, these were highlights of the season for Fran Alonso's side.
Glasgow City are a decent team but they do not have the support that Celtic enjoys and at Firhill the fans made a huge difference and really helped the team dominate the game. Do your bit and get along to the Scottish Cup Final; let's have a massive Celtic party at Tynecastle on Sunday 29 May…
Get your tickets, priced at only £5 for adults and FREE for children below…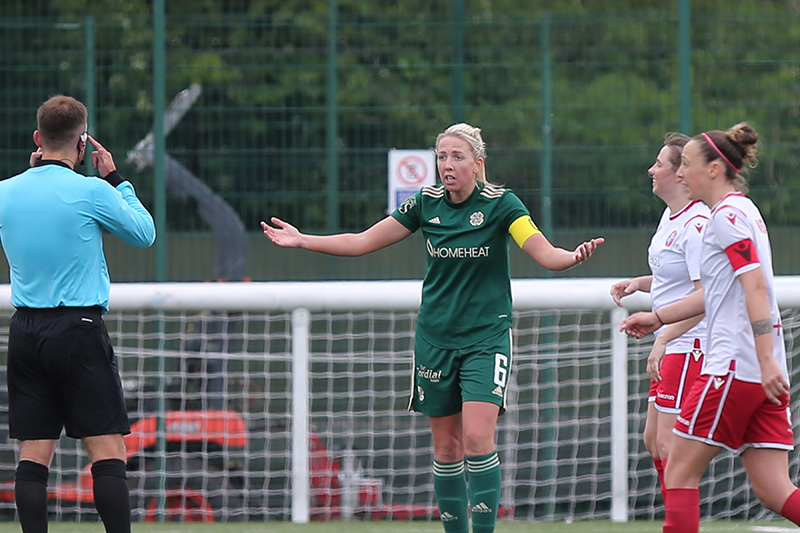 COYGIG
🏆 Tickets for the @Biffa Scottish Women's Cup Final are now ON SALE! 🏆

⚽️ @CelticFCWomen 🆚 @GlasgowCityFC
🏟️Tynecastle Stadium
📅 Sunday 29th May
🎟️ Tickets priced at £5, under 13's go FREE

Secure your tickets for the season finale now! 👇https://t.co/z9tpi9pFEr pic.twitter.com/E4gqzDxord

— Scottish Women's Football (@ScotWFootball) May 10, 2022