CONGRATULATIONS to Celtic's Calvin Miller who is 21 today – Happy Birthday!
Calvin was recently re-called from his season long loan at Dundee, perhaps a sign that all is not well with Kieran Tierney's hip? Miller signed a contract extension at Celtic in the summer before heading to Dens Park to get some first team action under his belt.
His new contract will see Miller remain at Celtic until at least 2020.
???? Happy 21st birthday to #CelticFC's @calvin_miller7 ???? pic.twitter.com/HD5ERi4zuV

— Celtic Football Club (@CelticFC) January 9, 2019
You may remember that back in 2013 Calvin was named as the Best Young Player in the World for his age group! Here is an article from Joseph Ruddy from Celticjournal.org from that year about young Calvin Miller…
Early in October (2013) an article was released which contained the details of the best youth players from around the world. It then emerged that a youth player at Celtic, Calvin Miller was one of the names in this list. Indeed Calvin was named as the best player in the world for his age!
What a remarkable achievement for any young player. This is also something that Neymar won, so to be compared with Neymar must make everyone who knows him very proud.
I've taken the time to ask Calvin's father a few questions, which you can read below.
You'll no doubt be aware that Calvin has been named the world's best player of his age. How proud does this make you feel?
My pride for Calvin is indescribable considering what the past 12 months has provided us with, but when my phone was going crazy when it was know that Calvin was named as "The WORLDS Best Young Footballer born in 1998″ I couldn't speak for hours as I was fighting to hold back the emotions.
Could you tell us about Calvin? How did he get into football? When did Celtic come calling? Where does he play?
I used to take him to his Primary School games at St Bartholomew's in Castlemilk, he probably had about 70% of possession in these games himself. After this he was asked to join local team called Castleglen which was a year above his age group and he was a stand out yet again. That's probably when I started to take notice of his talent.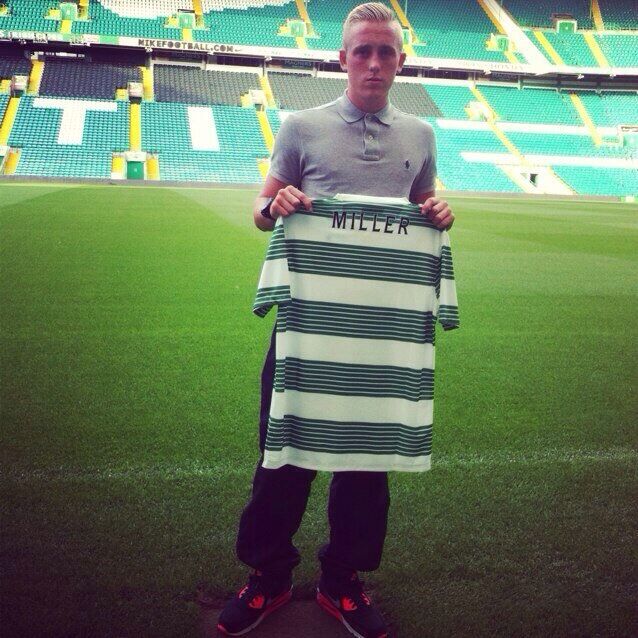 The coach from Castleglen was given a job with Rangers Supporters Association Boys Club and asked for Calvin who was 11 to go with him but it was U14s so coming off the bench almost each game in 8 weeks didn't sit well with us, so we left at end of season.
We ended up joining same team except U13s while he was still only 11 until the following year. He was instrumental in winning the League Cup, Regional Cup, Blackpool Tournament Cup and also achieving Managers Player of the year Award. He was outstanding. With this the trial for Rangers pro youth came, we went to Murray Park a few times but I pulled him out as I didn't think it was in his benefit as Rangers had him playing 7 a-side games because of his age, but he was at the time an out and out winger who could out run anyone and had a deadly strike so it was doing him no favours.
Along with that he was training with boys 3/4 years his senior and there was about 30 at a training session, so I said no thanks. Then after that Celtic came a-calling. His debut game for Celtic was against Rangers at Murray Park, we where getting beat one nil at half time. Calvin came on, scored a wonder goal from our own half scored and then scored the winner. Calvin plays anywhere across the front line, centre forward, left or right wing and scored 86 goals in his first season with Celtic. Not too bad eh?
What do you think the future holds for Calvin? Do you believe there's a successful career in football ahead for him?
I really hope there is and at the end of the day he is in the perfect position to pave a future for himself. Celtic have been amazing for his development, it's like an extended family and they all are looking out for Calvin's future. When Chris McCart gave Calvin his Celtic top with name on it when he signed his 3 year pre contract in the Celtic Board Room a few months ago I almost cried with joy! Great day, but it just goes to show you the level of detail that Celtic go to, to ensure the Celtic experience is unrivalled.
Calvin would not have been named The World's Best Young Footballer if it had not been Celtic. It was mentioned about 2 years ago. In a parents meeting in Celtic Park that he may change positions from striker to a Gareth Bale type player, and that was before Gareth became the world's most expensive player, so I'm hoping Celtic's vision comes true. On a serious note, I just hope that Calvin can make a great living doing what he loves best and if he can do that at a club we both love then I am sure he will become a legend!
Have Celtic helped in relation to his development and all-round play? Does training fit in well with an education?
Celtic's youth development programme at Lennoxtown has been inspirational in Calvin's progress. He gets picked up and dropped off daily and wants for nothing. He gets all the support physically and mentally he needs. Celtic have became a part of his life and it doesn't stop at his team coach, it's every age group coach, physio, scout…the list goes on. Calvin now goes to school once a week (on a Wednesday) as he is full time with Celtic which Celtic are insistent of to ensure Calvin gets an education on the back of being a full time footballer. When he was at school full time we could not ask for more from St. Ninian's in Kirkie as they enhanced his expected exam results!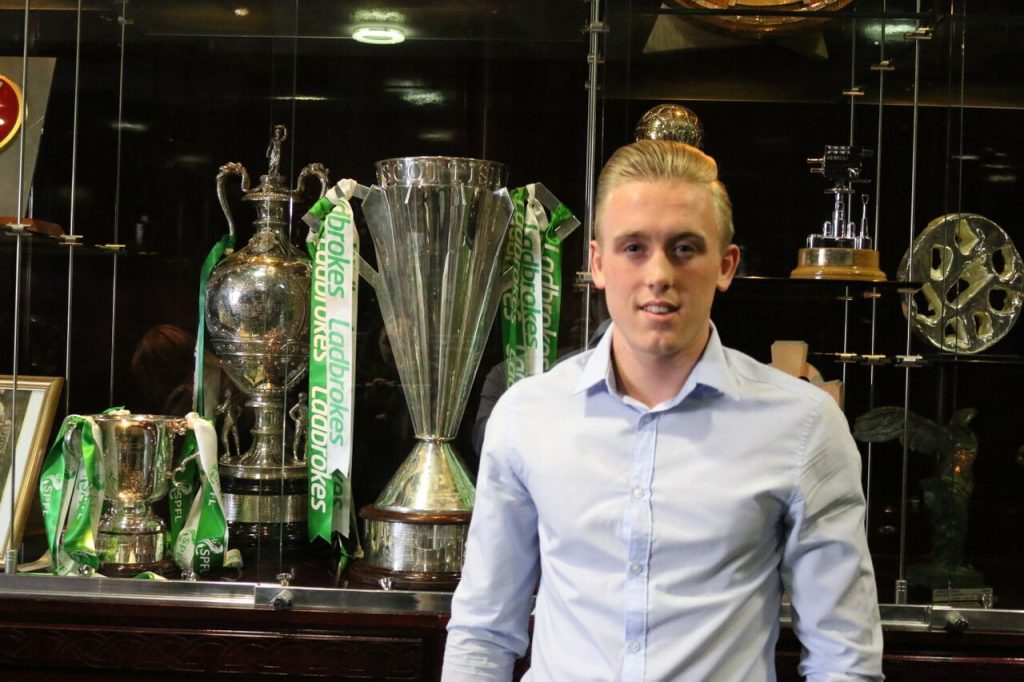 How often do you get to go along and watch Calvin playing for Celtic?
I try and got to all home games in Lennoxtown, although as I don't drive that seems like an away game for me. If Calvin kicks off at 3pm on a Sunday then I need to leave about 12:15 to get a connecting bus to Lennoxtown as they are every hour. When Calvin was younger I took Calvin to every training session and every game but that was when it was in Glasgow. Changing shifts at work was possible then but as its so far away it's difficult.
My weekends do consist of going to Calvin's games on a Sunday and his younger brother Kyle's games on a Saturday. Then I have the occasional midweek game with Calvin in the Glasgow Cup. I also follow Calvin to every Scotland game, I went all of last year's Victory Shields games, the Italy game and a few more. I am off tomorrow with Calvin's brothers Kyle and Oliver and my partner to N.Ireland to watch Calvin again in the Victory Shield.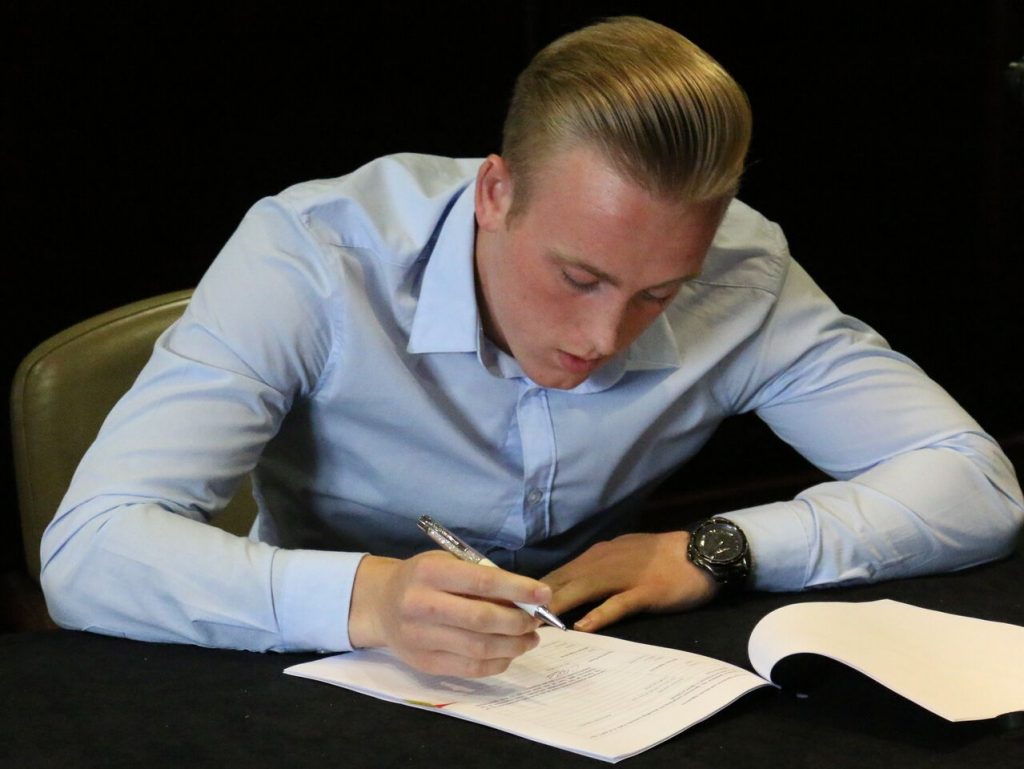 Imagine Calvin's name on the Celtic first team starting line-up. How would that make you feel?
As my own father was a Celtic fan and as I am to see my own flesh and blood pull on the hoops top on at Paradise would be THE biggest moment in my life.
Refereeing Brotherhood Blow Whistle on Compliance Officer Clare Whyte…See HERE.
Jim Craig – Celtic defence was "wide open as a barn door"…See HERE.
Grace! Liam McGrandles v Sir Rod Stewart for the best new version…See HERE.
New Bhoys Burke, Weah and Bayo mean competition for starting spots will be intense, reckons Celtic's Star Man, Forrest…See HERE.