The funeral service of John Hughes at Saint Mary's church in Calton, the spiritual home of Celtic Football Club has just ended. Lisbon Lions John Clark, Bobby Lennox and Jim Craig were in attendance with the former Celtic right back leading the tributes to his friend and former team mate who passed away on 1st August after a short illness.  Jim remembered his first time meeting John Hughes in a school football match when Yogi led the line for St Pat's, Coatbridge as they travelled to Govan and came away with a 6-0 win. It wouldn't be the last time Yogi enjoyed winning in that part of the city!
Alex Gordon, author of  the John Hughes biography Yogi Bare, was next to speaking talking about the great friendship that emerged with his own dad's former hero as a result of getting the call for Big Yogi to write his book. Yogi's son John spoke about his dad in heart-warming terms, and did brilliantly in these very sad circumstances for himself and the wider family.
Ange Postecoglou, who paid a fine tribute to Big Yogi at least Friday's Media Conference, answering a question from The Celtic Star, was as you would expect at St Mary's today together with Assistant Manager John Kennedy,   club captain Callum McGregor and the playing and coaching staff at the club as we remember a Celtic legend and of course a Celtic man to his dying day.
Yogi will now begin his final journey, past his beloved Celtic Park for one last time where the Celtic support is gathering in the summer sunshine, the Green Brigade are there with their tribute banner from the weekend on display on the Celtic Way and Celtic having added John and YNWA next to the Celtic Star above the front door at Paradise. Perhaps the club thought that John was more appropriate that Yogi and anyway the Green Brigade had that covered anyway.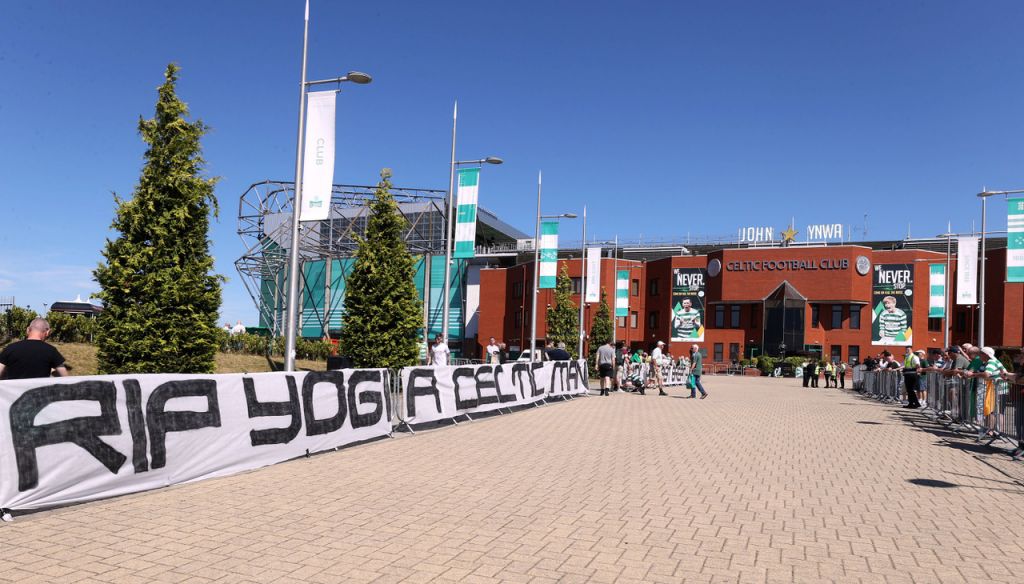 It was an absolute please of my own to help with the publishing of Yogi's book mentioned today by author Alex Gordon at today's mass and together with David Potter and Matt Corr, I will join Liam Kelly on a special Celtic Star podcast this evening to remember the Celtic legend John Hughes, Big Yogi.
We'll also cover Yogi's final journey to Celtic Park this afternoon.
Rest in Peace Yogi, YNWA