The story of George Connelly is one of the saddest in British football. A flawed genius, he signed provisional forms for Celtic, joining from Tulliallan Juniors, in July 1964. It would not be long before he'd dazzle the Parkhead crowd.
Jock Stein had been impressed with the young holding midfielder and sent him onto the pitch at Celtic Park during the half time interval of a European Cup Winners' Cup Quarter-Final match against Dynamo Kiev on this day (55 years ago), 12 January 1966. The 16-year-old was tasked with thrilling the crowd in return for a fiver and he obliged the Manager with a delightful display of keepy-ups. Connelly had the fans looking on in awe as he danced around the full perimeter of the pitch, keeping the ball aloft without fail. Stein had been confident that Connelly would excite the faithful, given that his average at juggling with the ball was said to be 2,000 consecutive 'keepy-ups'.
Connelly was one of a number of exciting prospects at the club in this era. Indeed, there were high hopes for the next generation coming through on the conveyor belt, though the challenge of filling the huge shoes of the Lisbon Lions was always going to be immeasurable. Barely two years had elapsed before Connelly emerged as an ever-present in the Celtic side and perhaps the most important player of the Quality Street Gang- no mean feat when you consider that other breakthrough talents included Kenny Dalglish, Danny McGrain and Lou Macari.
So high was the esteem in which he was held, Connelly was touted as the successor to Billy McNeill thanks to his defensive abilities, which meant he was utilised at the back as well as in midfield. This belief was reaffirmed in the 1969 Scottish Cup Final against Rangers, when Connelly played a lead role, walked the ball into the net for his goal and again performed an exhibition of 'keepy-ups'… this time inside his own penalty box! Rangers supporters were furious at his showboating antics, as the Ibrox side were trailing 4-0. However, Jock Stein claimed that Connelly's performance had shown that he was on a par with Franz Beckenbauer.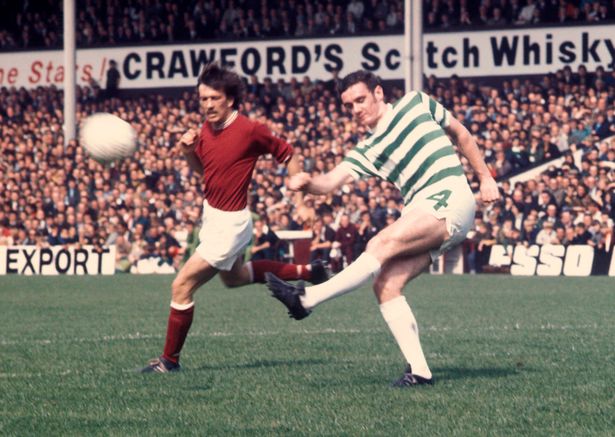 Despite his domestic prowess, the pinnacle for Connelly was to come in the European Cup Semi-Final of 1970 against Leeds United. It was then that the Hoops legend really made the world stand up and take note of his incredible ability. Leeds were dubbed 'the greatest English team of all time' and the press south of the border had Celtic marked as underdogs. With the help of a sublime team, and the immortal Jimmy Johnstone, Connelly put Leeds to the sword by netting the winning goal at Elland Road in the first leg. Celtic went on to defeat Leeds in front of a European record 136,505 crowd at Hampden Park in the second leg, two weeks later. The Bhoys had won 'the battle of Britain' by three goals to one on aggregate. It saw Celtic reach their second European Cup Final in three years. Astonishingly, Connelly was left out of the Final, which Celtic lost in extra time against Feyenoord.
Tragically, George Connelly was soon seeking solace from a range of mental health issues, through the consumption of alcohol. By 1973, the shy star was finding it very tough to live in the limelight, this despite his earning of the player of the year award.
The troubled star reported injured ahead of the Scottish League match against Partick Thistle on 17 November 1973, yet in reality he had not turned up for training the day before and had remained missing for the game. Connelly soon returned but walked out on Celtic again ahead of a Glasgow derby on 14 September 1974. On this occasion he stayed away from football for two months until he returned to training on 9 November.
Connelly's eventual return to first team action was short lived. He walked out on the club a further three times and also performed one of his disappearing acts before what should have been his Scotland debut, exiting the airport just as Willie Ormond's squad were boarding a flight to Switzerland in May 1973. After experiencing issues with his marriage, everything became too much for George. He played his last game of football for Celtic on 13 September 1975 at Fir Park, and after failing to turn up at Celtic Park for the clash with Stenhousemuir on 24 of that month, he announced his retirement.
George Connelly's unique talents continue to be revered, cementing his place in Celtic folklore. However, we all wonder what could have been if his mind was in a positive place. The Celtic support finally got to pay tribute to him when he returned to Paradise for the first time, to perform the half time draw, during a Celtic v AC Milan Champions League Group Stage match in October 2007.
* This story is part of Take Me To Your Paradise: A history of Celtic-related incidents & events. It can be purchased by clicking HERE.