SIGNING players at Celtic becomes an obsession every summer at Celtic. It was no different in that respect at the start of the 1990s.
While we've looked at Dariusz Dziekanowski and John Collins over the last week on The Celtic Star, both big money buys. Today we look at something else the Celtic support demand from the club. Homegrown players coming through the ranks.
Gerry Creaney was one such player.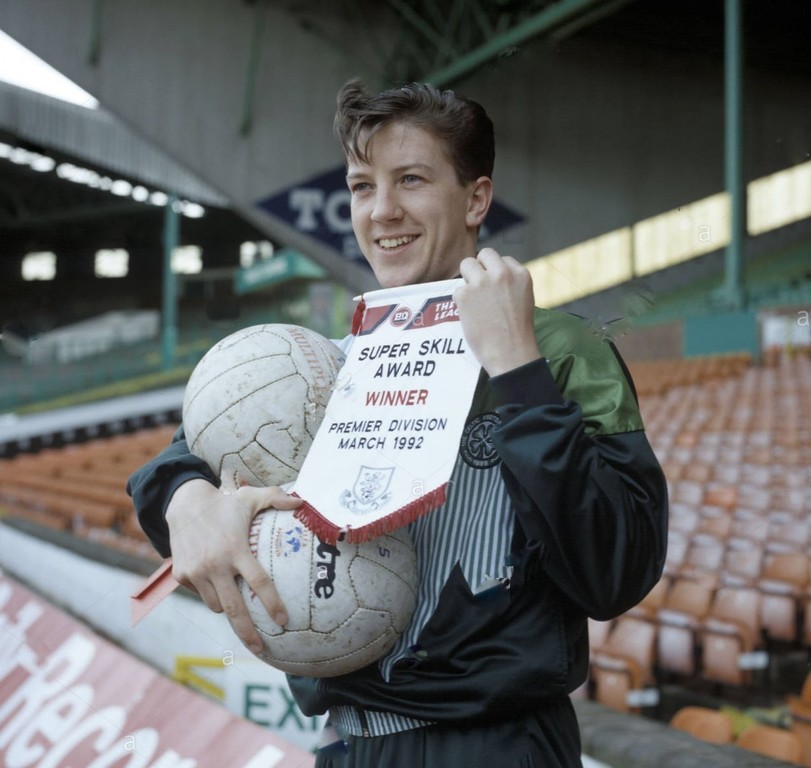 Creaney made his debut for Celtic against Dunfermline Athletic in a drab 0-0 end of season draw on 24 March 1990 having signed on three years earlier. Prior to that he'd been building a name for himself at Celtic boys club.
By the following season Gerry had established himself as a genuine first team player. His first goal came in April in a 1-1 draw with Dundee.
He went on to score 10 goals in his first season before really getting involved at the top of the goalscoring charts and establishing himself as a first pick striker with 23 goals from only 27 appearances the following year. Gerry Creaney was starting to make a name for himself.
It would therefore be hard to believe given that initial form that he would go on to only score a further 16 goals for Celtic before being transferred by Celtic boss at the time Lou Macari.
Considering Creaney proved he could score at Premier League level as well as big games in Europe it's surprising he only played 111 games for the club, his goal against Sporting Lisbon is evidence of that European pedigree and is well worth a look.
He also scored a well finished goal at Celtic Park when he scored in a 2-0 Scottish Cup win on 17 March 1991 in a game that immediately became known as the St Patricks Day massacre. It was an unexpected result but the performance also belied the gulf in class between the sides. Celtic played them off the park that day. Some have said that game saved Billy McNeill from the sack. Either way St Patrick was smiling on Celtic that day and Gerry more than played his part.
He also did it against Rangers at Ibrox. Gerry scored the winner in a 2-0 league victory with Charlie Nicholas scoring the first. Creaney proved in that game he knew how to find the net against the Ibrox side at a time Rangers were signing the best of defensive talent. Their backline were no mugs.
You'd have to therefore question the judgment, given the dearth of talent available at the club, to let such a young home-grown talent slip away. You can have a look at Creaney's goal at Ibrox here.
When you also take into account that following his transfer to English side Portsmouth in 1994 that he scored 30 goals in 62 games in England's Division One you'd certainly conclude he was allowed to leave far too early.
Mind you Lou Macari never quite showed he had the grasp on the managing game that Gerry showed in front of goal, so perhaps the player shouldn't take that decision too personally.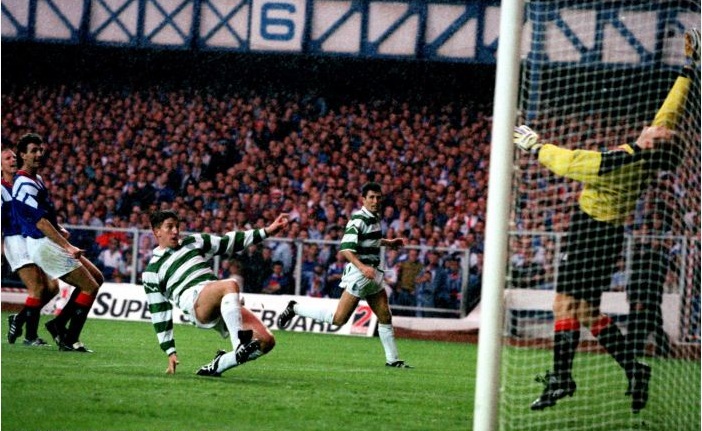 If there were a couple of things Gerry Creaney lacked it was a burst of pace and balance. Macari's decision therefore to utilise him at right wing in his final season was folly and sadly resulted in the tail end of his Celtic career seeing him as a target for the Jungle's disgruntled. There were more deserving targets than Gerry Creaney but times were tough and frustration was rife.
Targets for the whipping boy were bound to be needed. Gerry Creaney being played out of position and running the right wing in an alien position and in front of the Jungle was always going to get the treatment. He didn't deserve that.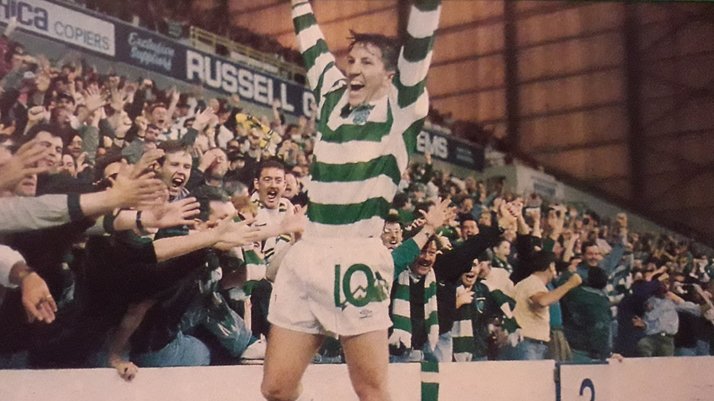 Gerry had his own say on how things came to an end at Celtic and how he feels about the club:
"Lou Macari basically pushed me out. He has his own ideas and unfortunately his ideas and my talent didn't mix… My allegiance to the club will never die, I am Celtic born and bred."
Lou Macari might not have rated you Gerry but you lived the dream. 53 goals in 111 starts is testament to that.
To the supporter who wore the shirt with pride, from the supporter who loved to watch you wear it. Thanks for the memories Gerry.
Niall J
ALSO ON THE CELTIC STAR…
The 'Brought it on Themselves' Media Narrative – 'Celtic fans, victims but it was their own fault'
Celtic v Motherwell Preview – I've a feeling we'll see a rather entertaining encounter