When I look back on our journey to Seville, it amazes me how we actually got there in one piece.
I went to all the home legs of the UEFA cup and watched the away ones with my sister in the Brazen Head. Ten minutes to go against Boavista and the place went nuts. At the final whistle, absolute carnage. I turned to my sister and said, "We have to go to Seville."
On the ticket front, we didn't hold out much hope. The websites were full of touts looking for astronomical amounts. As two skint students, there was a limit to how much we could spend.
"We have assets other than financial ones, £200 and a flash for a ticket!" was my sister's negotiating line. It got us nowhere!
We booked a week's holiday, flying from Gatwick to Faro, with a hotel in Cadiz. With or without a ticket, we were going to Seville. My uncle was going too, travelling with the CSC from Oliver's in Drumchapel. We arranged to meet up when we got there.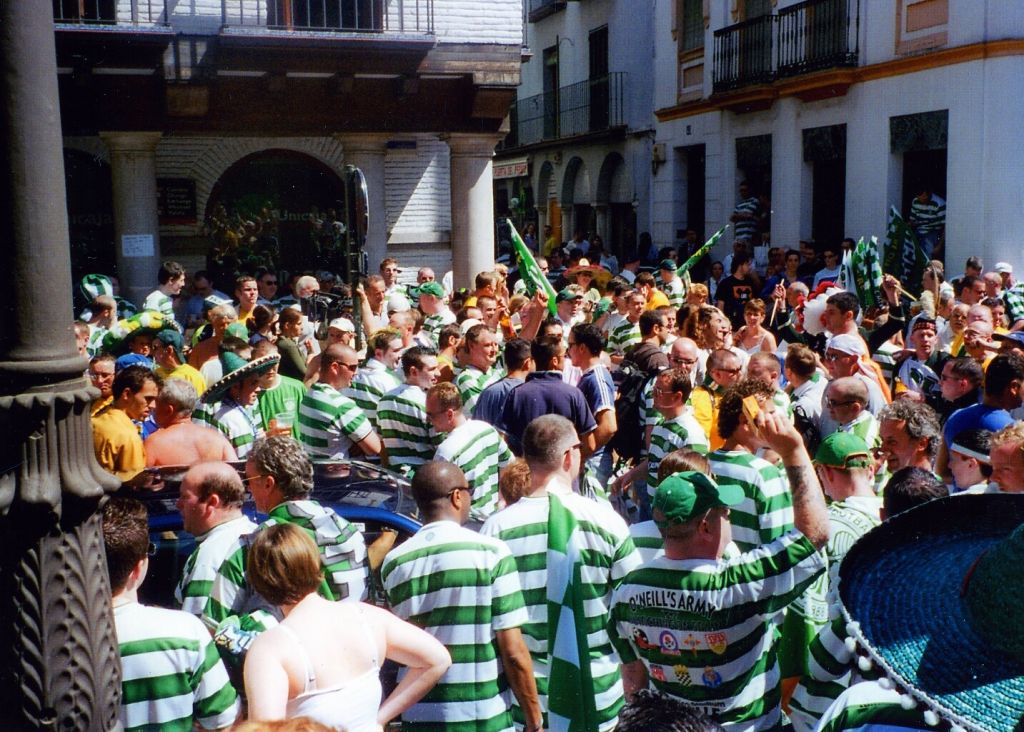 A few days before we were due to travel, my grampy took a turn for the worst. Any thoughts of us not going were quickly dispersed when we visited him in hospital. "I'll still be here when you get back. Go to Seville." True to his word, he was.
So now, we were all set. We got the bus to London from Buchanan Street. Everywhere you looked in Gatwick, there were Celtic fans. The flight was called and lots of happy people headed to the gate. With the sombreros and beach balls safely placed in the overhead lockers, we took our seats. The flight staff then realised that every single passenger was in the wrong seat! Cue total mayhem as everyone re-arranged the sombreros and clambered over each other to get to the right seat. Hilarious!
Once we got to Faro, we had another bus journey across the border to the hotel in Cadiz. We spent the next few days in a local Irish pub that became a home from home for all the Celtic supporters. Our uncle had contacted us to say that they were getting bussed into the city the day before the game and that we could stay in his hotel.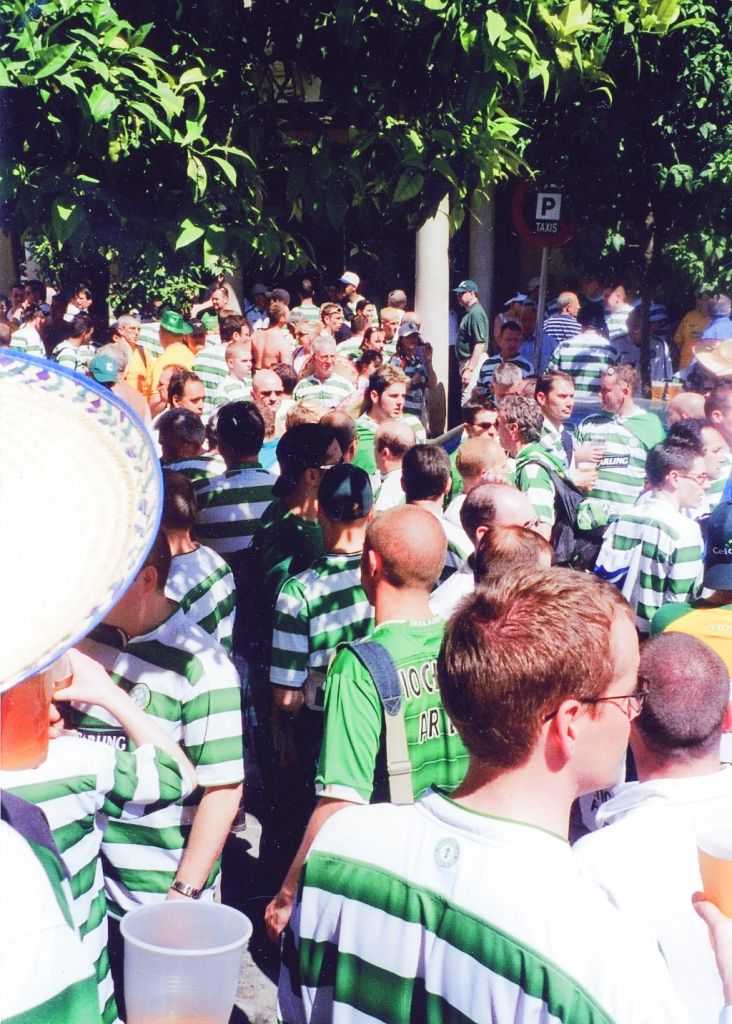 In broken Spanish, we set about enquiring how we might get to Seville.
"Donde esta autobus Seville por favor?" A bus to Huelva, another one to Seville.
We had a quick drink in the bar at Seville's bus station before wandering around the city. It was a sea of green and white. Everywhere you turned, there were familiar faces. It was like going on holiday with every single Celtic supporter you had ever met in your life. Unbelievable!
We got another call from our uncle to say they weren't getting bussed in now until the following day. After partying in the bars around the Cathedral and seeing Charlie and the Bhoys, we spent the night on the Cathedral steps, next to hundreds of other Celtic fans without a hotel.
Match day! We eventually met up with my uncle and his mates. None of us had tickets, so we headed to one of the big screens, near the bus station, to watch the game. With minutes to kick off, the big screen went off! Unlike other peepul, there was no rioting or smashing the place up, just utter, utter panic.
"The bus station! There's a telly in the bar in the bus station!" Everyone descended on the bus station.
So, in the end, we had travelled from Glasgow to London, to Faro, to Cadiz, to Huelva, to Seville to watch Celtic play in the UEFA cup final on a telly in Seville's bus station!
I would do it all again in a heartbeat.
I have two apologies to make to finish my story. We went back to my uncle's hotel after the game. He was sharing a room with another guy from the bus, who had headed straight to the hotel bar when we got back. We were so emotionally drained that we just wanted to sleep, so my sister and I jumped into the empty bed. My uncle warned us, "You'll need to sleep on the floor when he gets back." "Aye, we're just having a wee rest", was the reply.
Well, we woke up in the morning, and the poor guy was lying on the tiled floor with his jeans under his head as a pillow! If you are reading this, I am so sorry. I carry the guilt to this day.
Apology number two goes to the Celtic fan from Blairdardie whose bag I accidentally lifted off the carousel at Gatwick on the way home, because it was the same as mine. Again, I am sorry.
R.I.P Grampy 27 May 2003 YNWA
Hail Hail,
Siobhan