I'm sure that I wasn't the only football fan (let alone Celtic fan) to be angry and upset at the postponement of all the football this weekend. It did seem to be a bit of overkill, and unnecessary, and is particularly hard on fans from a distance who have been planning this game for months in advance, but there is little we can do about it other than wonder why it is that so many people enjoy servility.
But let's look on the bright side. Soon there will be a Coronation. Aren't we all excited at the thought of flags, coronation coaches, bonfires? Well, maybe not, but what if there is to be another Coronation Cup?
There have been two – in 1902 and 1953, and Celtic won them both!
Jimmy Quinn scored a hat-trick at Gilmorehill in 1902 to beat Rangers just before King Edward VII got his crown (well, actually, there was a complication because Edward fell ill with appendicitis and the Coronation had to be postponed).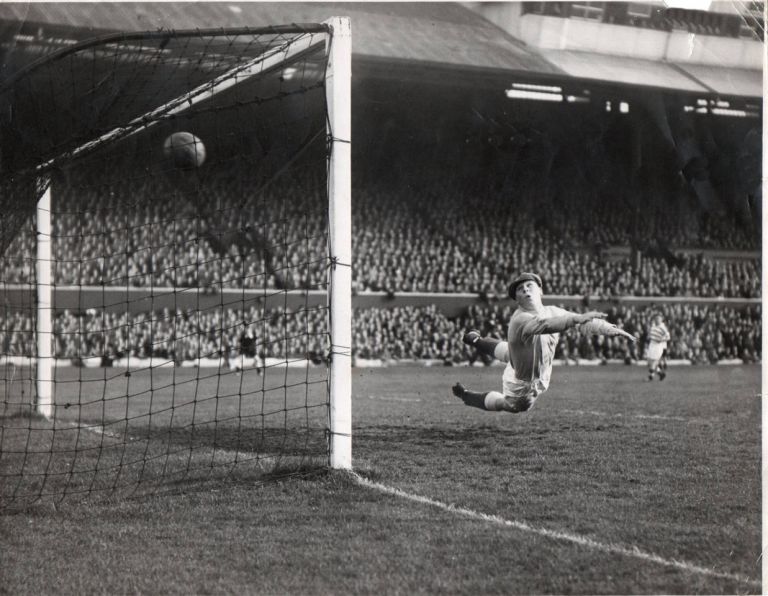 Then in 1953 Neil Mochan and Jimmy Walsh scored, while Johnnie Bonnar and Jock Stein kept Hibs out at the other end. Yes, it certainly seemed that that fellow Stein had some leadership potential! The great Patsy Gallacher, now seriously ill, was able to listen to the game on the radio, and Jimmy McGrory made sure that the Cup was taken round to Patsy's house a few days later.
Here's the story of Celtic's 1953 Coronation Cup triumph…
CORONATION CUP
It wasn't meant to happen, of course. Indeed it was highly embarrassing. The Coronation Cup Final was meant to be; between the two establishment royalist teams of Rangers and Arsenal, the League winners of both countries. Union Jacks would have proliferated, and possibly even Her Majesty herself might have been invited to Hampden to present the Cup.
The tournament was to be held in Glasgow because it was deemed that London would be too busy, and in any case, Glasgow was still in 1953 referred to as "the Second City of the Empire".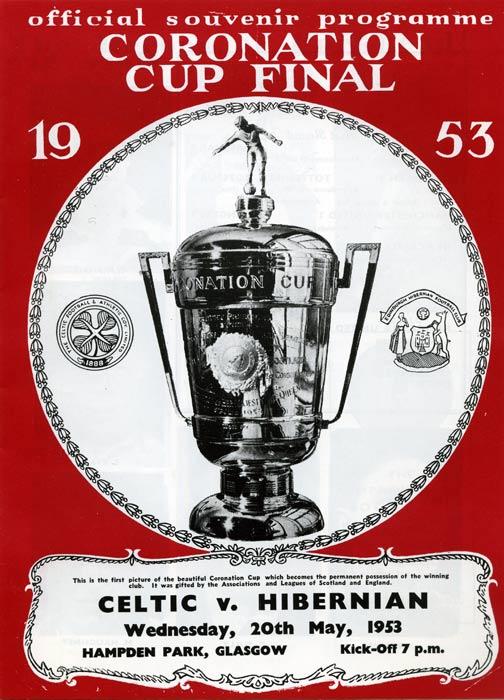 Celtic had no right to be in the competition at all. They had had a dreadful season, finishing eighth in the League and knocked out of the Scottish Cup by Rangers in the quarter final. But they had a huge support, the games were all to be played in Glasgow, and, let's be honest, money talked as loudly in 1953 as it does today! So we were in!
It so happened that Celtic came good at the right time. The judicious purchase of Neil Mochan from Middlesbrough helped and before the Coronation Cup started, Celtic won the Glasgow Charity Cup. The Charity Cup was often in the past a springboard for further success, and so it proved here.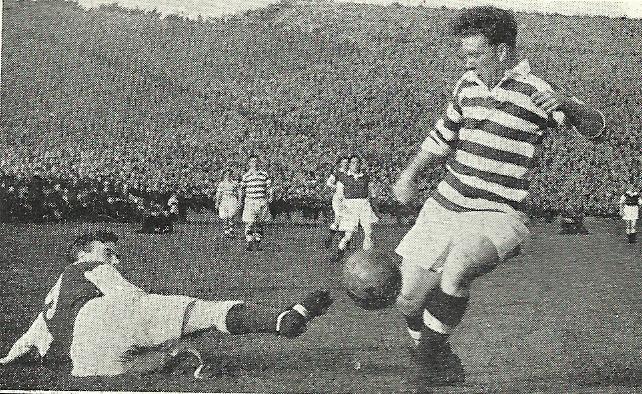 To the delight of their fans, they beat Arsenal 1-0 – a mighty achievement in itself. They then beat Matt Busby's Manchester United 2-1, as United had beaten Rangers. Meanwhile the excellent Hibs team had reached the final as well, and any plans to invite the Queen to present the trophy had to be quietly shelved.
Indeed, Irish tricolours and green favours predominated at Hampden that bright night of 20 May 1953. Heavy rain had threatened to disrupt things, but the clouds had dispersed and it was a fine night, before 117,060 fans.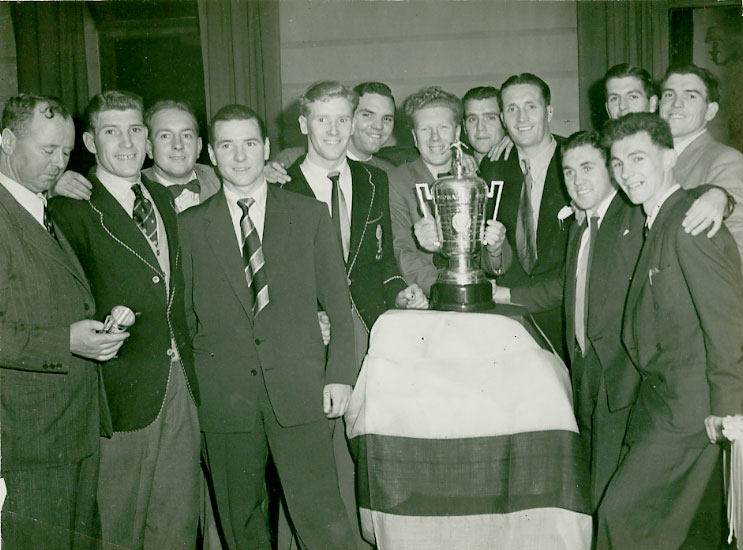 "A Nation Once Again" "Erin's Green Valleys" and "We will cha-a-a-nt the Soldiers' Song" were not really what the authorities wanted to hear, especially as most of the rest of Glasgow and indeed Scotland had shamefully gone mad with Union Jacks and everything seemed to have God Save the Queen written on it, as children were bribed with bars of chocolate (a great treat in 1953!) and mugs with pictures of the good lady.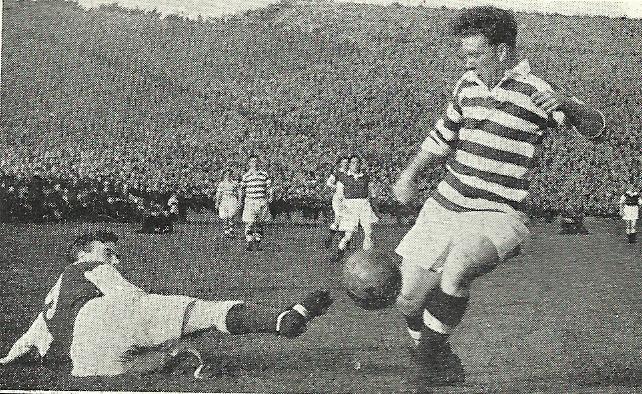 She was erroneously called Queen Elizabeth II in Scotland. In fact, Scotland had never had a Queen Elizabeth before, and my grandfather shamelessly vandalised tea caddies with Queen Elizabeth II written on them!
But to business. Hibs with their Famous Five forward line were expected to win. For Celtic Charlie Tully was injured, and that was a big blow. But Mochan scored in the first half into the King's Park goal, and 1-0 it was at half-time. In the second half with the setting sun behind them, Hibs piled on the pressure, but two men in particular who had not always been loved by the Celtic crowd, excelled themselves that night.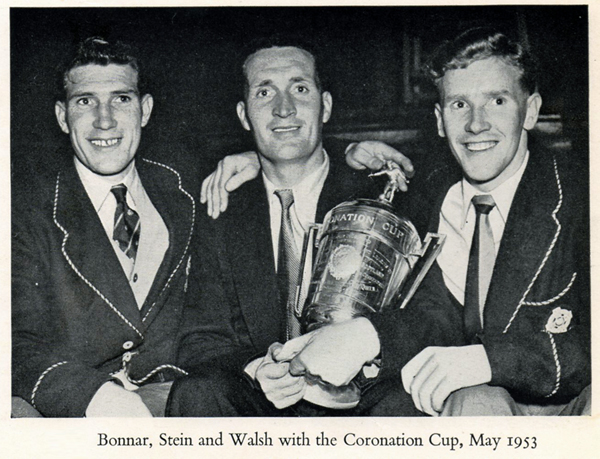 One was centre half and captain Jock Stein who marshalled his defence brilliantly in that rear guard action, and the other was goalkeeper Johnny Bonnar. Time and time again, he defied the Famous Five, as 117,060 held their collective breath.
Willie Ormond, in 1974 the manager of Scotland but in 1953 left winger of Hibs, met me by accident on a train one night between Newcastle and Edinburgh. He was amiable and charming, said some awful things about the SFA, but also said that his biggest disappointment was "no' getting' one by that bugger Bonnar" that night. One shot of his near the end was a "winner", as he thought, but Johnny got there first.
The Celtic broke away and Jimmy Walsh scored a second for Celtic. Hampden erupted to strains of "Follow, Follow we will follow Celtic", and that night saw street parties and dancing in the streets of the Gorbals with songs that were not associated normally with the Coronation with lyrics like "… another martyr for Old Ireland, another murder for the Crown!"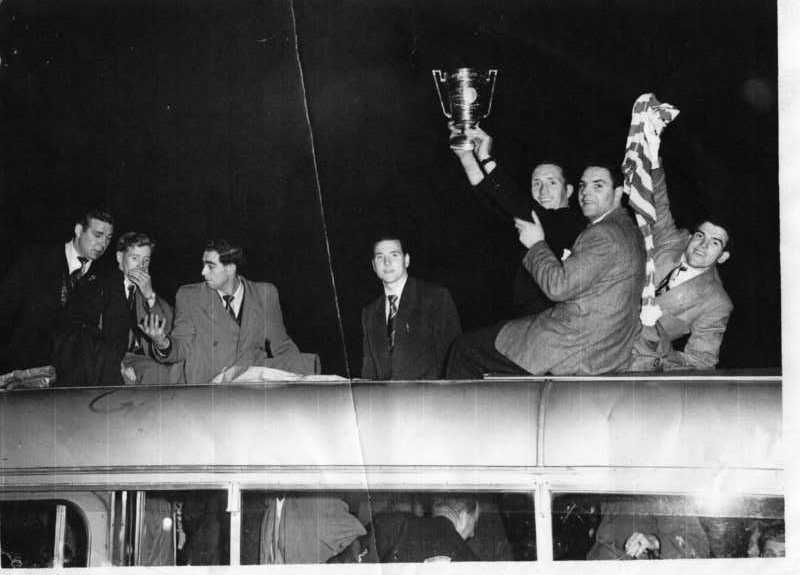 And Coronation Day itself on 2 June? Well, it was a public holiday, so might as well enjoy ourselves on that day as well!
Said Lizzie to Phillip as they sat down to dine,
I've just had a note from an old friend of mine,
His name is 'Big Geordie' he's loyal and true,
And his dirty big nose is a light shade of blue.

He says that the Rangers are right on their game,
And ask for a trophy to add to their fame,
I'll send up a cup that the Rangers can win,
Said Phillip to Liz watch the Celts don't step in.

Said Lizzie to Phillip they don't stand a chance,
I'll send up my Gunners to lead them a dance,
With Celtic defeated the way will be clear,
A cup for the Rangers in my crowning year.

But alas for their hopes for the loyal true blues,
The Celts beat the Gunners and Manchester too,
Beat Hibs in the final and oh what a scene,
Sure Hampden was covered in banners of green.

Said Lizzie to Phillip when she heard the grim news,
A blow has been struck at our loyal true blues,
Oh tell me dear Phillip and you ought to know,
How to keep Glasgow Celtic defeated below.

Said Phillip to Lizzie there's only one way,
I've known of their secret for many a day,
To keep the Celts down you will have to deport,
The fighting mad Irish* that gives them support.

David Potter

*We know…
David Potter's new book, Willie Fernie – Putting on the Style is featured in the new edition of the Celtic View which is out now and available from the Celtic Stores. You can also pick up the Willie Fernie book there too or order direct from Celtic Star Books, link below…