Celtic travel to Broadwood Stadium in Cumbernauld Saturday evening for the 5.15pm kick-off in the SWPL1 match against current Champions theRangers, who along with Glasgow City are one point ahead of Fran Alonso's side.  So with Glasgow City not playing until Sunday a win will take Celtic to the top of the League looking down on theRangers…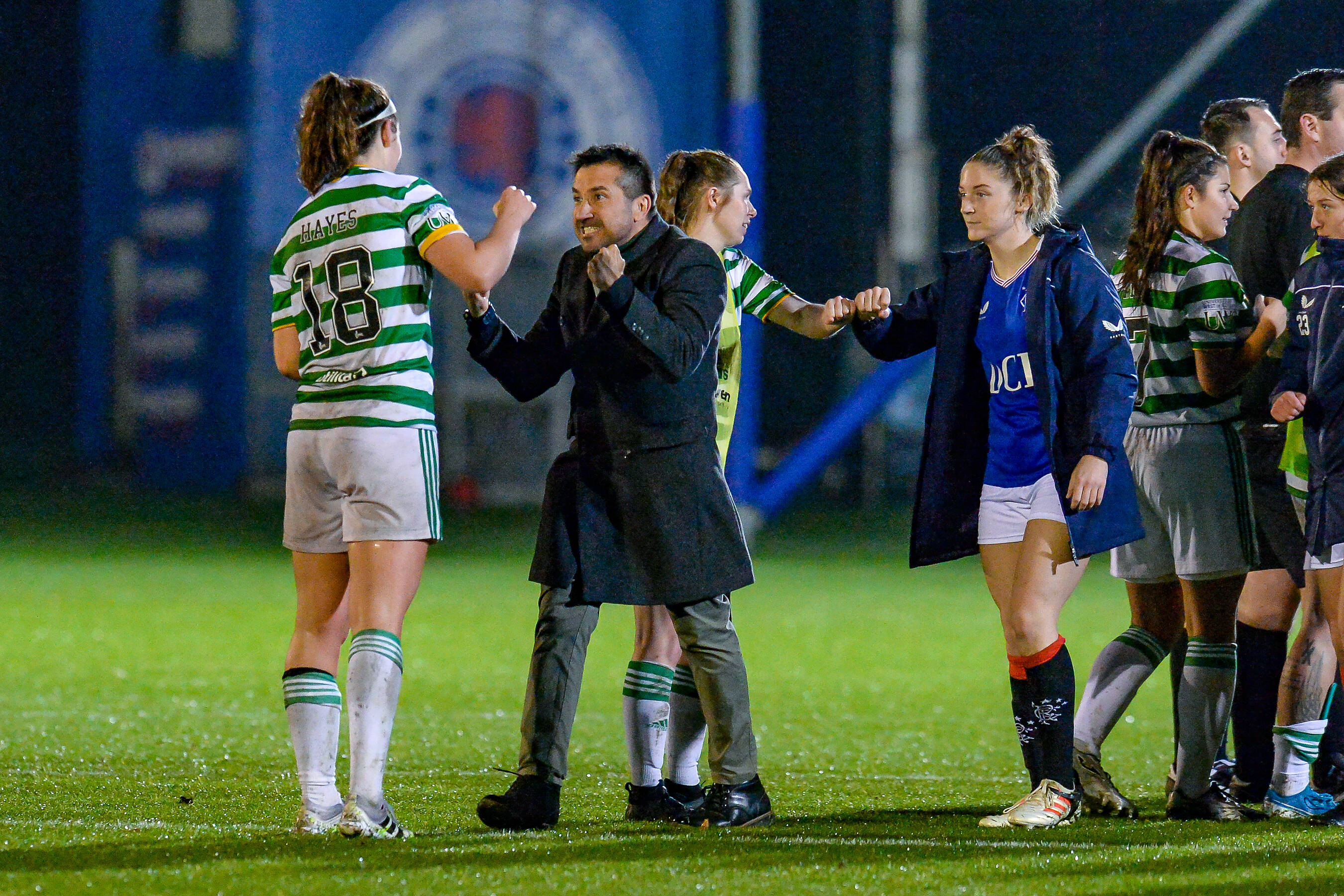 If you don't have a ticket then forget trying to get one, the distribution of the Celtic tickets has this week been a shambles to say the least and let's just say that's had nothing to do with the visitors. It's looking like the ground will be packed for this first 'Glasgow Derby' of the season featuring these two sides and theRangers have been doing a decent job of rallying their own supporters to get along and cheer their side on, with tickets costing as little a £1, the exact sum that Craigy Whyte paid for the previous club.
Having paid for a Celtic end ticket today – there's now a procedure where Celtic give them a list of ticket bookings and photo ID is needed at just one turnstile to get your name ticked off the list and through to watch Celtic play in what is sure to be the most hostile environment that these Celtic players have ever experienced.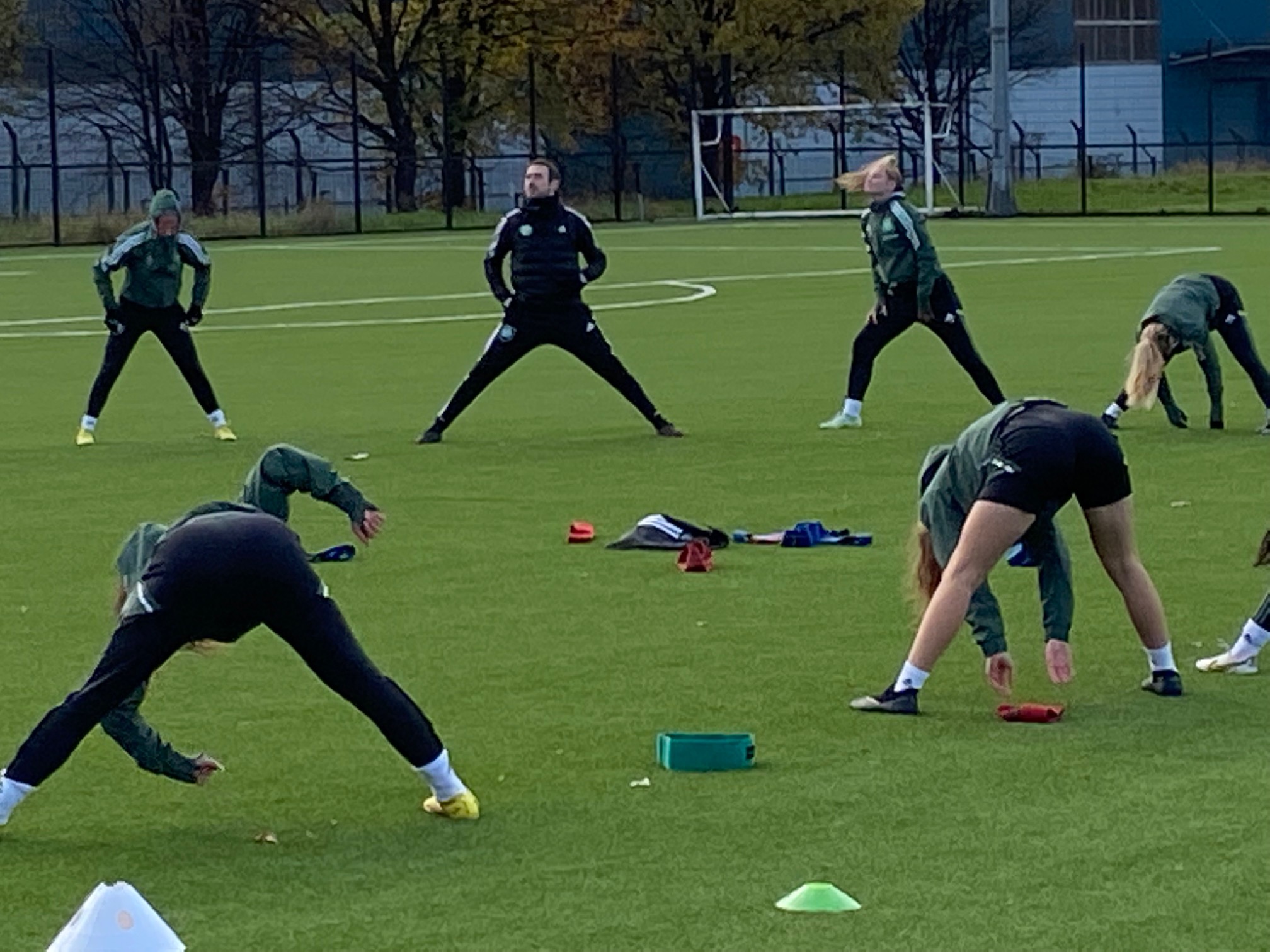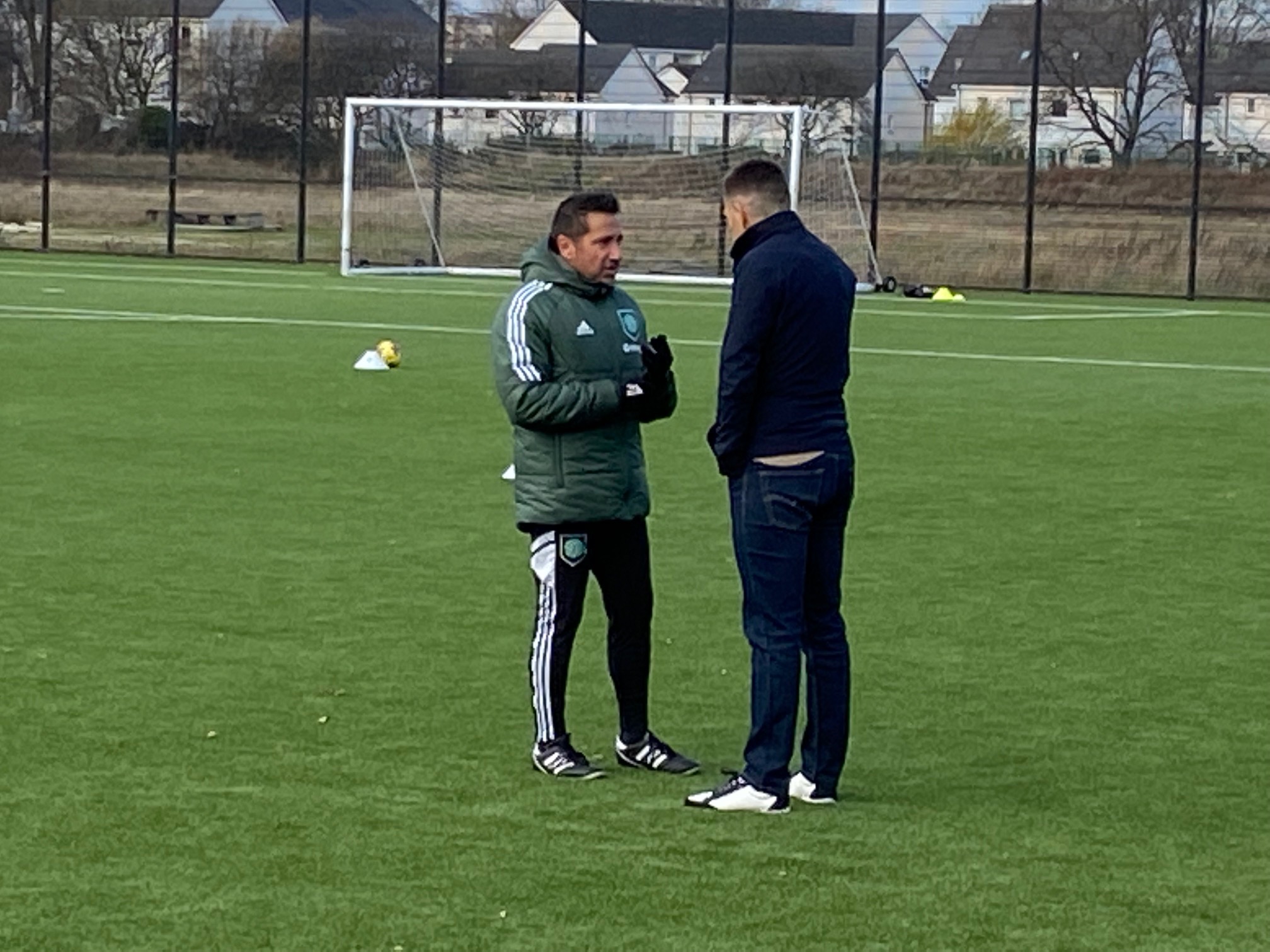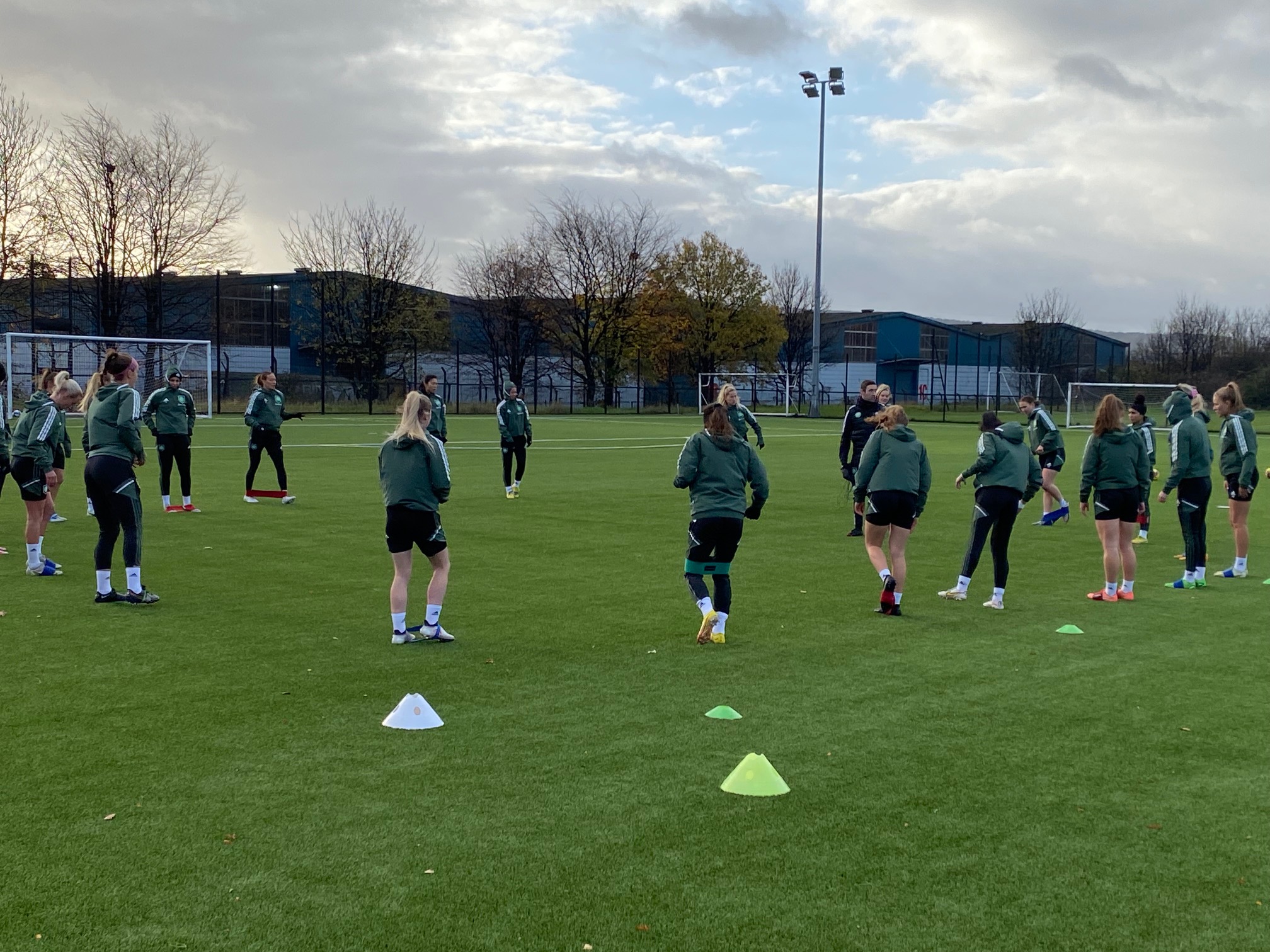 This morning The Celtic Star was invited along to Barrowfield to watch the Celtic FC Women team train ahead of the match and at lunchtime we attended the pre-match media conference at Celtic Park. Iain Jamieson, who heads up Celtic's media department popped in at the start to say hello and his tan pointed to the Celtic party enjoying the sunshine while in Australia!
The broadcast media were out in force today, the BBC are broadcasting Saturday's match between theRangers and Celtic live on BBC Alba, and after the media conference was done, Fran Alonso went off to do a one-to-one interview with the Beeb which you'll see if you catch the game on BBC Alba (remember kick-off is 5.15pm on Saturday evening).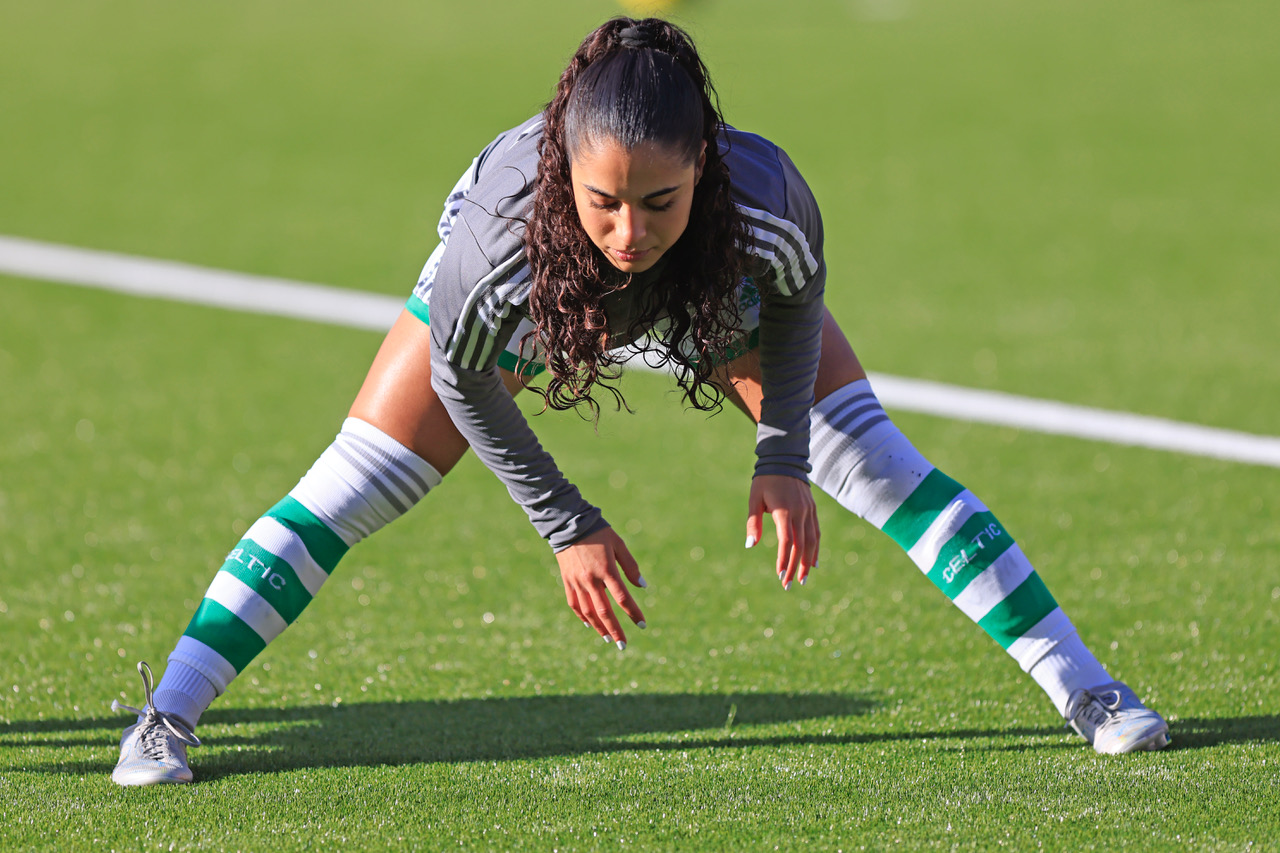 The mainstream media, including the BBC were there in numbers but the Celtic fan media was really just represented by The Celtic Star.
Still, as you'd expect we made our presence felt and enjoyed some sparring with Caitlin Hayes who was outstanding in dealing with the hacks and their continuous referrals to The Old Firm with Caitlin, from a Celtic daft family , having absolutely none of it. She even continued that treatment when to came to us but soon realised that we are very much on her side, although a league win over theRangers is long overdue, Caitlin!
But we'll cover all that separately, for now here are the highlights of a very entertaining media conference with Celtic FC Women manager Fran Alonso…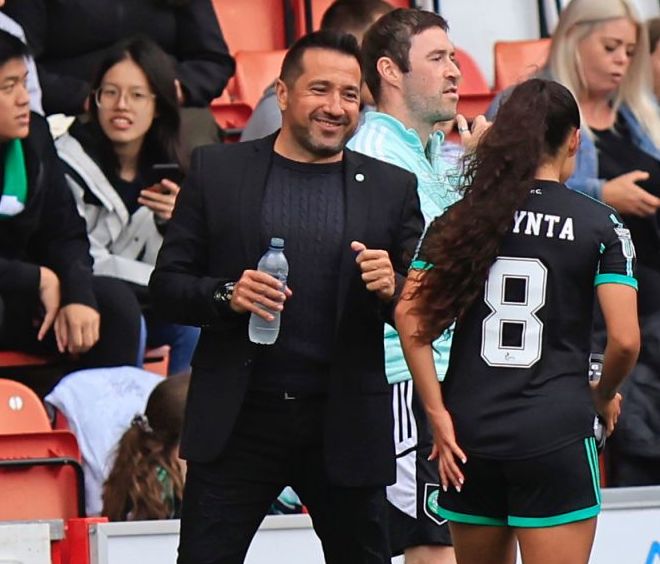 Starting with the BBC then the hacks before going onto The Celtic Star, Fran Alonso said:  "Confidence is very high. We know we are going to face potentially the favourites to win the league but that just motivates us more. So, looking forward to the game and I think the Ghirls trained like they want it. So hopefully we can play at our best and get something from the game.
"The motivation is to wear the Hoops in any game, but also facing our biggest rivals because it means more for the fans and for us that is massive. We are fighting for three points, but whatever happens I don't think is going to be decisive for the league as we've to play together another three times. Definitely we'd love to have the win and we'll fight to try to get it," Fran Alonso said.
"We are realistic, this is a team that hasn't lost a league game for a year and a half, which is incredible. They've had a massive investment for three years in a row so they are getting their resource from that. We know that they are the favourites, we know that it will be very difficult. Last year against them in the three matches in the league, two performances weren't bad at all but they had that little bit of quality up front in Jane Ross that hurt us but we were disappointed with the results in the league.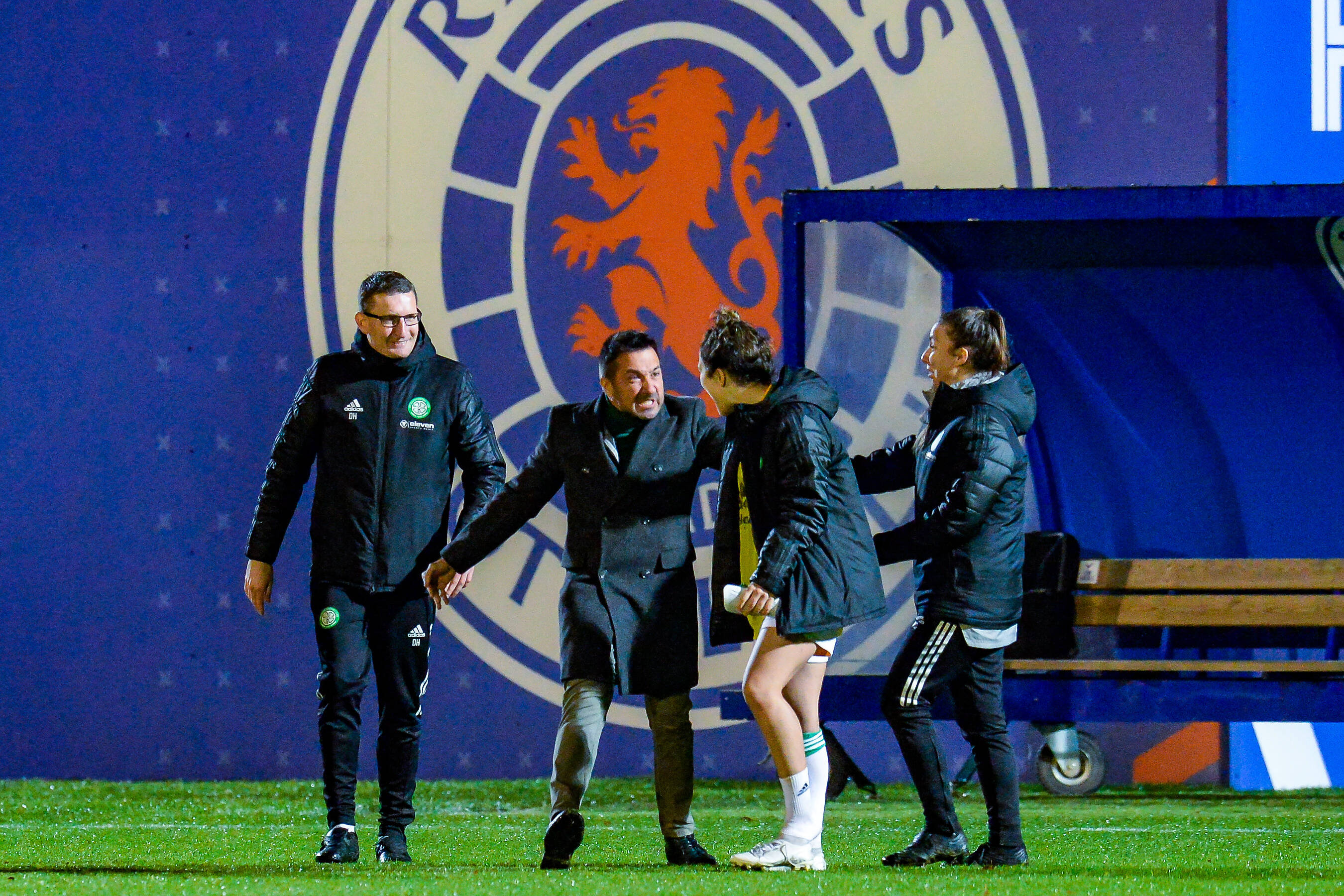 "In the cups we managed to knock them out of both cups and we won both titles (League Cup and Scottish cup) so absolutely I'm delighted with that. This year we want to be more competitive in the league and hopefully we'll start to win games against them and that is what we are working for.
Fran's view on all the pressure all being on theRangers: "Yes, they are the Champions, they have the biggest budget and they haven't lost in the league for a year and a half. We need to be realistic, we know that. We are a vey good team, I think we're a better team than we were last year. But we know, beating them is vey difficult.
"Can we do it? Yes, we did it twice last year but it's going to be very tough. They are the favourites and we don't mind saying that but we go there with a lot of enthusiasm and passion and we know that we were the only team in the country that beat them last year so hopefully this year we are the first to beat them.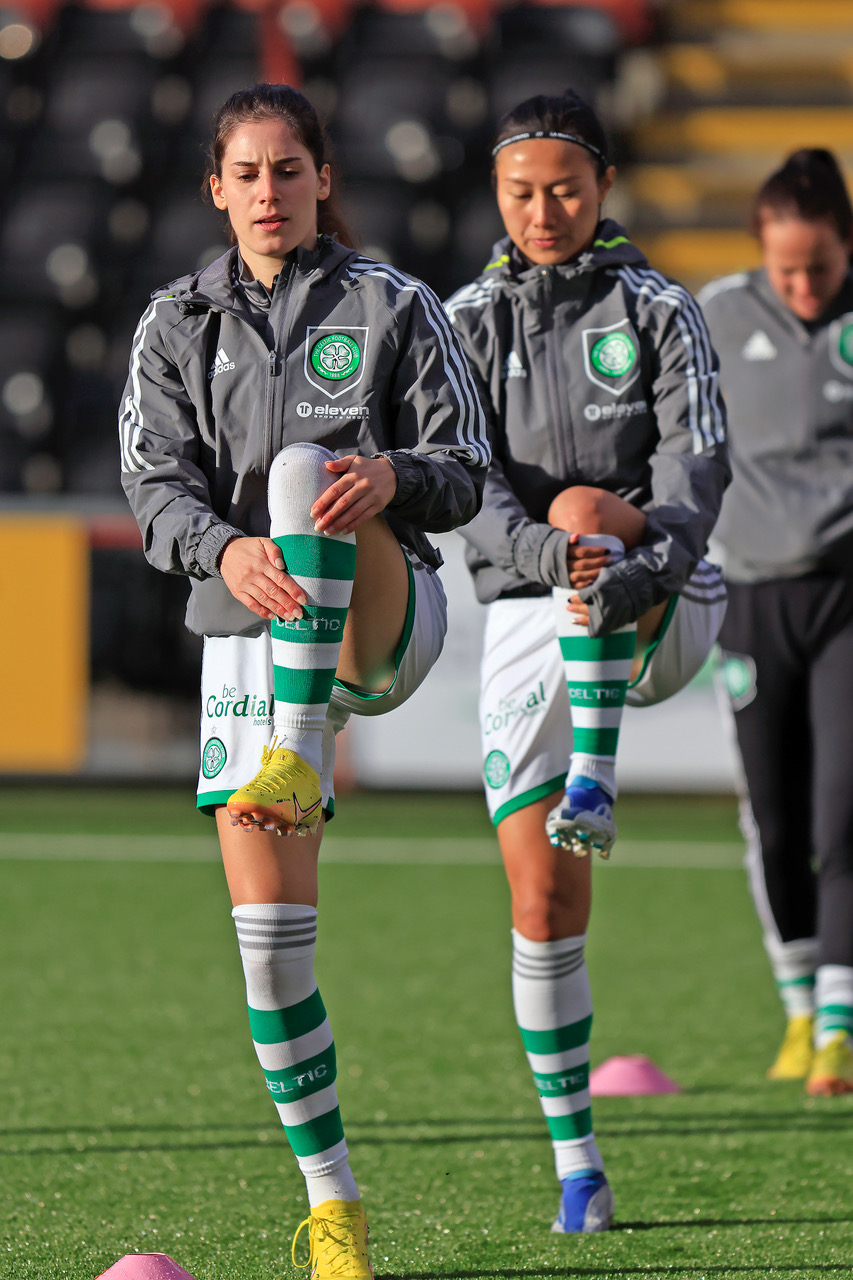 "What gives me confidence was our performance in the last game against a very good Hearts team and the way the Ghirls train. I can feel the hunger, I can feel the passion and that is most important because that's the weapons that we've got. Maybe technical ability or experience or whatever, we are not quite at the same level yet but if we match up these with passion, with heart then maybe we can get a good result and we are going to try.
"The mental aspect agains them is important, especially in an away game with a big crowd, it could be intimidating for some or our more in-experienced players or players who haven't experienced this game so this is a big factor.  What is important is to have a very clear game plan to execute this week and hopefully we can put it in place perfectly tomorrow."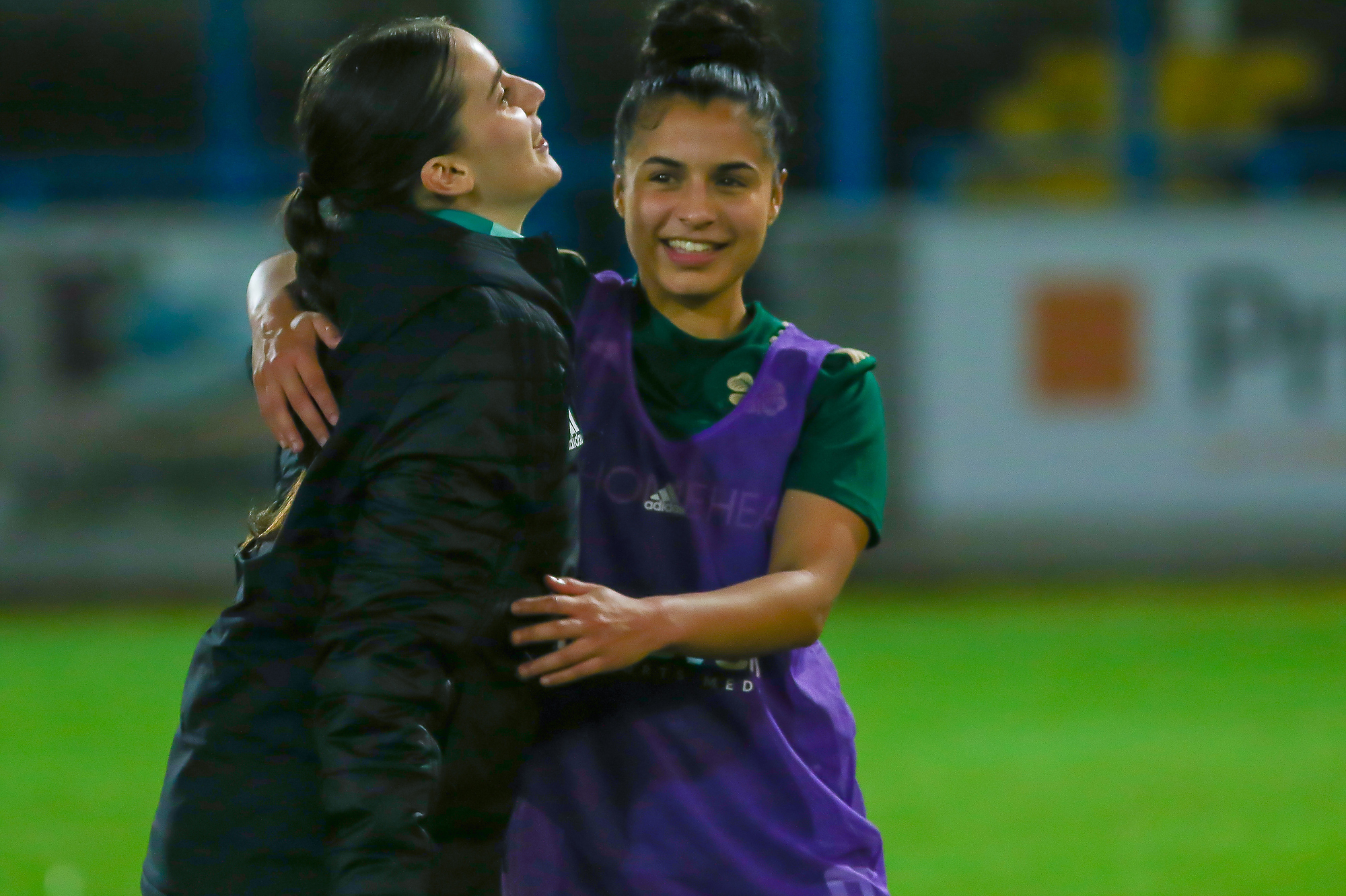 So that's the highlights of what Fran Alonso had to say to the hacks, now here's how The Celtic Star got on.
The Celtic Star: "It's probably the first time you will be playing against a large, hostile crowd, any other time when it's been a big crowd it's been mostly Celtic fans at the two Cup Finals. How will the team cope with that?
Fran Alonso: "I personally love it, I love bigger crowds, of course if they are Celtic fans even better but if it's opposition fans, I love it. I think our players react very well. They show it for most of the games that go our way. But we are good under pressure and under pressure normally the player react better so I hope it is a very big crowd and I don't the player will be intimidated, even if it's a not very nice crowd towards us. I don't think that the players will care. I think that will motivate them. For the sake of the women's game I hope it's a massive crowd with a lot of passion."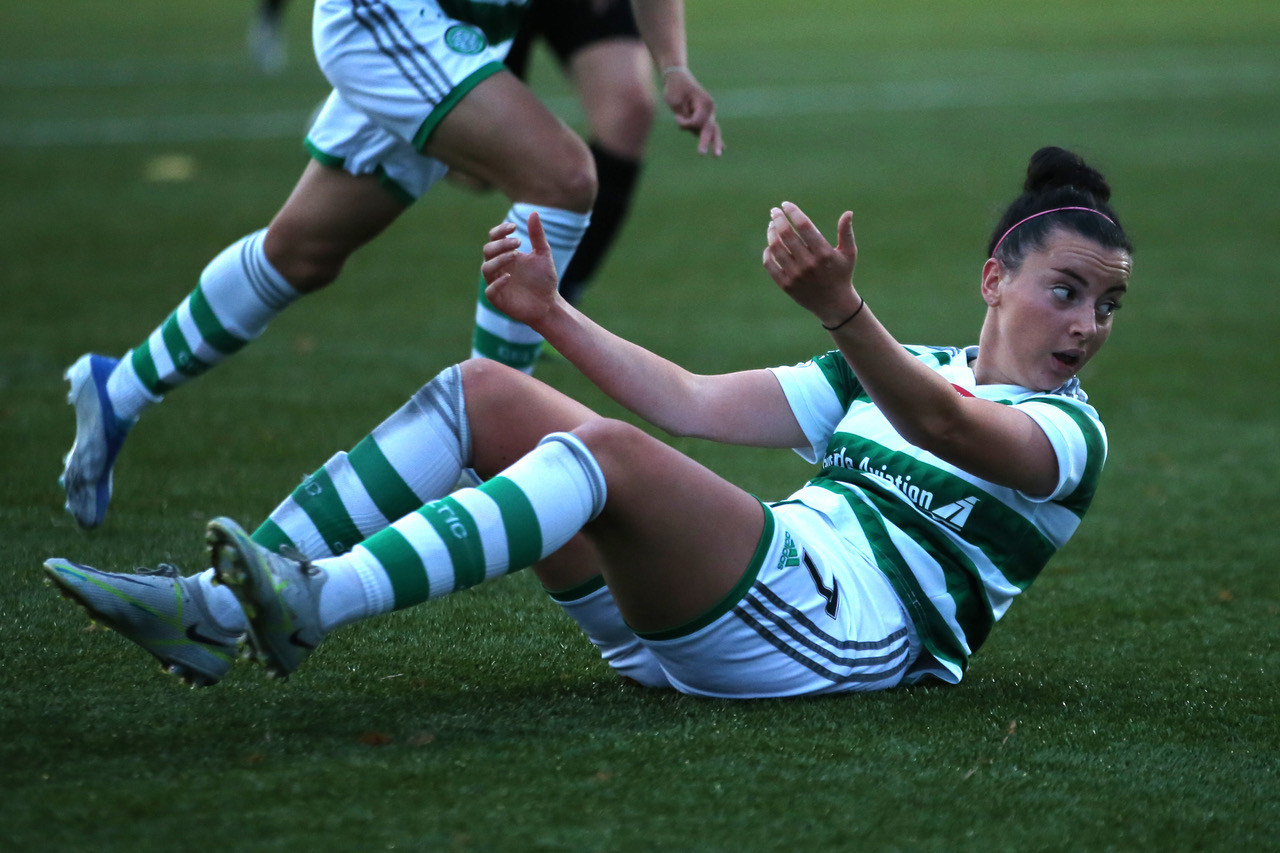 The Celtic Star: Against Glasgow City Amy Gallacher was very unfortunate not to to be awarded a penalty kick (judge for yourselves below). How important is it that we have a strong refereeing performance tomorrow?
A-nis @CelticFCWomen le cothrom agus èigh airson breab-peanas – tòrr a' dol!

A great save from Lee Gibson but should Celtic have had a penalty? #SWPL pic.twitter.com/IqyZD9D7lv

— BBC ALBA (@bbcalba) October 30, 2022
Fran Alonso:  "Yeah, only I don't want to blame referees because if we don't win the game, yeah okay that might be an action that could help but we got opportunities to kill the game at 1-1, we had a clear one v one with the keeper and we didn't put it away. If we had scored that goal we wouldn't be talking. But it is important that if we lose the game it's because the other team is better and not because of a referee making a mistake. Sometimes we make mistakes but I hope that we are going to have a good performance from the referee and that the best team will win."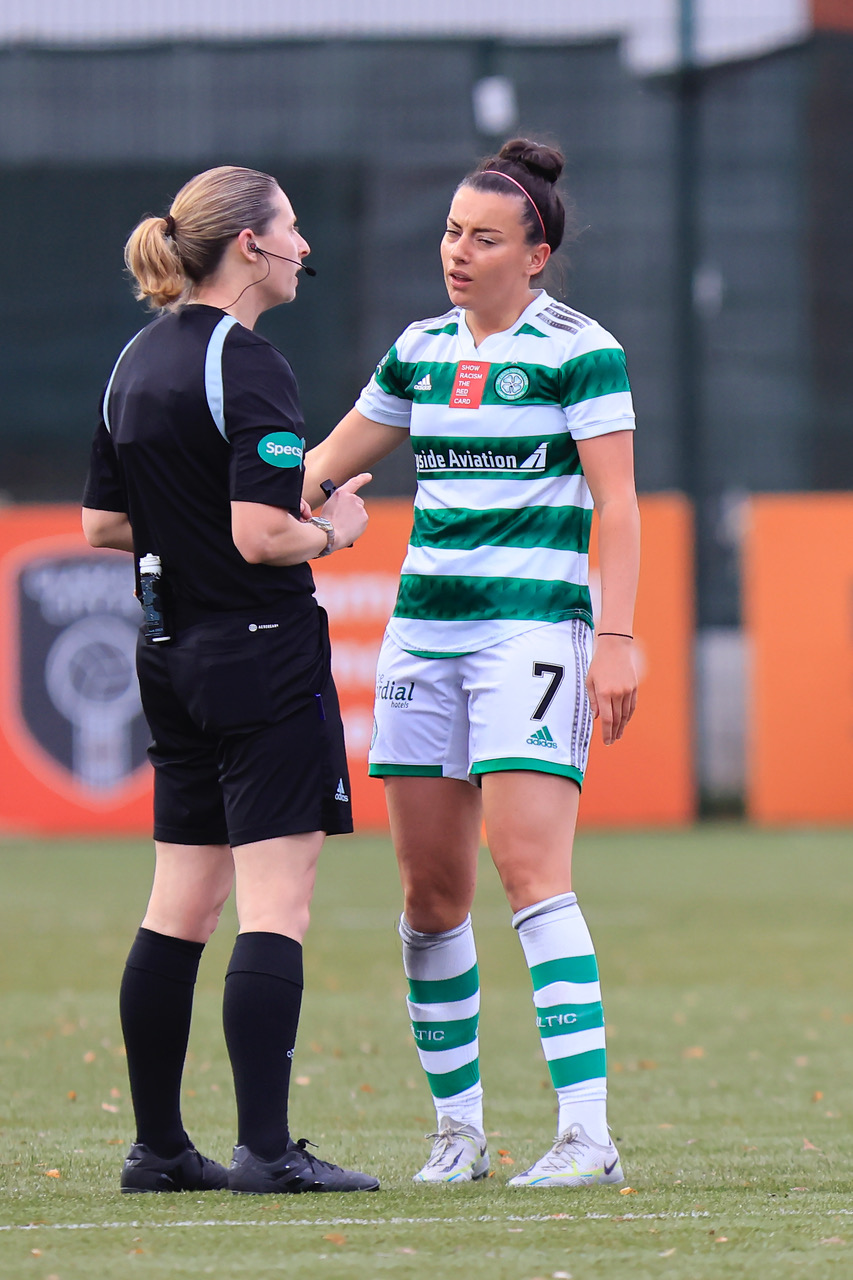 The Celtic Star: How is Jacynta after coming back from suspension and Clarissa after coming back from representing Canada against Brazil?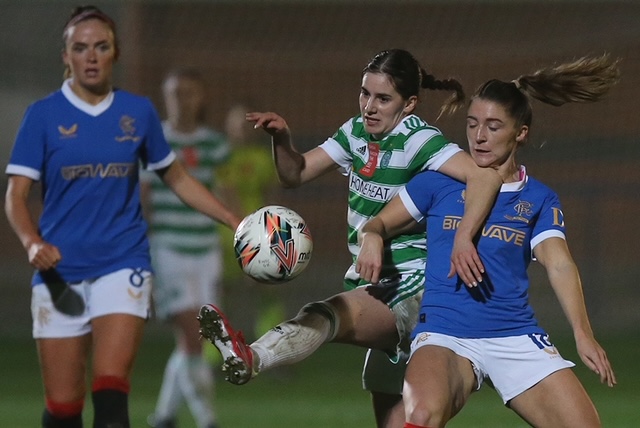 Fran Alonso: "Yes they are both flying, looking forward to the game. I won't say if one or both are playing but if they are playing they will make a massive impact. Jacynta hasn't played for a couple of games now so she can't wait to play. She was on fire, she's the second top goalscorer in the league and that's with two less games than everyone else.  She can't wait to play. So if she comes on or she starts I think she is going to have a good game. And then with Clarissa obviously she came from a long trip from Brazil and we had to give her a little bit of rest (against Hearts), we couldn't start her but if we need her she'll be ready to start and fresh enough to start."
The Celtic Star: Fair play to (the)Rangers for getting a big crowd out tomorrow. How important is it for the Celtic fans to respond next week against Dundee United when we are at home?
🚨 Join us next weekend at the Excelsior Stadium for the perfect family day out!

🍀 The Ghirls face Dundee United
🐶 Hailey the mascot
🆓 Kids go free
🚐 Shuttle bus from Airdrie train station
🎄 And lots more festive fun!

Buy tickets online now 🎟⤵️

— Celtic FC Women (@CelticFCWomen) November 24, 2022
Fran Alonso: "I think they will. I think this year our fans – even when we played away at Dundee United a few of our fans travelled all the way there and it was great to see them there, it was great to give them a great performance and a great result yes, so it is important. I think a few of our fans will be there tomorrow but it's important to respond in a better way and try to get a bigger crowd at Airdrie. I think the club is providing some help in terms of transport from the train to the stadium so hopefully we'll have a huge crowd and a very special day. But for now the only thing that matters is to try to win tomorrow."
Watch all this drama below, and we'll cover Caitlin's media conference in the morning so you can look forward to that! Remember theRangers v Celtic Glasgow Derby is live on BBC Alba at 5.15pm on Saturday 26 November and it's going to be packed.  Tune in and cheer on the Ghirls in Green while we'll be there to give the Ghirls a cheer…COYGIG.
🗣️ "We're very excited. I thought we were outstanding against a very good Hearts team, so the confidence is very high."

📺 Watch the full media conference with Fran Alonso on the official #CelticFC YouTube channel ⤵️#RANCEL | #SWPL | #COYGIG🍀

— Celtic FC Women (@CelticFCWomen) November 25, 2022
Here's the Caitlin Hayes interview if you can't wait…
🗣 "We'll just focus on our performance and move forward positively."

📺 Watch Caitlin Hayes' full media conference on #CelticFC's YouTube channel now ⤵#RANCEL | #SWPL | #COYGIG🍀

— Celtic FC Women (@CelticFCWomen) November 25, 2022