NEIL LENNON has confirmed that he is open to handing Scott Brown a new contract next year if the captain continues to impress with his boisterous performances in the middle of the park, which have continued to push Celtic on to domestic dominance.
Despite having a year to run on his deal after this season, Lennon – having confirmed more deals were in the pipeline – said that he would look at Broony's contract situation next year.
"It will depend on how he's feeling and how he's playing at the time. He's got another year after this one. We'll take a view of that maybe this time next year, with him as well. But, the way he's playing at the minute, it might cost us a few bob!"
Despite his position in midfield, the manager said that he is hoping that the skipper continues to chip in with important goals at important times. Brown's double at Hampden, his first since 2014, takes his Celtic goals up to 42.
"He does all right – considering he's a holding midfielder, a bona fide No.6. He scored a couple of really important goals last year. And he's come up again with two against Hibs."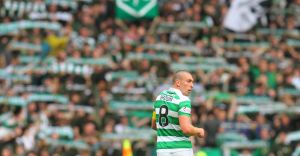 Brown has been constantly a thorn in the side of the opposition as he battles for every ball, flies into challenges with the energy of a man ten years his junior. He still bounces about the park, dictating the tempo. Lennon praised his captain for his continued level of performance.
"He's incredible. I think he's playing as well as ever. I look at Rangers away, Lazio, Sunday, Aberdeen away and other games.
"He had a little bit of a toe problem at the start of the season, that was curtailing him. But he's over that now. He's in a good place and the players respect him and look up to him.
"But he's not in the team as a cheerleader. He's in the team because he's a bl*ody good player. And he keeps churning out consistent performances that we don't take for granted."
In 2018, I wrote an article about Scott Brown, the omnipresent anchorman of Celtic's midfield who was striving for player of the year.
He won the Player of the Year in 2018 and last season, once again he proved the doubters wrong and performed admirably as Celtic wrestled their 8th title in a row and completed the Treble Treble.
ALSO ON THE CELTIC STAR…