DAVID POTTER'S remarkable series on The Celtic Star continues this morning with another Seven Magnificently Random Celtic stories. If you are just catching up this has been running daily for the last week or so and each day the Celtic historian has outlines some fascinating Celtic stories that will entertain and educate you on the club we all adore! Happy ready Bhoys and Ghirls…
1. THE O'DONNELL BROTHERS
Not to be confused with Phil O'Donnell who played for Celtic in the 1990s, Frank and Hugh O'Donnell played in Celtic's team in the 1930s. They were born in Buckhaven in Fife in 1911 and 1915 respectively. Frank, the elder brother was a centre forward and Hugh, the younger brother, was an outside left.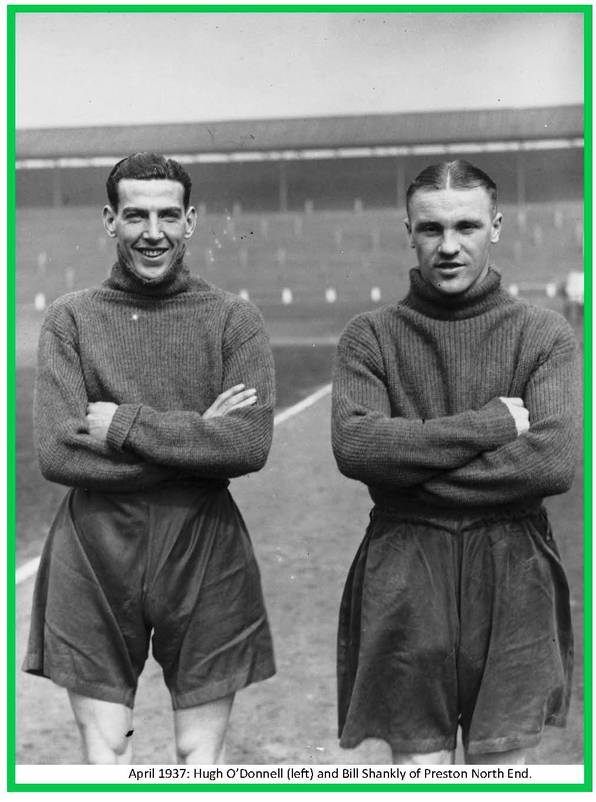 Hugh won a Scottish Cup medal in 1933, but it was probably true to say that neither was a total success at Celtic Park. Both were transferred to Preston North End at the end of the 1935 season. Both were in the Preston team which lost 1-3 to Sunderland in the English Cup final of 1937 but Hugh was more successful when he won an English Cup medal in 1938 when Preston beat Huddersfield 1-0. Frank won six caps for Scotland.
2. GREAT MEN DO GREAT THINGS
On a cold and frosty day at Parkhead in December 1969, Kilmarnock's Frank Beattie was injured on the hard ground and looked to have broken his leg. He was a player much respected by opponents, and Parkhead was hushed before a ripple of applause broke out as he was stretchered off. Jock Stein, visibly upset at the horrific injury to a fine player, took off his overcoat and laid it over Frank as he passed the dugout.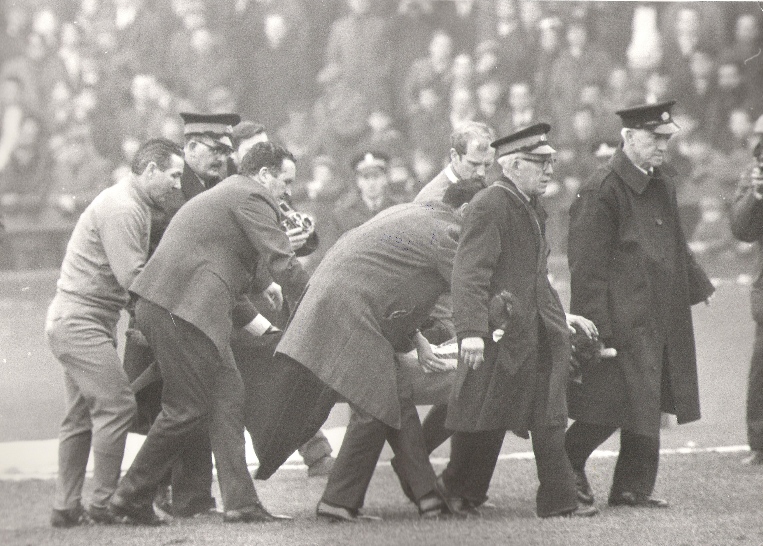 3. THREE UNHAPPY NEW YEARS IN A ROW
It would be no great surprise if Celtic fans old enough to recall the early 1960s have a complex about the New Year.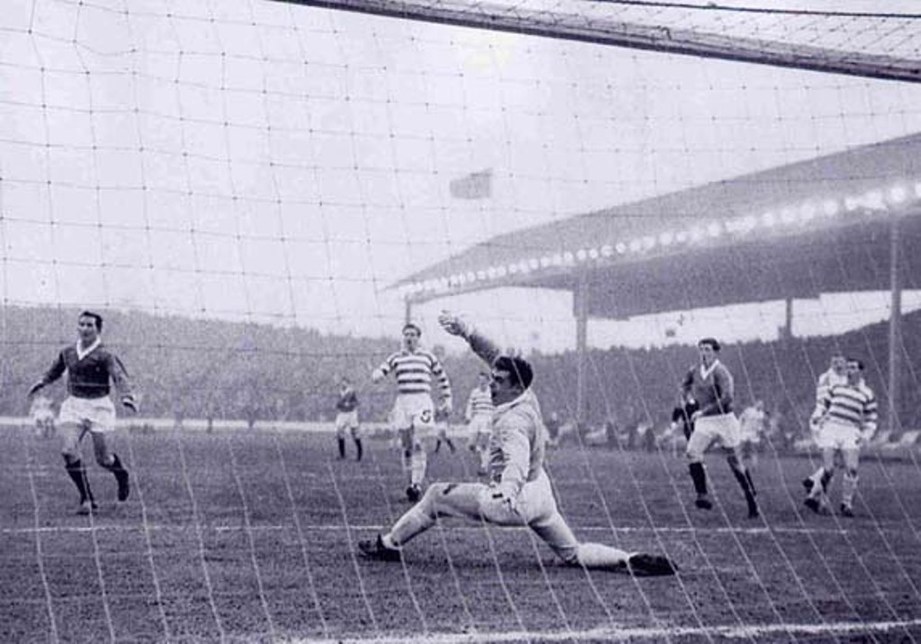 1963 saw the appalling 0-4 collapse at Ibrox when there was dressing room dissension, 1964 at Parkhead saw genuine hard luck with Celtic, denied a penalty and missing several chances, went down 0-1 to a fortunate Rangers side, and 1965 at Ibrox was the worst of all with Celtic at a low ebb but playing well enough to win – and would have done so if Jimmy Johnstone had not been sent off towards the end of the first half, and Bobby Murdoch had not missed a penalty towards the end of the second half. It was painful!
4. NOT THAT WE'RE PARANOID
Celtic fans are often accused of having a chip on their shoulders about referees. It's not true, of course, but before anyone becomes too self-righteous, it's perhaps an idea to consider the events at Ibrox on 7 January 1978.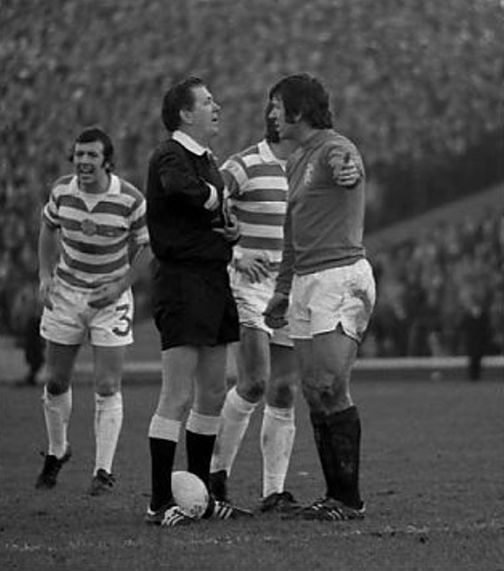 Celtic were a goal down, and were denied a blatant penalty by referee JRP Gordon of Newport-on-Tay when Joe Craig was pushed in the back. While Celtic players were  protesting and were still in the Rangers penalty area, Rangers were allowed to take a quick goal kick (illegal because there were still Celtic players in the penalty box), then ran up the field and scored against Celtic's depleted defence!
At this point mayhem naturally erupted with Celtic players threatening to walk off in protest until persuaded to do otherwise by trainer Neil Mochan and manager Jock Stein. Rangers went on to win 3-1, but it is games like this that make even the most moderate of people begin to wonder about the probity of referees! Things were not helped by the subsequent revelation of Mr Gordon's support of Rangers, and his accepting of "gifts of hospitality" on a European trip.
5. HUDDLE
Believed to have been started by Tony Mowbray when he played in the 1994/95 season, this is now an iconic phenomenon wherever Celtic play, before the start of a game. It has of course been slavishly copied by other teams, and in it has spread to the support as well, thanks to the pioneering of the Green Brigade. The support now all turn their back on the game for a moment and jump up and down in unison to chants like "Let's All Do the Huddle" etc. There are few more awe-inspiring sights in world football, showing as it does the unique bond between players and supporters at Celtic.
6. FOUR AWFUL SCOTTISH CUP FINALS
Between their Scottish Cup successes of 1954 and 1965, Celtic lost four Scottish Cup Finals three of which went to replays – Clyde in 1955, Hearts in 1956, Dunfermline in 1961 and Rangers in 1963.
In all four cases Celtic supporters left Hampden puzzled and upset, but a common factor in all four cases was faulty team selection – in 1955 Bobby Collins was dropped for the replay, in 1956 Mike Haughney an excellent full back was played at inside right and a youngster called Billy Craig was played on the right wing, in 1961 even after Jim Kennedy went down with appendicitis the club failed to recall the experienced Bertie Peacock from a meaningless Northern Ireland friendly and in 1963 wingers Jimmy Johnstone and Frank Brogan who had played so well in the first game against Rangers, were dropped for the replay.
There were other factors as well. The 1956 Cup Final was the one which did not go to a replay, and Celtic were well beaten 1-3 by a good Hearts team but questions continue to be asked about the performance of certain key players.
In 1955 the first game might have been won but for an unfortunate goalkeeping error at a corner kick. In 1961, Celtic simply under-estimated the vitality of Jock Stein's Dunfermline and May 15 1963 remains one of Celtic's saddest ever nights as Hampden was treated to the astonishing sight of 50,000 Celtic fans leaving the ground en masse with about 25 minutes to go as Rangers scored their third goal against an under-performing Celtic team.
7. MESSAGE TO THE VATICAN
Celtic's first really great season was 1892 when the team won the Glasgow Cup, the Scottish Cup and the Glasgow Charity Cup (and following Gladstone's victory in the General Election later in the summer, Home Rule for Ireland seemed a possibility as well). This was all too much for committee man Ned McGinn who sent a message to the Vatican asking His Holiness if he would like to burn some candles in honour of this achievement. As far as anyone can discover, His Holiness did not comply.
David Potter