Sportime:"We are boldly approaching the finale," as AEK Athens goalkeeper Vasílis Bárkas to Celtic latest...
GREEK NEWSPAPER SPORTIME have claimed that Celtic have returned with an improved offer for AEK Athens goalkeeper Vasílis Bárkas. The 26-year-old has been subject of interest from the Scottish Champions as Scott Bain remains the clubs only first team 'keeper following the departure of Fraser Forster and Craig Gordon but the Greek side appeared to want 7,5m Euros for the Greek International.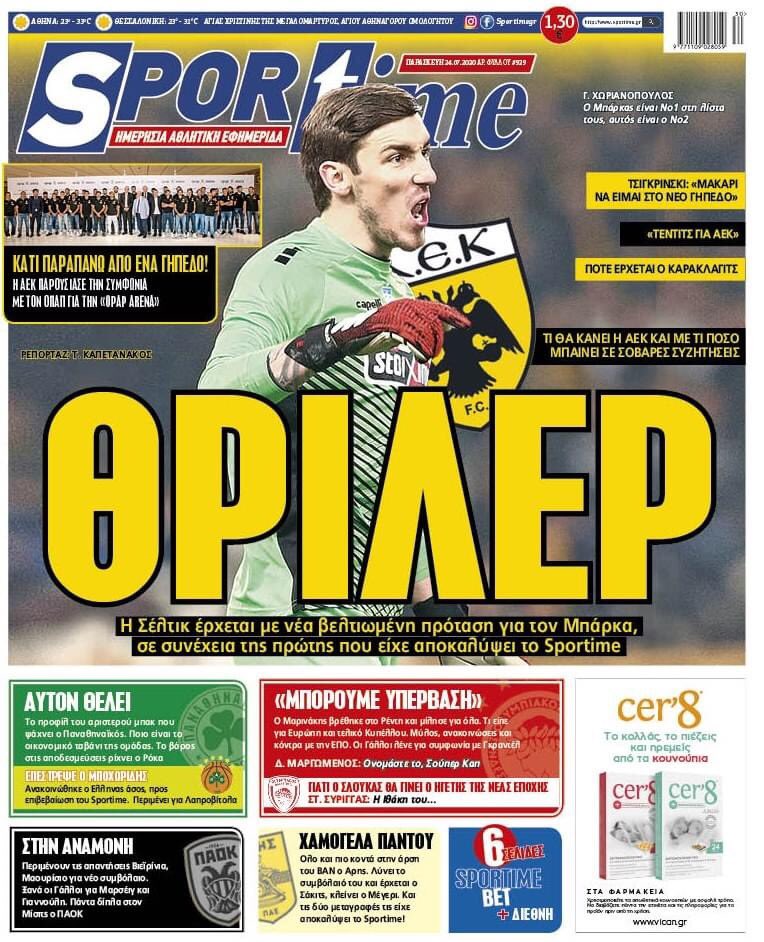 Although, in today's front page Sportime are claiming that Neil Lennon's side have returned with an improved offer which is being considered by AEK. Fortunately, Vagelis Georgariou The Celtic Star's match day photographer, has helped translate what is being said in Greece about Celtic's pursuit of a new keeper.
Πλησιάζουμε θαρρω προς το φινάλε. #aek #aekfc #aekfans #aekfamily @AEK_FC_OFFICIAL
#mparkas #barkas #Celtic #CelticFC @sportimegreece pic.twitter.com/WeFgogjlfe

— Tasos Kapetanakos (@Tasos_kapet) July 23, 2020
Thriller, Celtic come back with improved offer, what will AEK do

— Vagelis Georgariou (@vagelisgeo) July 23, 2020
Looks like we are close to having our new keeper, 5m new offer being reported and an agreement already in place with the player https://t.co/VNhqXo54W8

— Vagelis Georgariou (@vagelisgeo) July 23, 2020
Geo then asked: "Για σας Τασο, πόσα χρήματα έχει προσφέρει η Σέλτικ στην ΑΕΚ?" Translated as "For you, Tasos, how much money has Celtic offered to AEK?" and the reply:
"Γειααααα… Αρχικά 3.5+1, τώρα πάμε κοντά στα 5 μαθαίνω. Κ επίσης γνωρίζω για συμφωνία ήδη με τον παίκτη και την Celtic." Translated as "Hi … Initially 3.5 + 1, now we go close to 5 I am learning. I also know about an agreement already with the player and Celtic."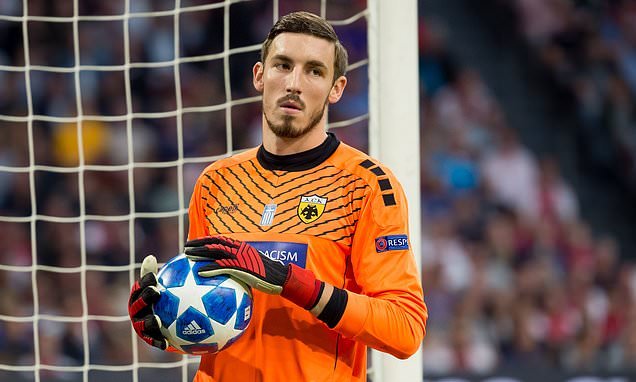 So in summary Celtic have come back with a second offer of €5m for Bárkas, who has already spoken to Celtic and agreed terms and the player and the Scottish Champions are now waiting on EAK agreeing to the new bid, which is believed to be within the range of the price that AEK were initially looking for!
From the exchange, it would appear that Celtic have already agreed personal terms with the 'keeper and will move this week to seal a deal for him should AEK Athens agree to the fee proposed.
It would be a huge boost for the Scottish Champions to have an agreement in place for the new keeper ahead of the season's beginning. Bain is not a bad goalkeeper but the club need a No.1 as they push towards winning a 10th successive title and create Scottish footballing history.
There had been hope that Fraser Forster would return but sadly this has not come into fruition meaning that the the club have had to redirect their interests towards Vasílis Bárkas.