In recent months here on The Celtic Star, we have reviewed the careers of Celtic greats Willie Wallace and Charlie Gallagher as they celebrated their 80th birthdays, whilst other articles have focused on other Hooped heroes from our past who sadly did not reach that landmark, Paul Wilson, Pat McCluskey and the current series on Harry Hood being cases in point.
The last week has seen us look at two wonderful men who carried that 'ex-Celt' tag into their tenth decade, Tommy Docherty and Alex Kiddie. Sadly, The Doc took his leave on Hogmanay, leaving behind a thousand quips, memories and anecdotes. Niall J has a lovely story to tell about The Doc's legacy in another article to be published on The Celtic Star later this evening.
Today's piece focuses on another octogenarian who proudly wore the green and white Hoops in another era, Peter Goldie.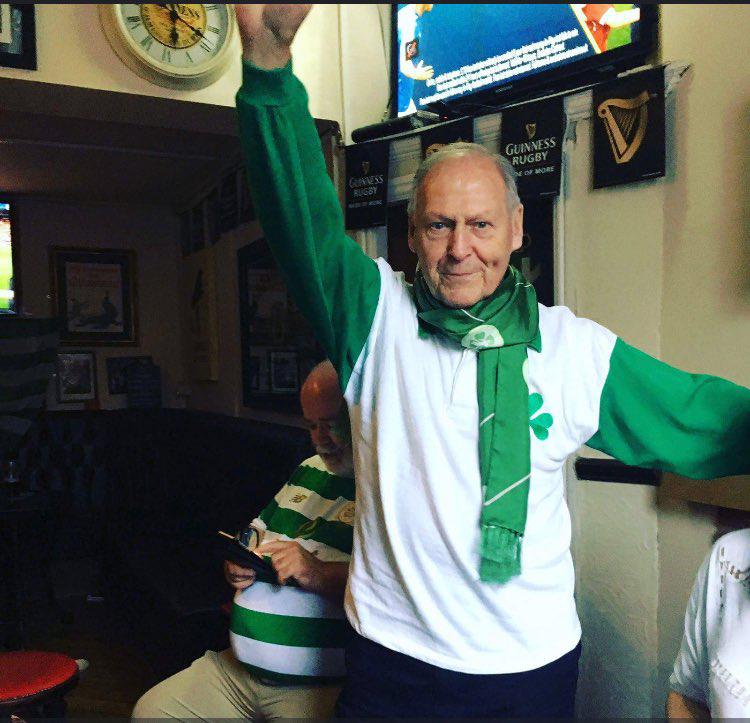 Born in Dumbarton on Thursday, 7 June 1934, the season just ended had seen Willie Maley's Celtic fail yet again to capture the Scottish title they had last won back in 1926, despite the goals of the great Jimmy McGrory. The finest Motherwell side of all time would continue to provide the main challenge to Struth's Rangers in the League. John 'Sailor' Hunter's Steelmen included the only player to ever 'Out-McGrory McGrory', Willie MacFadyen, whose 52 goals in their title-winning season of 1931/32 remains a Scottish League record to this day.
Celtic had beaten that great Motherwell side in the Scottish Cup finals of both 1931 and 1933, however a cloud of grief continued to hang over the east end following the tragic deaths of young players John Thomson and Peter Scarff in the first three years of the decade. It would remain there for some time yet.
All of this was perhaps of no huge interest to the young Peter Goldie. In an excellent interview conducted by St Anthony for Celtic Underground last May, he states that his father followed local teams Dumbarton and Vale of Leven, Peter's first visit to Celtic Park being as an away supporter as the Sons of the Rock faced the Bhoys in a wartime Southern League match on Saturday, 4 September 1943. That would no doubt have been a happy journey home after a 4-1 victory for Dumbarton. Inconsistent Celtic would go to Ibrox the next week and win 1-0!
By the end of that decade, Peter would both be wearing the Hoops – as part of a hugely successful school team representing St Patrick's, Dumbarton – and following the fortunes of the Glasgow version, a particular hero being skipper John McPhail, scorer of the winning goal as Celtic yet again beat Motherwell in a Scottish Cup final, this time in April 1951, Jimmy McGrory's first major trophy as Celtic manager.
That lack of success for McGrory and Celtic would all change from the spring of 1953, with Peter Goldie having a birds-eye view. On Saturday, 9 May 1953, Jimmy offered the 18-year-old Duntocher Hibs star a provisional contract with Celtic, an offer he was only too delighted to accept. Just 24 hours earlier, McGrory had brought Neil Mochan to the club in an £8,000 deal from Middlesbrough, a fee which would be paid off by the end of the month.
On the day Peter signed for Celtic, Mochan would score a double on his debut as the Bhoys beat Queen's Park 3-1 at Hampden to win the Glasgow Charities Cup, Willie Fernie the other Celt on target. Two nights later, Celtic's glorious Coronation Cup campaign would kick off with a 1-0 victory over English champions Arsenal at the same venue, Bobby Collins scoring midway through the first half to send the 60,000 supporters home happy.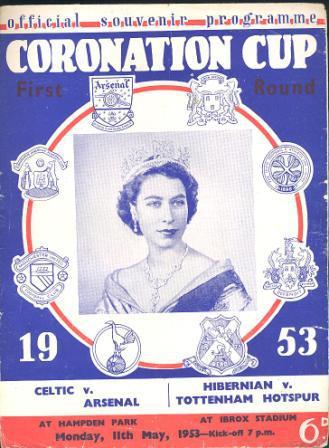 Saturday, 16 May 1953 saw Mochan grab his third goal for his new club in as many matches, Matt Busby's Manchester United sent packing in the semi-final of the Coronation Cup as Neil added to Bertie Peacock's first-half opener to give Celts a lead they would not relinquish, despite a late strike from legendary United centre-forward Jack Rowley. And, of course, on Wednesday, 20 May 1953, Mochan scored a sensational opener and Jimmy Walsh a late second as Celts defied the odds and Hibernian's feared Famous Five forward-line to win the Coronation Cup at a Hampden covered in banners of green. How the Celtic supporters who made up the majority of the 117,000 crowd would have enjoyed that unexpected victory, as Jock Stein lifted the coveted trophy above his head.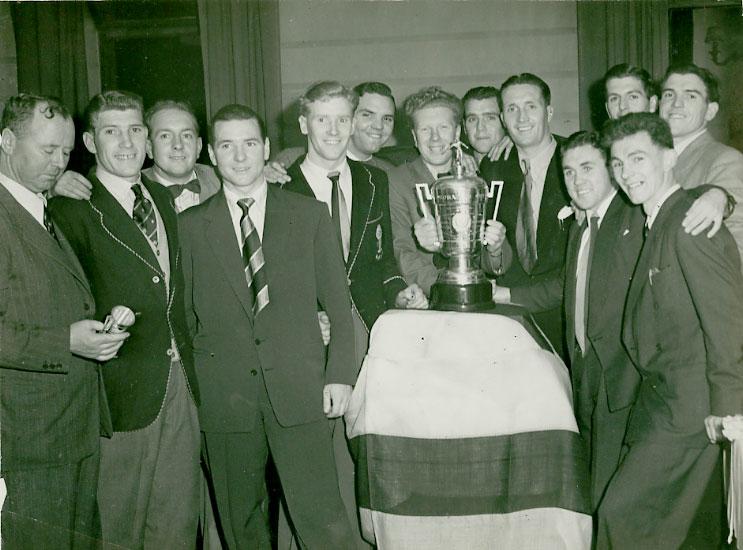 As an aside, that few weeks also created one of the great Celtic quiz questions, the challenge being to name the player who won two trophies in the famous Hoops before he played a match at Celtic Park.
Season 1953/54 would see Celtic build on that success as Jock Stein skippered the side to a first League and Cup double in 40 years, the only one as either player or manager for the great McGrory. Peter Goldie would complete a final campaign at Duntocher Hibs before signing on a full-time basis at Parkhead as the next season kicked off. It was of great interest to me that the first sign I see of Peter in the Hoops was as part of the Celtic side which opened the new covered enclosure at Petershill Park – just a few hundred yards from my home – with a 2-1 victory over Rangers on Thursday, 26 August 1954.
Beside him in that line-up was a mixture of new or fringe players, Coronation Cup hero Jimmy Walsh, Alex Boden, Jonas Kaduskeviechi – better known as John Jack – and Eric Smith perhaps the best known. The Rangers goalkeeper in Springburn that night was Bobby Brown, who had held the record as the oldest living player at Queen's Park, Rangers and Falkirk before his passing this time last year at the age of 96.
October 1954 saw goalkeeper Dick Beattie and forward Jimmy 'Peam' Docherty both follow Peter to Parkhead from Duntocher Hibs, whilst another St Pat's High School alumni, Benny McCreadie, was signed as cover for Beattie and first-choice stopper John Bonnar in May 1955. The open trial held at Celtic Park on Tuesday, 9 August 1955 would see Peter Goldie and Dick Beattie line up for the White & Greens, alongside Dunky MacKay and Bertie Auld, whilst Benny McCreadie and Jimmy Docherty were in the opposing Green & Whites team with most of the acknowledged first-choice players. The stronger side, with its legends Sean Fallon, Jock Stein, John McPhail, Bobby Collins and Neil Mochan, would enjoy a comfortable 6-2 victory.
The League Cup section would see Celtic paired with Rangers, Falkirk and Queen of the South, a 4-1 win at Ibrox on Matchday 4 leaving the Bhoys in pole position to qualify before a combination of bad luck and that old failing of inconsistency blew those hopes apart. Captain Jock Stein would suffer the ankle injury that effectively ended his career and plagued his later life as the Ibrox side travelled to Parkhead four days later and scored four goals without reply. That would open the door for Dick Beattie and Jimmy Docherty to receive their debuts in the final section game, an infamous 1-1 draw at Brockville where the story afterwards was more about the trouble on the terracing than the dropped point which cost Celts qualification in a competition they had yet to win. There would always be next season for that.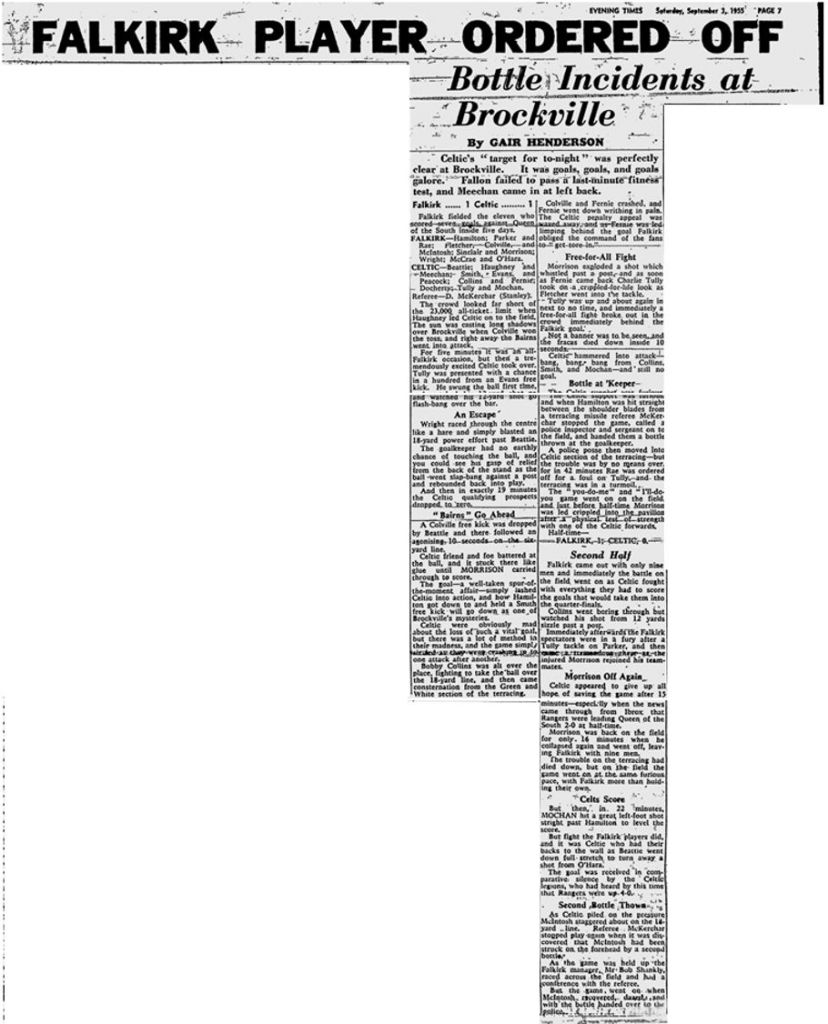 On Friday, 23 September 1955, Peter would line up at right-back in front of Benny McCreadie, as a Celtic reserve side featuring 17-year-old left-winger Bertie Auld beat their Rangers counterparts 1-0 at Ibrox, thanks to a goal from Matt McVittie. The same quartet would enjoy a 3-1 victory over Clyde Reserves at Parkhead on Saturday, 22 October 1955, whilst a few miles away, Scottish champions Aberdeen were adding a first League Cup to their maiden title by beating St Mirren 2-1 at Hampden. Two weeks later, yet another player followed the well-trodden path from Duntocher Hibs to Celtic Park, this time defender Jim 'President' Kennedy the man involved, as he signed provisional forms for his boyhood team on 3 November.
Saturday, 10 December 1955 would see Peter Goldie play alongside his old hero John 'Hooky' McPhail, Jock Stein, John Bonnar and Bertie Auld, as the Celtic reserves won 2-1 at Rugby Park, whilst up in Glasgow, Kilmarnock's first team were scoring twice without reply to record what would be their last victory at Celtic Park for more than half a century. That Parkhead defeat would have repercussions, Celts now displaced by Hibernian at the top of the table and Jimmy McGrory – or Bob Kelly – deciding that change was required for the visit of Partick Thistle. In came Peter Goldie at left-back for his competitive first-team debut, together with Jock Stein, back following four months on the sidelines with the ankle injury sustained against Rangers.
The Celtic team on Saturday, 17 December 1955 lined up as follows.

Dick Beattie; Mike Haughney & Peter Goldie; Bobby Evans, Jock Stein & Bertie Peacock;
John Higgins, Willie Fernie, Jim Sharkey, Bobby Collins & Neil Mochan.
Neil Mochan's arrival at Celtic had coincided with Peter's and he continued that connection by scoring a hat-trick on Goldie's debut, including one directly from a corner kick, the 5-1 win duly completed by Jim Sharkey and a late Mike Haughney penalty. Future Celtic assistant manager Davie McParland had earlier reduced the Jags deficit to 2-1, whilst Peter's direct opponent was Scotland outside-right Johnny MacKenzie. He had joined Thistle from Petershill in 1944 and would go on to play over 250 League games for the Maryhill club. MacKenzie would later join Goldie's hometown club Dumbarton and would live to the ripe old age of 91 before passing away on the Inner Hebridean island of Tiree in July 2017, apparently one of the few fluent Gaelic speakers to play international football for Scotland. He wasn't too bad at the English either, Peter later recalling that Johnny had actually made a point of giving him some words of encouragement during the match. A classy touch from a classy man.
Jimmy Docherty would be loaned out to Alloa Athletic during the following week whilst Peter received an early Christmas gift by retaining his place for the top of the table battle at Easter Road on Saturday, 24 December 1955. The only change to the starting line-up from the win over Thistle was Jimmy Walsh replacing the injured John Higgins at outside-right. Having faced one international winger in Johnny MacKenzie, Peter's direct opponent in his second game was the wonderful Gordon Smith, the Famous Five member who has the unique distinction of winning the Scottish League Championship with three different clubs.
He would give young Goldie a difficult opening period, however, by full-time the points would leave with the Hoops, Neil Mochan with another brace – he had done the same thing there 18 months earlier to clinch the 1954 title – and Jim Sharkey on target as Celts won 3-2 to remain top of the League. Peter would later recall in his interview with St Anthony how Jock Stein made a point of congratulating him after he had set up Mochan for the first goal, a lovely touch from the skipper. It was not the first one either. Early in his Parkhead career, Stein had taken time to lunch with the young Goldie, at that time recovering from a broken leg and unknown to many of the first team stars, in a Glasgow restaurant. Such was the substance behind the legend.
The Boxing Day Glasgow Cup final with Rangers at Hampden would see another legend, Sean Fallon, return to claim the left-back slot, Celts winning 5-3 to claim the trophy for the first time in seven years. Fallon would remain in that role through a dreadful three-week period in January 1956, as defeats to Rangers and Aberdeen followed by a draw in Kirkcaldy saw Celts plummet to fifth in the table.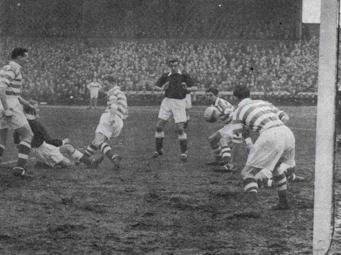 The visit of Hearts on the last Saturday of the month brought another opportunity for Peter Goldie as Sean succumbed to injury once more, an otherwise unchanged line-up seeing Bobby Collins and Jimmy Walsh swap positions in the forward line. Things looked ominous when 18-year-old Gorgie sensation Alex Young opened the scoring in the first minute, however, Walsh, playing in a more central role, equalised early in the second half as the match ended 1-1 with Jock Stein a virtual passenger on the left-wing, the skipper having worryingly sustained another injury during the match. Young would be another player who would go on to enjoy success with different clubs, winning a clean sweep of domestic honours with Hearts – including the 1959/60 League title with Gordon Smith as a teammate – then an English League and FA Cup medal with Everton.
Saturday, 4 February 1956 was Scottish Cup fourth round day, Celts drawn to face second-tier Morton at Cappielow. Peter retained his starting slot whilst Jock Stein would be replaced by Alec Boden and another legend returned to the side, Jimmy Walsh making way for Charlie Tully. Bobby Evans took over the captaincy and led the following team out in the famous shamrock kit as the quest for a third successive final appearance began in the Greenock snow.
Dick Beattie; Mike Haughney & Peter Goldie; Bobby Evans, Alec Boden & Bertie Peacock;
Bobby Collins, Willie Fernie, Jim Sharkey, Charlie Tully & Neil Mochan.
The returning Irish genius had one goal ruled out for offside before he opened the scoring on the half hour, Bobby Collins adding a second five minutes later. In atrocious conditions, both teams would finish with 10 men, Jim Sharkey forced off with a cut on his forehead after taking a ball full in the face, as Celts progressed with a 2-0 victory.
League duty resumed seven days later with a visit to Fir Park, Motherwell. With Sean Fallon restored at left-back, Peter made a first Celtic appearance at right-half, Bobby Evans moving to central defence with Alec Boden dropping out. Up front, John McAlindon came in for the injured Jim Sharkey whilst Eric Smith replaced Neil Mochan on the left wing, Jimmy McGrory's men lining up as follows.
Dick Beattie; Mike Haughney & Sean Fallon; Peter Goldie, Bobby Evans & Bertie Peacock;
Bobby Collins, Willie Fernie, John McAlindon, Charlie Tully & Eric Smith.
All the goalscoring action for the 19,000 spectators came in the final quarter of the match. As at Greenock the previous Saturday, Charlie Tully had a goal disallowed before he opened the scoring, Eric Smith making it 2-0 within three minutes. Motherwell would then stage a late rally to secure a point, with a Gardiner spot kick then a Forrest equaliser, as Celtic continued to fall further behind the leaders in the race for a second title in three seasons. Peter's three-match run in the first team would then end as Alec Boden returned for the Scottish Cup fifth round tie at Somerset Park seven days later, Celts winning 3-0 to move into the quarter-final. There, they would beat Airdrieonians 2-1 at Celtic Park before 60,000 spectators, thanks to a late Charlie Tully strike, whilst Hearts would send out a real message of intent by thrashing Rangers 4-0 at Tynecastle.
Cup-holders Clyde and outsiders Raith Rovers would make up the last four, the draw producing a rematch of the previous season's final between Celtic and the Bully Wee at Hampden on Saturday, 24 March 1956. A last-minute blunder by Hoops keeper John Bonnar had allowed Archie Robertson to equalise in the April 1955 showpiece, robbing Celts of back-to-back wins, with Hoops-mad Tommy Ring then scoring the only goal in the replay.
Both men would occupy the inside-forward slots for Clyde a year later, with Billy McPhail, brother of Celtic's John, between them in the central attacking role. McPhail would score in the 20th minute at Hampden before 65,000 spectators, however, by that time the Hoops were already two goals ahead. Jim Sharkey gave McGrory's men the lead within 90 seconds, Mike Haughney adding a second from the spot after the elusive Willie Fernie was fouled in the box. Hearts would prevail after a 3-0 replay victory over Raith Rovers at Easter Road to set up the first final meeting between the clubs in almost half a century.
Peter Goldie would return to the team for the midweek trip to Love Street, Sean Fallon having suffered a knee injury at Hampden. Billy Craig was handed a third starting appearance in the Hoops whilst top-scorer Neil Mochan returned, Jim Sharkey and Jimmy Welsh both deemed unfit. The hosts would give a debut to 17-year-old inside-forward Tommy Bryceland, who would carve his own name into the Scottish Cup record books before the decade was out. Celtic's woeful run of injuries would continue, Alec Boden hobbling off with 25 minutes still to play whilst Charlie Tully was virtually lame on the left flank. Second half strikes from Bertie Peacock – a 30-yard rocket – and Mochan would secure a 2-0 win over the struggling Saints.
The team would be reshuffled yet again for the clash with Airdrieonians at Celtic Park three days later, Saturday, 31 March 1956, Frank Meechan coming in at left-back, having refused a transfer to Dunfermline Athletic in midweek with the club apparently happy to let him go! Crazy stuff. Peter Goldie moved to right-half, as Celts went with the following line-up.
Dick Beattie; Mike Haughney & Frank Meechan; Peter Goldie, Bobby Evans & Bertie Peacock;
John McAlindon, Bobby Collins, Neil Mochan, Willie Fernie & Charlie Tully.
Peter would not be the only Goldie on display that afternoon, with namesake Willie in goals for the visitors. He would feature in one of the great – or horrific, depending on your viewpoint – stories of the time, which pretty much highlighted the way the club was being run in that era. Having joined Celtic as a back-up goalkeeper in 1960 after being freed by Airdrieonians, he would be spotted by the Celtic party as he walked into Broomfield that October as a Hoops supporter.
Chairman Bob Kelly, impressed with his dedication to the cause, promptly invited him to join the group. Worse still, when keeper John Fallon returned to the dressing-room from his pre-match pitch inspection, he found Willie donning his kit to start the game, Kelly having decided that he would play rather than Fallon! The Hoops would lose the game 2-0 with Goldie blamed for both goals. He would never play for the first team again and be freed before the end of the month in which he had made his debut. It could only happen at Celtic!
Back in March 1956, Willie Goldie would lose three goals to his Celtic heroes, another double for Neil Mochan followed by a late strike from John McAlindon, albeit no blame was attached this time around. As an aside, one of Willie's teammates was Ian McMillan, who following the death of Bobby Brown has assumed the title of oldest living player for Rangers, as well as his hometown Diamonds. I remember him well as the manager of the Broomfield club through those exciting Scottish Cup clashes in the 1970's. Hard to believe he is approaching 90 now.
The Cup Final month of April opened with a home friendly against Stirling Albion, presumably arranged to assess the fitness of the returning Sean Fallon, John Higgins and Jim Sharkey. Peter would again be at right-half for that 3-1 win and the 1-1 midweek draw with champions Aberdeen at the same venue, keeper Dick Beattie badly at fault for the Dons equaliser. With Bobby Evans on international duty for Scotland against England on the Saturday, Goldie would probably have expected to retain his place for the Friday evening League match at Kilmarnock, however, once again, the Celtic selectors rang the changes, Eric Smith and John Jack drafted in to form a half-back line with Bertie Peacock. The match would end in a dull goalless draw.
Peter did play in a memorable match on the Monday before the Cup Final, two nights later, Celts hosting the newly-crowned English champions, Manchester United, the 'Busby Babes,' in a charity fundraiser. The sides lined up as follows.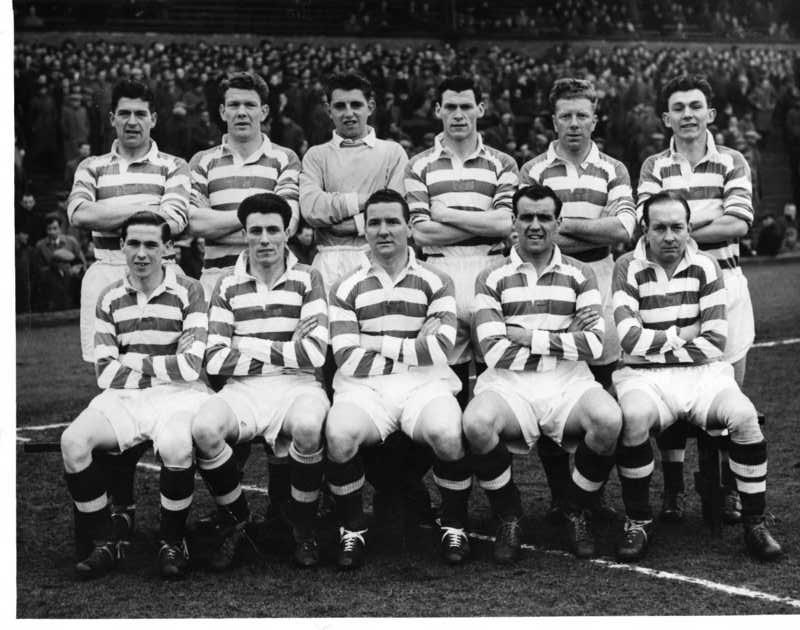 Celtic
Dick Beattie; Mike Haughney & Frank Meechan; Peter Goldie, Bobby Evans & Bertie Peacock;
John Higgins, Jim Sharkey, Neil Mochan, Willie Fernie & Charlie Tully.

Manchester United
Ray Wood; Ian Greaves & Roger Byrne; Eddie Colman, Mark Jones & Duncan Edwards;
Albert Scanlon, John Doherty, Tommy Taylor, Dennis Viollet & David Pegg.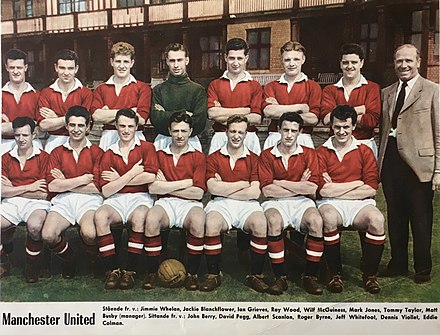 Peter Goldie's direct opponent that evening, the powerful Duncan Edwards, was considered the finest young talent in the British Isles, his physicality in the opening half bringing a word of warning from referee Jack Mowat, who would take charge of the famous 1960 European Cup final between Real Madrid and Eintracht Frankfurt at Hampden. Celtic's plans to use the match as a warm-up for the upcoming Scottish Cup final would be thrown into disarray by the interval, first Dick Beattie then Charlie Tully making way for John Bonnar and Billy Craig, the injured duo joining Sean Fallon and Bobby Collins on the doubtful list for the big game.
Celts would take the lead against United through Neil Mochan early in the second half, Mike Haughney adding a second from the spot shortly afterwards following a foul on Smiler in the box. The English side would then show their resilience and class to draw level, headers from Albert Scanlon then John Doherty allowing both sides to claim something from the game.
There would be the saddest of footnotes to this game. Within two years, six of the United team would perish in the aftermath of the tragic air crash at Munich Airport, captain Roger Byrne, the entire half-back line of Eddie Colman, Mark Jones and Duncan Edwards, plus two forwards, Tommy Taylor and David Pegg. The first goalscorer, Albert Scanlon, would be one of three players from that evening who miraculously survived the accident, goalkeeper Ray Wood and striker Dennis Viollet the others. The second scorer, John Doherty, would be transferred to Leicester City four months before the match in Belgrade which led to the ill-fated journey, whilst full-back Ian Greaves was injured and thus unable to travel. You may recall Ian as the manager of the Bolton Wanderers side who gained promotion to the English top-flight in the late 1970's.
More than 60 years later, the events of Thursday, 6 February 1958 in Munich still bring a chill to the heart. United legend Bobby Charlton is now the sole survivor of that tragedy.
Rest in eternal peace, the Flowers of Manchester.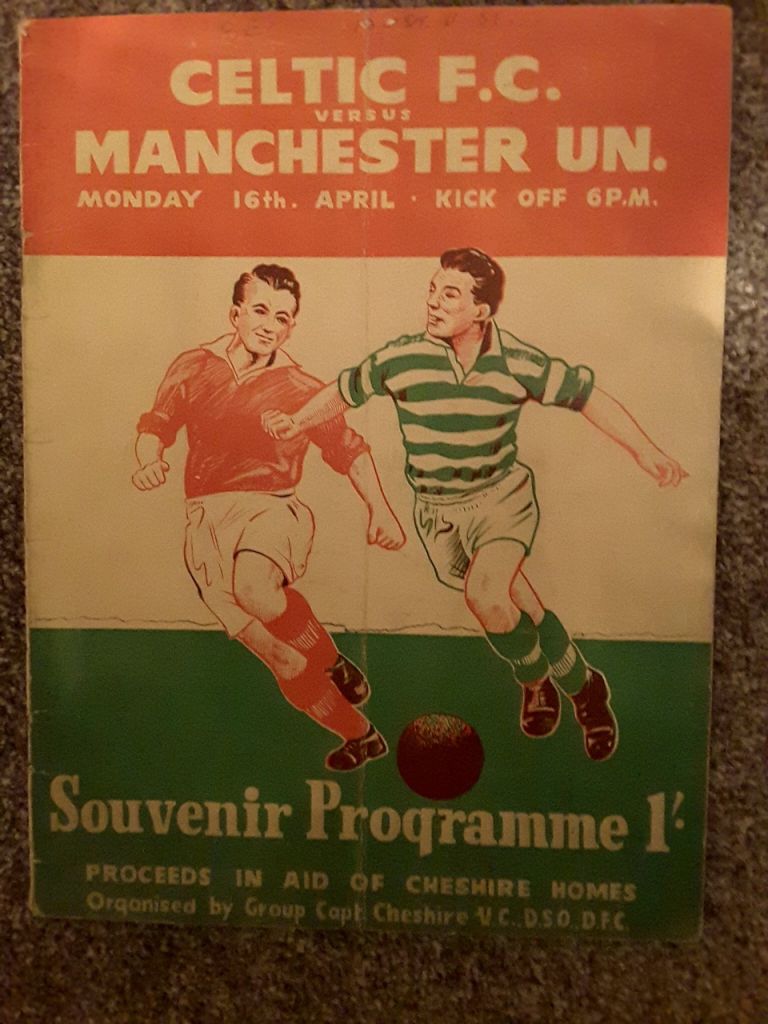 To be continued…
Matt Corr