Green-and White or Claret-and-Amber Ribbons?
Once again it will be a Motherwell vs Celtic Scottish Cup final, and in all four previous finals between the clubs Celtic have emerged victorious. Let's have a look at those past encounters between the wearers of 'green-and-white' and 'claret-and-amber'…
THE 1931 SCOTTISH CUP FINAL AND REPLAY
Before the final on 11 April, 1931 Motherwell would have been slight favourites even against the noted cup-fighters of Celtic. In the early 1930s the 'Well were rightly considered the best footballing side in Scotland (and were the only club during that decade to break through the O*d F*rm's domination of the league championship).
Before a crowd of 104,803 they led by 2-0 at half-time and, although both goals were deflections past John Thomson in Celtic's goal, Motherwell (playing in their new colours of claret-and-amber) fully deserved their lead.
Predictably, Celtic fought back in the second half and Jimmy McGrory nipped in to get the faintest of touches at a free-kick to give them a life-line with barely seven minutes left.
Motherwell still defended stoutly against desperate Celtic attacks and appeared certain winners with only seconds left … but Bertie Thomson managed to swing over a cross into a crowded penalty area: McGrory, famed for his heading ability, was the target but Allan Craig, Motherwell's centre-half (and one of the Steelmen's best performers that afternoon), was determined to reach the ball first … and did so with disastrous consequences. His header, intended to concede a corner-kick, flew high into his own net past the helpless keeper, and the referee blew for time-up seconds later with Celtic players still celebrating their escape, and poor Allan Craig lying pounding the Hampden turf with his fists.
Peter Craigmyle, years later, described the sight of the distraught Motherwell player was the saddest he had ever witnessed in his long refereeing career; Jimmy McGrory, a most sporting player agreed.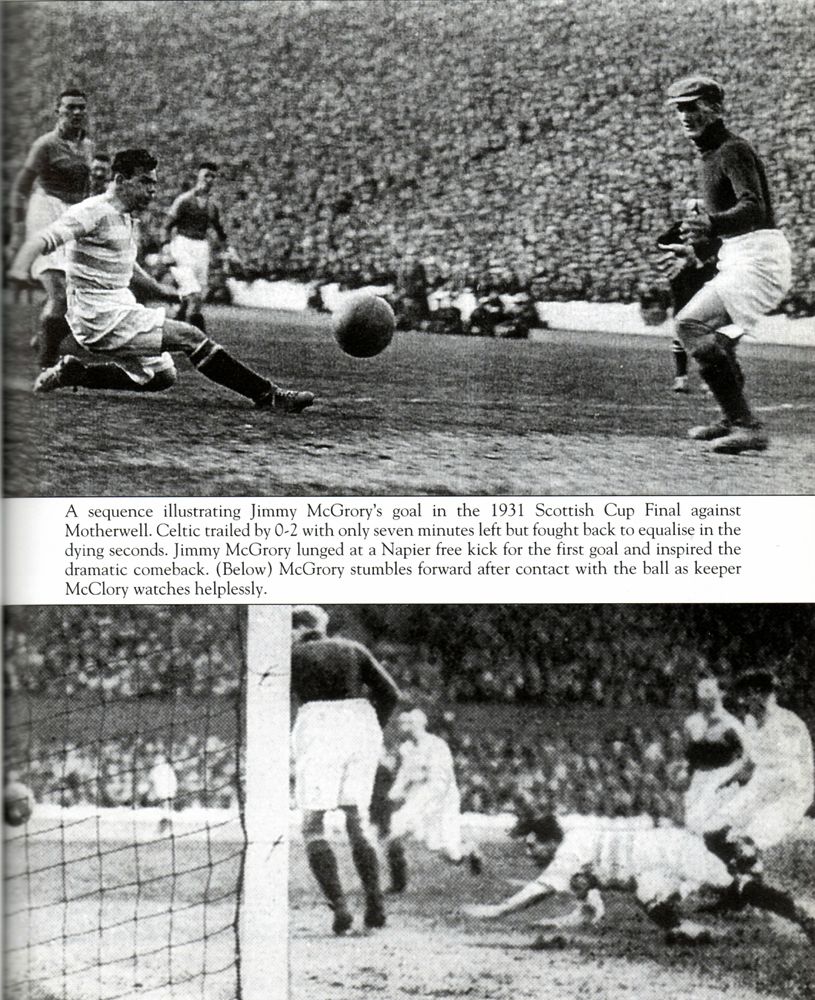 The sides?
CELTIC: J. Thomson; Cook, McGonagle; Wilson, McStay, Geatons; R. Thomson, A. Thomson, McGrory, Scarff, Napier.
MOTHERWELL: McClory; Johnman, Hunter; Wales, Craig, Telfer; Murdoch, McMenemy, McFadyen, Stevenson, Ferrier.
The replay was staged the following Wednesday before 98,579, and Celtic, renowned cup-fighters, raced into a 3-1 lead before halftime. Motherwell put up a strong fight in the second half and Stevenson scored to make it 3-2 … but Jimmy McGrory netted his second goal of the evening in the 88th minute to ensure another Celtic triumph.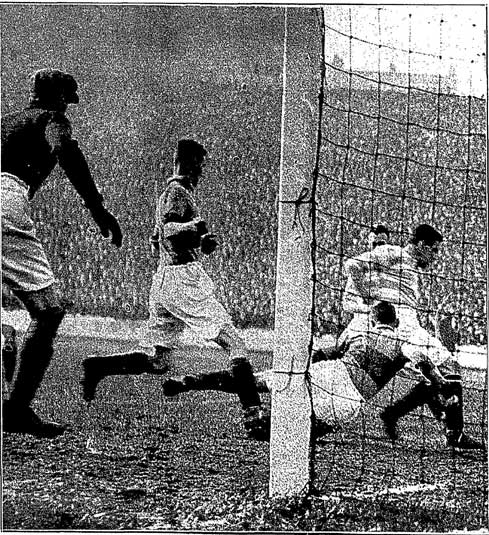 Both sides were unchanged from the first match.
THE 1933 SCOTTISH CUP FINAL
Two years later the same two clubs met again in the final before a mammoth crowd of 102,339 on 15 April and again Celtic prevailed. It was a hard-fought battle and Celtic won by another opportunistic, close-in goal from their all-time leading scorer Jimmy McGrory.
Celtic's centre-forward deserved particular credit for his courageous performance; early in the game he collided with a Motherwell defender and lost two of his teeth; later, in a fall, he staved his thumb but he played through the match despite the pain. Another Celtic player to be commended was young Bobby Hogg who had to deal with Motherwell's famed left-wing pairing of Stevenson and Ferrier.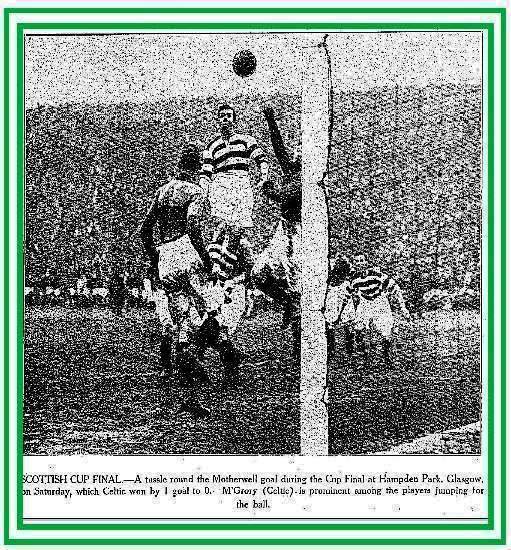 Celtic: Kennaway; Hogg, McGonagle; Wilson, McStay, Geatons; R. Thomson, A. Thomson, McGrory, Napier, H. O'Donnell.
Motherwell: McClory; Crapnell, Ellis; Wales, Blair, McKenzie; Murdoch, McMenemy, McFadyen, Stevenson, Ferrier.
THE 1951 SCOTTISH CUP FINAL
In 1951 both clubs were emerging from the shadows of World War II and were expected to produce an exciting final. It was tense, though, rather than exciting for the crowd of 131,943 who packed Hampden Park and the one memorable highlight was John McPhail's winning goal for Celtic early in the match. The burly Celtic forward powered his way through the centre of Motherwell's defence in the twelfth minute, holding off challenges from 'Baldie' Shaw and Andy Paton before lofting the ball over the goalkeeper.
It was Celtic's 16th Scottish Cup triumph, and left Motherwell (now unsuccessful in four Hampden final appearances) still looking for a breakthrough. That would come a year later with a 4-0 rout of Dundee, a match played before the largest crowd for a final after the end of World War II.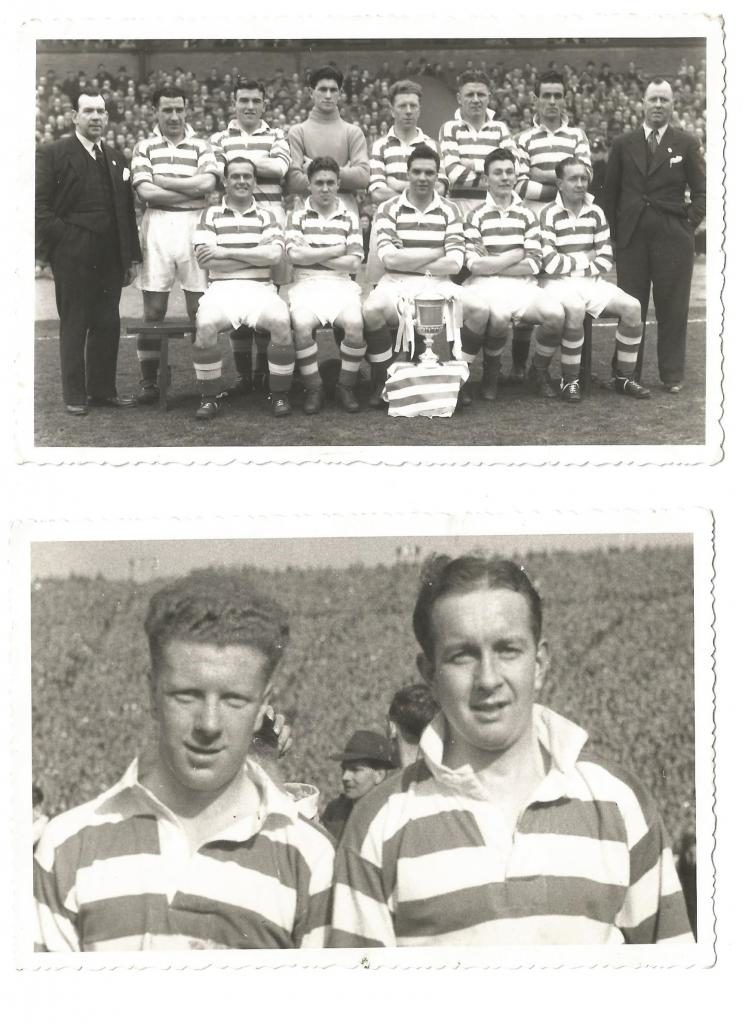 The teams?
Celtic: Hunter: Fallon, Rollo; Evans, Boden, Baillie; Weir, Collins, McPhail, Peacock, Tully.
Motherwell: Johnstone; Kilmarnock, Shaw; McLeod, Paton, Redpath; Humphries, Forrest, Kelly, Watson, Aitkenhead.
THE 2011 SCOTTISH CUP FINAL
The latest Scottish Cup final meeting between these two famous clubs took place on May 21st 2011 before a crowd of 49,618.
The times had changed from 1951: Hampden Park was now a modern, all-seated stadium with a much-reduced capacity, the clubs could list five players as 'substitutes' and use three of them, the referee was allowed to utilize yellow and/or red cards to impose discipline and, although play was no rougher than in the past finals, five players were 'booked' (correctly) …
It was a miserable, wet day but both sides attempted to attack and the breakthrough came in 32 minutes with a spectacular shot from at least thirty yards by Ki Sung-Yeung, Celtic's South Korean midfielder.
Celtic's next goal, after dominating the second half, came when full-back Wilson's shot was deflected cruelly past Randolph in Motherwell's goal, and Charlie Mulgrew rounded off a comfortable 3-0 win for Celtic with a powerful shot from a free-kick five minutes from the end.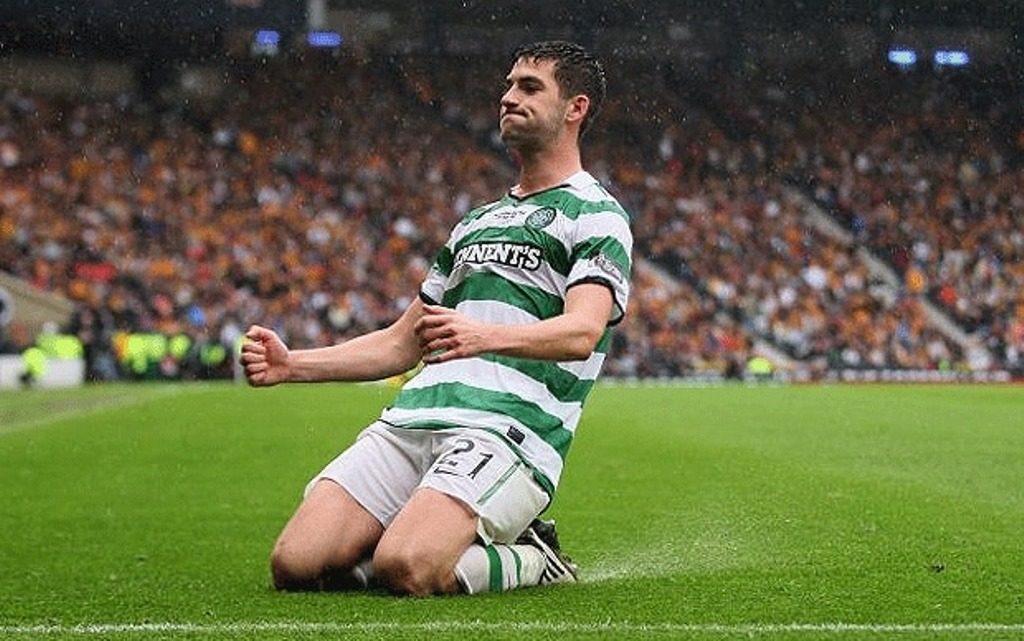 The sides?
Motherwell: Randolph, Hammell (Jeffers 72), Craigan, Hutchinson, Gunning, Hateley, Humphrey, Jennings, Lasley Murphy (Jones 80), Sutton. Subs: Hollis, Saunders, Jones, Forbes, Jeffers
Celtic: Forster, Wilson, Majstorovic, Loovens, Izaguirre, Brown, Ki Sung-Yeung, Mulgrew, Commons (Forrest 81), Samaras (Stokes 68), Hooper (McCourt 89). Subs: Zaluska, Cha Du Ri, McCourt, Stokes, Forrest.
Tom Campbell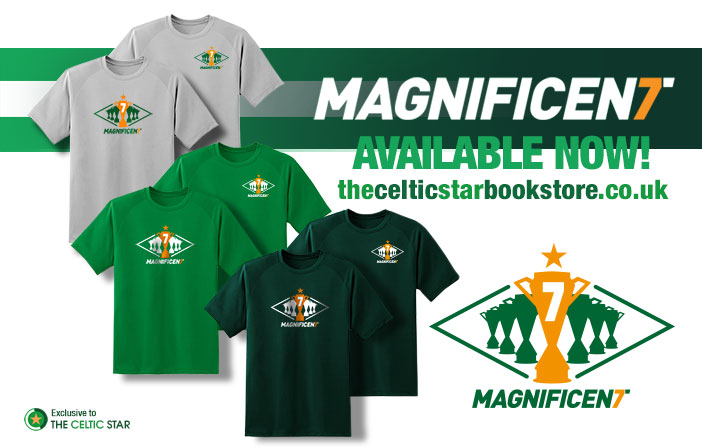 MAGNIFICEN7 and OBSESSED WITH CELTIC T-SHIRT UPDATE
BOTH these t-shirts have been flying out of the door in all sizes and across 3 colours (dark green, green and grey).  Order now at www.thecelticstarbookstore.co.uk
5 Star Champion Celts Review: On The One Road Podcast
Kevin Graham, Paul John Dykes & Bryan Haggerty look back at a beautiful title winning Sunday, the French connection that is developing at Celtic, how Sunday, our success is all down to a well run club and how we can improve in the future. We also reclaim the Celtic Da's moniker as a term of endearment. Music is from Guns and Roses & Franki Valli and The Four Seasons.
The Celtic Star Podcast has made the shortlist for Podcast of the year at the Football Blogging Awards. We need your vote.
HOW TO VOTE
We are up against some stiff opposition from south of the border, but The Celtic Star readers can make a huge difference to the outcome of these awards by voting for us online.
There are two ways that you can vote for The Celtic Star Podcast – via Twitter and through the FBA website.
Via Twitter
Just copy, paste and Tweet the following:
I am voting in @theFBAs for @celticstarpod to win the #FBApodcast category #FBAs
Via the FBA website at this link:
Vote for The Celtic Star Podcast
Thank you all for listening to the show, and we truly hope to bring that trophy back up the road in time for a historic double treble.
Listen to the podcast on Acast, Itunes, MP3 or below