SKIPPER Scott Brown stood up for his Celtic teammates and face his opinion on the shocking tackle that could have ended young Jeremie Frimpong's season. He also had his say on the controversy surrounding Leigh Griffiths whose mental health problems were targeted by a loud mouthed Uncle Albert character beside the away dugout area and also from the commentary box from Kris Boyd, who ironically runs a charity to support sufferers of mental health.
We covered this earlier today and would recommend you read it if you haven't done so already.'We all know what motivates Kris Boyd'. He is 'an appalling ambassador for a mental health charity'see HERE.
On the lunge by Alan Power on Jeremie Frimpong the Celtic captain having reviewed the footage, is in no doubt that it was a bad one alright.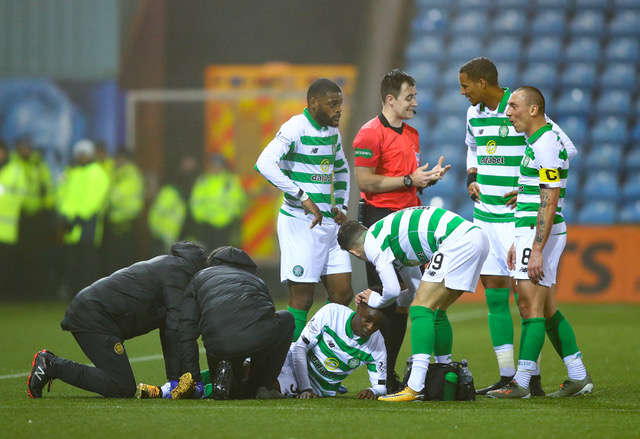 "I think if I'd done that tackle, it would become reckless, everyone would have surrounded the ref and stuff like that," Broony said to Sky Sports, as reported on FourFourTwo.
"We've seen it back and both feet are off the ground. If I'm in that situation, there would be a lot of people, a lot of punters, a lot of fans putting pressure on me to get a suspension and to get sent off.
"I think it's the levels (of refereeing) we want maintained so that the same thing happens in every single game."
It looked like Frimpong was badly injured as it took over five minutes of treatment before the talented wing-back was taken from the park on a stretcher. Neil Lennon later confirmed that he had bad bruising and that he was still a possibility to play on Saturday against Ross County, where a win would see Celtic go five points clear at the top of the Premiership.
And the Celtic captain also had his say about the stick and abuse that Leigh Griffiths has had to endure.
"Everyone has had criticism. Everyone deals with it and I'm sure the wee man will deal with that," Broony said.
"I'm sure Boydy (Kris Boyd) is big enough and ugly enough to deal with it too.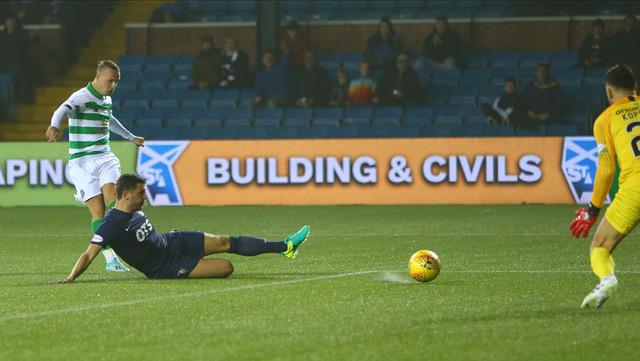 "I think it's part and parcel of the game. I've had it, Leigh's had it, everybody's had it before and it's just about how you bounce back.
"I've not actually seen (the incident with Kilmarock's Uncle Albert lookalike) back yet but what I've heard is there was nothing really in it.
"I've spoken about this before. They (supporters) think they can sing and chant for 90 minutes and do whatever what they want. If they were on the other side I don't think they would appreciate half the stuff that happens, especially the stuff with Leigh.
"You've just got to deal with it. Last night Leigh scored the goal and people don't like him because that's what he does.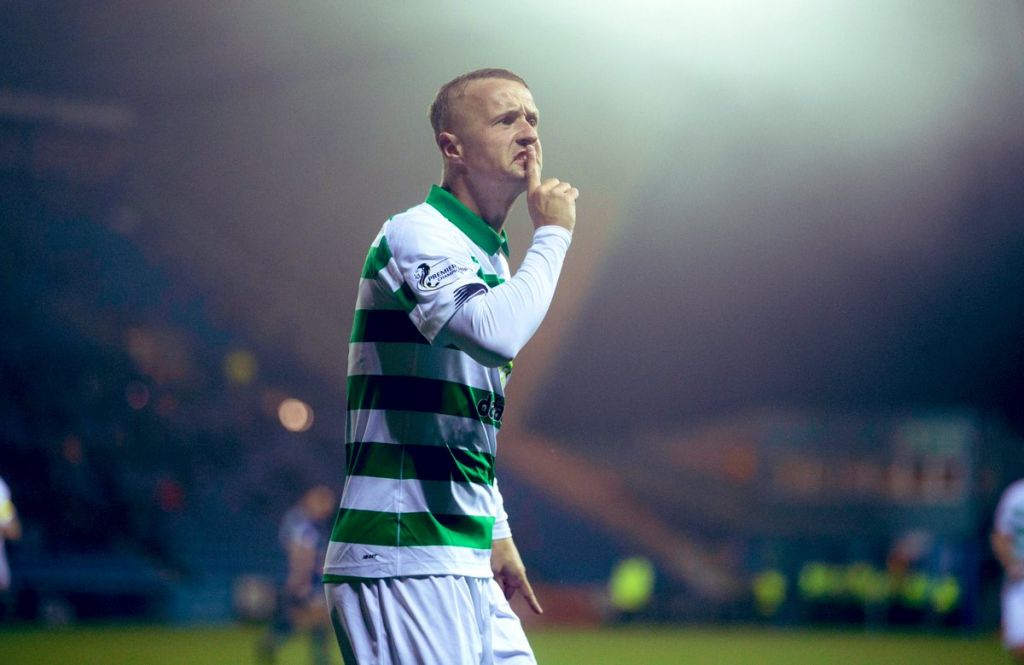 "You got to take that in a positive way too. You need to think there's a reason why they don't like you."
Here is Scott Brown's Media Conference today.
Kilmarnock have been quick to come out with statements condemning other club's supporters for bad behaviour at their ground. The Rugby Park club have been conspicuous by their silence today when perhaps a lengthy ban for their rogue pensioner would be in order.
Craig Gordon certainly was offended by the abuse being hurled at the Celtic striker from the guy also referred to as Captain Birdseye by Celtic Supporters today.
📸 Celtic striker Leigh Griffiths sparks angry scenes as star appears to throw object towards Kilmarnock fanshttps://t.co/apTS6523c7 pic.twitter.com/LlgN1gdkHd

— Daily Record Sport (@Record_Sport) January 22, 2020
And a special mention for Daily Record's dysphemism – they described the tape that Griffiths threw towards the loud mouthed pensioner as 'an object' making it sound like a brick thus appealing to their core target audience (who hate them incidentally).
Neil Lennon also spoke about this last night, ironically enough reported by Daily Record itself. "He threw a bit of tape on the ground. I don't know how you can say he threw it at somebody or towards somebody. People take off tape and throw it away so to me there is nothing in it.
"I asked him if anything went on and he said no and he was backed up by his team-mates. If there is going to be something made of this then I will be at the front of the queue backing him up.
"He was getting a lot of unsavoury abuse which was totally uncalled for. Leigh was taking some serious abuse and he didn't react in a malicious way at all. He's not the perpetrator – the abuse was totally uncalled for.
Leigh Griffiths BRUTALLY defaces Kilmarnock fans book pic.twitter.com/dKMVD2u1g8

— Liam (@liamcsc) January 23, 2020
"I thought his behaviour was exemplary. He didn't do anything wrong. People can blow it up but it was nothing.
"He always seems to get controversy surrounding him but I'll back him to the hilt on this one. I wouldn't say it overstepped the mark but it was abuse which was uncalled for. The kid had played well, he hadn't got himself into any bother on the pitch.
"He goes and sits down and gets abuse from supporters. In this day and age, we have to accept that and behave in a sanitised way. He did.
Griffiths threw the tape into a bin bag. Lol! Kris Boyd has made an utter c*nt of himself and so has the rest of the laptop loyal. 😂 https://t.co/iSRmad1wkB

— Paul (@phford40) January 23, 2020
"You're looking for a story that's just not there," Lenny told the Media. To read the alternative story about the events at Rugby Park last night you could do much worse than check out Sandman's Definitive Ratings – Sandman's Definitive Ratings, For 'a that – chasing Tam O'Shanter over a brig see HERE.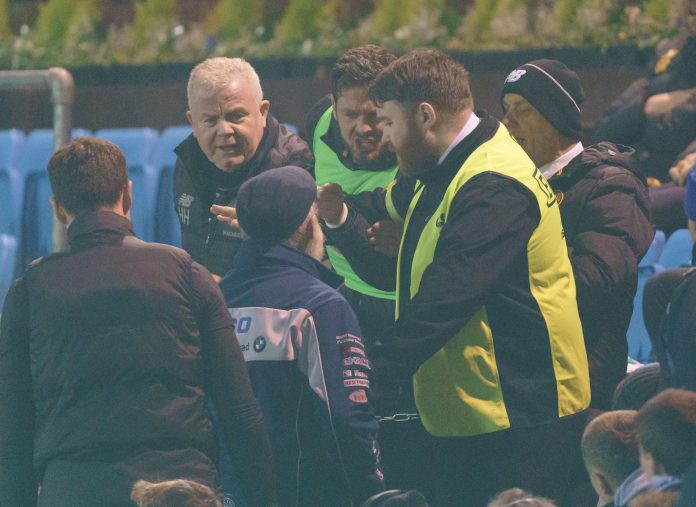 SUPPORT CELTIC, SUPPORT CELTIC POOLS
Help raise money for Celtic Youth Development by joining the £1 weekly lottery and you could win up to £25,000 – just click on any one of the photographs below to join.