It's only been one game and already the pressure is starting to tell. We all knew Ten-in-Row was going to make the nine-in-row season seem like a stroll in the park, yet already we've had Steven Gerrard take exception to a line of questioning from the Sky Sports team at Pittodrie and that was after winning 1-0, what are they going to be like when the draws and defeats start kicking in? It's going to be a lot of fun.
Perhaps Gerrard was concerned that questions over the transfer of their star man Alfredo Morelos was going to develop into talk of his eating habits rather than the banal transfer talk we've been enduring for 12 months now. If he was he needn't have worried.
Over on the BBC the Bluenose mouthpiece Neil McCann already had a laughable excuse lined up for Stevie G to borrow. Apparently McCann seems to think the sturdier frame exhibited by the errant Colombian is down to a build-up of muscle. Do me a favour.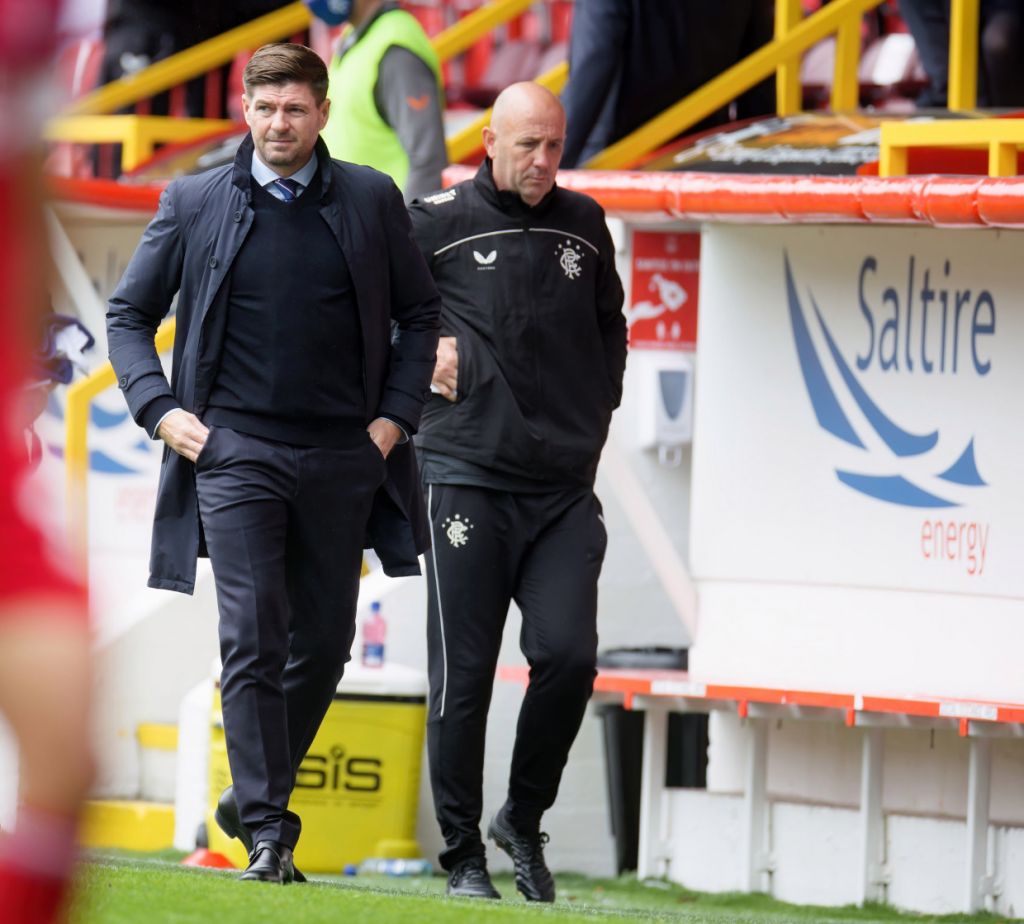 Unless Castore do a range of ill-fitting wet suits then Morelos looked more like he was bursting out at the seams than a toned athlete. It looks like there's been more Fritanga than fruit being consumed by Alfredo and less time on push ups and more on plates of Bandeja Paisa. Mum's home-made cooking is far more appealing than a David Lloyd membership to the rotund Colombian, that much seems evident.
In what has already been a poor week for the Gers new merchandise suppliers as Mike Ashley undercuts and undermines the kit producer and sells the kits direct from Sports Direct, they now have their new away s being worn by a man who has an uncanny resemblance to a lava lamp I had in my room at college.
Sports Direct selling and Alfredo Morelos modelling your gear is not how Castore saw their apparent high-end brand being advertised. Share prices must have plummeted quicker than 'the' the transfer value of the Colombian striker since January. Oh well.
Meanwhile as the Bears concern themselves with the stress of Alfredo heading to Lille, there has been further soothing, and not just from the mouth of McCann. Kris Boyd has advised his fellow Bears that this will be 'the' Rangers year as they are now facing a weaker Celtic team. Apparently the loss of Craig Gordon is one the Sky Sports presenter (yes he's still in a job) can't get his head round and will weaken Celtic.
Writing in his Scottish Sun column Boyd proclaimed:
"There's been no stopping Celtic for the past nine seasons. But this is Rangers' year. If there is anyone at Ibrox who doesn't believe that, they're playing for the wrong football club and someone should show them the door."
Upon reading it James Tavernier began forming an orderly queue at the door and advised his teammates to follow suit before Steven Gerrard whispered in his ear that it was just a propaganda exercise and he was still expected to play this season. Close but no cigar Jamesy.
Kris still had to add:
"If Steven Gerrard can get a group of players together who know what this next ten months is all about, I can see them winning the title.
Celtic aren't as strong as they have been in recent years. For me, they're definitely weaker.
On the flip side, Gerrard is a year older and wiser and I can genuinely see him leading my old club to something special.
There was nothing between the teams in last season's Old Firm games and while I know that's not the be-all and end-all when it comes to winning championships, I see it as a huge gauge for what's lying ahead in the coming months…
I just look at the Celtic side and don't think it's as strong as it was."
While Alfredo's Mum is proud of her son's international football career and healthy appetite. Mummy Boyd must switch between hiding her face behind a pillow and wanting to smother her lad with it whenever he opens his mouth.
The Celtic team that takes the field against Hamilton today will likely have 10 of the eleven players that helped win Celtic 9-in-a-row, with new signing Vasilis Barkas the only unknown. With 10 international caps, league winners medals and experience of Champions League football it's safe to assume Celtic haven't signed the Greek equivalent of Jon McLaughlin, with the new Rangers keepers CV including Harrogate Railway Athletic, Harrogate Town, Bradford City, Burton Albion, Heart of Midlothian and Sunderland. You'll excuse me if I suggest we may be better off than some.
Further soothing has come from another of the 'Rangers' PR stooges, this one has more in common with Nosferatu than Nostradamus if his previous high-level intel is anything to go by. 'the' rangers fans have been assured in the past that fresh investment was imminent and still remain on tenterhooks, despite the claim being made in November and due to hit the Ibrox accounts in January. Fans remain awaiting the capital injection promised by Alex Rae and now he's back with promises of a star striker making his way to Auchenhowie.
'Rangers' need in that area is clear with Alfredo limbering up for the return of Sumo on channel 4 and Jermaine Defoe's hamstrings as tight as a Sports Direct contract, but it's fair to say that money's too slight to mention down Ibrox way, as such if a striker comes in it certainly won't be of the star variety. More Lafferty than Lewandowski you'd assume.
Anyway, what the PR team at Ibrox and their mind-numbing media plants won't be able to spin is how the league table lies at the end of the 10-in-a-row campaign.
Celtic unfurl the league flag at Celtic Park today before the Bhoys get down to business and defend their title, en route to immortality. Thankfully that's soothing enough for the Celtic support and enough to send Alfredo heading for Mum's plate of Empanadas in the kitchen and a bit more comfort eating.
Niall J
ALSO ON THE CELTIC STAR…
Compper Quits – Celtic's £1m Rodgers flop hangs up his boots | The Celtic Star https://t.co/nNQhgfDy6Y

— The Celtic Star Editor – INVINCIBLE (@CelticStarMag) August 2, 2020

The Willie Wallace lesson as Davie Provan is the latest former Celtic player to put the boot into Leigh Griffiths | The Celtic Star https://t.co/HOYrIWjA2O

— The Celtic Star Editor – INVINCIBLE (@CelticStarMag) August 2, 2020
STV's 'Celtic striker news' is Bayo heading out on loan according to Bhardwaj | The Celtic Star https://t.co/W0zgbX4lsg

— The Celtic Star Editor – INVINCIBLE (@CelticStarMag) August 2, 2020
Celtic v Hamilton Preview – "I want to thank all of you for your incredible support throughout these difficult times,' Neil Lennon | The Celtic Star https://t.co/ZlHU7ZIY2D

— The Celtic Star Editor – INVINCIBLE (@CelticStarMag) August 2, 2020