Not sure who has been doubting him? Barkas to be fair so far this season hasn't had a lot to do, except pick the ball out the net by some well taken goals. Maybe it was those media pundits feeding the brains of our gullible support that made so many doubt his abilities….do they actually watch games?
Up at Dingwall Barkas showed that as a club we move on, either finding or nurturing new and exciting talent. The Wall was a great keeper and the League Cup final will long live in our and his memory but that is now firmly in the past. We have moved on, Vasilis Barkas is a young talented keeper, at just 26 he has years ahead of him.
On Saturday he arrived, and the old crumbling wall has been replaced by the Athenian "Long Wall".
Carlisle-Reiver, a well-known member on the Celtic Noise forum.
Agree, Barkas did well when called upon against Ross County but we gave them far too much room to play and made them look good in the first half. We need to maintain the high press at all times to ensure that the opposition are closed down. Incidentally the reason that the Rangers have not lost a goal so far is because not one team has asked any questions of their defence, lets put 6 past them to make up for that in October!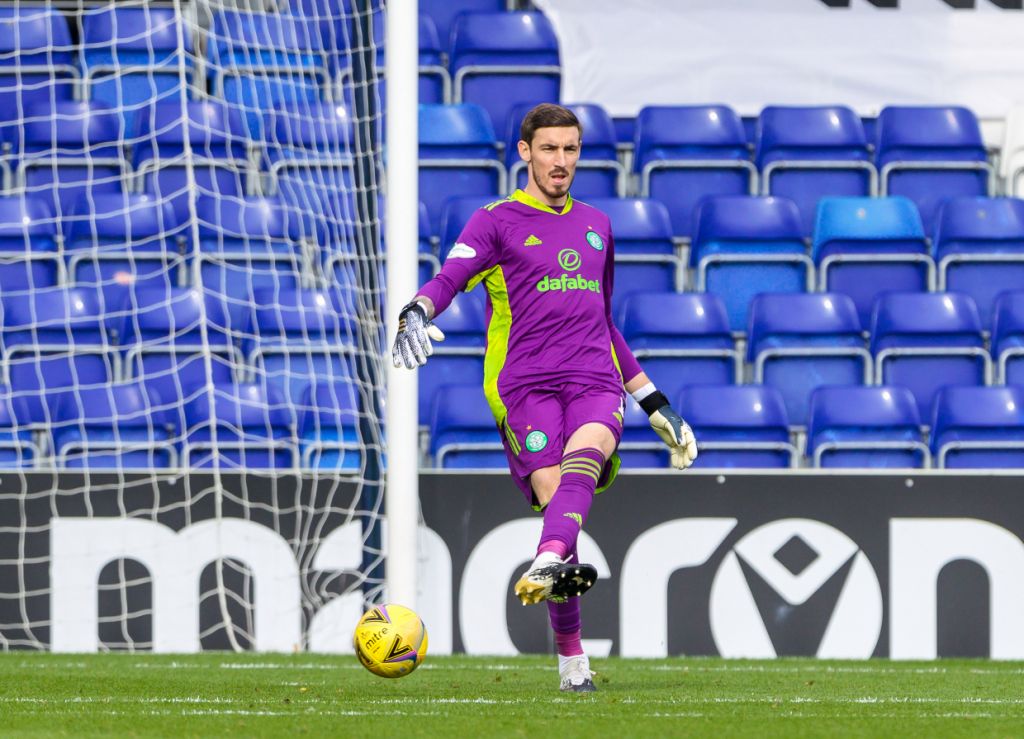 Seven past Niven, a well-known member on the Celtic Noise forum.
I think Barkas has been doing a great job between the sticks overall, and he had a pretty good game against Ross County.
I don't know if it's just me, but my only question about Barkas — and it's definitely a minor observation — is why he seems to be hesitant to clear the ball downfield (perhaps some of the goalies among us can answer that, looking at Spherical Planet…;)). He cleared the ball only once downfield on Saturday, and in every other instance he passed the ball off to either Jullien or Duffy at the back. In past games he has been hesitant to clear the ball downfield, too, which makes me wonder — especially since it seemed that Ross County was on to it and kept a player or two up to challenge Barkas when distributing the ball.
Again, it can just be his style and this is just an observation (and wondering if anyone else noticed it). I am extremely pleased with Barkas' play, not to mention having two quality keepers in Barkas and Bain, so we're in good shape in that department.
Icafiero, a well-known member on the Celtic Noise forum.
When the 'passback rule' was introduced in 1992, it ruined a lot of keepers careers.There weren't many keepers who were natural born, the vast majority of us ended up in that position because we were awful footballers.
I'm sure that modern keepers work on distribution, but I'm also pretty sure that that work is predominantly based on playing it short and simple where there's less margin for error. Barkas is also obviously more familiar with playing Greek football which is much more focused on build up play from the back and much less frantic than Scottish football. He was probably in a state of shock when he seen Scottish forwards running about like blue-ersed fleas trying to close him down.
At the end of the day, it's mainly about percentages. Neither Jamesie, Moi, Eddy or Corpus are known for their ariel prowess, if Barkas knocks it long, then there's about a 75-85% chance that your gifting possession to the opposition. As it stands, there's about a 95% chance he finds a team-mate if he plays withiin a 20-yard radius of his penalty area.
Probably just a numbers game.
Spherical Planet, a well-known member on the Celtic Noise forum.
He was outstanding on Saturday, really impressed, his reactions were bang on and he took crosses well when he could. You are right, he's not had much pressure on his goal like at Dingwall. Unfortunately in the Champions League qualifier he was beaten by good finishes. I think in our heads being gutted at not getting The Wall back we subconsciously thought this boy was worse than the big fella Forster but now we know he's got great reactions and we can trust him, more importantly the CB'S can trust him, it looks good going forward. I'm well chuffed with him here's hoping it continues HAIL HAIL TO THE LONG WALL."
Cairnsbhoy79, a well-known member on the Celtic Noise forum.
When a player arrives and all you've seen of them is in You Tube video highlights, of course you're gonna doubt. It has nothing to do with so-called media pundits, the guy has played very few games and hasn't had much penalty box action for us.
On Saturday he did and showed us what he can do, pulling off some really good saves plus his distribution of the ball and his confidence on playing the ball out from the back proved he's a capable set of hands in goal.
I was a doubter and had we not missed two games due to Bolingoli I guess us doubters would have been proved wrong much sooner.
Kelly, a well-known member on the Celtic Noise forum.
If anyone who has played football would appreciate, it takes a decent keeper to take control of the elements when making choices, very windy conditions first half to the advantage of Ross County who used it with crosses and high punts at times. Very wet pitch with heavy grass, noticed a few slips from players and passes minus zip. So all-in-all Celtic coped with the elements and the tactics and the crowd (for all I knew was merely animated cardboard cut outs).
boab 1916, a well-known member on the Celtic Noise forum.
I thought he made decent saves especially that fingertip one from the crossed header. He was beaten by the shot from distance that hit the post and was maybe a bit slow in finding his bearings, I think he thought it was in or wide but that's a minor gripe. County deserve credit for attacking the back three they almost got some joy and didn't sit back and park the bus though they may wish they had, as attacking us led to us putting five past the stand-in-goalie – they missed our bhoy Doohan.
Winter, a well-known member on the Celtic Noise forum.