Rennes sports journalist Nicolas Mangeard is providing updates on social media on the Celtic v Rennes game which is currently underway in the Algarve in Portugal…
The Celtic starting eleven is as follows:
Hart, Ralston, Starfelt, Jenz, Taylor, Hatate, O'Riley, McGregor, Abada, Kyogo and Jota.
The Rennes side is: Alemdar – Assignon, Omari, Belocian, Truffert -Bourigeaud, Tait, Ugochukwu, Terrier – Kalimuendo and Gouiri.
Les joueurs du Stade Rennais sont arrivés au Campus pour leur match face au Celtic pic.twitter.com/kmp8EUsmgv

— Nicolas Mangeard (@NicolasMangeard) December 10, 2022
"Both teams enter the field. Kick-off given by the Scots," Nicolas Mangeard reports.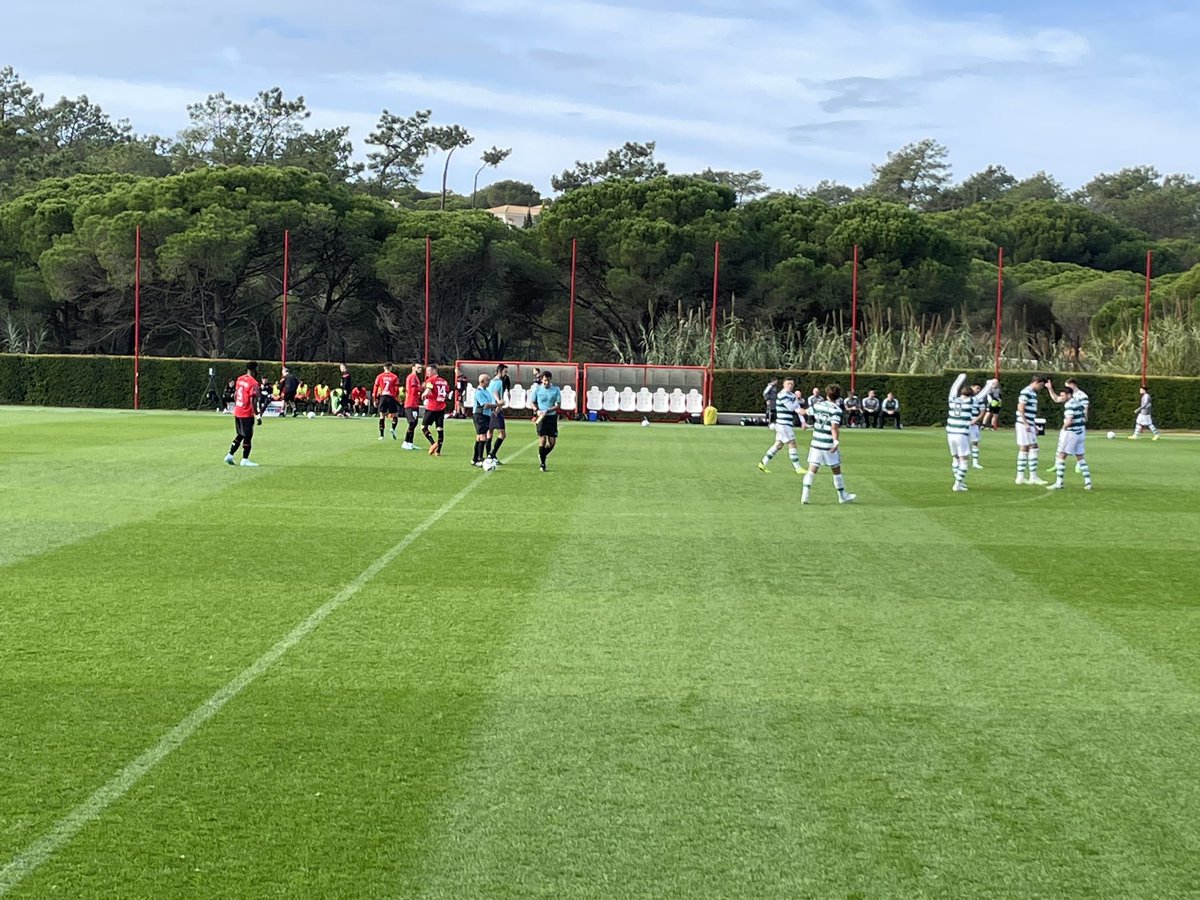 And Rennes are ahead with a minute gone…
"Opening of the score of Martin Terrier from the 1st minute! At the Bourigeaud corner, the Rennes striker cuts at the near post and deceives Hart from the right. 1-0"
Ouverture du score de Martin Terrier dès la 1re minute ! Au corner Bourigeaud, le buteur rennais coupe au premier poteau et trompe Hart du droit. 1-0 pic.twitter.com/4VU2rS9kcR

— Nicolas Mangeard (@NicolasMangeard) December 10, 2022
With 8 minutes played: "Kalimuendo tries a madjer on the near post on a cross from Tait from the right. Not powerful enough to deceive Hart, who easily catches the ball".
15 mins on the clock: "Kyogo is flagged offside as he went alone on goal against Alemdar. Since the Rennes opener, Celtic have recovered well."
GOAL CELTIC! – 18 mins played: "Equalizer from Matt O'Riley, who finds himself alone in the area quite inexplicably. He concludes with a curled shot from the right, facing a helpless Alemdar 1-1."
20 mins – It's now 2-1 to Rennes: "Stade Rennais responds with a tac-o-tac with a goal from Gouiri. He takes advantage of a caviar from Bourigeaud in the middle to deceive Hart closely. Superb and already the second assist of the captain 2-1."
24 mins – Rennes hit the bar – "Bourigeaud's right foot is on fire. On a corner, he finds the head of Terrier, whose attempt ends its race on the crossbar. Note that Joe Hart wears a cap, the sun in front being very annoying at this time of day."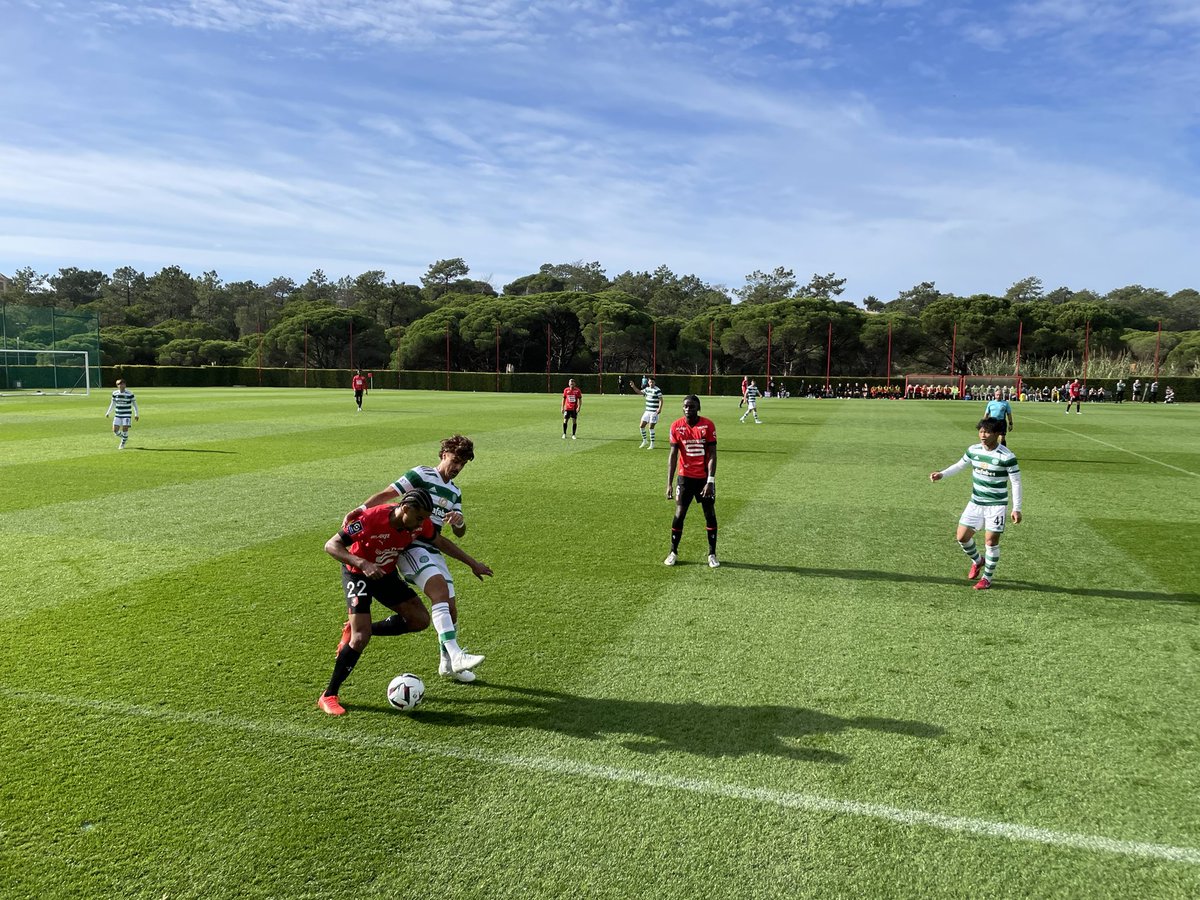 27 mins – Another Rennes goal, it's now 3-1 to the French side. "And the goal of Assignon! What work from the side, which starts from the midfield, takes advantage of the gaping holes left by the Celtic Defense to send a missile to the opposite skylight 3-1."
38 mins – It's another goal for Rennes who go into a 4-1 lead against Celtic. "It's a demonstration from Rennes. After a corner played in two stages, Omari concludes against Hart! First game and first goal. 4-1." Watch below…
38' C'est une démonstration rennaise. Au bout d'un corner joué en deux temps, Omari conclut face à Hart ! Premier match et premier but. 4-1 pic.twitter.com/5yhSgPDyyq

— Nicolas Mangeard (@NicolasMangeard) December 10, 2022
40 mins – Kyogo lobs the keeper to make it 4-2, but should it have stood? "Kyogo deceives Alemdar with a lob but his goal should not have been accepted by the referee for a blatant hand to take the ball away. It's still 4-2."
44 mins – The Celtic fightback gains momentum as Matt O'Riley scores again: "The Rennais are too naive on Celtic's transitions. O'Riley is left alone at the edge of the area and deceives Alemdar with a powerful shot. Double for him and 4-3."
HALF TIME – "It's halftime of a match in champagne football mode! Very pleasant to see. Rennes lead 4-3: Terrier (1′), Gouiri (20′), Assignon (27′), Omari (28′)" with the Celtic goals coming from O'Riley, Kyogo and O'Riley again.
Pour le plaisir pendant la pause, un petit bonbon de Terrier qui aurait mérité meilleur sort… pic.twitter.com/TdFRTpRyfl

— Nicolas Mangeard (@NicolasMangeard) December 10, 2022