On 26 August 2000 Celtic defeated Rangers 6-2 in Martin O'Neil's first encounter with Rangers as Celtic Manager. The 'Demolition Derby' legend was born.
On 31 august 2000 A statement from Rangers as reported in The Guardian. "Due to the fact the player John Hartson has not played a sufficient number of top class matches recently, Rangers Football Club are of the opinion he would not be at the level of match fitness required at this particular stage of the season in view of our involvement in the Uefa Champions League.
"Both Rangers FC and the player are very disappointed at the outcome of this matter. The player will therefore return to Wimbledon FC to continue his career."
To me I found that particular attempt at a big money signing a sign the tables were turning. Rangers attempts to sign Hartson was a panic decision. The sheer destruction of Rangers at Parkhead had rocked the Ibrox club and they were doing what they always did whenever faced with a problem. They'd buy their way out of it. I wonder how what all worked out.
5th April 2006, John Hartson volleys in the winner against Hearts to clinch the title in Gordon Strachans first season. @JohnHartson10 pic.twitter.com/f3BqLP0ImE

— Li'l Ze (@LilZe_7) April 4, 2021
This was a joint signing announced in the press with Ronal De Boer also due to head for Ibrox in a transfer that would come to fruition. '£10 million double swoop' is how Murray's media minions reported the deal. None questioned why Rangers were trying to buy two players with well recorded fitness problems. That would have got in the way of the headlines.
Despite long standing knee issues Ronald De Boer did sign, while Hartson failed the same stringent medical that Ronald De Boer's knee passed. The very public response from Rangers was for pacification of a now concerned Rangers support.
A £10milion double swoop for attacking players, both with big reputations looked good on paper it's unlikely both were ever going to sign. Unwittingly Hartson was probably the fall guy. The media played David Murray's tune.
Even before the medical was carried out Murray was bracing the support for it being unsuccessful, there were no such public utterances towards De Boer's deal not getting over the line.
Murray said "There is the possibility that the medical might not go well because it is a very strict medical. We have made mistakes in the past and we don't want those things to happen again."
Craig Moore lunging in on John hartson, Moore was described as a tough tacking defender, in reality he was a dirty coward, once running up the tunnel right on the half time whistle to avoid bobo balde pic.twitter.com/U3cXdsajyW

— JustAnOrdinaryBhoy (@ordinarybhoy) April 4, 2021
Looking back it certainly appears Hartson got a rough deal from Rangers. A delicious irony then occurred when John Hartson passed a medical soon after and did ply his trade in Scotland's top flight. For Celtic.
Less than a year after the collapse of his move to rangers, John Hartson, Steve Guppy and Momo Sylla completed their moves to Celtic on 1 August 2001. A triple swoop this one. Unless Celtic's medical team were far less stringent than Rangers it appears Hartson made a miraculous recovery and was now fit enough to ply his trade in Scotland less than a year after being rejected by the Ibrox club.
I'll hold my hands up here, I never wanted John Hartson at Celtic I also had no real appetite for Neil Lennon signing either.
In the case of Lennon I felt we had a world class defensive midfielder already in situ with Paul Lambert. Neil Lennon appeared an expensive luxury when other positions required more immediate attention. In the case of John Hartson I feared such a high profile star would never settle for a supporting role behind what was already becoming the best striking partnership I'd seen. That of Henrik Larsson and Chris Sutton. I was worried we were inviting trouble.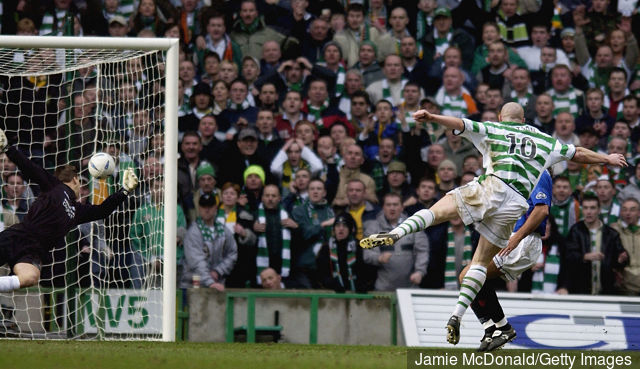 Hatson had a reputation as a physical bruising striker, his training ground kick out at ex Celt Eyal Berkovic's head had been well covered in the media. As such impressions were not good. Celtic had made a great start under Martin O'Neil, was this guy going to upset the applecart and was he the kind of player we needed.
Not for the first time I was proved wrong. Hartson did break up the Sutton Larsson partnership on occasion but as the weeks and months passed I cared not a jot. This guy was a hell of a player and what's more the media impression I'd bought into was also wide of the mark.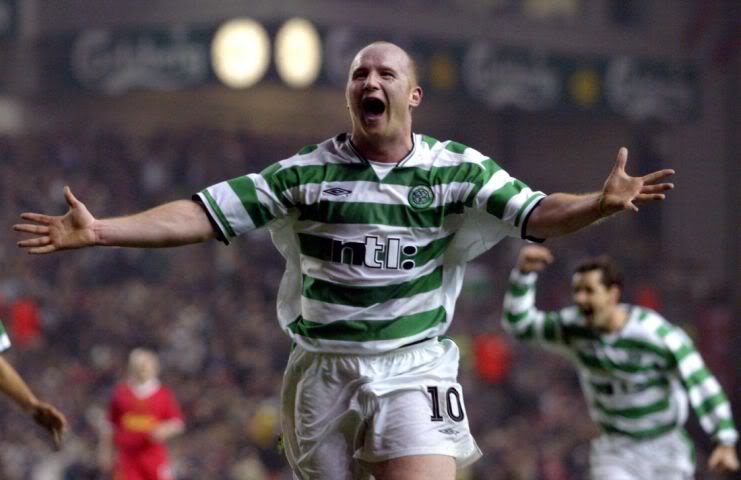 He came across well in interviews, a softly spoken gentle giant, very much at odds with his on field persona. He was also a devastating goal scorer and liked a goal or two against the side that rejected him. In total Hartson netted eight times against Rangers to remind them of just what they were missing.
It took Hartson eleven games to break his duck. His first goals came in a 5-1 win over Dundee Utd at home in the league. In a in a 5-1 win Big Bad John scored a hat-trick. From then on the only way was up.
In 2004/05 his exceptional season was capped by being named both the Scottish Football Writers' Association Player of the Year and the Scottish PFA's Player of the Year and he was responsible for important European goals in the Nou Camp against Barcelona, at Anfield against Liverpool and of course the vital away goal against Celta Vigo on the run to Seville. By no means was he simply a domestic flat track bully.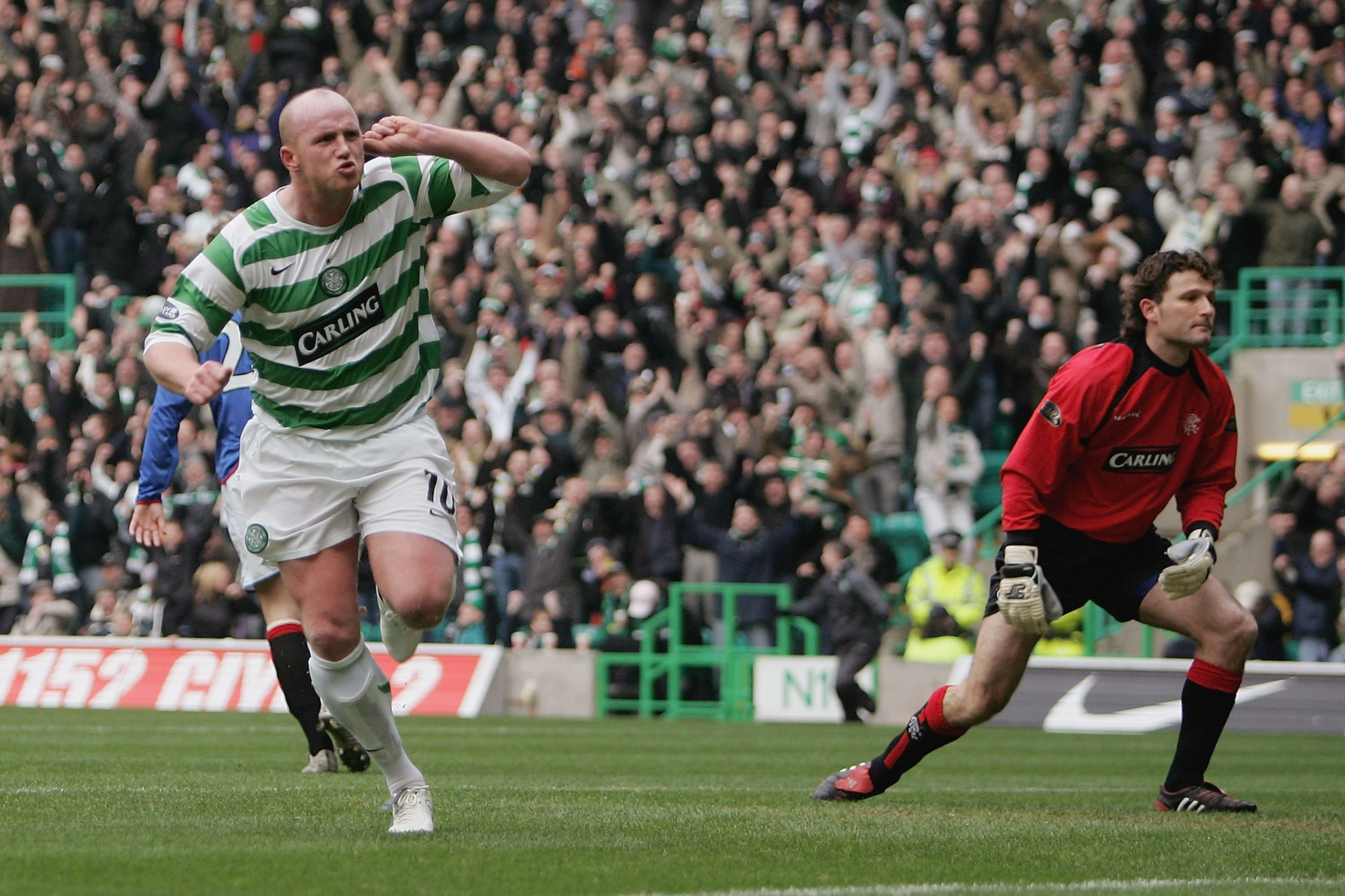 By the time he left Celtic to sign for West Brom in 2008, Hartson had scored 109 goals for Celtic and was firm favourite with the fans. Injuries did eventually catch up with him by the time he called time on his Celtic career, yet according to Hartson, Rangers tried again to sign him after he left Celtic. Horse, stable door and bolted come to mind on that one.
Today is John Hartson's 46th Birthday. That he's celebrating it at all is due to the strength of his will and character.
Big Bad John faced up to the threat of cancer that had travelled to his brain. He challenged that threat head on, with even more force than he met the challenges of Scotland's Central defenders. As he always did on the field, Hartson won his battle through grit and determination.
John Hartson may have arrived with questions to answer, when he left he was a Celtic legend.
Happy Birthday Big Bad John. Many happy returns.
Niall J
💪 It's Big Bad John's birthday today!

💬 "I spent five-and-a-half seasons at #CelticFC, which was a very successful period that I was lucky enough to play in."

1️⃣7️⃣1️⃣ appearances.
1️⃣1️⃣0️⃣ goals
✅ scoring on your birthday 🍀

Have a great day, @JohnHartson10 🎂 pic.twitter.com/c6vfhEZcvB

— Celtic Football Club (@CelticFC) April 5, 2021
Happy Birthday to Celtic legend @JohnHartson10 pic.twitter.com/Lwn4RKG3Hq

— St Peters No 1 CSC Béal Feirste (@StpetersCSC) April 5, 2021