December brought heavy snowfall to most parts of Scotland, Celtic's match at Arbroath the only top-flight fixture to survive on the first day of the month. Kenny Dalglish was again the main man, beating his former teammate Gordon Marshall with some style to set the Hoops on their way within the opening five minutes.
The Bhoys enjoyed the vast majority of possession, however, with 15 minutes to play, they were made to pay for their failure to add a second goal, Eric Sellars running in to meet Andy Penman's free-kick and beat Ally Hunter. In danger of dropping a vital point, or worse, the champions were rescued in the closing minutes as Paul Wilson combined well with Jimmy Johnstone before firing past Marshall for 2-1, sending the Hoops five points clear of Hearts at the top of the table.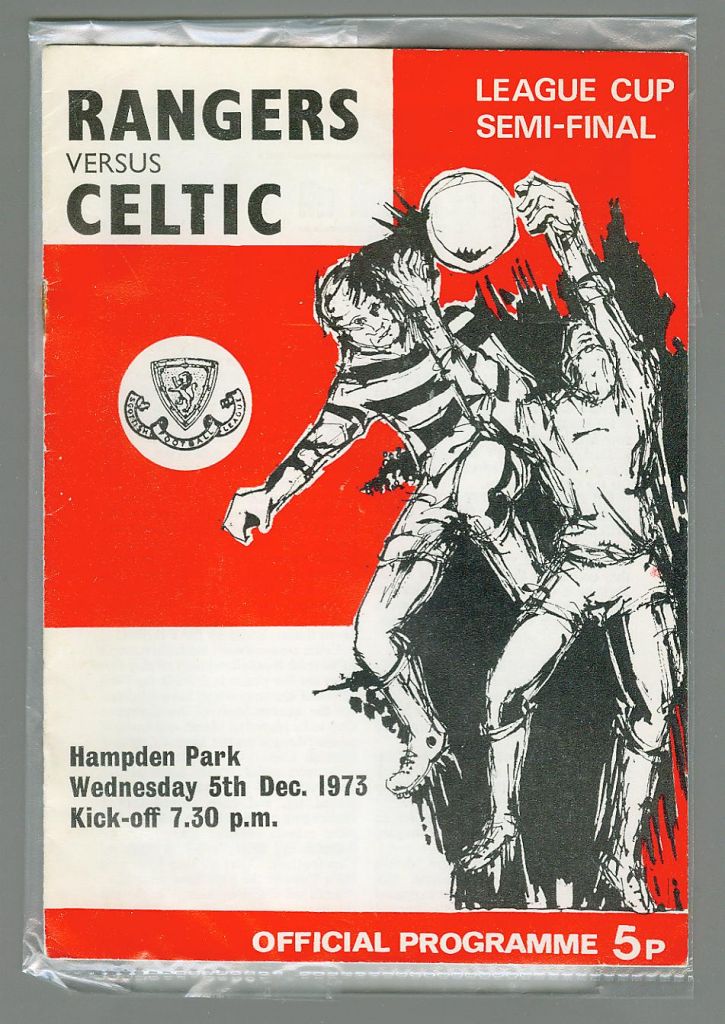 Hampden was the venue in midweek, for the first major semi-final meeting of Celtic and Rangers in my lifetime, a place in the League Cup final against Davie White's Dundee at stake. Jock Stein had played his cards close to his chest and when the line-up was announced there was a return for Davie Hay for the first time in a month, with another two Celts who had been out of favour – George Connelly and Jimmy Johnstone – making up the substitutes' bench. Dixie Deans was again missing with a back injury, Paul Wilson retaining his place and leading the attack as the following teams lined up.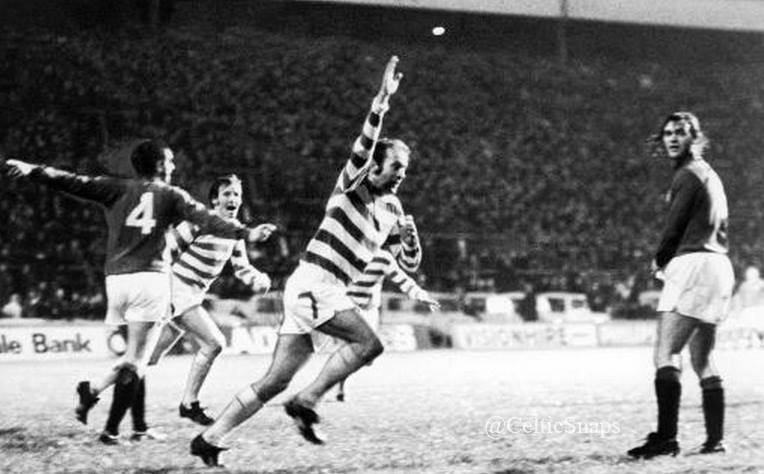 Rangers:
Peter McCloy; Sandy Jardine & Willie Mathieson; John Greig, Colin Jackson & Doug Houston;Tommy McLean, Tom Forsyth, Derek Parlane, Alfie Conn & Alex MacDonald.

Substitutes; Derek Johnstone & Dave Smith.

Celtic:
Ally Hunter; Danny McGrain & Jim Brogan; Steve Murray, Billy McNeill & Pat McCluskey;Harry Hood, Davie Hay, Paul Wilson, Tommy Callaghan & Kenny Dalglish.

Substitutes; Jimmy Johnstone & George Connelly.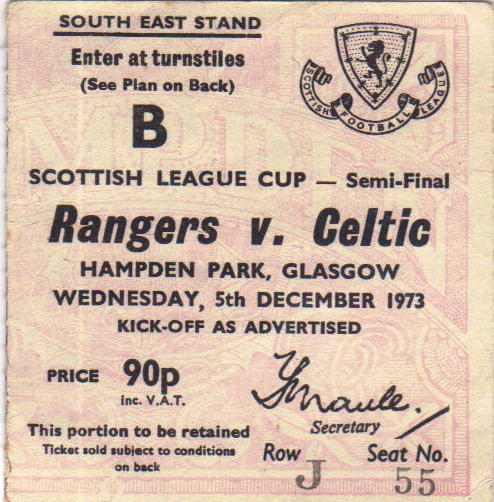 The match would prove to be a personal triumph and a landmark in Harry Hood's wonderful career. The man who ironically had been linked with a move to Dundee just weeks earlier would add another goal against Rangers to his collection as he gave Celts the lead 10 minutes before the break, Harry perfectly positioned to head past Peter McCloy after Kenny Dalglish had seen his first attempt blocked by Willie Mathieson on the line.
That scourge of Celtic, Alex MacDonald, then levelled things before the break when his cross-shot deceived Ally Hunter, like the Czech goal at the same venue a few weeks earlier perhaps not one that the Celtic keeper would enjoy watching again.
The Harry Hood Show would then come to life in the second half, as the Hoops battled against the elements to destroy Rangers and win through to a 10th consecutive League Cup final, before 55,000 spectators.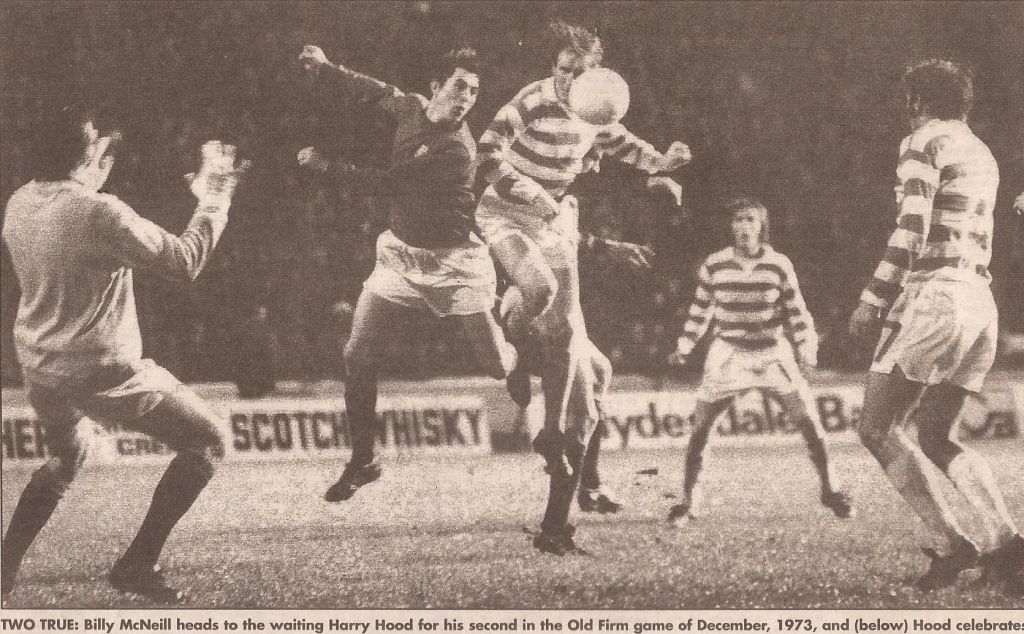 Ten minutes after the restart, Harry's striker's instinct again put him in the right position to beat McCloy following Billy McNeill's back post header, and with 17 minutes remaining, he strode on to a sublime Dalglish pass to complete his hat-trick. Seconds later, Harry hit another marvellous effort past the Rangers keeper, only for referee Alistair MacKenzie to incredibly rule it out for offside, a ridiculous call which angers me to this day. Thus, Harry was cruelly deprived of the honour of being the only Celt ever to score four goals in this fixture.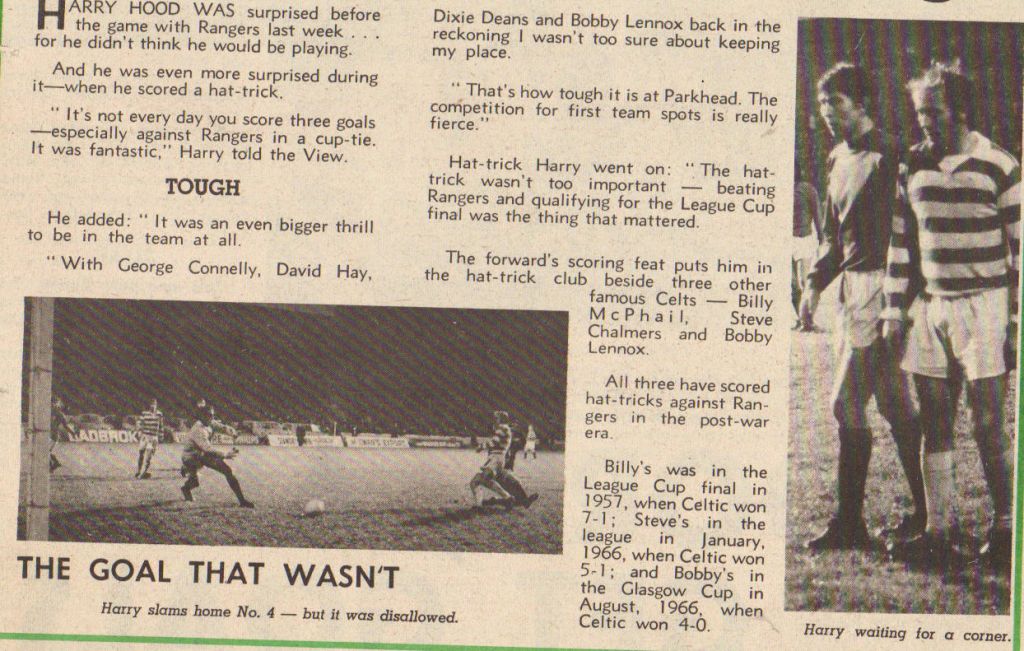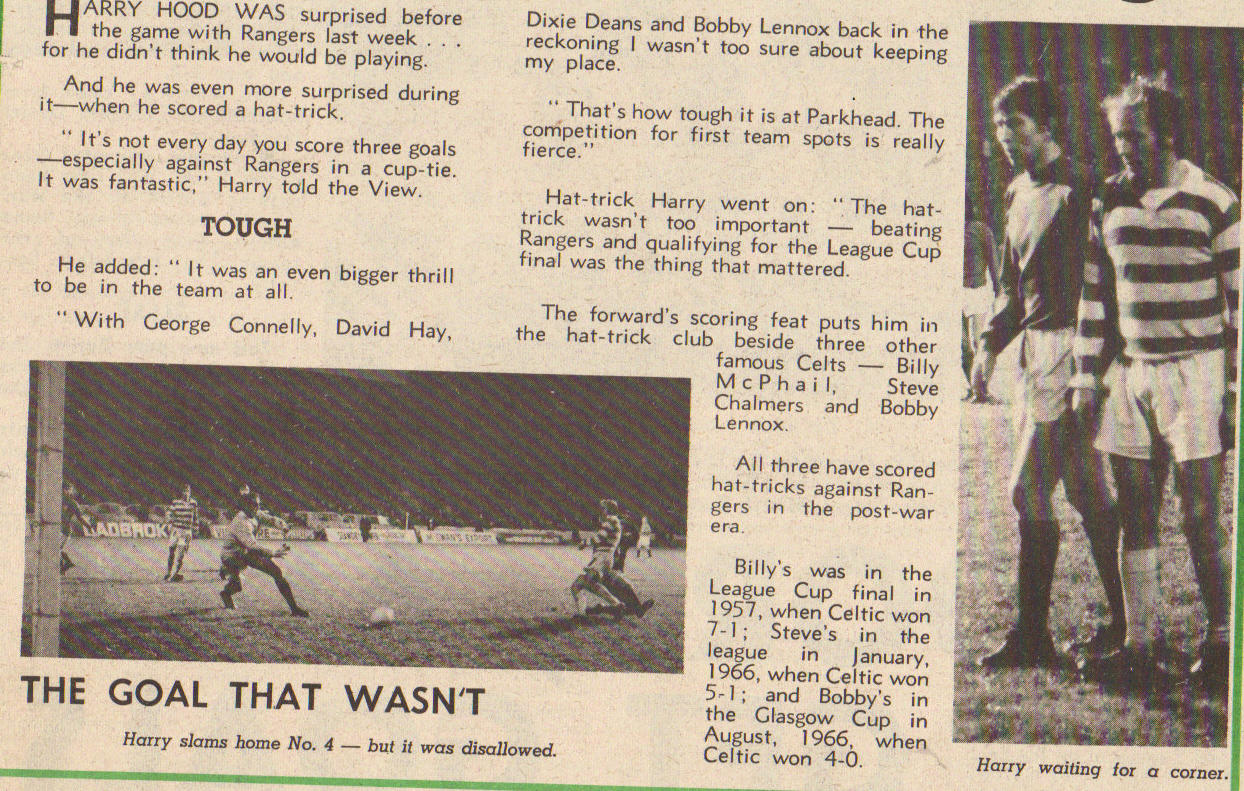 He would still join a select band.
The Mighty Jimmy Quinn was the first to score a hat-trick against Rangers in a competitive fixture. He managed it in two cup finals, the British League Cup final of April 1902 at Cathkin then the first Scottish Cup final at the current Hampden, two years later. The great man then achieved a third treble with all three goals in the New Year's Day fixture of 1912 at Celtic Park.
Malcolm MacDonald was next, with three in Celtic's 6-2 home League victory in September 1938. Post-war, the McPhail brothers would both do it in Hampden finals in the same decade, John in front of Danny Kaye in the Glasgow Charity Cup final of 1950 and Billy as Seven Passed Niven in the October sunshine, seven years later.
ENJOY THE WONDERFUL BOOLAVOGUE PERFORMING THE HARRY HOOD TWICE AS GOOD SONG, WHICH WAS RECORDED EARLIER THIS YEAR ESPECIALLY FOR THE CELTIC STAR…
And two of Harry's contemporaries had also got in on the act, Stevie Chalmers bringing in the New Year with a Treble in the foggy dew of Paradise in 1966, whilst his partner-in-crime Bobby Lennox would match that feat at Ibrox in the Glasgow Cup that summer, as the quest for the Quintuple gathered momentum.
Last word to the man himself, as quoted in The Celtic View after the game. Modesty personified.
"It's not every day you score three goals – especially against Rangers in a cup-tie. It was fantastic. It was an even bigger thrill to be in the team at all. With George Connelly, David Hay, Dixie Deans and Bobby Lennox back in the reckoning I wasn't too sure about keeping my place. That's how tough it is at Parkhead. The competition for first-team spots is really fierce. The hat-trick wasn't too important – beating Rangers and qualifying for the League Cup final was the thing that mattered," Harry Hood.
Hail Hail!
Matt Corr
*An extract from Harry Hood Twice as Good by Matt Corr. Signed copies are available from Celtic Star Books and you can even add a request for a personal message to be added by Matt, which will add to an extra-special Christmas gift and the book will cost you just £10 plus P&P from Celtic Star Books, link below.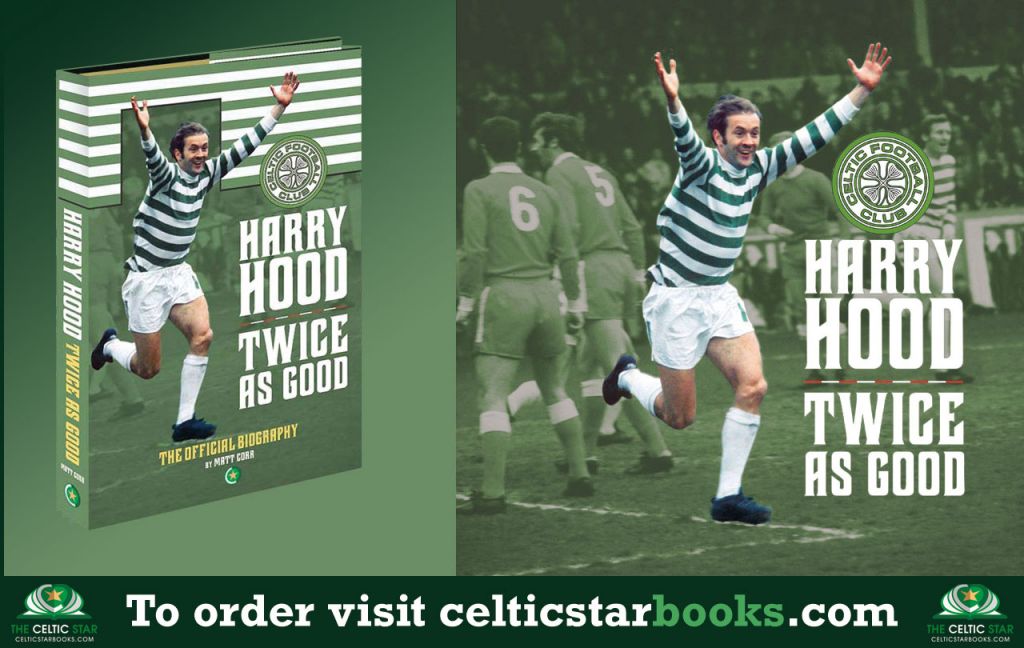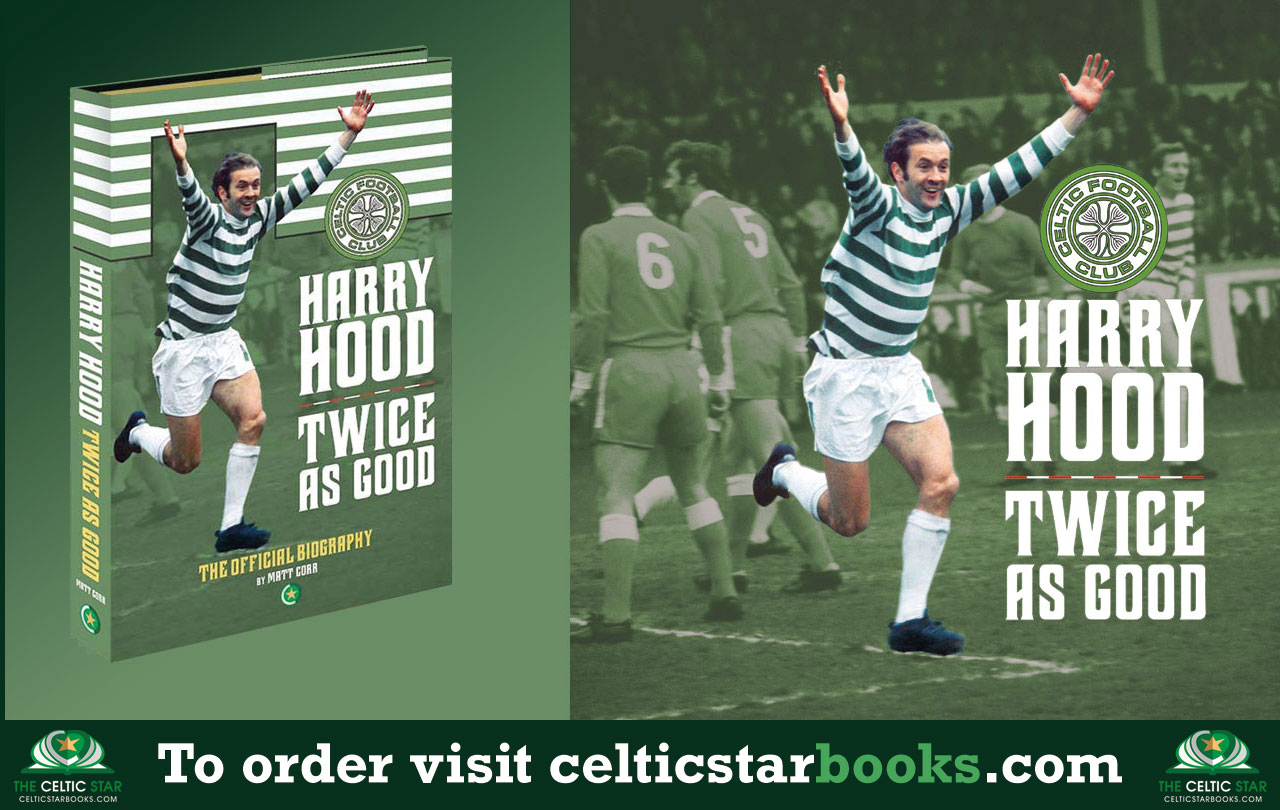 Keep up to date on Twitter @HarryHoodBook
morestories category=8]