"Oh Harry, Harry…Oh Harry Hood": Part 26: It's football but not as we know it, as Argentina Madrid come to town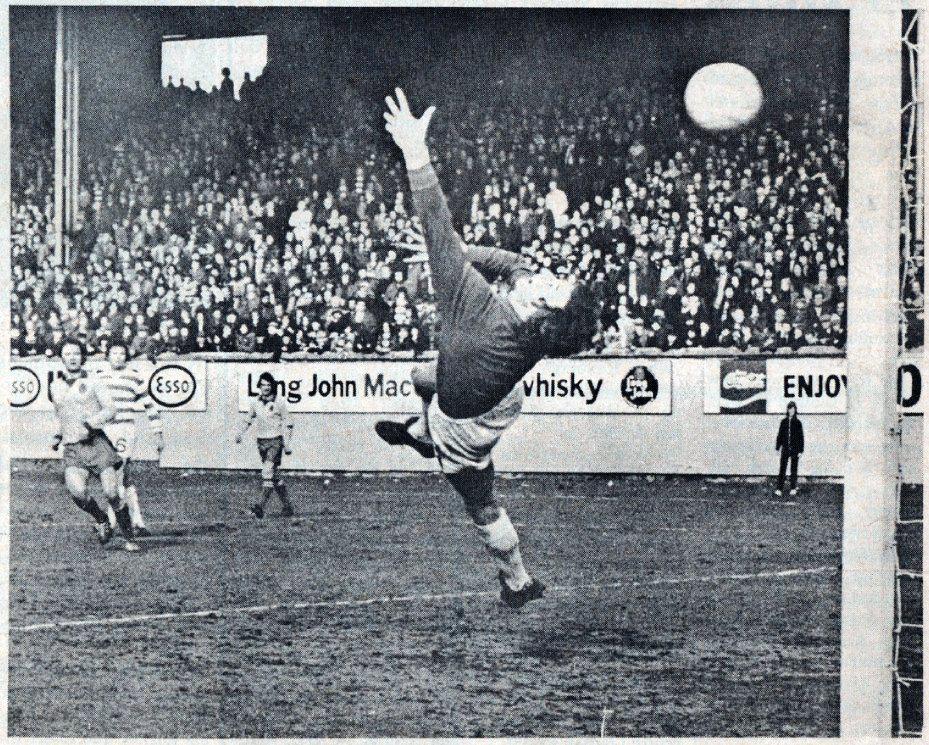 After the highs of the midweek victory over FC Basel, the start of my teenage years would bring me crashing back down to earth just three days later, Saturday, 23 March 1974, as two Ronnie Glavin strikes in the final quarter gave Partick Thistle a 2-0 victory over European Cup semi-finalists Celtic at Firhill. Jimmy Bone had returned to face his former side, allowing Harry Hood a chance to recover from his exertions against the Swiss. It would be a performance which would see the Jags take some measure of revenge for their 7-0 defeat at Parkhead five months earlier and would see Glavin edge closer to a transfer to Celtic, sealed later that year.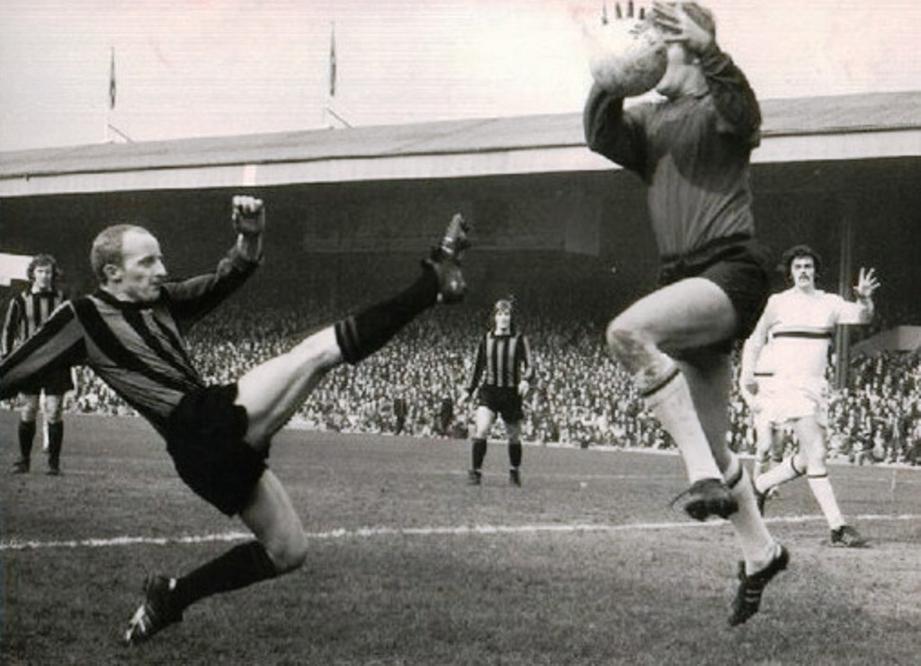 Hood would return to the starting line-up seven days later, as would Ally Hunter and Danny McGrain, Jock Stein ringing the changes as Celts hosted Dumbarton, Scotland stars Davie Hay and Kenny Dalglish dropping to the bench following their midweek trip to West Germany, whilst Jimmy Bone dropped out of the squad completely. King Kenny would be required at half-time, replacing Tom Callaghan, after goals from the two McAdam brothers had given the Sons an unlikely lead, and he would add to Paul Wilson's early strike to level things by the hour. The post-Euro hangover would continue, however, and it took a late Dixie Deans goal to salvage a point after Peter Coleman had put Dumbarton 3-2 up in the 76th minute.
April opened with a midweek Scottish Cup semi-final with Dundee at Hampden. The rematch of the League Cup final attracted 60,000 supporters to the national stadium, more than twice as many who had suffered those atrocious conditions at the same venue four months earlier. Celts ensured there would be no repeat of that result by taking the game to the Dark Blues from the kick-off. The only surprise was perhaps that it took a solitary Jimmy Johnstone goal to send Celtic through to a ninth Scottish Cup final in 10 years, a quite incredible record. Two minutes before the interval, the legendary winger thrashed the ball past Thomson Allan, after Billy McNeill had headed on a Harry Hood corner. The Hoops would now meet either Hearts or Dundee United in the final.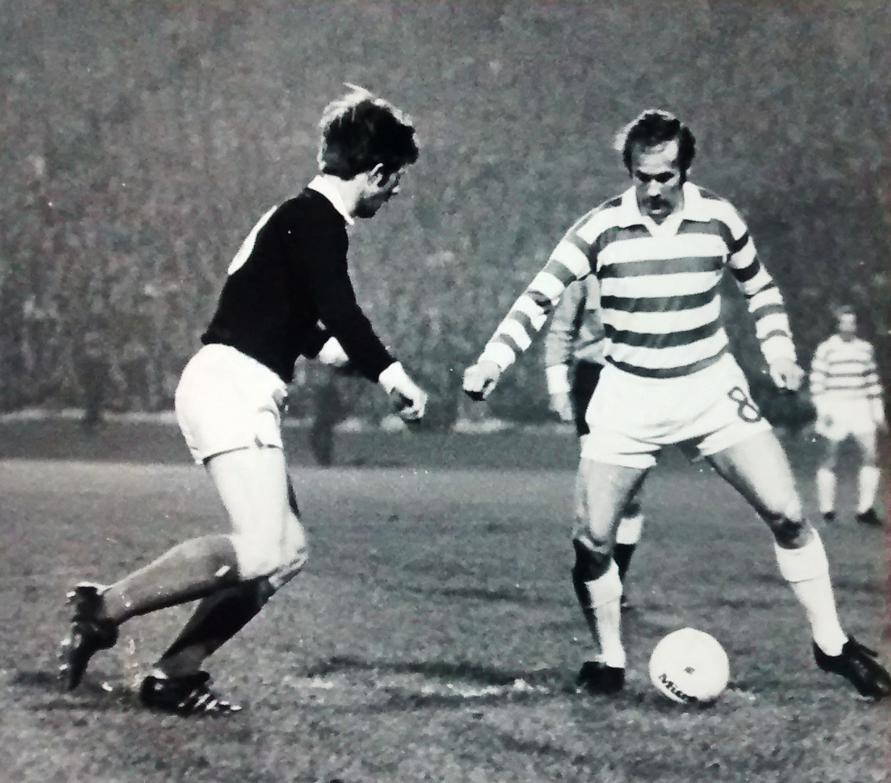 It would take another single goal victory to defeat Dundee's Angus neighbours Arbroath at Celtic Park, three days later, this time it was Kenny Dalglish with a header on the hour beating former teammate Gordon Marshall to inch the Hoops two points closer to a ninth successive League title. Harry Hood would sustain an injury which forced his substitution by Paul Wilson.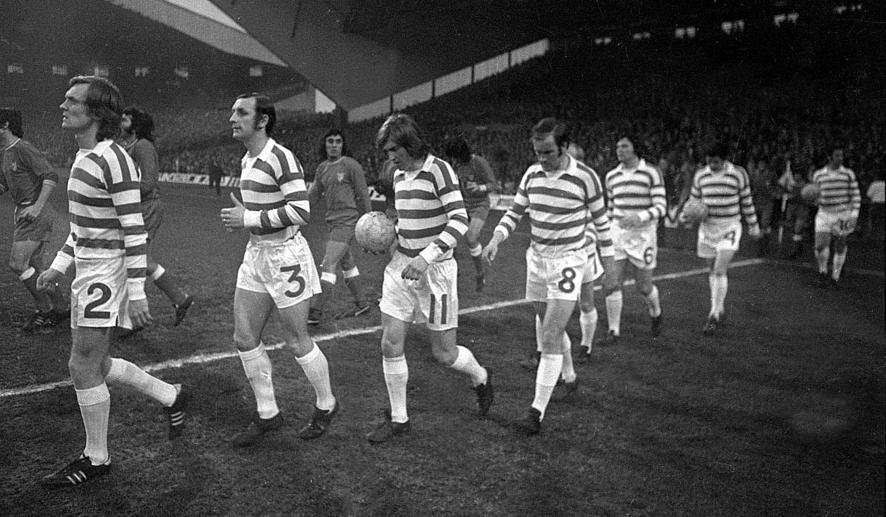 The events which took place at Parkhead on the night of Wednesday, 10 April 1974 will live long in the memory of anyone who witnessed them. That number would include myself. It was another Celtic date with destiny, a second European Cup semi-final in three seasons and, unlike the Inter Milan game of two years earlier, I had not had to fight to get taken to see this one. At 13, it was more of an accepted rite of passage and so I made my way with the other adults and the 'greetin'-faced weans' as Spanish champions Atletico Madrid rolled into town.
It had started off so well, sat perched on a stanchion in the old Celtic End with another 73,000 with hope in their hearts on a lovely spring evening, giving me a glorious panorama of the most spectacular version of "You'll Never Walk Alone" I had ever seen, the old stadium packed to the rafters with a sea of green and white scarves, the fanatical passion in those legions and generations of voices filling the night air. There was and is nothing quite like it. Anywhere. It is a cry from the very soul which still tingles my spine as I complete my sixth decade.
Unlike quarter-final opponents FC Basel, this would be a first meeting between the two clubs, although only the most remarkable of comebacks had prevented that clash taking place on the Road to Lisbon. Having pipped European champions and bitter city rivals Real Madrid to the 1965/66 La Liga title by a single point, Atletico had enjoyed home and away wins over Sweden's Malmo FF in the first round of the 1966/67 European Cup, before drawing the powerful Yugoslavs, Vojvodina. A 3-1 defeat in Novi Sad would leave them with much to do at their as-yet-unfinished new home, the Estadio Manzanares, opened the previous month on the banks of the Madrid river which bears its name, however, goals from club legends Luis Aragones and Adelardo had levelled the aggregate by half-time. With no further scoring and no 'away goals rule' in place yet in the major continental competition, unlike the two others, which would of course have seen the Spaniards qualify, a play-off would now be required.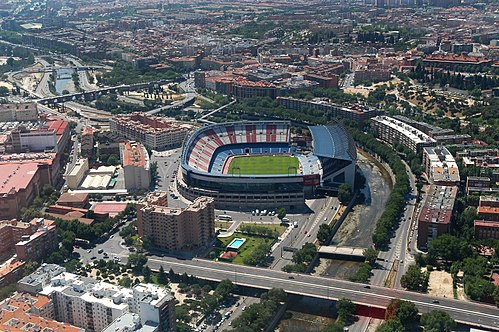 Atletico would presumably win the coin toss for home advantage, although, strangely, when this prospect reappeared at the quarter-final stage of the competition for Celtic, it had already been agreed to take place in neutral Rotterdam. In any case, in the interim, the draw for the last eight of the European Cup had paired the winner of the tie with Jock Stein's Celtic, who had just beaten French champions Nantes home and away.
The Parkhead boss would be in Madrid on Wednesday, 21 December 1966 to witness the second-round play-off in person, and he would probably have felt safe to leave after just six minutes, happy in the knowledge that his side would be returning there in the spring. By that time, goals from Adelardo and Enrique Collar had the hosts 2-0 ahead, whilst Irish referee Willie O'Neill would later send off two Vojvodina players. Game over? Not a bit of it. The Yugoslavs would level the tie just after the hour, thanks to goals from Silvester Takac and Dimitrije Radovic, and when Takac scored his second on the night towards the end of the first period of extra-time, it would be the nine men from Serbia who would progress to provide the opposition for Celtic, for what would turn out to be the most memorable night in March.
Ironically, Atletico would again have to overcome Yugoslav opposition to qualify for the semi-final meeting with Celtic in April 1974, this time Red Star Belgrade their opponents in the last eight, following aggregate wins over Galatasaray and Dinamo Bucharest. This time the hard work was done in the Serbian capital, with a 2-0 victory in the first leg, their third successive away win in the competition. Unusually, the Spaniards had drawn all three of their home legs.
Time can sometimes play tricks with the memory, in the sense that I don't recall whether or not the background of Atletico's coach and compilation of their playing squad was made much of an issue before the match.
Argentinian Juan Carlos Lorenzo had followed the path of his illustrious countryman and predecessor, Helenio Herrera, to Italy and Spain, in his case as a player at Boca Juniors, Sampdoria then Atletico Madrid.
His management CV included spells at both Rome clubs, sandwiched between leading the Argentinian national side at the World Cups of 1962 and 1966. It was his Argentina team to whom England manager Alf Ramsey had directed his infamous 'animals' reference, after the Wembley quarter-final had witnessed ridiculous scenes involving his captain, Antonio Rattin.
Celtic would sadly experience this somewhat different approach to football the following year themselves, in three games against Racing Club de Avellaneda, incidentally another club who would later be managed by Lorenzo.
There would be four Argentinians in Atletico's starting line-up in Glasgow, the most notorious of whom being left-back Ruben Diaz, who had kicked Jimmy Johnstone up and down the Hampden pitch in the colours of Racing Club back in October 1967. He was nicknamed 'The Baker,' presumably as 'The Butcher' had already been claimed when he signed up, although, surprisingly, he did not feature in rounds two and three in Buenos Aires and Montevideo.
Of Atletico's Spanish contingent, Adelardo was in his usual place, however, there was no sign of the talisman Luis Aragones, whilst international goalkeeper Miguel Reina was between the sticks. Reina's son Jose, better known as Pepe, would play against Celtic in the UEFA Cup for Villarreal, 30 years later, before moving to Liverpool then Napoli.
Jock Stein selected the following Celtic team to seek a first-leg advantage.
Denis Connaghan; Davie Hay & Jim Brogan; Steve Murray, Billy McNeill & Pat McCluskey;
Jimmy Johnstone, Harry Hood, Dixie Deans, Tom Callaghan & Kenny Dalglish.

Substitutes; Ally Hunter, Danny McGrain, Bobby Lennox & Paul Wilson.
There is a critical moment early in the match which tends to be overshadowed by subsequent events. Tom Callaghan's pass found Harry Hood and Kenny Dalglish springing Atletico's offside trap, Hood doing superbly well to round Reina and clip the ball back for Dalglish to tap home. Incredibly, the Turkish officials ruled the goal out, on the basis that the ball had crossed the line before Harry cut it back. Photographic evidence should later show this to be a travesty of justice. Had the Spanish game plan been blown away so early and had Celts had that lead to build on in front of that massive home support, who knows how history may have changed.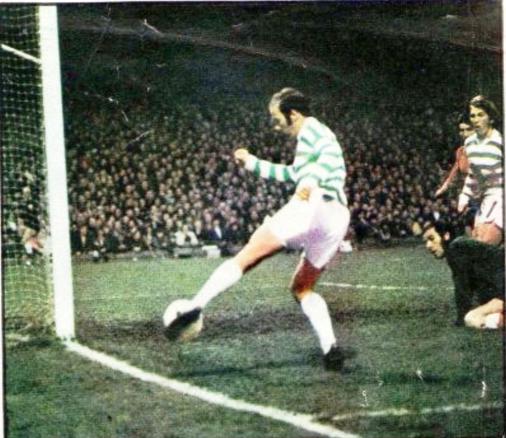 Instead, the match became a battle of attrition, Atletico allowed to commit foul after horrible foul for 90 minutes, more than 50 in total, with Celtic's attacking play broken up constantly. The yellow card count soon began to rack up, before the reds started to appear from referee Babacan's pocket. The waist-high assault on Jimmy Johnstone by Paraguayan defender Benegas early in the second half, after 'The Baker' Diaz had tried unsuccessfully to slice him in half, was worthy of an ordering off in itself, however, incredibly, he survived with a caution.
Argentinian international striker Ruben Ayala would be the first to walk. In his first season in Madrid, following a transfer from Argentinian 'Invincibles' San Lorenzo and looking forward to representing his country in the summer World Cup finals, this would not be his finest hour. Ayala had already been booked when he brought Davie Hay crashing to the ground with a two-footed lunge from behind in front of the dugouts. A quick check of his number from referee Babacan was enough to send him packing.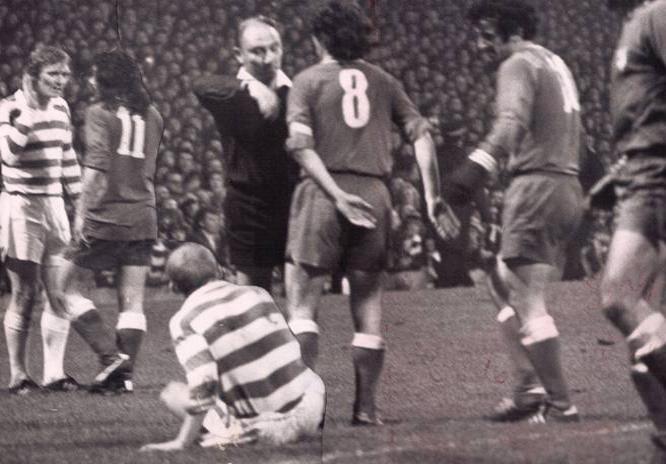 Next up was another Ruben, this time Diaz. He had gone through the full repertoire of tricks on Jimmy Johnstone, including a first-half rugby tackle which went unpunished, when the winger skipped past him for the umpteenth time. Having failed to stop Jinky legally, up went the boot to catch the winger's trailing leg before the look of innocence and hands clasped behind his back would surely convince the Turkish referee that no wrongdoing had occurred. I suspect that by this time, even Barbacan had had enough. Out came the red card and into the early Argentinian bath trudged the shocked and shocking Diaz. And then there were nine.
The shameful tactics adopted by the visitors continued, goalkeeper Miguel Reina actually elbowing Dixie Deans in the ribs as he cleared from his penalty area, only to then writhe about the ground in agony, despite the Celt making no contact whatsoever. Amongst all this, there would be the occasional outbreak of football, Harry Hood glancing his header inches wide of the post from a Tom Callaghan cross before the keeper dived to hold a Kenny Dalglish effort.
Normal service was soon resumed, substitute Quique Vicente deciding to seek his own form of retribution by following through on a clearance to kick out at Jimmy Johnstone. He limped back to his feet before being shown the third red card of the night by referee Babacan. With only eight players remaining on the pitch, one further misdemeanour would see the match abandoned, however, Atletico were too streetwise to allow that to happen. Callaghan would again deliver a perfect cross to pick out the head of Johnstone, and how fitting it would have been had the bruised and battered winger found the net to give Celts one foot in the Brussels final.
Sadly, the ball would drift wide, and with it would go the last hope of a home lead on a night when football and Atletico's reputation was shamed in Glasgow. The final whistle would trigger yet further disgraceful scenes, both sets of players, officials and even police officers involved in an unseemly rumble as they headed down the tunnel. No beautiful game tonight.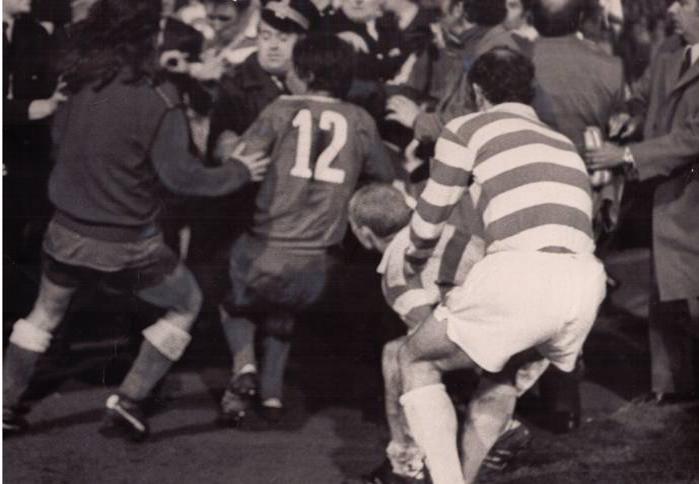 Three days later, Celts would travel to Tayside for a League match with Dundee United at Tannadice. This would now be a dress-rehearsal for the following month's Scottish Cup final, Jim McLean's men having overcome Hearts 4-2 in a midweek replay at Hampden to reach the club's first-ever national cup final, 24 hours before Celtic's bout with Atletico Madrid. The attendance at the national stadium for the Tuesday night fixture had failed to reach 13,000, for a match which would have doubled that crowd if played at Dens Park or Easter Road, whilst also helping those out who don't seem to feature prominently in such decisions, the paying customer. What wonderful governance we enjoy in the best little country in the world.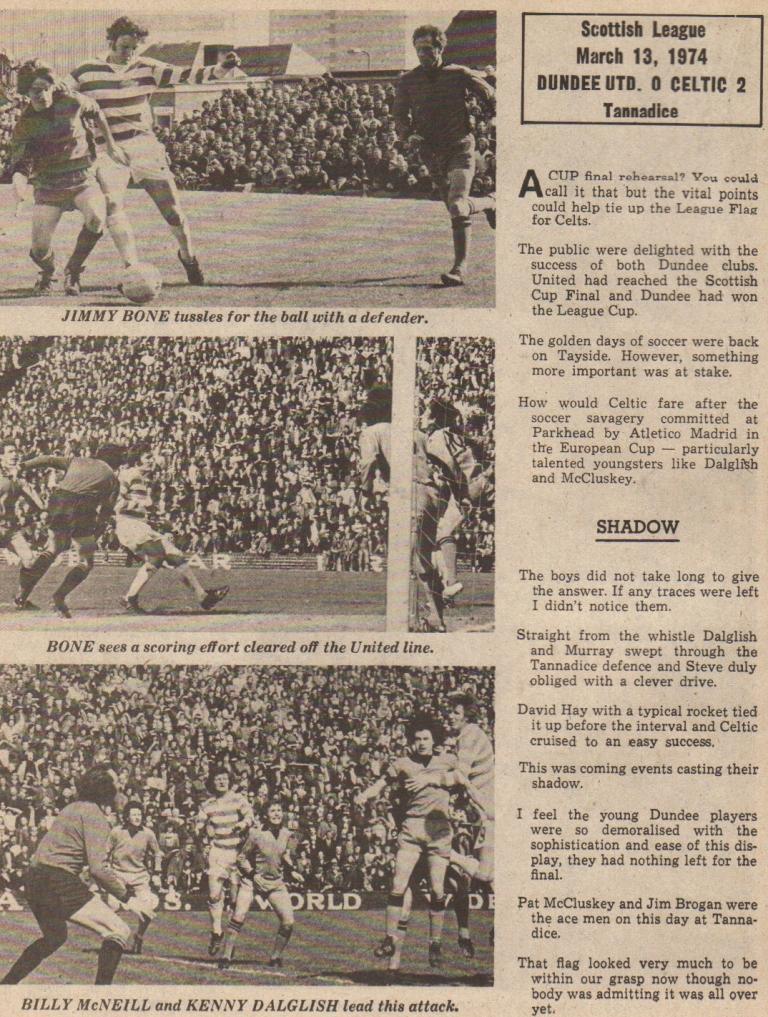 Jimmy Johnstone's legs were presumably still in ice as he missed the game on Saturday, 13 April 1974, as did Tom Callaghan and Dixie Deans. Into the starting line-up came Danny McGrain, Paul Wilson and Jimmy Bone. Celts would applaud the cup-finalists onto the pitch then promptly blow them off it, Steve Murray hammering in the opener within two minutes. The match was over as a contest 10 minutes before the break, this time Davie Hay beating Sandy Davie in the United goal with a fierce shot. Harry Hood would make way for Callaghan on the hour as Jock Stein attempted to balance game time with rest in this hectic schedule.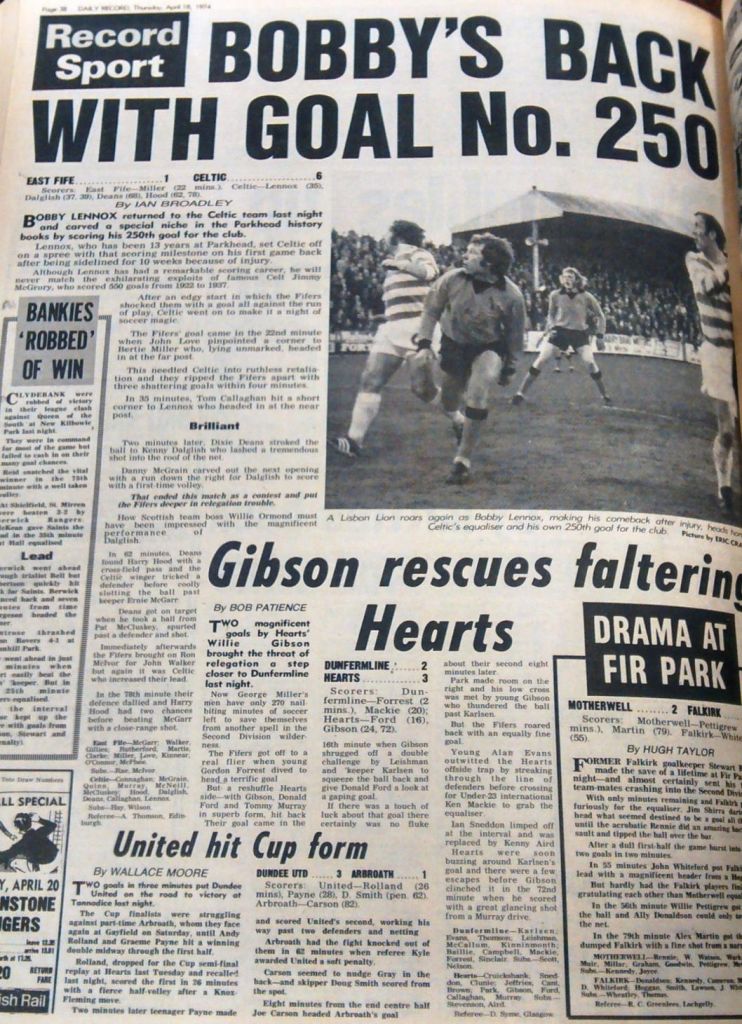 That would continue in midweek in Methil, Jimmy Quinn, Dixie Deans and Bobby Lennox all returning, the Lisbon Lion after a 10-week injury absence, whilst Jim Brogan, Paul Wilson and Jimmy Bone dropped out. There was none of the three missed spot-kicks and last-minute equaliser drama experienced in the previous trip to Bayview, 14 months earlier, albeit Bertie Miller would give East Fife a shock lead midway through the first half. Lennox would level the match with 10 minutes of the first half remaining, his 250th goal of a wonderful Celtic career, Kenny Dalglish then wrapping up the points before the interval with a superb quickfire double. A similar scoring burst midway through the second period saw the Hoops run out emphatic 6-1 winners on the night, Harry Hood grabbing his own brace either side of a Deans strike, to take Celtic within three points of nine-in-a-row.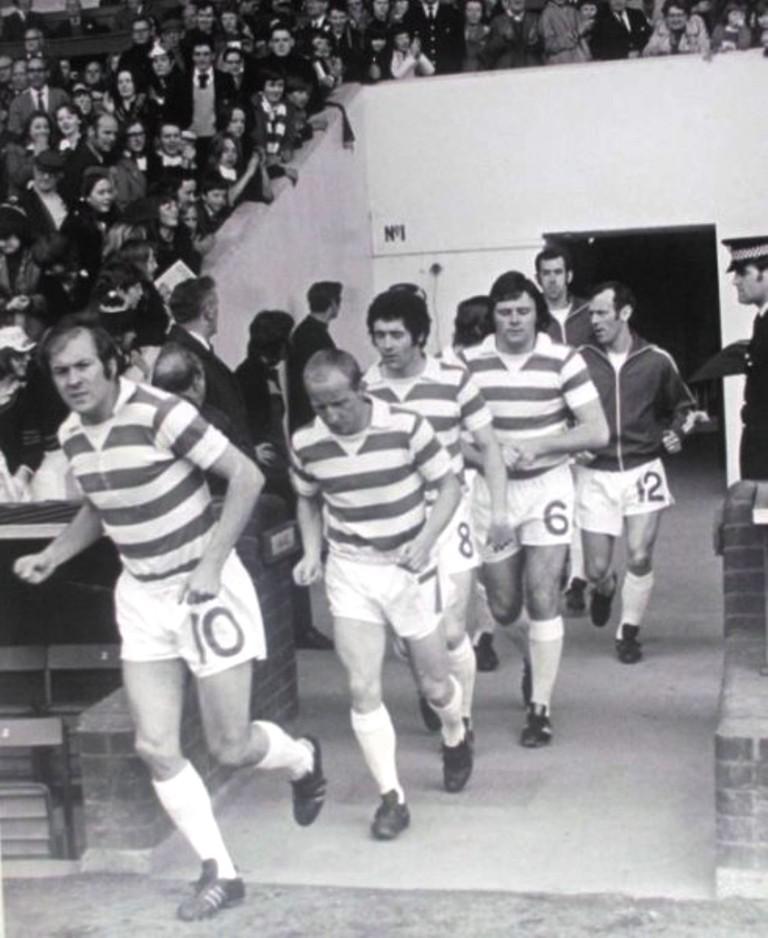 That would become one point three days later, following a 2-0 home victory over Aberdeen, Celtic's last match before the trip to Madrid. The Hoops were pretty much at full strength with the return of David Hay, Jim Brogan and Jimmy Johnstone, Dixie Deans getting things underway in the 5th minute when he lashed Johnstone's cutback past Bobby Clark.
With the midweek Atletico clash in mind, Stein withdrew both Dixie and Jinky on the hour, introducing Bobby Lennox and Tom Callaghan, however, despite total superiority, it took until five minutes from time before Celts clinched the points, albeit what a goal it was. A clever free-kick ploy involving Lennox, Dalglish and Hood saw the Dons defence follow Kenny the decoy, as Harry slipped the Buzz Bomb through to finish, Bobby expertly racking up goal number 251.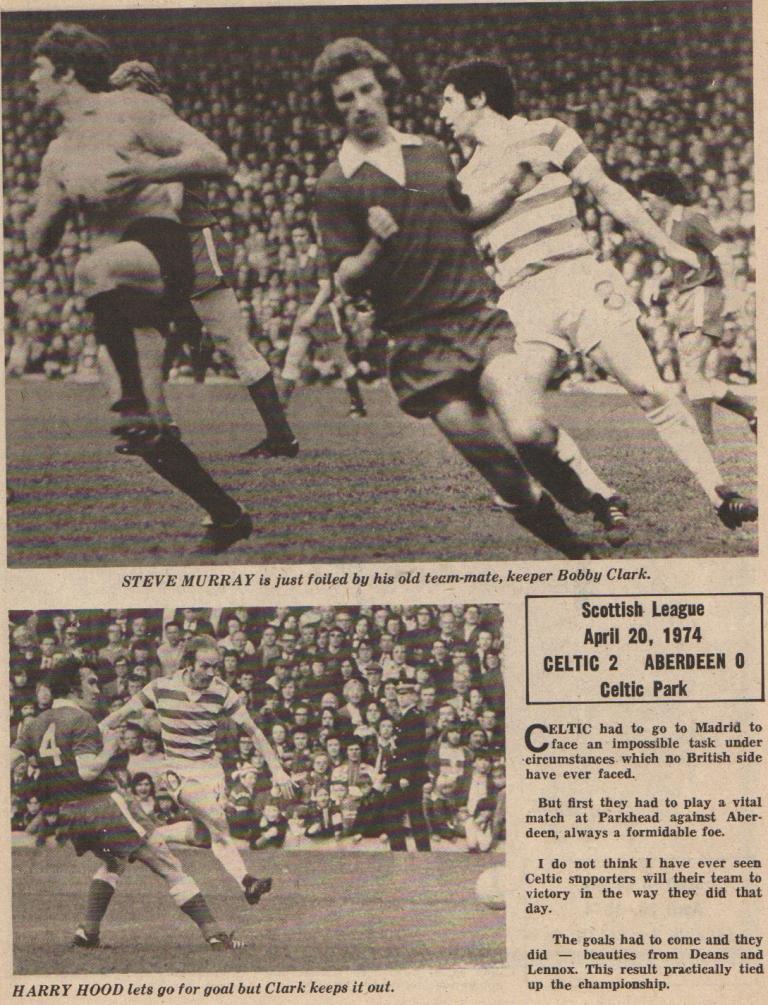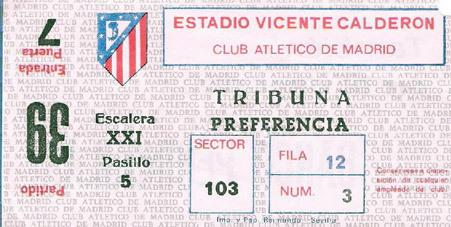 Celts landed in Madrid days later amidst unprecedented security protocols in the Spanish capital, for a football match at any rate, the now renamed Estadio Vicente Calderon resembling a war zone with its high military presence and water cannons. Both Jock Stein and Jimmy Johnstone had received death threats, with the team confined to their heavily guarded hotel.
UEFA had performed its usual pointless governance role by fining the Spaniards a mere £15,000, around a tenth of the income they could expect from the full house on the night of the game. There would be no proper warm-up or pitchside bench for the Celtic officials, who could only look at the backs of their Spanish counterparts from a ground-level dugout. It was beyond parody. It's football, but not as we know it, Jim, as Mr Spock would perhaps have said.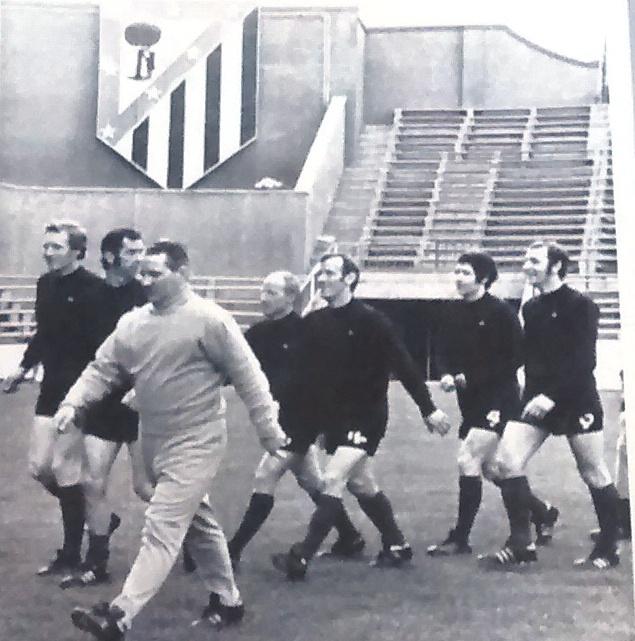 Six of the Atletico team booked or ordered off in Glasgow would be missing, the Spaniards fielding a team more geared to playing football than stopping it as it turned out. Nevertheless, the Hoops would be on the front foot before a baying mob of 70,000, to a man or woman convinced by the local media that their team had been the victims and not the aggressors at Celtic Park.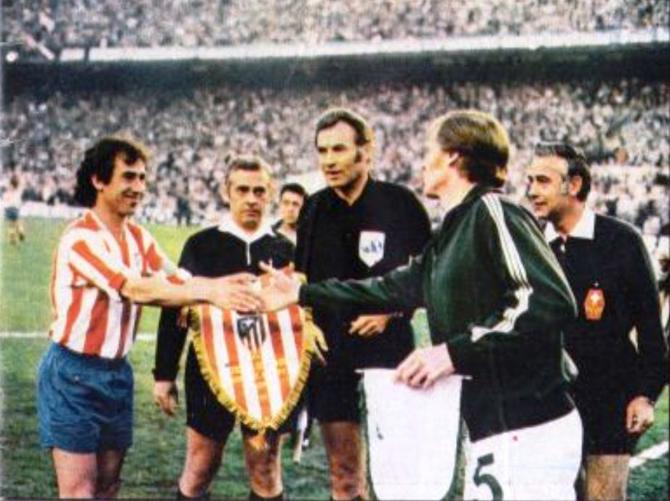 Jock Stein's main selection dilemma had been up front, the Parkhead boss eventually going for the pace of the recently invigorated Bobby Lennox over the aerial power of Dixie Deans. Midway through the first half, the explosive turn of speed possessed by Lennox would see him through on goal, only to pull his effort wide. Kenny Dalglish would force Miguel Reina into a decent save before the interval then miss the chance of the match shortly after the break, the Hoops striker caught in two minds and his effort cleared. As in the first leg, what price a goal to put the pressure on the Spaniards?
The hosts would eventually impose themselves on the game, Celtic defending deeper and deeper before conceding late on, as extra-time loomed. Fully in line with the way this tie had gone, there was huge controversy over Atletico's opener 13 minutes from time. Striker Jose Garate had been born in Argentina to Spanish parents, and was now a naturalised Spaniard, an international player in his adopted country since 1967.
He had been a prolific goalscorer for Atletico since the year before that, finishing as the country's leading marksman for three successive La Liga seasons as that decade came to an end, before twice scoring the winning goals in the final of the Copa del Rey. Garate had been anonymous in Glasgow, before being replaced by the subsequently dismissed Quique Vicente, but he would strike now to turn the tie in Atletico's favour, albeit looking for all the world offside as he poked the ball past the previously unbeatable Denis Connaghan.
With noise levels in the Vicente Calderon reaching a crescendo, Celts would throw everything into snatching the late away goal which would send them into a third European Cup final in eight years. Then, as so often happens, they were caught with a sucker punch, Madrid skipper Adelardo seizing on a loose ball to blast it high past Connaghan with four minutes to play.
As a footnote to this tie, having disgraced the game of football in Glasgow, Juan Carlos Lorenzo and his Atletico Madrid side came within seconds of winning the European Cup in Brussels the following month. Bayern Munich had defeated Ujpest Dosza in the other semi-final and would enjoy the bulk of the play in the Heysel Stadium, however, a goalless 90 minutes saw the teams play out an edgy extra half-hour.
With just six minutes of that period remaining, Luis Aragones whipped a delightful free-kick past Sepp Maier in the Bayern goal, and it looked like the trophy was heading back to Madrid after an eight-year absence, a first-ever triumph for The Mattressmakers. Then with the referee looking at his watch, Bayern defender Hans-Georg Schwarzenbeck launched a speculative shot from fully 30 yards, Miguel Reina beaten low at his post to give the Germans a second bite. They would gleefully take that two nights later, doubles from Uli Hoeness and Gerd Muller taking the Big Cup to Bavaria.
History would repeat itself for Atletico 40 years later, in Lisbon of all places and against Real Madrid of all people. Diego Godin's first-half goal would see them again have one hand on the elusive trophy as the match entered the third minute of stoppage time, before the head of Sergio Ramos gave the nine-time winners a lifeline. As in Brussels four decades earlier, that would be it for Atletico's hopes, extra-time strikes from Gareth Bale, Marcelo and a Cristiano Ronaldo penalty giving Real Madrid their cherished Decima.
And just to complete the set, the two sides clashed again in the Milan final two years later, all four Real Madrid scorers from Lisbon converting shoot-out spot-kicks as they secured their 11th European Cup at their neighbours' expense, Sergio Ramos and Yannick Carrasco strikes in normal time having been followed by a goalless additional period in the San Siro.
At this moment in time, Atletico Madrid have yet to place that gold star above their crest.
Karma may not always be instant, however, it can still be a bitch.
Thanks, as always, to the wonderful Celtic Wiki.
Hail Hail!
Matt Corr
Follow Matt on Twitter @Boola_vogue