It's Harry Hood of the Celtic whether it happened on 16 March or one day later on St Patrick's Day and in 1969 that was a Monday, we'll have to sort out. Celtic FC and Liam Kelly of this Parish both reckon that Harry signed for the Hoops on this day on 1969 while Matt Corr – who is currently writing the Harry Hood biography and also The Celtic Wiki reckon that  he was a St Patrick's Day signing in 1969. Maybe the deal was agreed on the Sunday and the formal signing and media conference etc happened the next day? That makes sense? Anyone know for sure?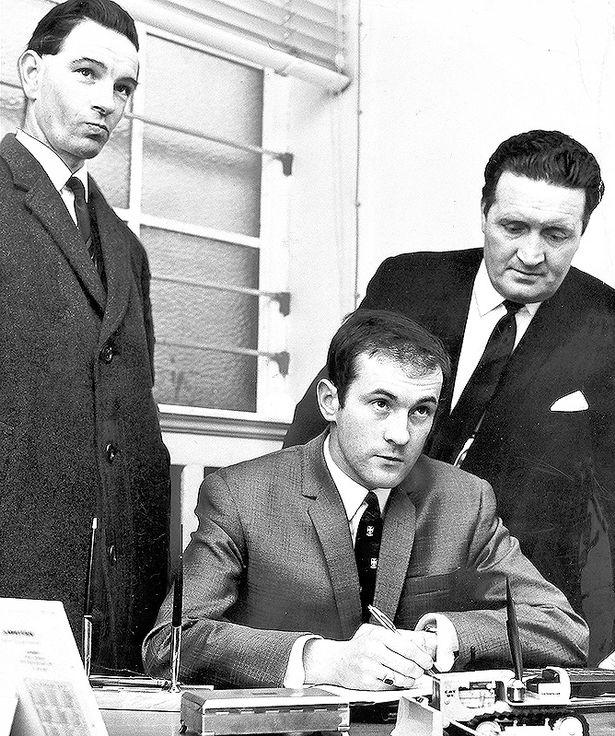 Celtic have clearly stated that Harry signed on 16 March 1969 with their On This Day tweet this afternoon…
⚽️ 123 goals
🏆 10 major trophies

One Harry Hood 🍀

The Hoops legend signed #OnThisDay in 1969. pic.twitter.com/6T6ggHWTkK

— Celtic Football Club (@CelticFC) March 16, 2021
Then there's Liam Kelly who this time last year on The Celtic Star wrote this…
Harry Hood Signs For Celtic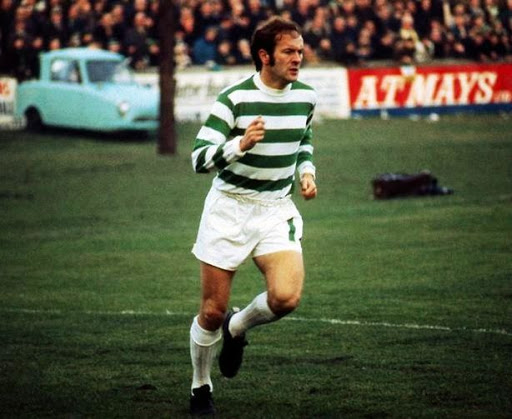 It's 16 March 1969 and Celtic have just completed the signing of a young striker from Clyde for £40,000.
A new song is born among the Celtic faithful to the tune of Mammy Blue by Roger Whittaker:
We don't need your Colin Stein
Joe Harper or Alan Gilzean
We've got someone twice as good
We've got Harry, Harry Hood
We don't need your Jairzinho
Beckenbauer or Eusebio
We've got someone twice as good
We've got Harry, Harry Hood
Harry, Harry, Harry Hood
He's half the price and he's twice as good!
Oh Harry Hood, Harry, Harry Hood…oh Harry Hood!
A Celtic legend, Harry made 310 appearances for the Hoops between 1969 and 1976. During this time, he scored 123 goals. Celtic were blessed with iconic strikers at the time, having won the European Cup two years previously, with the likes of Lennox and Chalmers, but Harry Hood offered something different.
Having started at Clyde, Hood joined Sunderland before returning to the Bully Wee for another three seasons. Having starred for the Glasgow outfit, Stein stepped in and the signing proved a masterstroke. Hood hit the ground running in a Celtic shirt, socring on his debut during a 3-0 league win over St Mirren at Love Street on March 29 1969. He also scored in his first appearances in every competition for Celtic.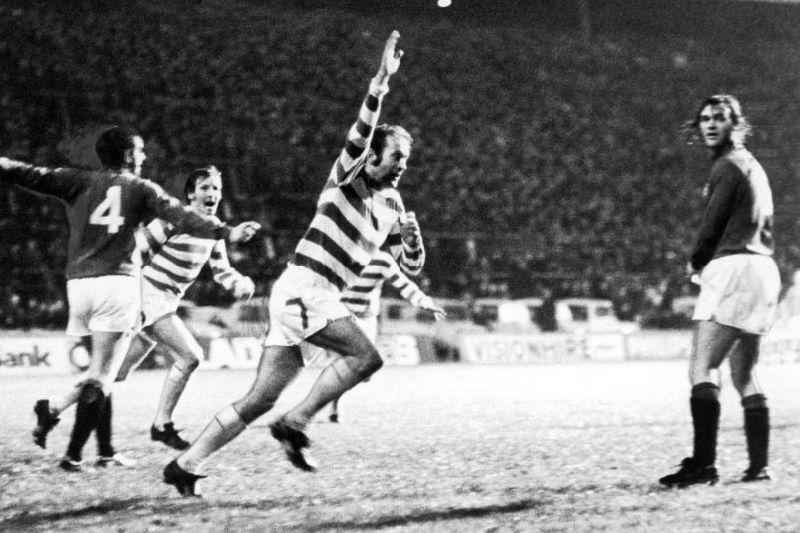 Harry won the League Cup in his first year at Parkhead and went on to lift six league titles (including Celtic's ninth title in a row), four Scottish Cups and two League Cups. He would also play in many big European games and was part of the squad for a number of matches on the way to the European Cup final in 1970. A season later, he was Celtic's top scorer with 33 goals.
Be that as it may, there is no doubt that Harry Hood is remembered for one thing above all else – he was the last Celtic player to score a hat-trick against Rangers, doing so in a 3-1 League Cup victory over the 'Gers at Hampden on 5 December 1973. (Moussa Dembele is attributed by some as earning this accolade, however, his hat trick came against the new Rangers.)
He left Celtic for America, joining San Antonio Thunder on a free transfer, before returning to Scotland to play for Motherwell and Queen of the South.
He sadly passed away after a long battle with cancer, in May 2019, one day after Celtic won the treble-treble; something he would have enjoyed given this quote from his early Celtic days: "Celtic is so much a part of me that my one aim is to be a success with them and keep at the top as long as I can."
As a footnote, it should also be said that there were many other songs for Hood, such was his popularity with the Celtic support. Another of the main vocal tributes to the striker went as follows, to the chorus of George Harrison's My Sweet Lord:
We've got Harry and Lou Macari and Kevin Barry…oh Harry Hood!
Harry, oh Harry, Harry, oh Harry, Harry
Liam Kelly
However both Harry's Biographer Matt Corr (Harry Hood by Matt Corr is out on 1st October 2021, published by The Celtic Star) reckons that Harry signed on St Patrick's Day, and he's submitted this article which was supposed to be published tomorrow. Here it is on the correct date or a day early, it matters not!  Here's Matt Corr's  feature…
It's Harry Hood of the Celtic 
There was a touch of symmetry about the match between Clyde and Rangers at Ibrox on Saturday, 15 March 1969. Back in November 1962, Harry Hood had made his debut for the Shawfield side in that fixture as an 18-year-old hopeful. He would now play his final game for the club at the same venue. Two days later, on Monday, 17 March 1969 – St Patrick's Day – after 96 goals in 197 matches for Clyde, either side of a spell at Sunderland, Henry Anthony Hood became Harry Hood of the Celtic. Things would never quite be the same again.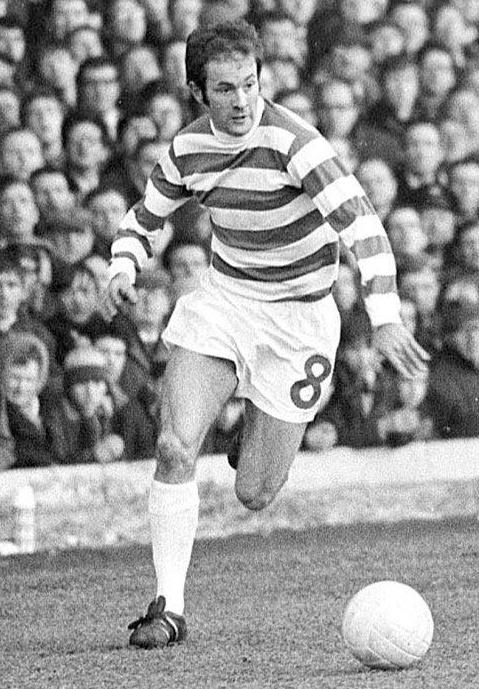 Having finally signed for his Bhoyhood club, more than four years after rejecting Celtic's initial approach, Hood would find his dream debut delayed still further. He should have played in the League game at Dens Park, on Wednesday, 19 March 1969, two days after joining Celtic, however, unseasonal weather in the city of Jute, Jam and Jim Spence put paid to that. And he was ineligible for the Scottish Cup semi-final against Morton the following Saturday – my first visit to Hampden, an eighth birthday treat from my dad – having played against the Hoops for Clyde in an earlier round.
Just like myself, Harry would have to watch from the stand as Jock Stein's men recovered from the loss of a first-minute goal to clinch a place in the final with a 4-1 win over a Greenock outfit managed by former Celtic wing-half, Eric Smith. Lying in wait for Celts at the national stadium the following month would be Willie Waddell's Rangers, the Ibrox side desperately hoping to end their three-year trophy drought since a late Kai Johansen strike in the replayed final of April 1966.
It was a bittersweet time for Celtic, the Bhoys still very much on course for a second domestic Treble in three seasons, having lost out agonisingly by a single goal to AC Milan in the quarter-final of the European Cup, "The Final before the Final," as the Italian media had described it. Many observers took the view that the Parkhead squad of 1969 was even better than their famous Lisbon predecessors of two years earlier. There was no doubt that having done the hard work in the San Siro, Celtic's failure to beat the Rossoneri in Glasgow had been a huge opportunity scorned. There would soon be others, with the city of Milan once again involved.
Harry would finally get to wear the Hoops on Monday, 24 March 1969, albeit he remained on the bench as Hibernian left Celtic Park with a well-earned 1-1 draw. Jock Stein had named the following line-up, as both Joe McBride and Chris Shevlane returned to face their former club.
John Fallon; Jim Craig & Willie O'Neill; Bobby Murdoch, Billy McNeill & Jim Brogan;
Jimmy Johnstone, Bobby Lennox, Willie Wallace, Bertie Auld & John Hughes.

Substitute; Harry Hood.
Willie Wallace headed Celts in front within 15 minutes, however, the visitors would withstand the Celtic barrage which followed, before gaining the upper hand in the second half. It was no surprise when Joe McBride came back to bite the hand which once fed him by equalising near the end. It was the Hoops turn then to be under pressure as the Leith men looked for a winner. Disappointment at the 'dropped point' in a tight title race soon turned to joy, as news came through that rivals Rangers had been beaten by Airdrieonians at Bromfield, Celts thus pulling three points clear at the top with seven matches to play in the quest for four-in-a-row.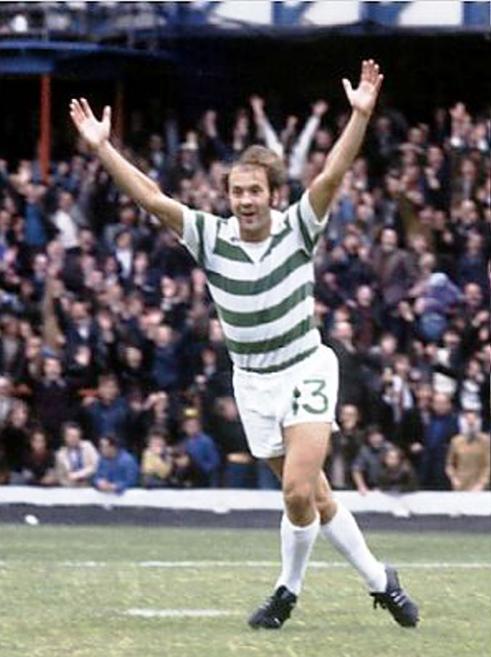 Five days later, Harry Hood would finally make his debut as a Celtic player, as the Bhoys travelled to Paisley to face St Mirren. He replaced Bertie Auld in a rejigged forward line, whilst Tommy Gemmell returned in place of Willie O'Neill and Tom Callaghan was on the bench. It was Gemmell's full-back partner Jim Craig who opened the scoring just before the break, the outstanding John Hughes doubling the lead 10 minutes into the second half. With 20 minutes remaining, Hood marked his debut with a Celtic goal, the stuff of dreams, the new Bhoy firing the ball past Saints keeper Jim Thorburn and defender Tony Connell on the line, to complete the scoring at 3-0. It would be the first of many for Harry of the Celtic.
Matt Corr