Harry Hood Weekend: Part 1 – Down Memory Lane with the Bully Wee faithful…
With Celtic playing on Sunday, we finally managed to schedule a visit to Broadwood on Saturday to talk all things Harry Hood with the Clyde faithful. It turned into a really enjoyable afternoon.
I've received tremendous support from the folk at Broadwood. My initial contact was through Bobby Harvey, a lovely man who worked at SSEB with me several decades ago, when he was a first team player at Shawfield. He played for Clyde in a Glasgow Cup-tie at Shawfield in what was Kenny Dalglish's last competitive match for Celtic in May 1977.
We got back in touch over the last few years through his work with the Football Memories Initiative, which does fabulous things for folk who suffer from dementia. One of the unsung heroes is Bobby, an absolute gentleman.
Bobby put me in touch with a number of former players and others connected with Clyde. Those included Harry's former teammates at Shawfield, John McHugh, Graham Macfarlane and Dick Staite, all of whom were kind enough to take the time and trouble to speak with me about those days and provided valuable content for Harry's biography. So too did club chairman, John Taylor, the man who took what I believe to be the first-ever photo of Harry as a professional footballer. Then there was Alan Maxwell – a Clyde fanatic – and club historian Gordon Sydney, known to all and sundry as Syd. I owe each of those men a debt of thanks.
That process commenced on Saturday , as I accepted Syd's invitation to present my thoughts on Harry's time at Shawfield to an audience of Clyde supporters ahead of the crucial League One match with Peterhead. This was part of Harry Hood day, with an article in the match programme supplementing our session in the main Arria lounge. It was lovely to finally meet Alan Maxwell and John Taylor and thank them in person.
I took along a collection of football jerseys I have pulled together over recent months to help promote the book, pride of place going to the red rugby-collared shirt which was the first-team kit when Harry began his career at Shawfield as well as that classic monogrammed white strip with red crew-neck which supporters of my vintage will associate with Clyde in the late 1960's.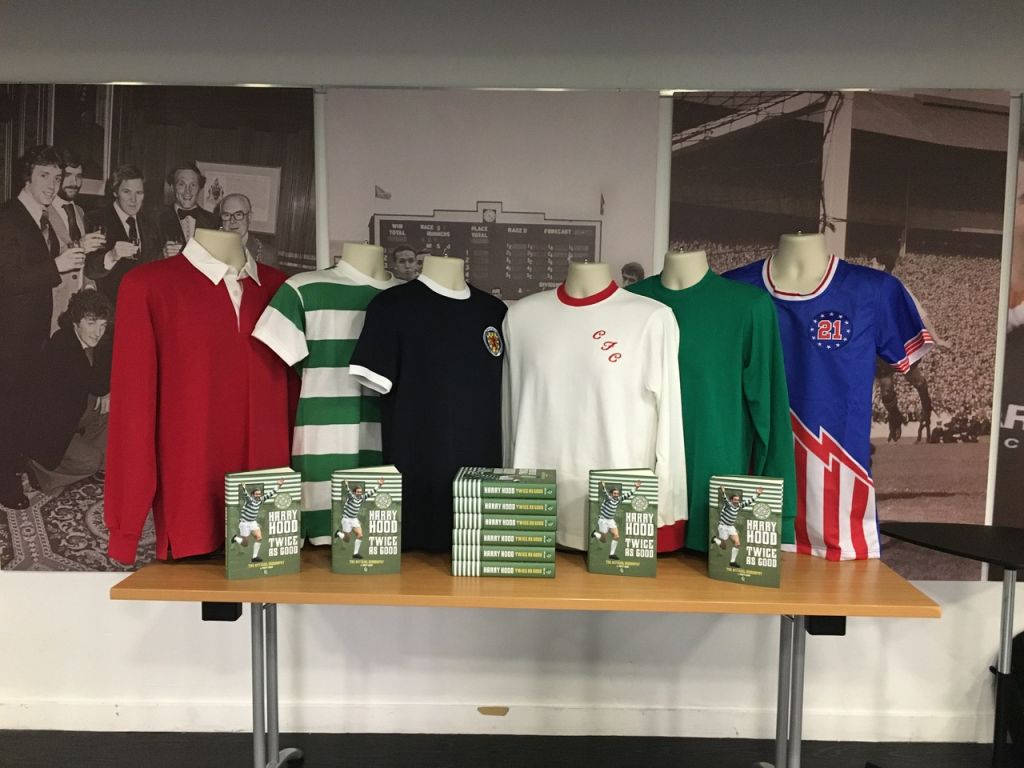 I was joined on the podium by Bobby Harvey and Nicky Hood, Harry's son. Syd was the perfect host and also MC for the afternoon, kicking things off with an introduction of the group then asking me to walk through the jerseys one by one. That triggered a few comments from the audience, some happy to share their anecdotes and memories of Harry at Shawfield and some of the wonderful characters he lined up with. I think if the kick-off hadn't intervened, we'd still be reminiscing now.
Football is such a wonderful vehicle to get folk talking and sharing memories. I see it all the time on the tours, but it can be easy to forget that supporters of other clubs are equally as passionate when discussing their own heroes and for some in the lounge, Harry was their Jinky, Kenny or Henrik. They recall being heartbroken teenagers when he opted to move the mile or so to Celtic Park, as indeed I was when the King joined Liverpool in the summer of '77.
Summer was a distant thought as we took our seats in the main stand at Broadwood. Syd had warned us that the stadium could be a cold experience at this time of year (or any time of year for that matter) and he wasn't wrong. The match was critical in terms of Clyde's survival hopes even this early in the season, with the opportunity to leap-frog their visitors into third-bottom spot with a victory.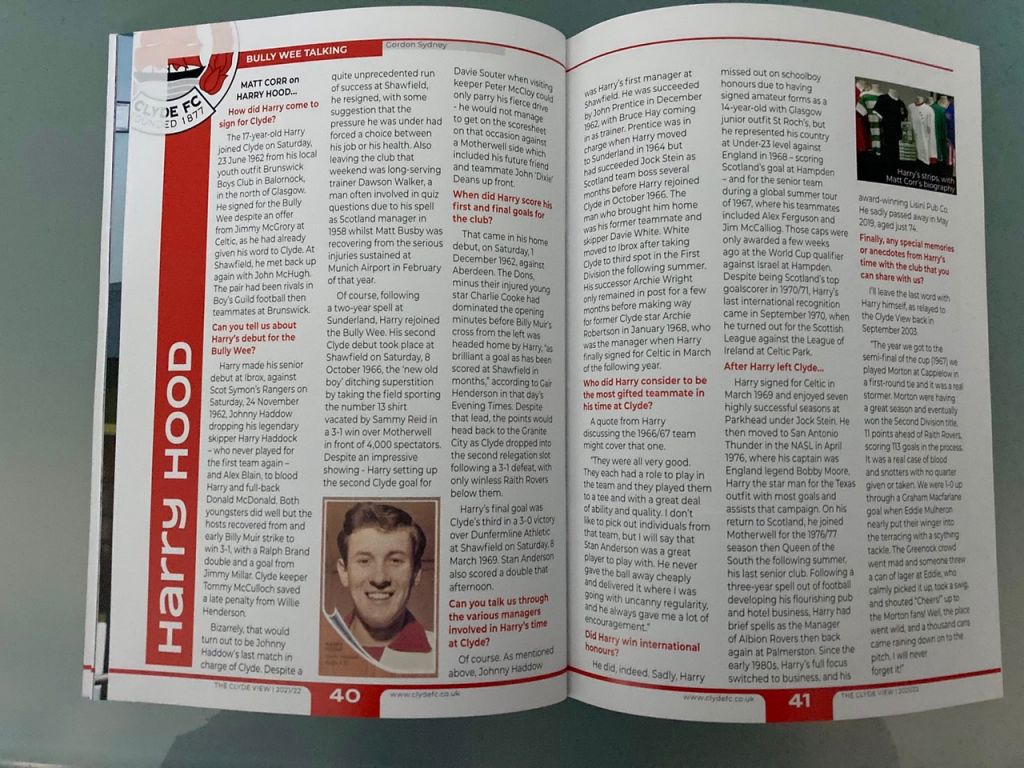 We sat shivering as Peterhead started on the front foot, striker Russell McLean the main man with a goal and an assist midway through the first half as Clyde were in danger of being on the wrong end of a heavy defeat. It was weird watching a match which didn't feel like life or death from a personal perspective, although Nicky and myself were clearly the only two spectators there in that category, judging by the time-honoured insults handed out freely by the home support to opposition and referee alike.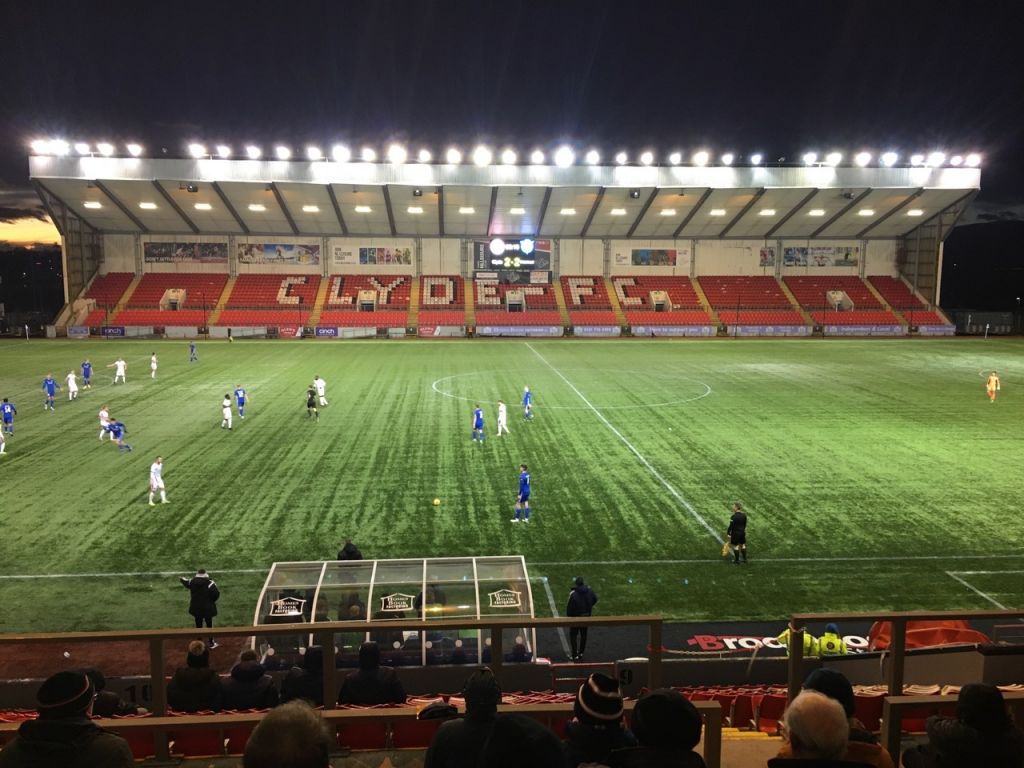 The key moment in the match came on the stroke of half-time, when Clyde skipper David Goodwillie was brought down in the box. He stroked the spot kick home with barely time for the restart before the much-needed tea and hot pies were calling. The goal revitalised Clyde, who restarted with a real sense of purpose. Goodwillie levelled the match early in the second half with a beautiful solo goal and a real end-to-end tussle followed before the referee called time at 2-2. A point gained or two points lost, depending on your perspective.
Back in the lounge, there was time for a bit more chat with the supporters before braving the elements and heading home. A thoroughly enjoyable afternoon with lovely bunch of passionate football supporters.
Hail Hail!
Matt Cor
The official biography, Harry Hood: Twice As Good, is available now from Celtic Star Books,  all official Celtic outlets including the club's online store and also from Amazon.
Keep up to date on Twitter @HarryHoodBook