HARRY HOOD, who passed away at the beginning of June, would have been 75 today. As his passing happened in the close season, we never got the chance to show our respects to this Celtic legend at a game. Perhaps tonight is the perfect opportunity for the Celtic support to put that right?
It would be great if we could all stand and applaud Harry's memory on the 75th minute this evening, and even chant that fabulous song we had for him back in the day…"We don't need your Colin Stein, We don't need your Alan Gilzean, We've got someone twice as good, We've got Harry Hood!
Or maybe just 'Oh Harry Hood, Harry, Harry Hood, oh Harry Hood!" – or just stand and applaud a Celtic legend. It will mean a great deal to his family and friends. Please do what you can to get this idea out to as many supporters as possible today, tell your friends,  pass the word on your supporters bus or share the idea on social media.
On this day in 1944, Harry Hood is born. He played for Celtic during a golden period of the club's history and made a massive contribution to the success that Celtic enjoyed. pic.twitter.com/rlBUg23IvW

— CelticLisbolingoli (@CelticLisboaa) October 2, 2019
Here are some words on Harry from David Potter.
HARRY HOOD was one of my favourites, at a time when I had many favourites and he was certainly one of Celtic's better goal-scorers.
Fast, direct and prolific, he was itching to get to Celtic long before he ever got there, and I cannot help feeling that if the McGrory regime had gone for him in 1964, things might have been different.
As it happened, he went to Sunderland instead – that graveyard of many players – returned to Clyde and it was March 1969 before he first donned the Hoops, scoring a vital goal at St Johnstone late in the game to give Celtic a victory.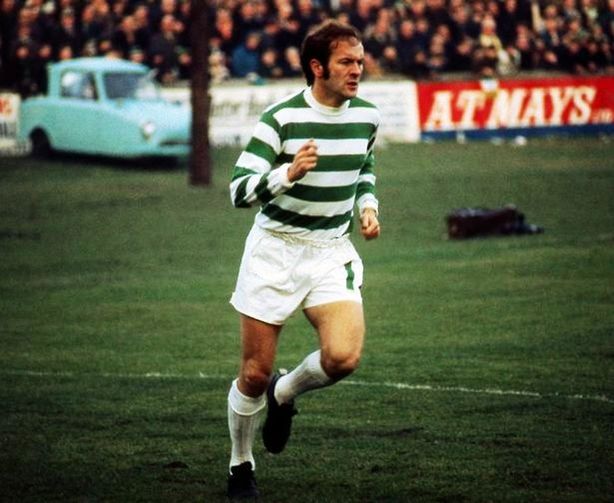 Of course the competition for the role of the striker was stiff. But Stein knew a good goalscorer when he saw one, and Harry fitted that role to perfection.
Several great moments spring to mind. One was the taking of the penalty kick in the replayed final of the Scottish Cup of 1971, another goal in the 1974 Scottish Cup final against Dundee United in 1974, his hat-trick in a League Cup semi-final against Rangers in 1973 – a rare phenomenon – but the best of all was surely the goal in September 1969 at Ibrox which earned us a 1-0 victory over Rangers.
The rain was heavy, the ground was wet, but Harry's swivel and shot was a thing of exquisite beauty, leading to the birth of the "Hare Krishna" chant – except that the Celtic version ended up with "Harry Hood".
There was also the "We don't need your Colin Stein, We don't need your Alan Gilzean, We've got someone twice as good, We've got Harry Hood!"
David Potter
Happy Birthday Harry Hood! pic.twitter.com/hmSGk8u6IB

— Li'l Ze (@LilZe85) October 2, 2019