John Traynor and Tony Griffin, co-authors of "A Season in the Sun" ('ASitS'), which forms Part 1 of IN THE HEAT OF LISBON. It is a fascinating insight into their inspiration, motivation and methodology.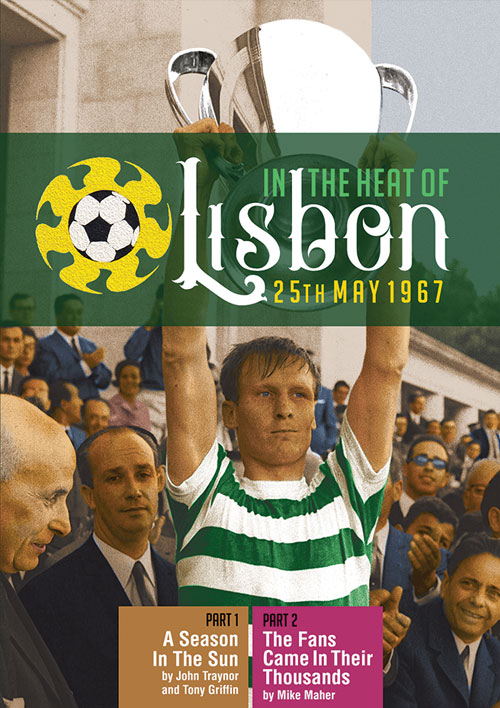 What prompted you to write 'ASitS' so many years after the event itself?
John: The Silver Jubilee of Celtic's landmark triumph seemed like the perfect time to put that whole glorious season on record and into perspective on the world football stage. On a more personal level, I saw it as a kind of 'atonement' for not having made it to Lisbon, which remains a great source of regret. I knew Tony would be the perfect foil, with his deep knowledge of and passion for Celtic, so I decided to float the idea.
Tony: John and I were always on the same wavelength in relation to Celtic, so when he put the idea to me, it was a no-brainer. We got to work and it all just kind of fell into place. It was quite hard going at times, mind you – but a real labour of love for both of us, not what you would call a chore at all.
Right – but co-authorship can be a tricky business, no matter how closely your thoughts on the subject might dovetail. So, how did it work, from a practical point of view … the day-to-day nitty gritty of putting it all together?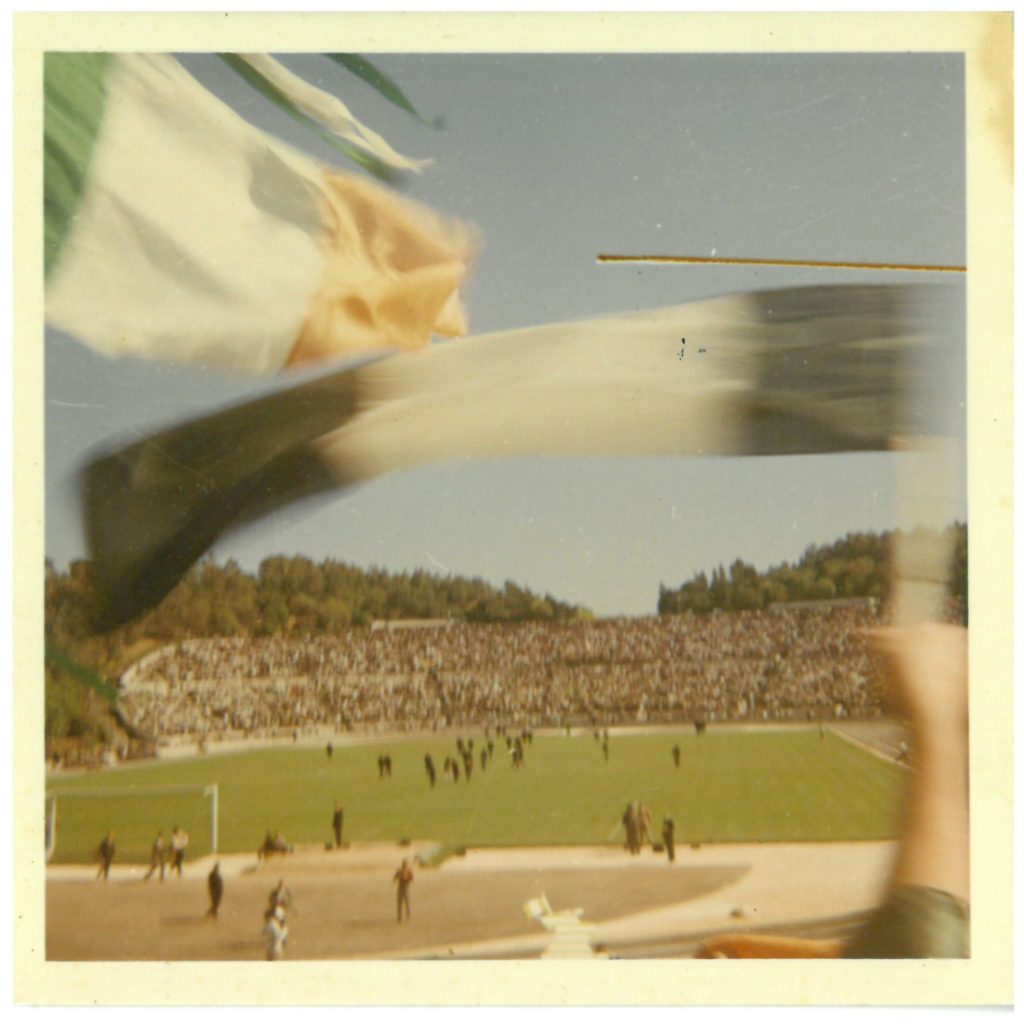 John: Once we got going, it all went remarkably smoothly. Tony did most of the research. With his rich, in-built fund of Celtic data to build on, that made sense, rather than both of us digging away and duplicating effort, which would've been not only a waste of time but also very counter-productive. My job would be to write and put together all the introductory stuff and the various appendices, while co-ordinating, editing, expanding and structuring Tony's rich flow of narrative.
Tony: Yes, I was happy to graft away in the background, piecing the season together month by month, competition by competition and submit successive initial drafts. John, with his publishing background and editorial expertise, would then carefully draw it all together and craft it into a cohesive text, subdivided into manageable chunks that made chronological sense of the action, chapter by chapter.
Sounds like great teamwork – how long did the whole process take?
John: Looking back, it's hard to recall exactly; but surprisingly quickly, given the detailed nature of the work involved. A matter of months … say 6-9, or thereabouts. The donkey work really started after the writing – raising the necessary funding, finding the right printer (… and thereby hangs a tale, in itself …) at the right price to make the project viable, marketing plans etc. Routine publishing work, if you like; but in a very different environment from today's world of electronic wizardry, instant communications and printing-to-order. I was fortunate enough to chance upon an unexpected benefactor who believed enough in what Tony and I were doing, to take a leap of faith, put up the money – and risk ending up with nothing but a room-full of unsold books! I will be forever grateful to that speculative, anonymous backer, without whom "A Season in the Sun" would never have seen the light of day. Happily, his entrepreneurial faith paid off in a successful project and to general acclaim.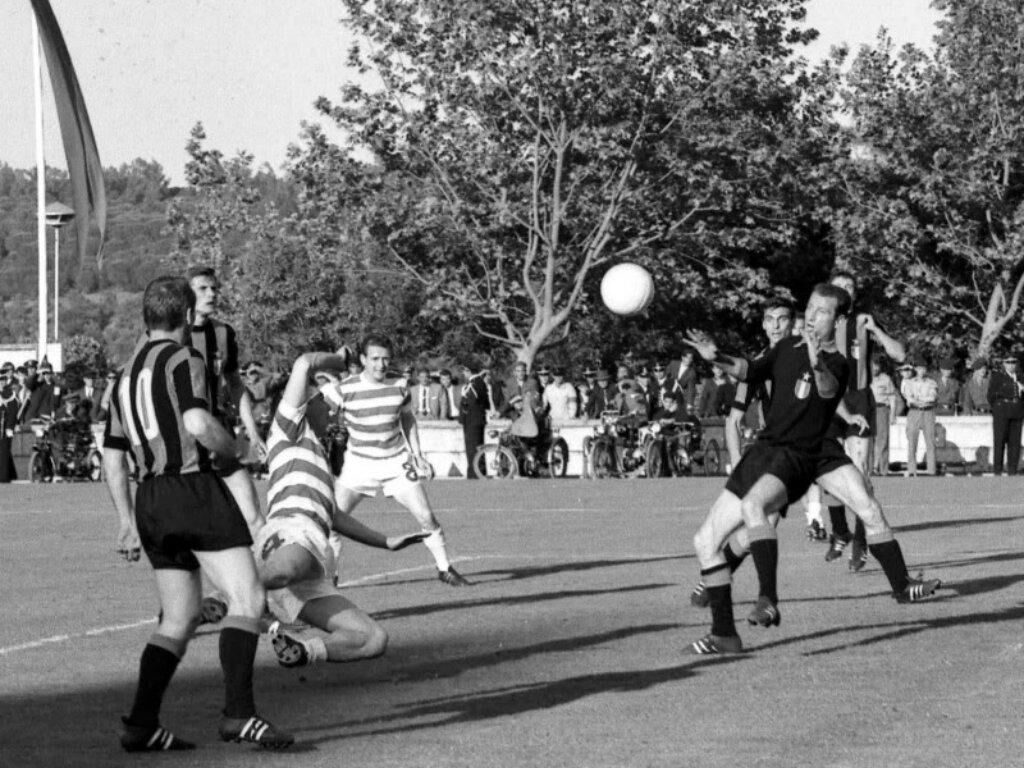 Where did the idea come from to weave little social cameos into the action throughout the story?
John: I think Tony can probably answer that better than me. It emerged as a feature of his initial drafts right from the outset. Suffice it for me to say it was a masterstroke that gave context to the whole thing.
Tony: That was a very distinctive period in our national history. Socially, politically, economically and culturally, "The Swinging Sixties" was, in my opinion, unlike any era before or since. There was so much going on in the fields of music, fashion, politics and national / international affairs. From The Beatles and Carnaby Street to Vietnam and Wenceslas Square, the sixties was a decade of human turmoil that began to shape our post-war world as never before. It seemed logical to chart Celtic's dramatic 'Wonder Year' against an equally tumultuous national backdrop.
What would you say was the key moment of that fantastic season?
John: For me, that's easy. In a season of high points and key moments, the European Cup quarter-final, second leg at Celtic Park against Vojvodina Novi Sad stands out like a beacon; and within it, that pivotal moment right at the death, when Charlie Gallagher's pinpoint corner kick picked out the advancing Billy McNeill for the goal that clinched a dangerous tie – which could have gone either way, either on the night, or in the beckoning play-off. Without that instant on a crackling European night, there might have been no Lisbon – and Celtic history could have been changed forever.
Tony: Hard to argue with that – but if I can be allowed to turn the question on its head a little, I'd say one of the key moments for Celtic's "Season in the Sun" had happened over a year before it even began. Fittingly, the same two key figures featured as in John's cameo … as Charlie Gallagher swung over the corner that Billy McNeill converted for the winning goal of the 1965 Scottish Cup final. That cathartic victory ended years of hurt for Celtic and Celtic supporters; and it set the club up for all the magnificent seasons to come. Jock Stein, himself, said that it might not have gone so well for his Celtic without that triumph – and I agree with him!
How has the new ITHOL edition been updated?
John: An 'IN MEMORIAM' page has been inserted to the honour of the deceased members of the Lions Squad. Without wishing to give too much away, a fascinating new Foreword has been added. There is a short reflection on how different the game's priorities are today from back in 1967. A verse tribute to 'Our Lisbon Lions' and an extra Appendix detailing the 1966/67 playing squad have been added at the end. Beyond the foregoing and apart from a few minor edits, either for clarification or expansion of one point or another, the basic text is the same as the 1992 edition.
Why did you decide to re-release the book?
John: Another easy one. Fifty years down the line from Lisbon, we will never get another chance to celebrate our heroes like we can right now, with the majority of them still in our midst. Any subsequent 'landmark' Lisbon festivities that I may be fortunate enough to survive to see will have a decidedly different flavour to them. I was very much a case of 'now or never' for me and "A Season in the Sun".
Tony: Ditto… and of course, the unmissable chance to do something special for The Lions!
In The Heat of Lisbon which is available HERE. Order today and you will also receive a copy of That Season in Paradise at no extra cost with your order, so you buy In The Heat of of Lisbon and get That Season in Paradise for FREE.