Happy Birthday to Celtic's King of Kings Henrik Larsson who turns 50 today. Oh how time flies…
🍀 Celtic legend
🔥 All-time competition top scorer

👕5⃣6⃣
⚽️4⃣0⃣

Happy 50th birthday, Henrik Larsson! 🎈@CelticFC | #UEL pic.twitter.com/cuxyDyP4Eu

— UEFA Europa League (@EuropaLeague) September 20, 2021
⭐️ All-time Swedish great
🥇 #UCL winner with Barcelona
👑 King of kings at Celtic

🇸🇪 The brilliant and beloved Henrik Larsson turns 50 today 🎂#HBD | @svenskfotboll | @FCBarcelona | @CelticFC pic.twitter.com/qbrme6u6Xk

— FIFA.com (@FIFAcom) September 20, 2021
— JustAnOrdinaryBhoy (@ordinarybhoy) September 20, 2021
"You are my Larsson
My Henrik Larsson"

Happy birthday Henrik.. 💚🎂💚🎂💚🎂 xxxx@JordanLarsson17 pic.twitter.com/FJQvMQPxIW

— Babs McMahon 💜💚 #RememberMyNoah💙 (@BarbaraMcMahon8) September 20, 2021
"This is the club for me. This is where I made myself as a player, this is where everybody got to know me and this is the club that I will be eternally grateful to."

Happy 50th birthday to Henrik Larsson 🍀

— 🍀 Celtic1967.com 🍀 (@Celtic1967_com) September 20, 2021
Henrik Larsson & son Jordan, LarssonJunior is making his way in football & doing well in Russia at the moment. It must be tough having such an illustrious dad but as his old man said, you make your own footprints in life, you don't follow another's. pic.twitter.com/4xGSA4brLb

— Lisbon Lion (@tirnaog_09) September 20, 2021
Happy Birthday Henrik Larsson! 🎂 pic.twitter.com/gA4lpLKL5b

— Classic Football Shirts (@classicshirts) September 20, 2021
50 years young today for Celtic and Sweden legend Henrik Larsson ⚽️🇸🇪🍀

Whats your favourite memory of Larsson in the UK and on the international scene?#thefansfavourite pic.twitter.com/CrMUZFo4Tj

— The Fans Favourite (@TheFansFavourit) September 20, 2021
Henrik Larsson
King of Kings
1997 – 2004 🍀 pic.twitter.com/HCmNj86Ocd

— 50-fifty (@Shop50fifty) September 12, 2021
Happy 50th Birthday to the one and only King of Kings, Henrik Larsson 💚🍀🇮🇪🎂 pic.twitter.com/Jvjr8BdpUZ

— Tyneside No1 CSC (@TynesideNo1) September 20, 2021
🇸🇪 Happy 50th Birthday, Henrik Larsson!

😏 How about this for composure?

📽 @FCBarcelona #Barcapic.twitter.com/8uIwFXKPlM

— beIN SPORTS (@beINSPORTS_EN) September 20, 2021
Happy Birthday Henrik Larsson 🎂

Signed for Celtic in 1997 for £650k, scored 242 goals in 315 matches

What a player! 🟢⚪️pic.twitter.com/HL4vLMCeQV

— Football Remind (@FootballRemind) September 20, 2021
Former Celtic player turned pundit, Craig Burley, admits that Celtic legend Henrik Larsson's meteoric rise to become our Magnificent Seven was as surprising as it was welcomed.
Burley, a 1997 summer signing by Celtic's Dutch icon, Wim Jansen, claims that when Larsson joined nobody was prepared for what was to come. "We both signed for Celtic on 25 July, 1997, and as it turned out, I'd played against Henrik Larsson at Ibrox the year before in a World Cup qualifier, as reported by Scottish Sun. "When I heard he was joining too I thought, 'Well, he's a decent old-fashioned winger', but no more than that.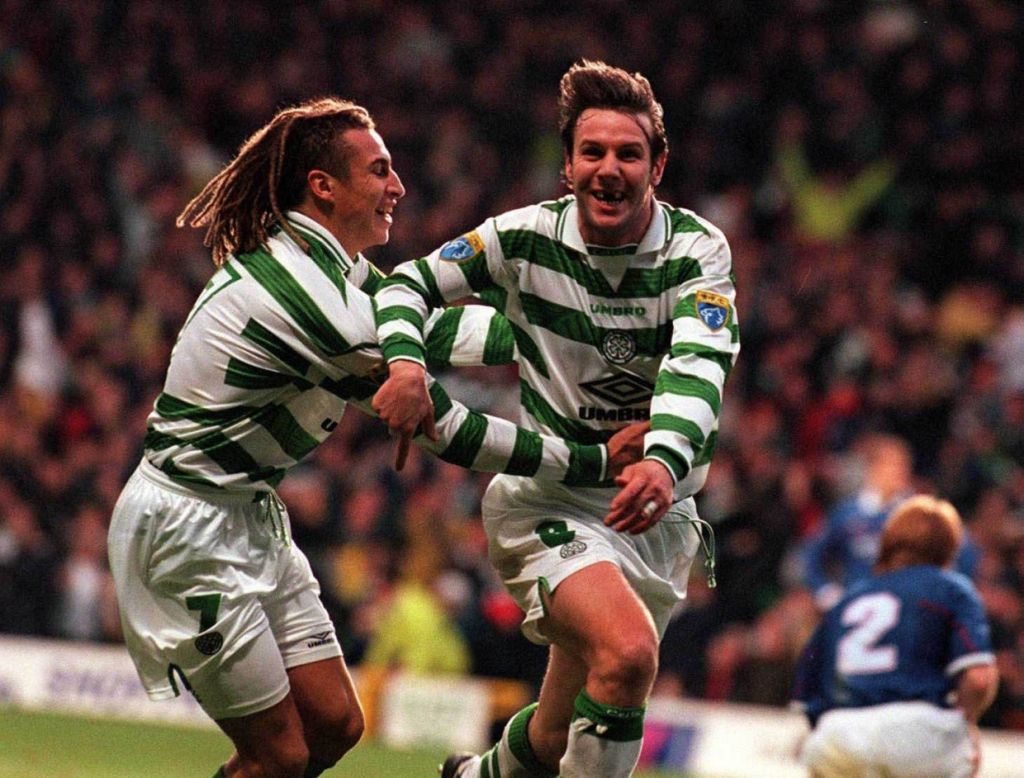 "You have to remember that the Larsson who arrived at Parkhead from Feyenoord wasn't the one everyone thinks of now," the former Celtic midfielder added. Burley, who scored against the oldco that season to help stop their own ten-in-a-row, likes to remind Henrik from time-to-time of his inauspicious beginnings in the Hoops. ""Like the rest of us, he had a terrible start to that season.
"Everyone remembers his debut at Easter Road, when his misplaced pass set up Chic Charnley to score Hibs' winner. Henrik still gets annoyed when people mention that to him. It's like, 'Yes, but what about the other seven years?'
The ESPN pundit still can't believe the trajectory Larsson's career took, and cannot articulate enough the credit that a certain Dutchman deserves for this. He continued: "But I have to stress that, in those early games and even at training, there was no indication he was going to become Celtic's talisman or be such a prolific scorer.
"That wasn't obvious to any of us," Burley admitted. "It's frightening to think about it now, but it took the unlikely appointment of Wim Jansen — who had been struggling in Japan — as Celtic's manager to rescue Larsson's career.
"At that time Feyenoord didn't know what they had with him and were trying to offload him. In fact, it looked as though he might just meander back to Helsingborgs, where he might never have been heard of again.
"Fortunately, though, Jansen knew about the release clause in Larsson's contract, and he'd seen something in him that no one else had. He doesn't get the credit he deserves for this, but he's the man who transformed Henrik into a superstar.
An ice-cool finisher in front of goal, Larsson always appeared magnanimous in defeat and humble in victory; however, Burley instantiates this was not always the case. "People think of Henrik as this cool, calm and collected figure, but after a defeat, or even a draw, he'd come off the pitch in a temper.
"He wasn't one of those guys who could just go home and forget all about it. I recall him sitting in the dressing room raging about results and performances — his and everyone else's.
"Larsson was very intense, especially when it came to the business end of a season. He and Wim had a great relationship, but Henrik would get into it with him as well.
"There was one afternoon when they were going head to head and shouting and bawling at each other. Bad results hurt him, but that was one of the reasons he was so great.
Whilst the ex-Chelsea player admits that he played with more supremely talented players, Burley maintains it was Larsson's mental blueprint of the game that singled him out as special. He said: "I was fortunate to play alongside Ruud Gullit and Zola so Larsson wasn't the most talented team-mate I ever had.
"Henrik wasn't the biggest, fastest or strongest, but he had a fantastic football brain."
As Henrik turns the big 5-O on Monday, few players are remembered as fondly as 'The King of Kings'. Is it hardly any wonder, with a record of 242 goals in little over 300 games?
Paul Gillespie