'Here we Glow,' Celtic fans sang In Kiev, 6 months after Chernobyl – Matt Corr's European Adventures…
Celtic historian. European away trip veteran and travelogue writer. Celtic Park tour guide and match programme contributor. Marathon man. Author.
A man of multiple talents and one of Celtic's "go-to guys" for institutional knowledge, Matt Corr wears many hats for the Hoops. The Celtic faithful have regaled in Matt's reports from away games in Europe over the last couple of seasons – as well as his Celtic Star articles about past games and other historical characters and events. Not to mention that he ran the New York City and Tokyo Marathons last season on behalf of the Celtic Foundation, with another notable fundraiser scheduled for later this year. Watch this space.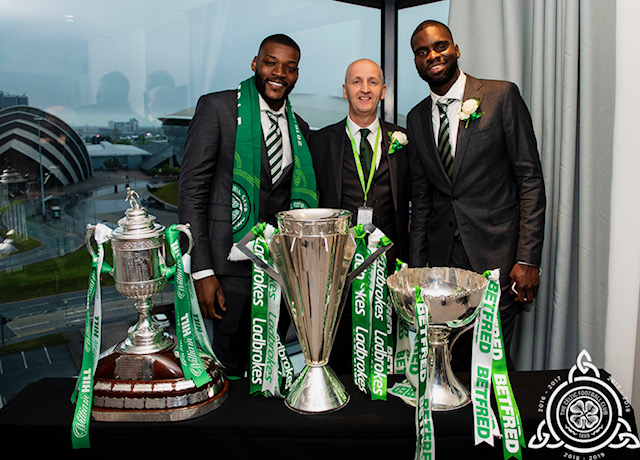 I caught up with Matt between the globetrotting, the Celtic Park tours, his book-writing, and his marathon training for this interview…
First, Matt, thank you for taking time to talk with us. For a man who seems to have lived a life in green-and-white, can you take us back to the beginning – how did you become a Celtic supporter and, over the years, how did you come to be a Celtic historian?
Hi, Larry. Thanks for inviting me along. I guess like many supporters, Celtic was "given" to me by my dad. He was a lifelong supporter, heavily involved in the Celtic Supporters' Association — running buses to the games, establishing and running the social club in our area — from being a young man until long after he retired. He was the full package.
Once I was old enough to go along with him and my elder brother, the autumn of 1965, that was me hooked. With a brief break in the mid-'70s, when I played on a Saturday afternoon for St Roch's Boy's Guild in the Garngad — Jimmy McGrory's old team — Celtic has been my thing.
Dad and I attended games all over the UK and Europe together, even into the new millennium, by which time my own kids were coming along. That "rite of passage" is one of many things which makes Celtic just that little bit more special. The "fairytale club," as Billy McNeill once said. You don't really "choose" to support them. It's in your DNA, if that makes any sense. When I mention that on a stadium tour there is a room full of "nodding heads," so I don't think it's just me!
In terms of the history aspect, that's perhaps a bit more difficult to be specific about. It just sort of happened, I guess. Dad had started buying the match programmes from the early '60s and the Celtic Views from its launch in 1965, so that became a ritual and we built up quite a collection over the years.
That would pretty much be my core reading material sorted as a youngster and we continued doing that up until I was working, and even beyond that. As a kid, I would absorb anything I could get my hands on regarding not just Celtic but football in general, old books of my brother's, newspapers, library books etc. I became a bit of a sponge. A football geek perhaps.
By my early 20s, I was competing in the annual Radio Clyde "Kick-off" quiz programmes, both individually and as part of the Celtic team, and on one occasion, we represented the club in the national Rothman's quiz finals, winning the Scottish heat but losing to Leeds United at Elland Road in the semi-final. Good times those.
As one of the most prolific writers on all things Celtic – on club history and the travelogues on the European away games – I would assume that, like me, Celtic fans who cannot make those games revel in the reports from places like Cluj or Rome.
To your credit, the reports seem to be, in equal parts, half travelogue and half game reports. Can you take us through how you came up with the idea of hitting the road with the Hoops and some of the ups and downs of following the Bhoys abroad?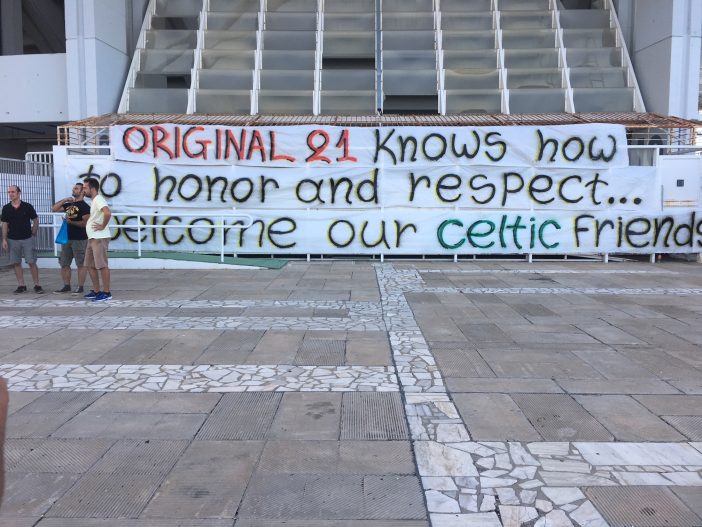 That all started in Athens. I had only been writing for The Celtic Star for a few months. Just small pieces initially, a title win article here, an anniversary there. That kind of thing. The tie with AEK was the first time I had traveled abroad myself, following my retirement. Kids and pals were working but I wanted to go. Rather than the usual day or overnight trip, I decided to turn it into a short holiday break, allowing me to see the city a bit differently, and take in the other stadia if possible. Suit myself. I was a bit nervous about doing that but decided to give it a go.
The diary idea just sort of came into my head. I thought it would be a good record, if nothing else, and it might be a bit of fun to do. People might find it interesting. Idea was to present a different perspective on the match — or maybe that should be event — insofar as what the supporters were doing or feeling. How we mixed. What the place and the locals were like. Bring those aspects to life if you will. The actual game itself is covered by the regular and club media, so I don't tend to focus so much on that, other than the key highlights. It's more about our story, who we are and how we manage the challenges and enjoy the places and the people we meet abroad, the laughs, the songs and the tears, all in the course of following the team we love.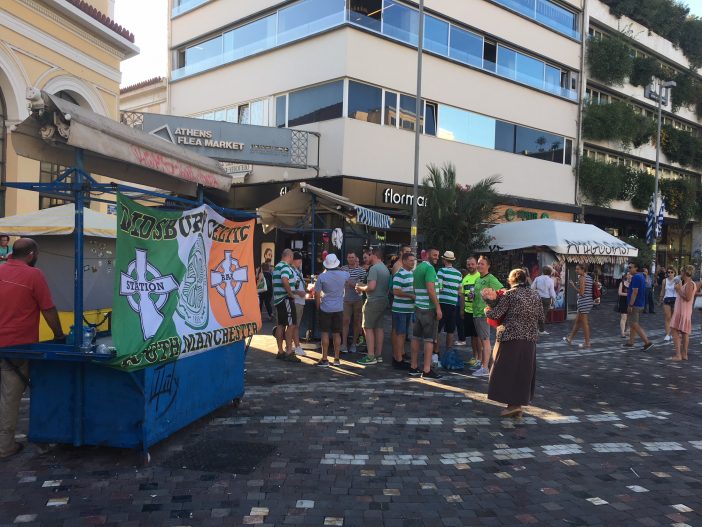 In terms of those highs and lows, for me the result is king, so a defeat is always horrible. It doesn't get any better as you get older. Particularly, when you lose it at the death, as seemed to happen to us constantly at one time.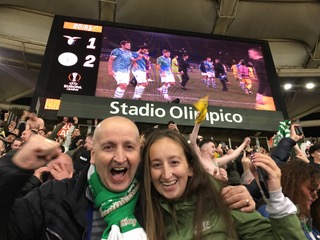 We were seconds away from a memorable point in the Camp Nou in 2012, for example, albeit we beat them a fortnight later. The clock opposite us stayed on "90" forever. That was a sore one. And the delays can be a killer, particularly coming home following a defeat on a long day trip. That's the 'never again' moment. But the highs make it worth it. Particularly if you can share those with your kids. Experiences you can't buy or describe. Triumphs like Amsterdam and, more recently, Rome. There is no feeling quite like celebrating an away victory in Europe with your kids. Magical.
Let's put you on the spot here: In following the Bhoys on the road, is there any place that you particularly liked? Particularly disliked?
Not too many places I particularly disliked spring to mind. If pushed, I'd probably go for Kiev, although that's partly down to timing. We went there with Celtic in November 1986, around six months after Chernobyl. It was still part of the Soviet Union at that time, pre-Glasnost.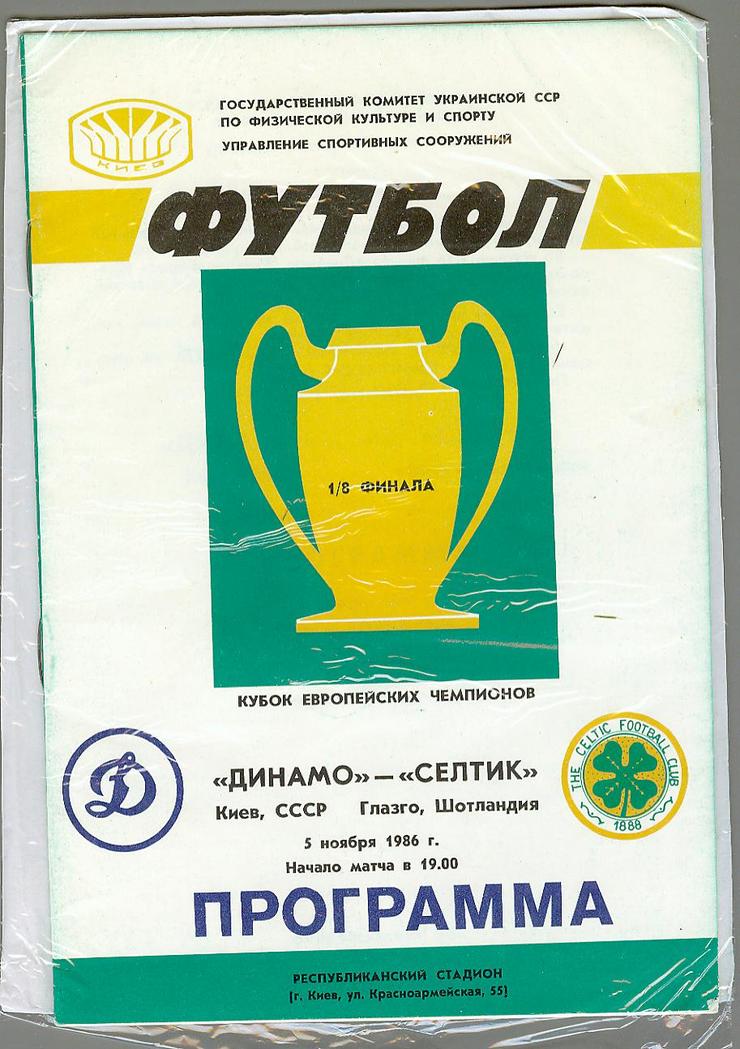 Celtic fans will always find a humourous angle, even in the most trying of circumstances. We're chanting "Here we glow" as we left the plane. And "Ooh, ah, up the Czar!"
The people were nice enough but the place itself had nothing. You couldn't buy a gift to take home. The hotel was giving change out in chewing gum and ran out of beer within about an hour. We ended up gatecrashing a wedding, just to get a drink. The poor bride was dancing with guys wearing Celtic scarves, whilst her new husband was wondering what he had done wrong in a previous life.
There were guys following you in the street trying to buy your jeans, the ones you were wearing at that time. We were followed constantly for three days. Bonkers.
Other negative experiences were more to do with the people than the place. My first continental trip was to the old Stadio Comunale in Turin, back in 1981. We were basically under siege from arrival in the early hours of the Tuesday until our departure from the railway station late on the Thursday night.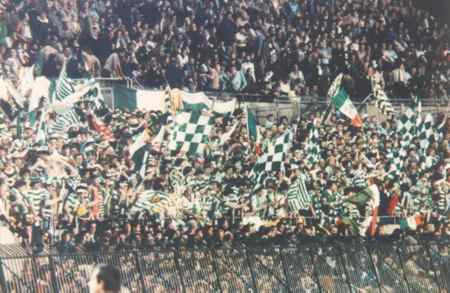 Fans were getting stabbed, assaulted, robbed. That was a scary introduction, albeit the atmosphere in the stadium was incredible. Our pub was attacked in Blackburn, although that remains one of the best nights ever. And I've seen both sides of Amsterdam. Our first trip there was a blast, with over 8,000 of us celebrating a famous win but the trouble in the main square the last time ruined that visit for me.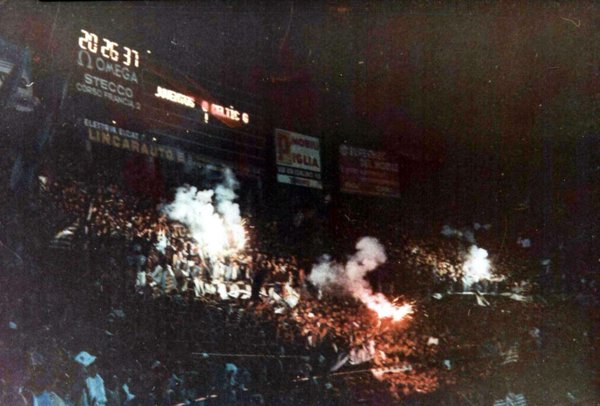 On the plus side, we've been to some wonderful places. In terms of scenic beauty, Salzburg was stunning. I suspect Seville was too, we just couldn't see any of it under a blanket of Celtic supporters. And St Petersburg, although it was minus 12 there. Barcelona has everything and Lyon and Paris are wonderful cities.
I love Italy with a passion but whilst we've had some great trips there, we've tended to play in the industrial cities, like Turin and Milan, until this season, when the background to the Lazio clash and the threat of hassle pushed me towards doing the day trip with my daughter. We'd been to Rome together previously and for me it's up there with Florence, Venice and Siena as amongst the most beautiful places on the planet to take in.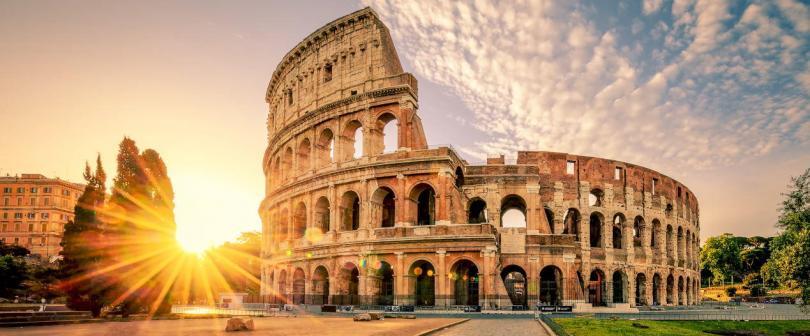 In terms of sheer enjoyment, my favourite trips with Celtic would probably involve Germany. I'm not really sure why, they just seem to to work brilliantly. The fans love their football, the beer is to die for and the atmosphere in the grounds is superb.
Stuttgart was very special on the Road to Seville, as my dad and elder son were there — so three Matt Corrs — as was my older sister. Dad was terminally ill and we knew it would be his last trip. And there was a huge Celtic support in the ground as we qualified on the night, although, me being me, I still complain to this day that we blew a great chance to get a win in Germany. And I loved Munich a few years back, the party in Marienplatz. That's another stunning city.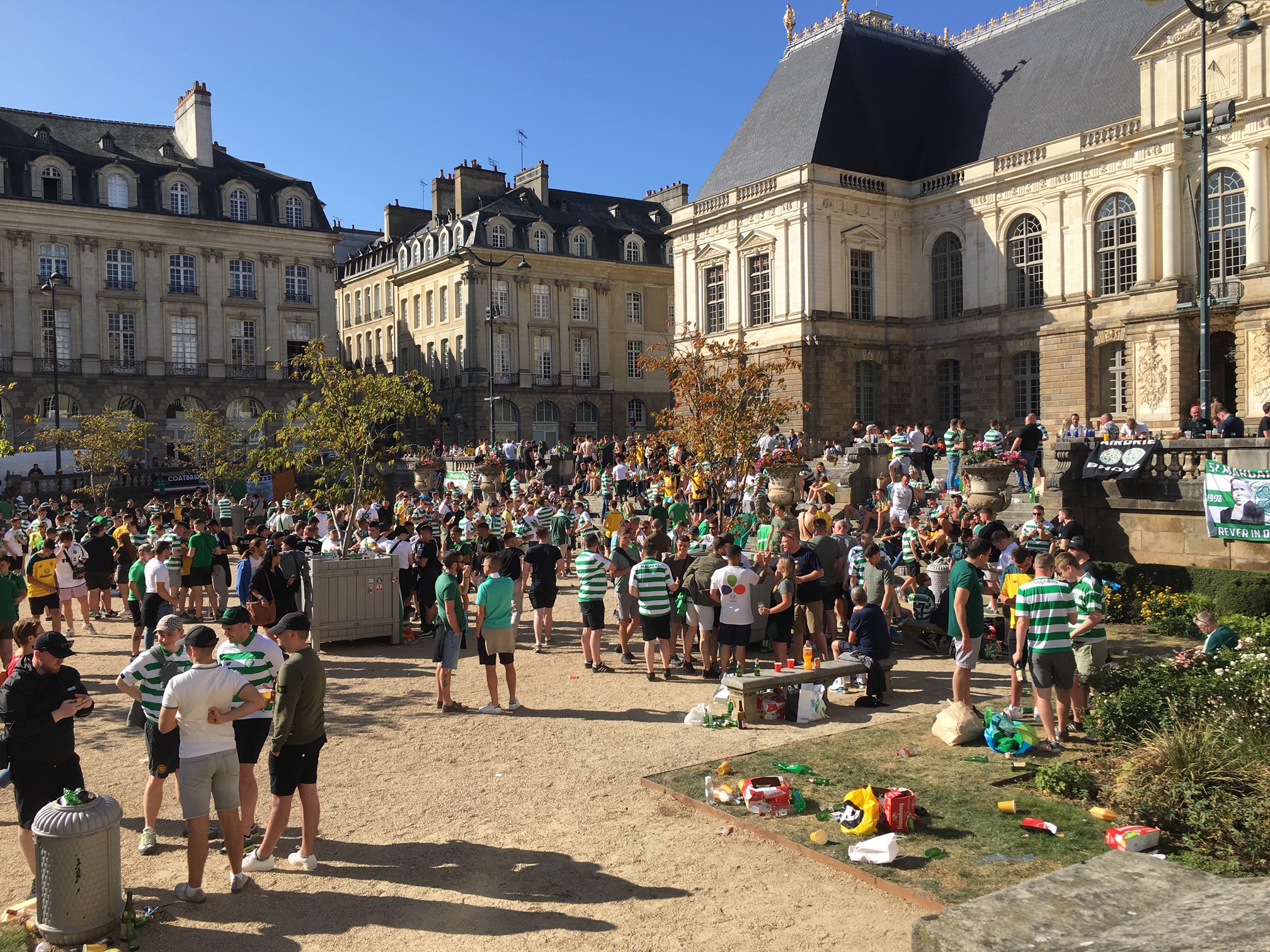 People are a huge part of that enjoyment. The Stade Rennais fans were superb last autumn. That was a real carnival atmosphere in a very historic "Celtic" city, full of colour, friendship and fun. And staying on that theme, perhaps the friendliest supporters, and people generally, I've come across in recent years were the Bosnians of Sarajevo. That was also the saddest, moving yet most inspiring trip I've ever done with Celtic, or at all actually, and by some distance.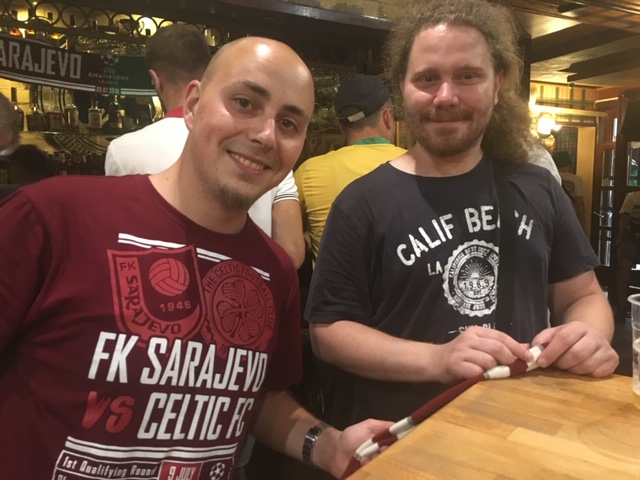 But if I could only visit one place again, it would be Lisbon. Standing on the marble lip of the Estadio Nacional, being photographed with one of my sons with the European Cup, on the very spot where Cesar lifted the cup in 1967, and where my dad, uncle and thousands of Celtic fans who had endured the countless trophyless years were witnessing history, well, it just doesn't get any better than that.
Larry Cafiero