Trevor Sinclair had a Celtic upbringing which eventually paved the way for the former England international and West Ham wide man to make his Celtic debut at the age of 50! Meaning there is hope for many of us yet!
Sinclair's Step-Dad was a Celtic supporter and his Mum hailed from Sligo so it's easy to see where his love for the club came from. On Saturday he got the chance to pull on the Hoops in an eventful 2-0 defeat to Liverpool, in a legends match at Anfield. The game was attended by around 5000 travelling Celtic supporters in an overall attendance of over 40,000. Meaning although Celtic were to lose the game charity was the real winner on the day.
My dad with with his hero king Kenny HH🍀 pic.twitter.com/X2iscaSY64

— Trevor Sinclair (@trevor8sinclair) March 25, 2023
Sinclair, as reported by Daily Record, was asked for his thoughts on Celtic boss Ange Postecoglou's Celtic revolution, and it's fair to say he's just as big a fan as any of us, pointing out ever so subtly that Ange is on his way to legendary status, a title, it appears, he may not bestow upon a certain former Celtic boss.
"Could he leave a legend? Absolutely – as long as it's not in the middle of the season, I'll say no more on that! Listen, he's been brilliant for the football club. He's a very humble man, I think he's quite shy actually. You see his speech after winning the first championship – We. Never. Stop – it's almost like a motto for the football club now.
An honor & privilege to wear the hoops at last, huge thank you to the Celtic family for welcoming me as you did & a massive congrats to both the Liverpool & Celtic foundations for the amazing work they do 🙌🏾 HH 🍀

— Trevor Sinclair (@trevor8sinclair) March 25, 2023
"I absolutely love the club from top to bottom and it's great to have someone like him in charge. The style of football will attract a lot of Premier League interest. Then there's the way he's so competent in front of the media, he sticks up for himself and the football club, speaks really well.
"He won't let journalists or anyone bully him. From the moment he walked through the door, I've been so impressed with him. I spoke to a few of the boys and I don't think he's the most social, a bit standoffish. So, obviously he holds his court and his rules in place. Long may it continue. How much boys are playing for him shows how much they respect him and what he brings to the table."
Sinclair also feels Postecoglou and Celtic are the perfect fit, as the former QPR man feels Postecoglou's Celtic style of play is perfectly in keeping with the footballing ethos of the club, something Sinclair himself experienced as a youngster at Blackpool as a young Celtic side dished out a footballing lesson to Sinclair and his youthful teammates.
"I'm a huge Ange fan. He suits the club so well. I remember playing against Celtic as a kid of about 14 or 15 at Blackpool and it was exactly that – the Celtic way.
"They passed us off the park, no-one was taking more than two touches on the ball and we got beat 4-0. I always thought: 'What a great club and philosophy'. Ange has brought that in. The recruitment has been outstanding, the team spirit and, obviously, the success means a lot. For him to turn it round so quickly and the recruitment to be so successful, he deserves every credit.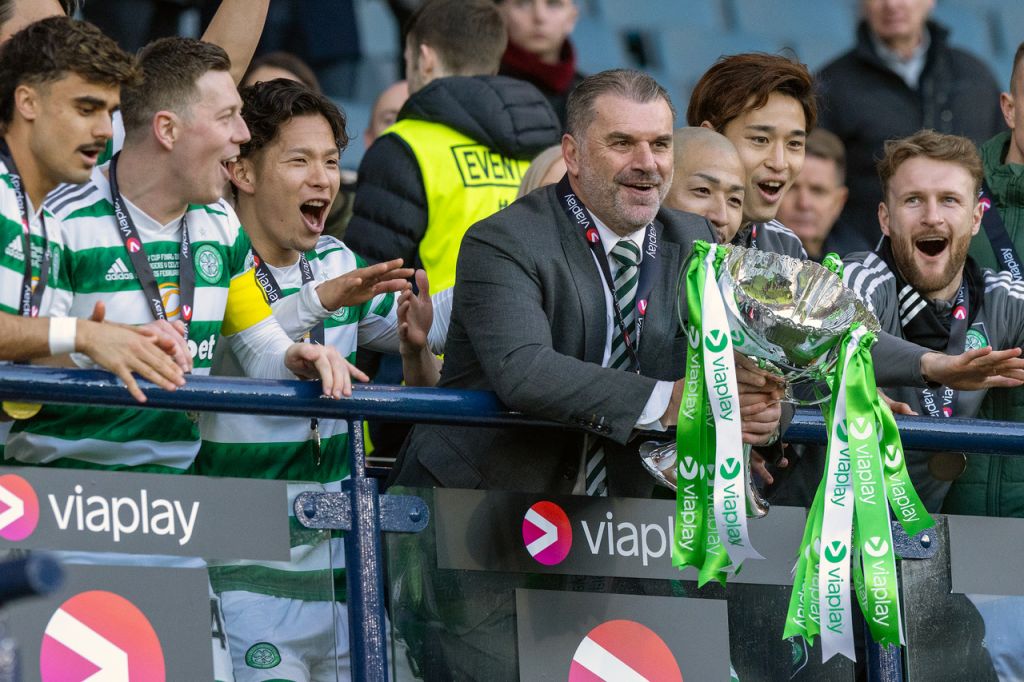 "Hopefully, we can keep him a lot longer. His principles, his fundamentals, he suits the club down to a tee. I'm really pleased with how he's turned things around for Celtic."
Trevor Sinclair certainly seems a big fan of Ange Postecoglou and Celtic and it must have been a big deal for him to pull on the green and white hoops and represent the club he has vocally supported.
It also offers a modicum of hope for all of us who still believe that one day we too may get the chance to play for Celtic, even if old father time may have an altogether alternative opinion!
Good catch up with @trevor8sinclair after the game at Anfield ☘️ pic.twitter.com/GgYxJLZp7E

— 4 Tims and a Podcast (@PodTims) March 25, 2023
Niall J