MICHAEL O'NEILL has moved to rubbish the rumour that Stoke City's James McClean could be joining boyhood club Celtic this transfer window. The 31-year-old has never hidden that he is a Celtic fan and social media on Sunday night appeared to suggest that McClean was the subject of interest from the Scottish Champions as they try and recruit a left-wing back. However, former Northern Ireland manager O'Neill has said it is highly unlikely when speaking to Stoke-on-Trent.
"I think that's probably just a rumour that's been created by someone – and it certainly hasn't come from our end.
"James isn't a player, equally, that we are looking to lose at this minute in time.
"The nature of the transfer window is such that you have to be flexible and if any situation arises with any player you have to give it consideration, particularly where we are at this minute in time.
"We have to obviously deal with the rules of Financial Fair Play and deal with too a squad which is bloated.
"James is no different from any other player in the squad and if the situation arose we'd have to consider it but at this minute in time, I think that would be highly unlikely."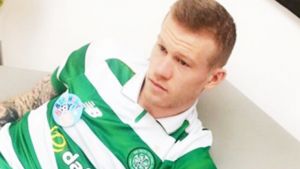 McClean's politics and love of Celtic would make him more of a target than he is now with rival supporters. He may have mixed feelings about putting him and his family at risk, but I would imagine if there was genuine interest from Celtic, McClean would be pushing for a move. O'Neill says that they'd consider each approach for each player but that it was 'highly unlikely for McClean to leave this window.
McClean's commitment to Celtic would have been an admirable signing but the club may be looking to pursue other avenues. The club have been chasing Alfie Doughty at Charlton although as it stands there is only Greg Taylor at left-back for Neil Lennon's side.
Although sadly it appears that it is just a rumour and that he will be staying at Stoke City, unlike his Derry-counterpart Shane Duffy that sealed a dream move to Celtic earlier on this transfer window.