I have been privileged to meet Billy McNeill on several occasions. He is obviously a true football legend but he was a great guy too.
The The first time I saw him play was at Hampden in 1957 although it was some years later before I found out where I had been and what I had witnessed – Scottish Schools Shield Final. My dad taught Billy at Our Lady's High School and helped run the football team.
He took me along to Hampden for that game although I have only the vaguest of memories of it. When we moved out to Bellshill in the early 1960's my parents became friendly with Billy's parents through the local church. Having taught Billy my dad took a particular delight in seeing him progress in his Celtic career.
Then I met Billy for the first time in 1988. At that stage I had been living in Auckland for around 5 years and I went back to Scotland for the last 2 months of the Centenary Season. Celtic Park was more accessible in those day so it was not too difficult to get in there one day after training.
Billy was standing in the corridor so I went up and introduced myself. He remembered my father and we chatted for a while before he got the players who were there to sign the special pennants I was taking back to NZ. Some of the players had already left so he told me to come back the following day and he would arrange for them to sign. And true to his word I returned the next days and got the rest of the signatures.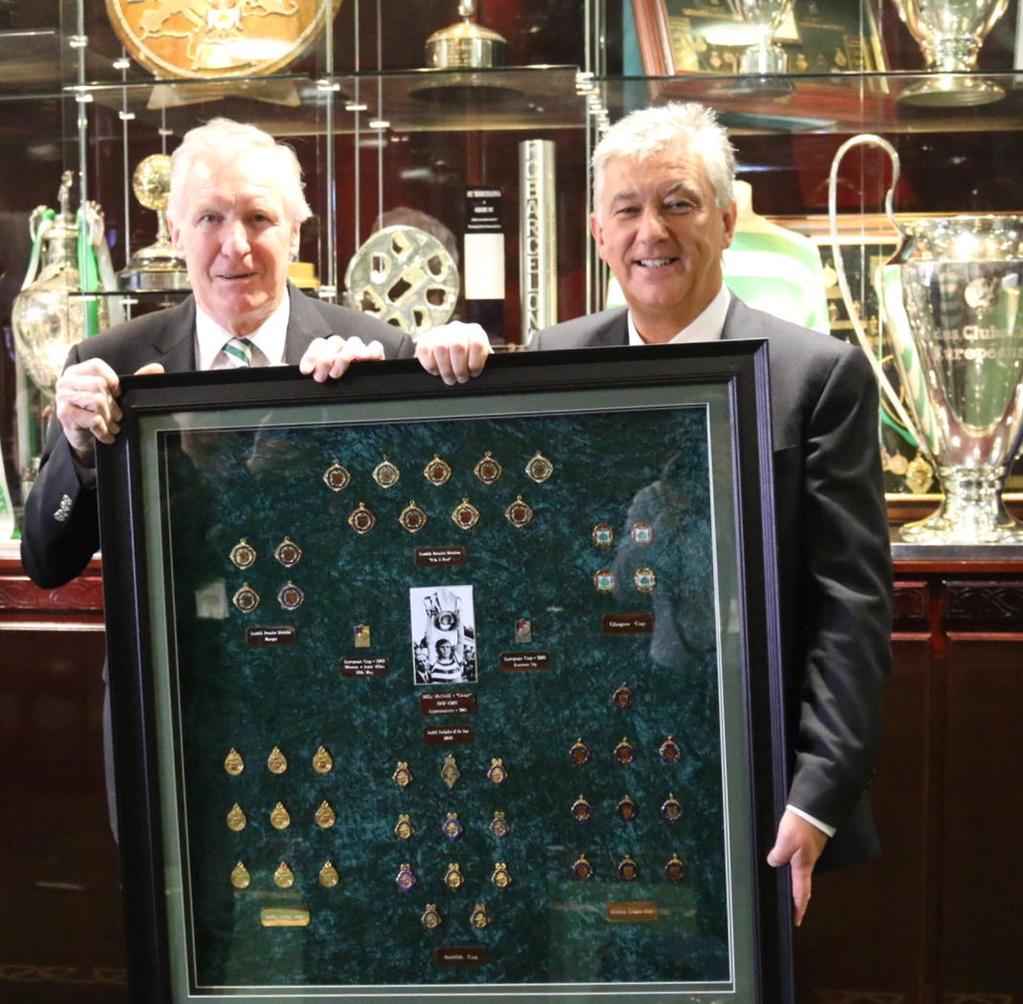 My next trip home in 1990 was an unexpected one – for my father's funeral. At the time things were not going so well at Celtic and the team were down at Seamill in preparation for a Rangers game. His mother was at our house for the rosary and told me that Billy would not be able to get to the funeral ("His jacket's on a shoogly peg at the moment" were her words) but Billy still took the time to send a Mass Card and a nice message.
In September 1998 Scott Morland, Kevin Everett and myself went to Perth to represent the NZCSC at the Southern Hemisphere Celtic Supporters Federation Convention. Billy was one of the guests (along with Jim Craig, Willie Wallace and Frank Haffey) and all the time we were there he was great company and generous with his time.
It was there I met Liz who I was introduced to as the son of Jimmy Maher an old teacher of his. On the Sunday the Perth guys had organised a "Perth v Rest of the World" game at a local park followed by a BBQ and music at an Irish Pub. As there were a few hangovers from the night before it looked for a while as if there would be no game.
To make up the numbers Jim Craig said he would play for Perth and Billy agreed to play for the Rest. Scott and Kevin played in midfield and I was left back. It might only have been a game in a public park but we can say we played in the same team as Cesar!
Later on that evening I was up on the stage with Billy and Jim and a couple of others singing The Coronation Cup Song. Towards the end of the evening Billy was having a beer with us 3 Kiwis at the back of the room. At this stage of course he was no longer officially attached to Celtic FC. Although the League had been won earlier that year the side were not doing too well that season. Scott asked Billy a question.
"If Celtic came calling and offered you the manager's job again would you think about it?" I remember his reply – "I wouldn't have to think about it. I would just take the job".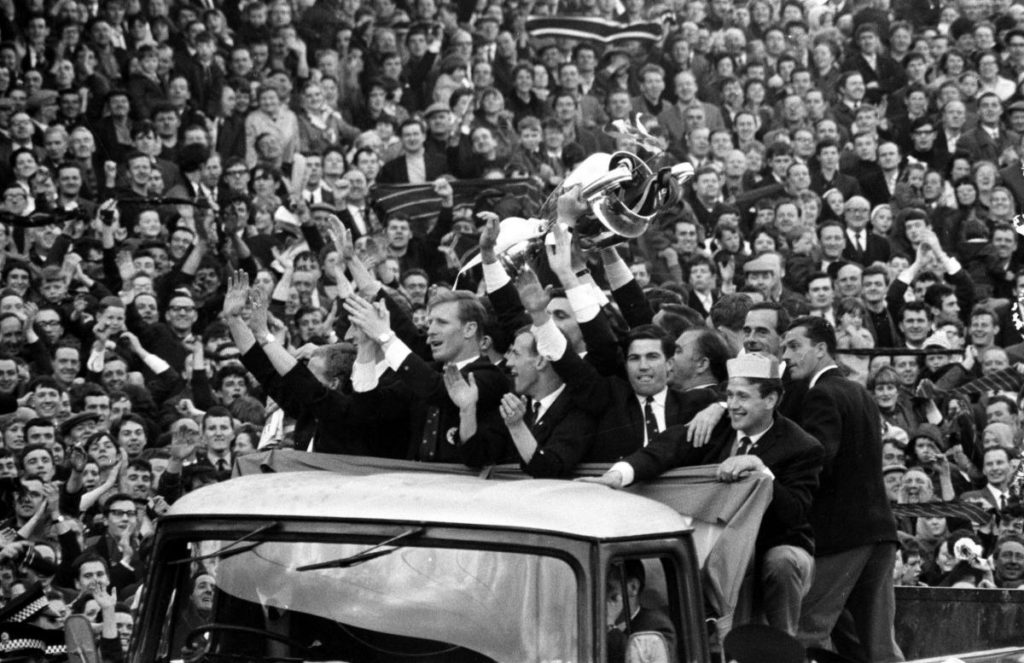 On subsequent visits to Scotland he always was keen to meet up. In April 2000 I phoned him to say I was back in Scotland for a few weeks and he suggested meeting up in his pub one lunchtime as it would be comparatively quiet and we could have a pint and a blether. So the next day I got a train to Queens Park and made my way to Torrisdale Street where the pub I had known as the Madeira was now McNeills.
He poured me a pint and introduced me to his daughter who was working at the bar. He had an apology to make. He had forgotten that he had an appointment at Celtic Park. A photo shoot for the Celtic View with a memorabilia collector. So he would need to leave quite soon. "Unless you have the time to come with me?" he asked.
I had plenty time so I downed the rest of my pint and then joined him on the drive to Parkhead. It was international week so all the players were away. "Hopefully John Clark will be there " Billy said to me on the way over. "That way we can get inside" I thought it was odd that Billy McNeill might have to wait in reception at Celtic Park.
However just after we arrived John stuck his head around the door and told us to come on in. So there I was sitting with two of Europe's greatest players in the home dressing room at Celtic Park with tea and biscuits talking fitba'.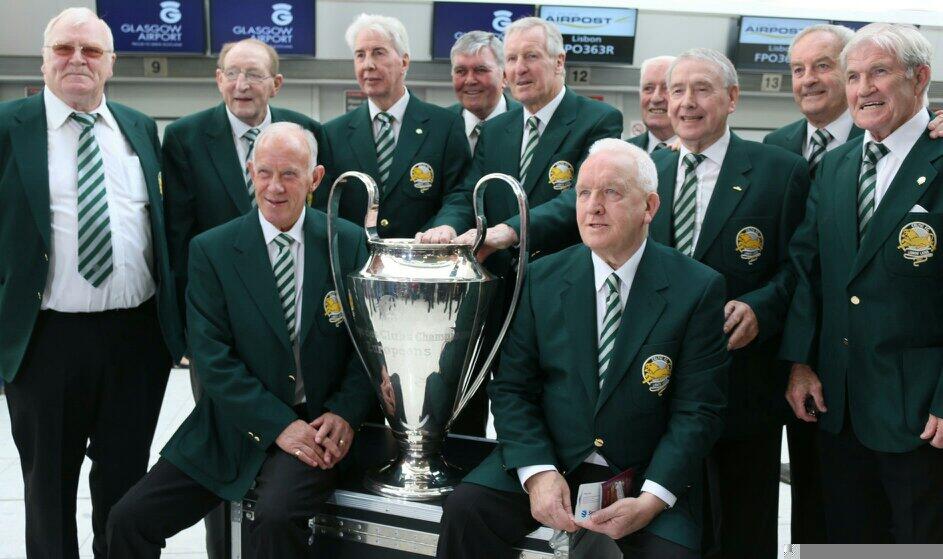 Billy was lamenting the present team's performances particularly some of the defending. The conversation moved on to games they had been involved in. One was the last European game I had seen before I had emigrated – Real Sociedad. They were still annoyed at how the team had conceded a soft goal from a corner. "Here's how to defend a corner" said Billy and the two of them got up and showed me how it should be done with an imaginary ball!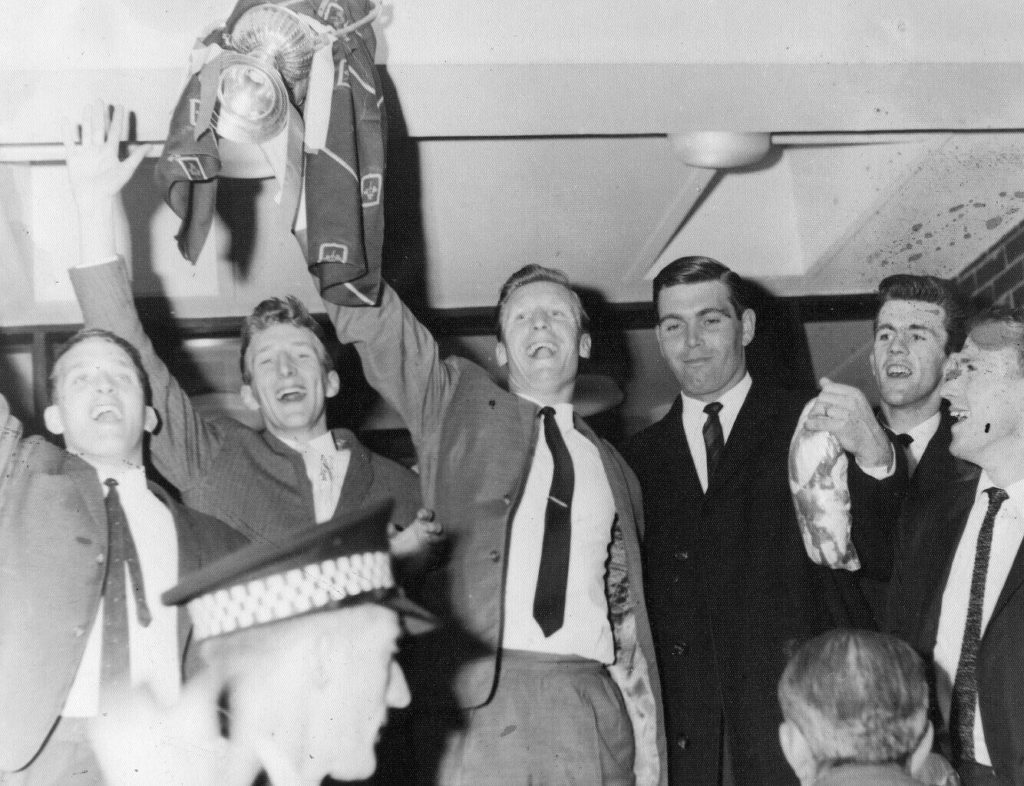 When I was back in Scotland a couple of years later I met Billy and Liz in the Wotherspoons in Argyle Street for a wee bite to eat. While we were chatting a young woman came up and asked for his autograph. She said it was actually for her mother who was sitting in the corner but was too shy to ask.
Billy got up and went over and talked to the lady for a while. While he was away Liz told me that the reason Billy got so many invites to Supporters Clubs functions was not just that he had been a great Celtic player and manager but that so many present day players were not as enthused about meeting the fans.
On my next visit I was a bit short on time to make all my usual visits to catch up with friends. I had arranged to meet some former teammates in the Maltman in Renfield St for lunch and despite the short notice Billy was happy to come and join us. He might have played in European Cup Finals but he had no problem in relating to and joining in our conversations about Saturday morning amateur football.
He took particular delight in chatting with our old team boss – Bill Wallace, who was a Raith Rovers fan. Later Bill would tell me that Billy had been so friendly and interesting that he almost felt guilty about the Rovers having beaten Celtic in the League Cup final!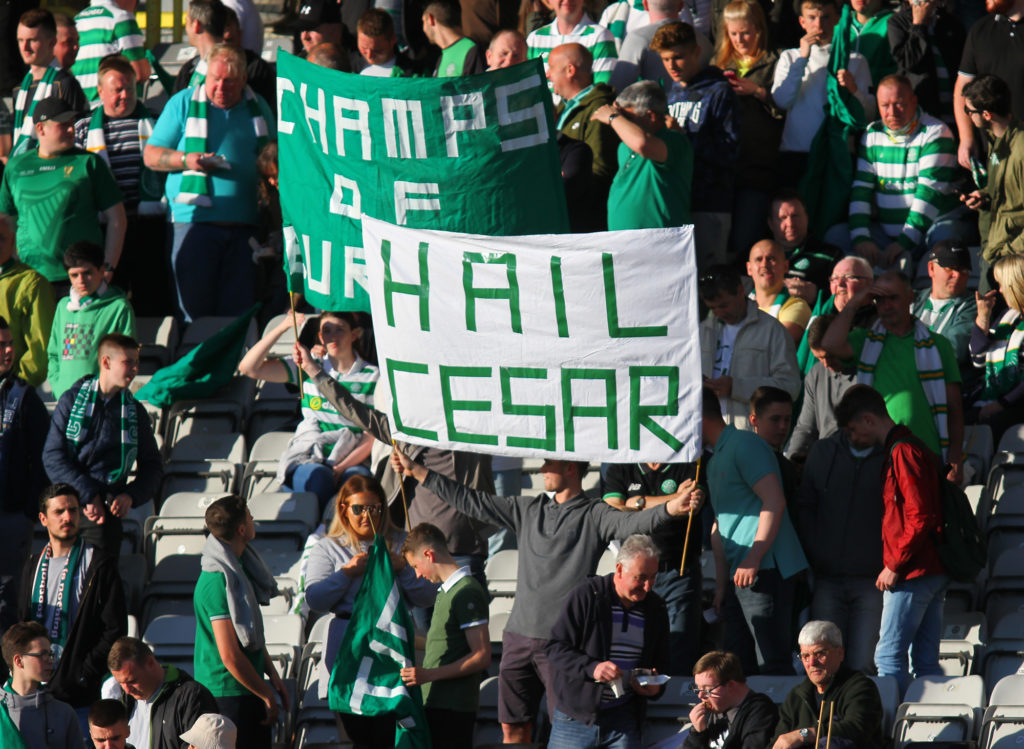 In 2011 I took my youngest son, Sean who was then 20 to Scotland for the first time. We met Billy and Liz in the Central Hotel and they took us for lunch in the Italian Restaurant at the bottom of Hope Street. We had a great time talking about football and friends.
Billy was able to tell Sean about his grandfather from the school days. He had also brought Sean a limited edition Lisbon Lions print which he autographed. It was at that meeting though that I realised he was not quite the same as before. Sean noticed that Billy had over the course of the afternoon told him the same stories several times.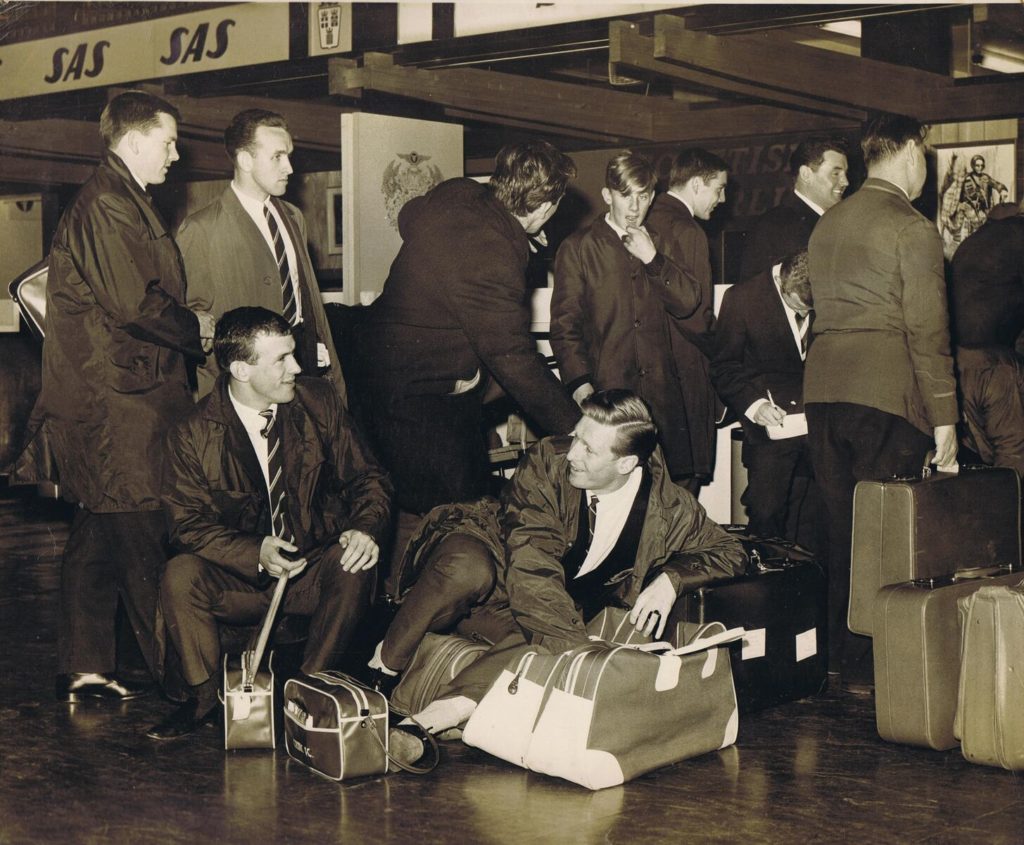 The last time we met was in 2015. Again time was short and I only had a few days left in Scotland before we got in touch. Liz suggested I pop over to their place on the Sunday but that was my last day in Scotland and I had already a family dinner engagement. So she arranged that we meet in the reception area at Celtic Park the following day prior to a game v Motherwell.
It was a very different place from the Celtic Park we had first met in in 1988. Now very Corporate looking, receptionists, security type guys in suits. Billy was changed too. Liz had stayed home and Mike Jackson was accompanying him. From Billy's expression I could see he knew he should know me but was not sure exactly. We did manage a brief chat and he signed a Lisbon replica shirt for my other son Stephen. We shook hands and said goodbye.
I saw Billy play hundreds of times, I attended every title clinching and Cup winning game under his captaincy but just at the moment my memories are not games or goals but his friendliness, generosity and thoughtfulness – Yes a true Legend. R.I. P. Cesar.
Mike Maher
Auckland, New Zealand
*Image at top coloured by the very talented Barry McGonigle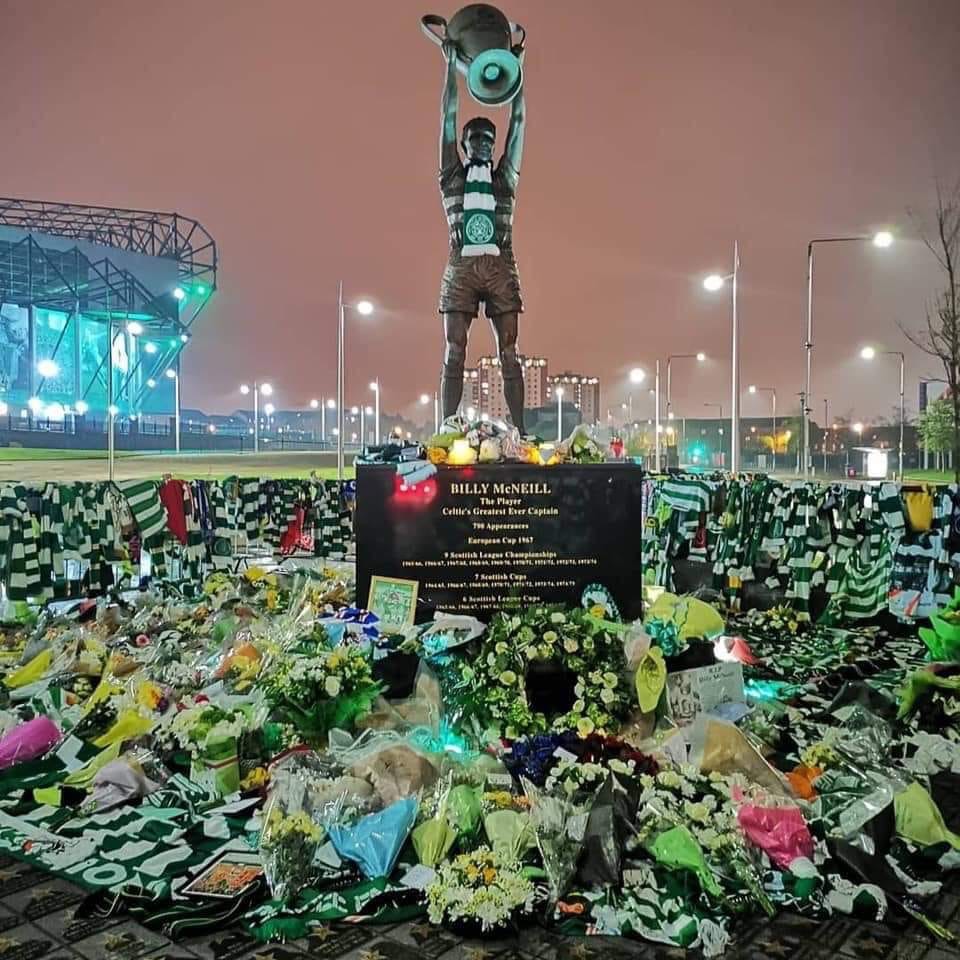 The wonderful photograph above was taken by @yossarian67
#BillyMcNeill #billymcneillstatue #RIPBillyMcNeill pic.twitter.com/xJ16Tm0yJv

— half Tam half biscuit (@yossarian67) April 25, 2019