The Celtic Star's Match Report: Motherwell 0 Celtic 8….
Celtic finished the season as runners up in the SWPL1 this season for the first time in eleven years this afternoon. This time around however that final position came with Champions League football next season for Fran Alonso and his inspirational Celtic squad, as the Hoops thumped Motherwell in the last game of the season, yet agonisingly missed out on the chance to win the league title as Glasgow City defeated theRangers 2-0 to clinch their 14th consecutive title. It may be theRangers already had one eye on a sun lounger ahead of the summer break as they got in some pre-summer practice by lying down to City.
It summed up a season of uncertainty across football as this afternoon's final fixture in the SPFL1 for Celtic saw a pre-game shock with one player suspected of contracting Covid-19 leading to a further six having to self-isolate. If Celtic therefore were going to beat Motherwell, secure a Champions League spot and still have a chance at winning the league title it was certainly looking as if it would have to be done the hard way.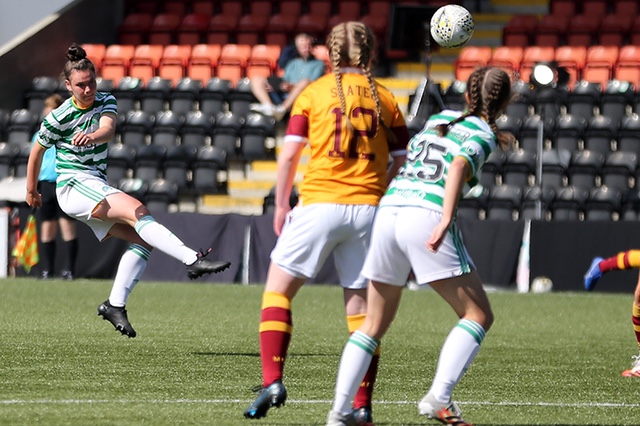 Despite the pre-match disruption it took only to the fifth minute for Kate Nicolson to settle Celtic nerves as she struck from 25 yards with a looping effort finding the top corner as Motherwell looked to have cleared their lines following a Chloe Craig run from defence that fed London Pollard who had been unlucky not to find a teammate with a pass across the area.
What a start then from the Hoops and a superb strike to settle nerves and get Celtic motoring. And they sped further ahead as three minutes later Chloe Craig again played supplier with a fine free kick flighted into the box that saw predator Sarah Ewens pounce to slip the ball into the net and put Celtic two goals to the good and well on their way to claiming a Champions League spot ahead of next season, and Ewens only a goal behind Lizzie Arnott in the race to top the goalscoring charts.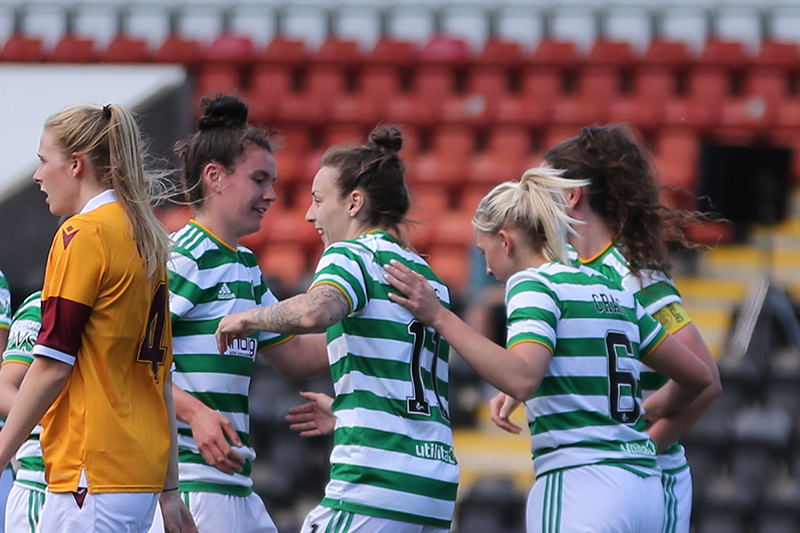 Celtic were dealing with everything within their control however hopes of a league title soon looked to be slipping away as Glasgow City, who needed just a draw against theRangers at Broadwood, took a 13th minute lead through Hayley Lauder.
Celtic however remained focussed on the job in hand and after 19 minutes hit their pre-game target of a three-goal advantage as, following fine play in the middle of the park from Ewens, a run and delivery into the box from Tegan Bowie saw Anna Filbey stretch every sinew to reach and deflect the ball beyond Pollard in the Motherwell goal to put Celtic 3-0 up.
A fourth soon followed as again Tegan Bowie delivered a superb flat delivery across the box, it was screaming out for a touch inside the six-yard box from a striker yet the final touch came from Chloe Craig charging from central defence to tap the ball home. Now that is what you call desire.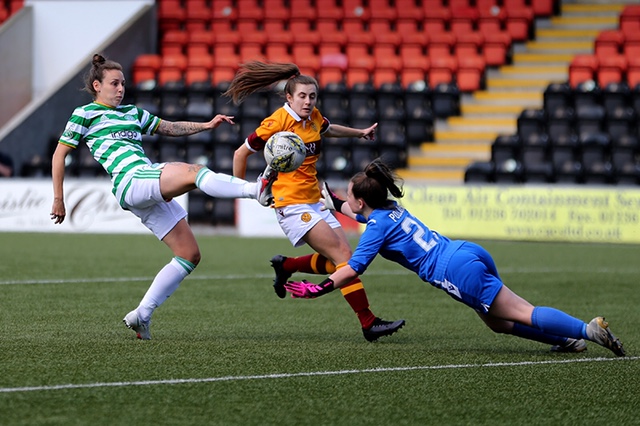 The league title however was now slipping from grasp as a Niamh Farrelly goal put Glasgow City two goals up against theRangers to show just why they've been 13 times champions. But that didn't see any let up from Celtic who added a fifth goal and London Pollard's first in the Hoops as Celtic's latest signing finished tidily, as her namesake in the Motherwell appeared to catch before spilling a Lisa Robertson free kick.
Celtic had more than kept up their side of the bargain with a five-goal lead at the break, and Champions League football was now ensured by half-time, however a league title looked a forlorn hope. Considering the pre-match upset it should be pointed out this Celtic side showed little ill effects of losing players, if anything it looked as if they'd used it as inspiration.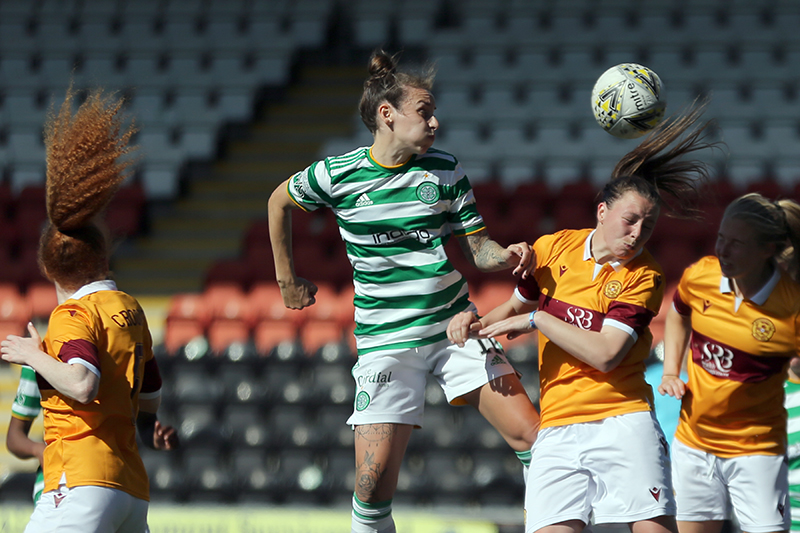 After the break Celtic started much the same way as they had the first, as the impressive London Pollard started the second half looking every inch a future star and Anna Filbey had a goal disallowed and hit the crossbar in the first five minutes of the second period before both linked up for Celtic's sixth aided by a Motherwell 'keeper inexplicably wandering to the edge of the area, and the excellent Filbey sidestepped the advances and tapped into an empty net to put Celtic six goals to the good.
If Celtic are genuinely serious on making any inroads into European football next season the permanent signing of Welsh international Anna Filbey must be high on the plans for next season, particularly as she's now available on a free transfer.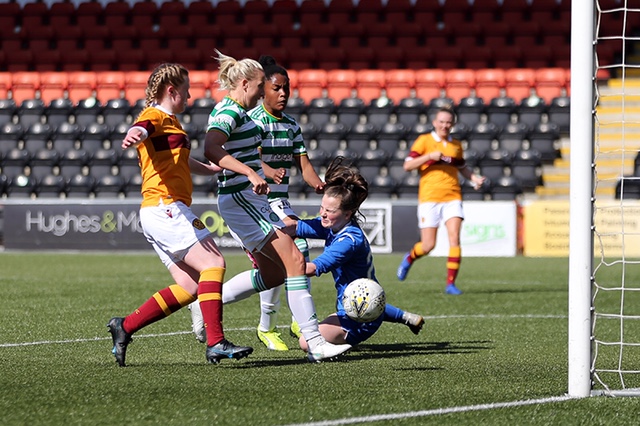 Just after the hour Celtic hit number seven as another set piece delivery from Celtic's Scotland international Lisa Robertson was headed into the net by Captain Kelly Clark and proved Celtic deserve, more than some, to be able to exhibit their footballing abilities on the European stage next season. And that was reinforced further as Lisa Robertson started and ultimately finished the move that put Celtic 8-0 up as Celtic's holding midfielder smashed home as the ball came back from the post and Anna Filbey initially missed out on connecting with the rebound.
It has been a hell of a season for Fran Alonso and his young Celtic squad. To qualify for Champions League football next season is an amazing achievement in their first season as a professional club, particularly as you consider the Celts were five points behind a European place when the sides returned after lockdown and further behind as they lost to Glasgow City on the first game back.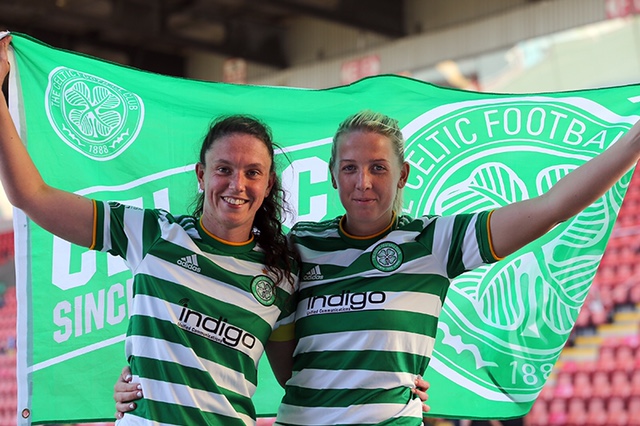 Congratulations must of course be offered to Glasgow City as they secured an incredible 14th consecutive league title but this Celtic side will be winning silverware and soon. City would do well to enjoy today, the times they are a changing, and with the right investment and backing for Fran Alonso next season Celtic will be challenging for the SWPL1 title.
Today the Celts are the first side to split Glasgow City and Hibs since 2014. Come 2022 they may well go one step further. In the meantime,we can all look forward to Champions League football next season, hopefully played at Celtic Park. This team has come a long, long way in a very short time. The future looks bright; indeed it looks very much Green and White!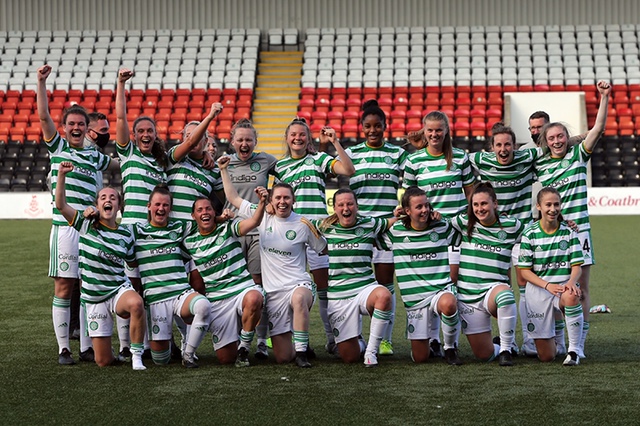 The Celtic Star Player of the Match – Anna Filbey 
Niall J
* Professional photography to follow…(and now updated).
** A wee message to the person who keeps adding comments (never approved incidentally that no-one is interested in Women's football and advising that The Celtic Star should utilise our resources elsewhere. On your latest comment we checked the audience before leaving to go to the game. Over 5000 supporters had read the article in question, so we'll gladly get by with them rather than worrying about your narrow-minded view. This is a Celtic team to be proud of with an EXCEPTIONAL COACH.
*** Congratulations to Glasgow City, a penalty save away from losing the title to Celtic. Still there's always next year.