I had intended avoiding this subject but I've had enough of the faux public health arguments as a smokescreen for the real frustrations it is being used to cloak.
Today's Covid- 19 positive test announced by the club this afternoon is Celtic's first recorded this season. At least it is within our own bubble. The others – bar Boli Bolingoli's search for romance – prior to this all took place whilst players were on international duty, while some bowed out to self-isolate under track and trace protocols.
Celtic today confirmed that one player has recorded a positive test for covid-19. Clearly the player will receive all our care and full support.

All other members of our squad, management team and backroom squad are negative.

— Celtic Football Club (@CelticFC) January 10, 2021
Not a bad effort for nigh on ten months of avoiding the plague is it? Especially given the daily threats and peaks and troughs of Lockdowns', different tiers and the to-ing and fro-ing in between all the mixed messages.
It seems there is a lot if disappointment and frustration around Celtic's post Glasgow Derby defeat trip to Dubai for warm winter training and it is understandable why there would be concerns. Yet in some quarters there seems to be a fair amount of lashing out and weaponising of this winter interlude abroad for barely hidden frustrations and indeed poorly camouflaged agendas.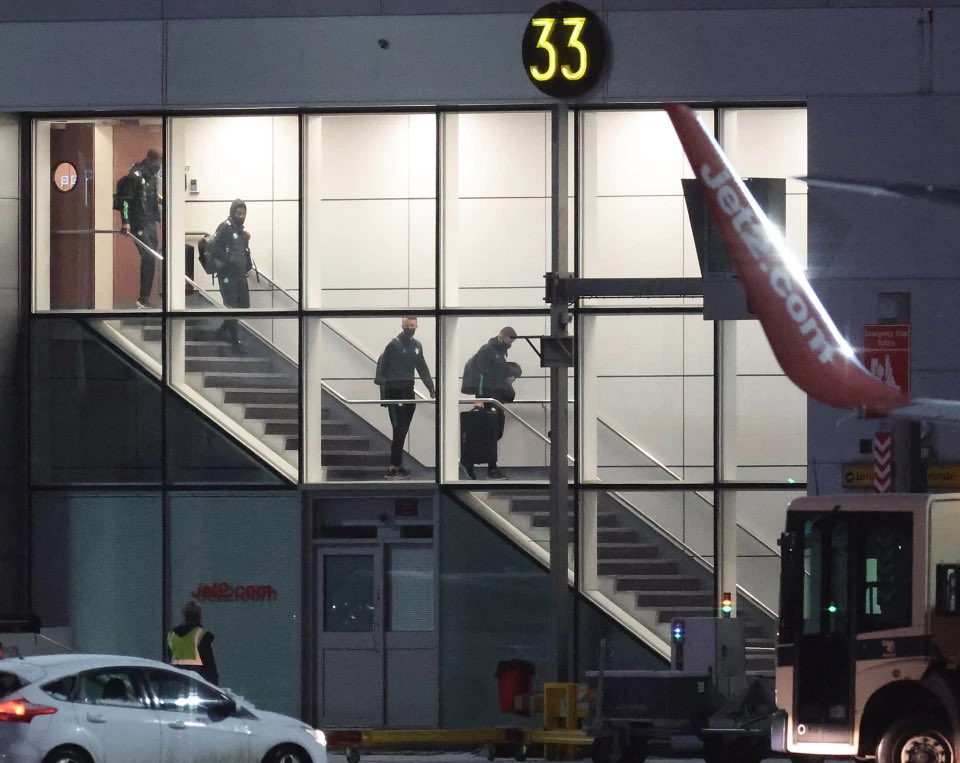 It appears many, many had serious concerns over this trip, though you'd have to be adept at searching for a needle in a haystack to have the required detective skills to seek out many stories in blogs or mainstream media that questioned the trip prior to either the defeat at Ibrox – or last Monday's actual confirmation we were back in lockdown – at a time the squad were already in Dubai alongside the assurance of the Scottish Government that it was lawful to be there.
From yesterday. Overtaken by events. pic.twitter.com/44u4mRgP9S

— stephen.mcgowan (@mcgowan_stephen) January 10, 2021
Still the optics were bad, weren't they? Yes, those optics were a red neck. Either that or Christmas celebrations followed by New Year commiserations with family and friends side-tracked those commentating in the build-up.
I'd have far more respect for people's opinions on the matter if any article written hadn't deflected to mentioning Celtic being 19 points behind, a second Glasgow Derby defeat of the season, a chance to play a game in hand, or how those paying for season tickets and copious amounts of merchandise were stuck at home rather than able to go for a beer on a sun lounger. All the while masquerading the core basis of their frustration as that of a public health concern. Is it entirely a public health matter? If so, why mention the rest, it somewhat dilutes the argument does it not?
It also misses that while we flirted between tiers, as pub and restaurants opened and closed intermittently, and while we could mix with varying restrictions, visit family and all the rest, the players were unable to take advantage of any of that. Still, they remained in the Celtic bubble unable to break free. We'll sidestep all of that when we criticise though shall we? Yes, it makes for better copy.
Unless at the core of it all that really is the argument. I do wonder had Celtic been three points ahead in the title race whether an ice cold Peroni by the pool-side, some intensive winter training and a delayed kick off against Hibs wouldn't have been seen as an attempt to gain an edge rather than a stick with which to beat the club/players/board- delete as appropriate. Or if indeed much of all of this is down to players functioning inconsistently on the park, management performing badly and a board bang out of touch, whilst communicating in a manner akin to Marie-Antoinette's 'Let them eat cake' approach to governance. And this was an opportunity served on a silver platter to simply strike back in a catty and opportunistic manner.
The Celtic player picking up a positive result for COVID is yet another disaster for the club. The trip to Dubai was ill advised and the pictures from the trip just made matters worse, now this really does heap yet more pressure on the club. So many questions to answer.

— Michael Stewart (@mstewart_23) January 10, 2021
Celtic travelled to Dubai in exactly the same way they travelled to every away European encounter this season and returned without a concern. I don't recall many requesting we drop out of the Champions League qualifiers or Europa League campaign – though I'm sure with the same Harry Hindsight offered by many commentators may now revisit even that. Given the performances and results I might even join in.
For any who took on this argument on as a solely public issue of health and safety in the middle of a pandemic, I applaud you. I would even have to agree you have a fair point as to the moral issue. Even in the absence of any laws being broken you do have a valid argument.
For those however who chose to use the trip to Dubai as an opportunity to further put the boot in and with the intention of ramping home their own agenda, at least next time make your strike pre-emptive rather than a knee-jerk reaction to another derby defeat and leave your opportunistic agenda out of it. It's an argument made of cellophane. All will be in a position without pandemic sin to cast that first stone I assume?
When it comes to Celtic's record managing Covid-19 up to now we've been impeccable at home and abroad. France – twice, Latvia, Bosnia, Italy and the Czech Republic. Celtic should be commended for all of that – not many have had such success. If Dubai was such an issue, then why the radio silence prior to 2 January? Perhaps that date and result had more than a little bearing.
Niall J