We've all made family trips to relatives we never knew we had, in towns we never knew existed, usually during the school summer holidays. You'd all pile out the car in some strange destination to be greeted by a smiling grey-haired couple and usually a couple of just as listless and ageing dogs.
As your parents hugged the strangers as if they'd been separated at birth, you'd look around your environment – your playground for the next 24 hours. A grand house, expansive grounds a vision of wealth and influence.
Yet when you stepped through the front door the sight that greeted you was dated and lacking in the modernity, you'd left behind in even your terraced house suburbia. No central heating instead fireplaces, no showers just old freestanding baths and why did the beds never have duvet's? Always old-fashioned layers of sheets and blankets, enough to keep you warm but also capable of the weight of the layering crushing a young kid's ribs.
When you looked at the décor it all looked grand but also indicated a taste and collection going back 40 years, just like the expensive looking crockery and cutlery from which you'd have your dinner on that night. Homes like that always look amazing, of great standing from the outside yet inside it all through the halls, bedrooms and kitchen they'd resemble a freezing of a moment in time. You imagine what such a place with just an injection of modernisation.
When I look at Celtic Park on the television now, I think of that fine stadium, yet through the doors lies an organisation that has become dated. Ten Years is a long time in football, particularly the last ten years where the speed of modernisation could catch some unawares if they'd got used to their environment.
Celtic may still feel they are the grand stately home surrounded by other Scottish clubs who resemble far less of a standard of residence and it may be that they are comfortable with that. But Scottish football is a village. Celtic as a club is looking around and is comfortable that they are kings of their castle. Yet beyond the confines of our wee Country there are clubs the size of Celtic that when you look around the grounds and walk through the doors, they are met with a family who have kept the grand façade but ensured the inner décor is just as impressive as the outside. All the mod cons, the modern technological advancements, underfloor heating, televisions in every room.
And for Celtic that all comes down to benchmarking. Since Rangers liquidation Celtic had a chance to build for the future. They had little to no competition in their own little village yet remained happy to scoop up the titles and ensure they spent just enough to stay ahead to be the grandest home in the Scottish football village. But the noisy neighbour has mortgaged to the hilt and is now threatening that standing in the community.
Celtic had their warning signs and had they been comparing their grades to Benfica or Ajax rather that theRangers or Aberdeen they would have noticed a decline was taking hold, but instead they ignored the clear predictions and now the standing even in Scottish football's village is dropping – but not so much that it can't be addressed.
A thorough modernising of Celtic behind this front door is needed. It is not enough to aim to be the cocks of the north, instead they need to be looking to clubs from the countries that they should be aiming to emulate. Match up to those standards and being the best in Scotland will come as a natural consequence. Aim as high as can be reasonably expected and even if Celtic fall short occasionally they should still have enough to reign domestically and a solid European reputation to boot, one Celtic have always, or at least should have aspired to.
Domestic success is enough for our rivals, it cannot be for a club who have won and competed in European finals and semi-finals. That is Celtic's standard, that should be where we benchmark ourselves. With a structure and a plan alongside performance indicators benchmarked against comparative European sides rather than old domestic foes, then the malaise Celtic is now experiencing can be redressed.
It is likely that will take big changes in key positions. There are reasons CEO's are in position for four and five years at a time and not 18. They need to bring fresh innovative ideas. Many of course are financially minded and gifted but not so much in terms of football. A Director of Football can bring that expertise, that vision and in turn leave a first team coach rather than an old-fashioned manager to develop his first team, make incremental improvements to individual players and build a team. At present we have a hybrid version of all of that and one that seems designed to allow a CEO to micromanage an organisation that needs seperation.
Celtic's current position is a result of where we compare ourselves and getting the comparison wrong. The right men and women in the roles that matter now could make all the difference.
Fixing what is wrong will take more than a lick of paint, it will require investment to modernise behind the scenes. Money for players can wait, it needs to be spent thoroughly modernising our interior first, ensuring that behind that grand looking stadium the internal workings are its match. A young modern CEO first, then a director of football followed by a first team coach and then we can have an assessment of the playing staff and a plan to eventually improve the squad.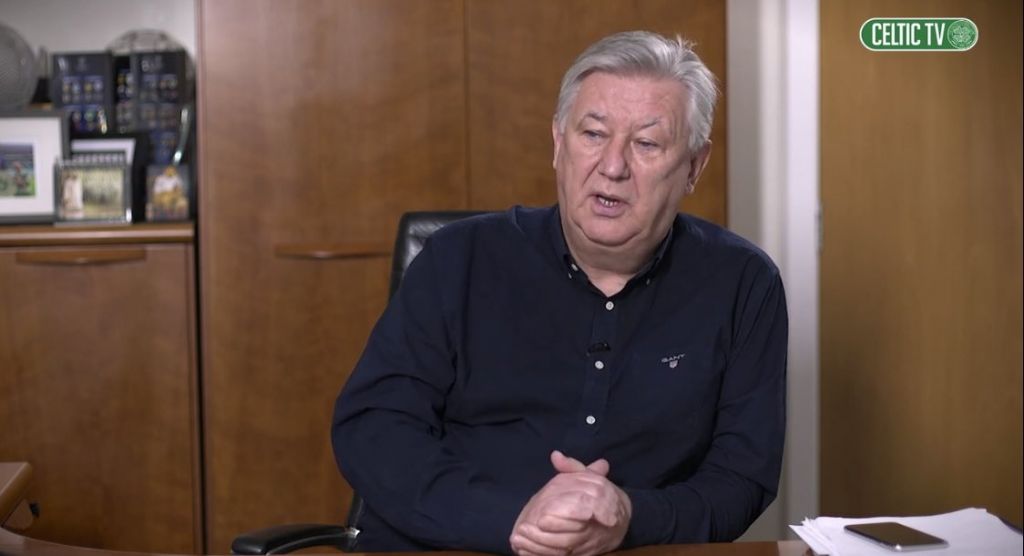 And with all that in mind the changes to playing staff this season can be binned. We don't need players. We have no tournaments to play in where we can impact the outcome and the one we do, the Scottish Cup, may well be mothballed entirely this year.
As such we have a real opportunity to use the time we do have to ensure this season is a blip, that we get this old house back up to speed and we have an inside the envy of the continent and not just our domestic environment. Celtic remains a club with solid foundations, we just need to get the interior design up to this decade's advances.
Niall J