THIS tweet made me laugh out loud so it's well worth sharing and respect to the witty Bhoys on this brilliant Celtic podcast.
"Kris Boyd's face when he saw the footage of Tav being hit with that pie.
"Honestly it makes you sick. These people, we need to rid them from our game. An absolute waste of a good pie.".
Kris Boyd's face when he saw the footage of Tav being hit with that pie.

"Honestly it makes you sick. These people, we need to rid them from our game. An absolute waste of a good pie.". pic.twitter.com/2BrIsksEkX

— 20 Minute Tims Pod (@20MinuteTims) December 4, 2019
Gallagher was that quick he managed to run up the stairs in the south stand, pick up a pittodrie pie, and throw it at Tavernier, had the boy on strings https://t.co/Rmp58ZN80H

— Callum (@CallumMelvin19) December 4, 2019
Now back to matters Celtic, specifically Scott Brown's left peg and his late, late show in the 2-1 win over Hamilton. This led to a lot more excitement than you'd normally expect from a midweek December fixture against a bottom six side.
Add to the mix the Rangers saw their bottle crash from a two goal lead at Pittodrie (I wonder what the aforementioned Kris Boyd will have to say about panicking now?) As they dropped two points with a 2-2 draw against Aberdeen after surrendering a 2-0 lead.
It saw a fantastic ending to a night that looked like ending in extreme disappointment following Hamilton's 90th minute equaliser.
The end result leaves Celtic two points clear and firmly placed to take advantage of the congested fixture list over December. We're now in a position to turn the screw and take full advantage of the Ibrox club's now dented confidence.
There were many positives to take from last night but we also shouldn't lose sight of the fact we have lessons to learn, from what was certainly a very near miss.
Neil Lennon talked of the psychology of the game in his post-match press conference. He mentioned players and supporters alike had one eye on Sunday's Cup Final and it played a part. He was also honest enough to say that he took risks with the starting line-up and accepted the responsibility for the 'flatness' and 'passive' approach on his own team selections.
I'd also hope Lenny considers that it's time to see the back of square pegs in round holes in the wide areas.
James Forrest (7) playing wide on the left slows the play down as he has to turn onto his stronger right foot. It limits your approach when we're trying to get behind a packed defence and turn them. Jeremie Frimpong would also benefit by playing on the right with such an experienced operator and building up a working relationship.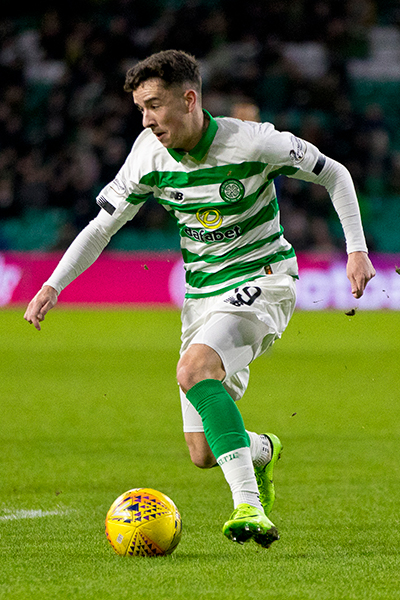 We have Mikey Johnston back and Moi (11) to return on the left and this experiment needs to be a fall back option and not a go to solution. We have enough strength in depth with players barely used such as Sinclair, Shved and Arzani to avoid having to play with an imbalance at that end of the park. What really is the point of having such squad depth if we withdraw to playing players out of position rather than call on these squad players who can fill in as their natural positions?
Come Sunday afternoon and Ryan Christie needs to be in the middle as the Number 10 with McGregor (8) and Brown (6) behind him. Christie's running power, driving at the heart of the Rangers weakest link – their central defenders as well as gaps between full backs and centre half is where we'll see the best of Ryan Christie.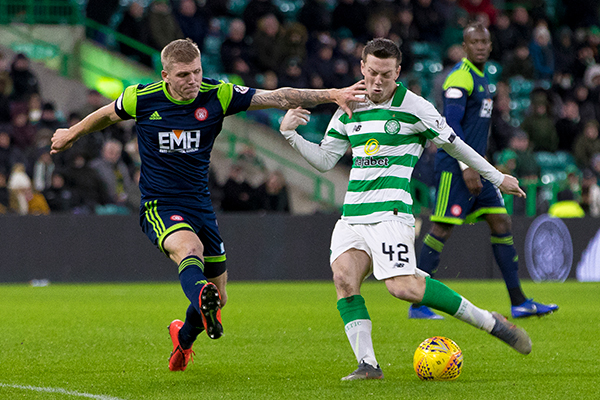 Olivier Ntcham got the opportunity to play and he had a quiet game, his link up play didn't quite come off and although it wasn't a terrible performance it was no more than a 6 out of 10. It was an opportunity to play himself into the side for Sunday but now I don't feel we can risk an impassive performance having an effect on a Cup Final where everyone will need to be on their game.
We also need to ask the question as to why Morgan plays as a striker and Leigh Griffiths remains on the bench? If Griffiths is up to a certain point in fitness then the match sharpness can only follow with games. It begs the question why he's not getting in ahead of Morgan who has performed admirably enough but simply doesn't have the natural striking abilities of Leigh Griffiths. What is going on there?
Hopefully we'll see last night as a near miss and an opportunity to rectify with some minor tweaking thankfully without having dropped any points.
The positives were clear for all to see. The amazing mentality of the team shone through again. There are few sides who would come back from losing a 90th minute equaliser and get a winner, but then few sides have a captain like Scott Brown. He took it upon himself to get into the box and from being pushed wide managed to fashion a fine finish under immense pressure and with his weaker left foot, to win the game and open up that two point lead.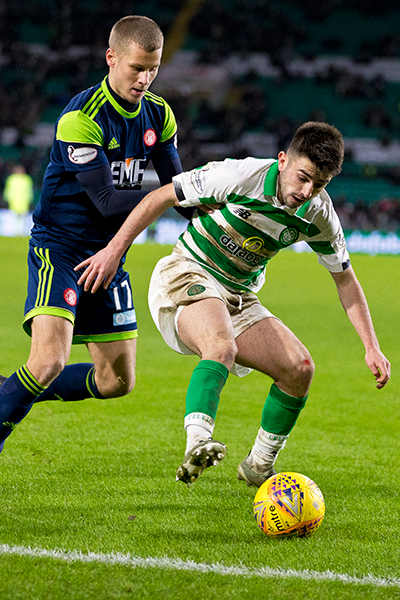 The other big positive yet again has to be Greg Taylor at left back. Our summer signing from Killie may not have that ability to beat a man on his own that Bolingoli has but he is a tireless runner, is much more disciplined positionally and defensively than both Boli and Hayes and he's starting to be an attacking threat down that left side too. His final ball and stamina could be worked on in comparison to Boli but it's fair to say after this week's cup final for which he is cup tied, his performances to date have given Lenny food for thought at left back as the season progresses.
On a night that could have ended far more sombre, Celtic's mentality and inner belief won the day, while our nearest challengers wilted under pressure.
I wonder Kris Boyd has changed his tune on who lacks bottle now? He's probably still too upset about that wasted pie to even think about it today.
Niall J
Also on The Celtic Star…
David Potter pays the biggest compliment of them all to Scott Brown
Sign of The Times – "Craig Brown leaves it late to rescue champions Celtic"