IN The Celtic Star Podcast Extra Kevin Graham had a very interesting chat with Alan Morrison, the man behind Celtic by Numbers. Alan provided a statistical analysis of the season so far, and made the point that this season could yet to prove more successful than last year.
If Celtic can retain their Treble Celtic then domestically it is like for like.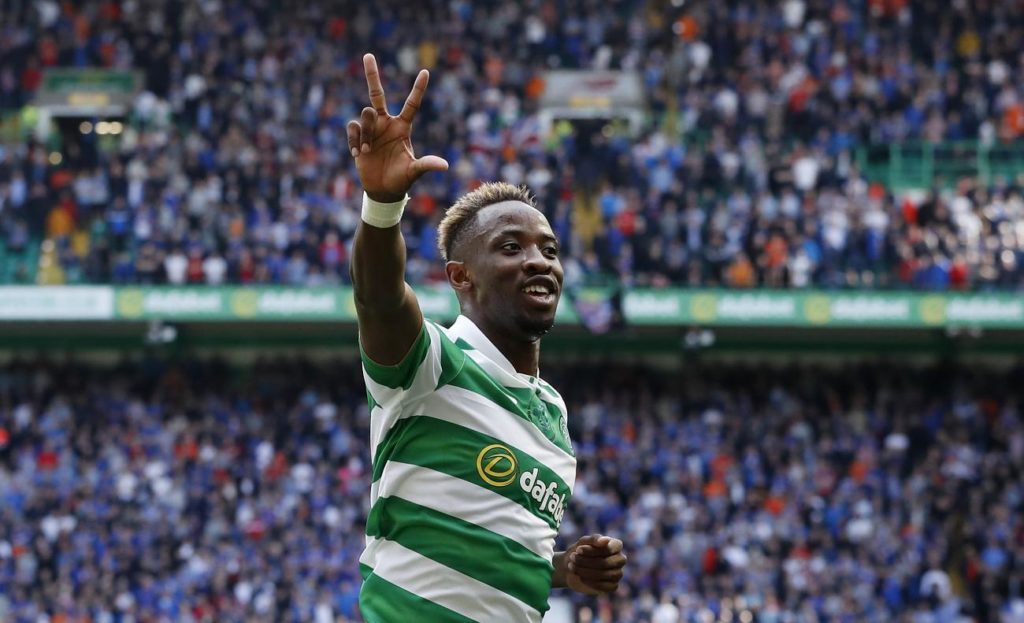 However we progressed beyond the Group stages in the Champions League this season by finishing third in the group and in so doing achieved one of the squad targets for the season by remaining involved in European competition beyond Christmas.
There's not much glory in that granted, but it is a small step in the right direction. The truth is those European wounds will take quite a while to heal.
Last night PSG, who pumped us home (5-0) and away (7-1) and who many of us thought were favourites to win the competition, were eliminated after Real Madrid completed a home and away double in Paris to take their place in the quarter final.
So PSG were not super-human after all.
So much for their cheque book.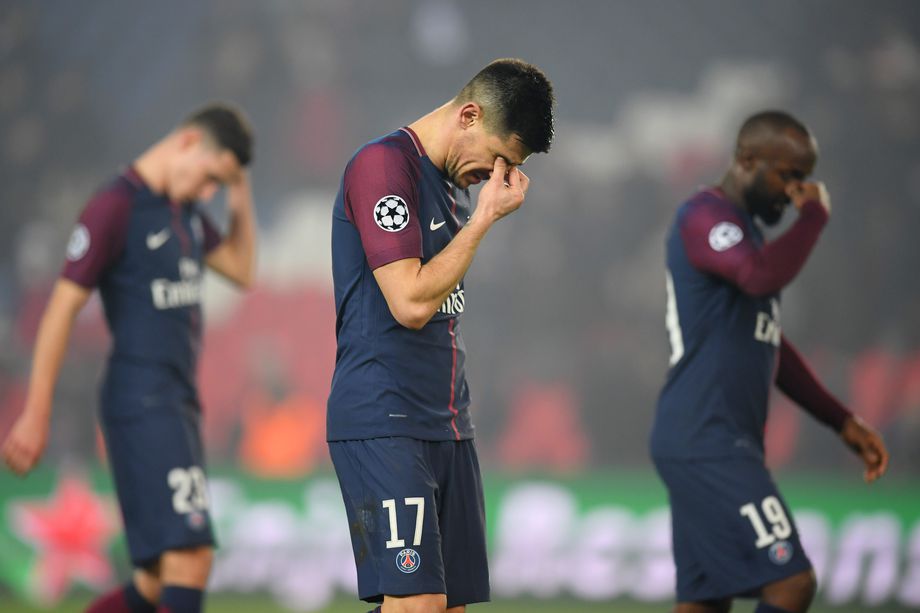 CELTIC BY NUMBERS
Anyway, back to Kevin's chat with Alan Morrison. They discuss the pros and cons of Celtic's attacking options and the different style of play we are seeing this season compared to last – when there was real glory to be had supporting Celtic. Alan points out the season why this has happened
It is however what they were saying about the Celtic defence that is particularly interesting as we look ahead to our trip to Ibrox on Sunday.
We will consider what is said on the Podcast Extra and look at the likely Celtic team Brendan will select on Sunday and tell you why we think he will make a selection or two that will annoy some in the support.
Hopefully he'll be right and that's why he's paid the big bucks!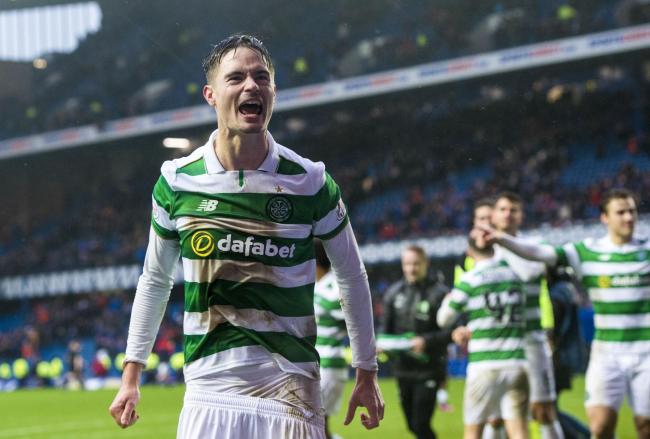 A BLESSING IN DISGUISE
First on the agenda is the absence of the Mikael Lustig who is suspended after his red card at Pittodrie. The Swedish right-back helped himself to a goal in the second visit to Ibrox last season but this time he'll be a spectator – watch out for him in the Broomloan folks!
Losing Lustig is not really a big concern for Brendan Rodgers given the formation he is likely to deploy and the personnel he will have at his disposal. And when Alan gives us the stats on the chances that are created against Celtic and where they come from, losing Lustig for this match might work in Celtic's favour.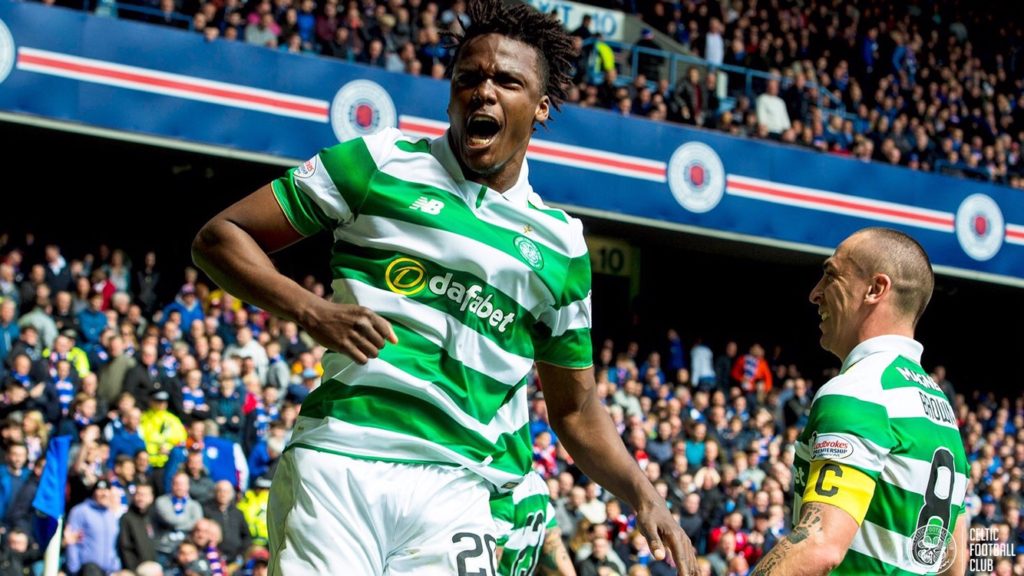 THE SIMUNOVIC v BOYATA  DEBATE
It's a debate that has been had on many a supporters bus returning home after a match, is Jozo better than Boyata? A majority tends to think that he is. I would hold my hands up and say that I prefer Dedryck Boyata and recall Brendan describing him as 'our best centre half'. Kevin though is in the Simunovic camp and puts his preference to the test when speaking to Alan. The numbers seldom lie and Celtic by Numbers NEVER lies so when he says Boyata comes out on top we should believe him.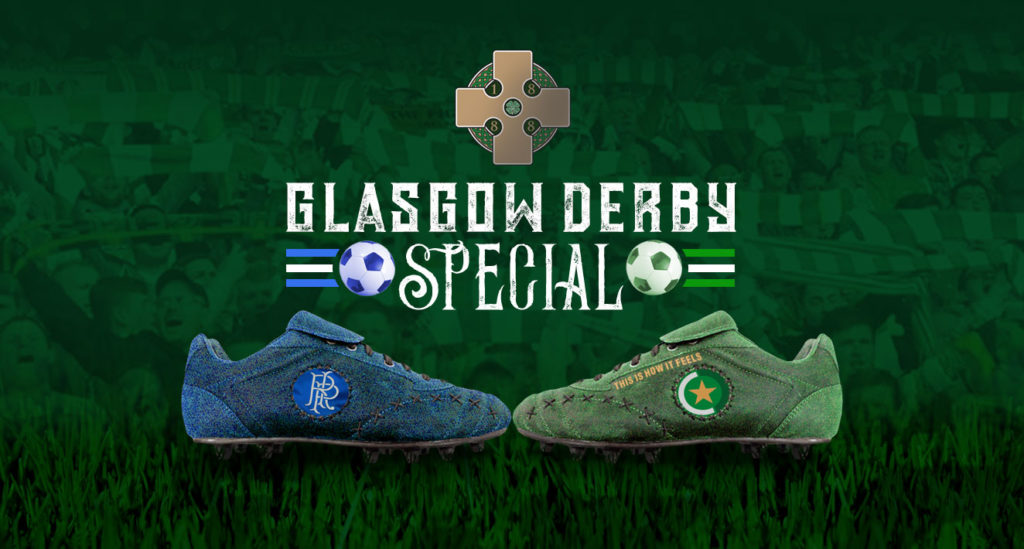 It's a funny thing these personal preferences. If the right back makes a mistake (Lustig) then we'll let him know about it. If the left back makes a similar mistake (KT), there's a polite, slightly awkward moment, that soon passes. The support are more embarrassed than the player! It's the same with the central defenders although to a lesser extent. But Jozo is afforded slightly more leeway that Boyata, who can make one wayward pass and some are on his back big-time. It can ruin a player that.
Anyway regardless of which one is better than the other, these two are BOTH likely to play on Sunday. Boyata is fit again and has targeted this match for his return. If he is fit enough Brendan will want 'his best centre half" in the side.
And Boyata scored there last season, remember.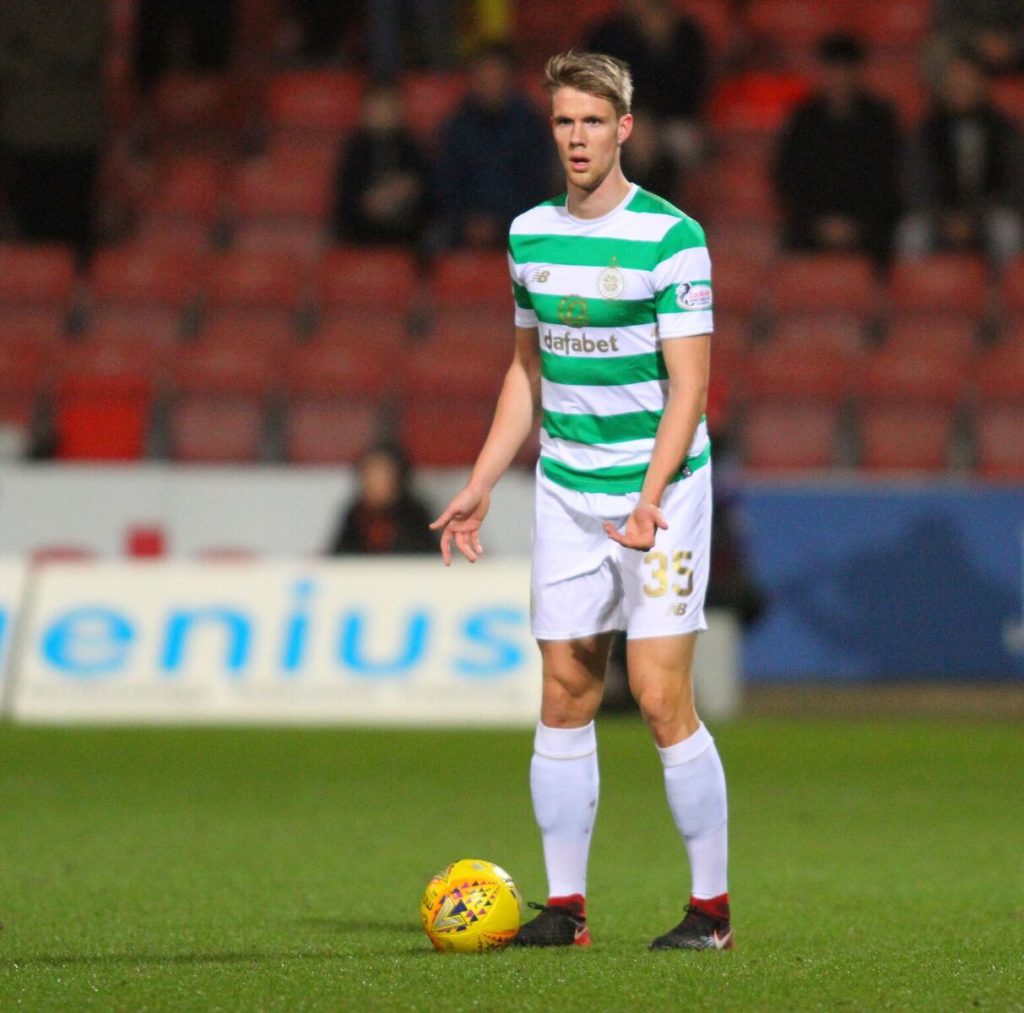 AJER, UP THERE WITH VIRGIL VAN DIJK
The third man in the back three will almost certainly be Kristoffer Ajer. You know he is good. I know that he is good but consider this, Celtic by Numbers have been comparing the stats for ALL Celtic defenders over the past number of years and not surprisingly Virgil van Dijk, the player Liverpool recently paid Southampton £85million for, came out well ahead of every other Celtic defender.
None have come anywhere near being as good as Virgil van Dijk until Kristoffer Ajer broke into the team.
His stats are on a par with those achieved by the big Dutchman! So, while it is early days, we seem to have a really special player on our hands in Ajer.
So that's the likely back three sorted for Ibrox, with Dorus de Vries, in goals. With him we can only hope for the best.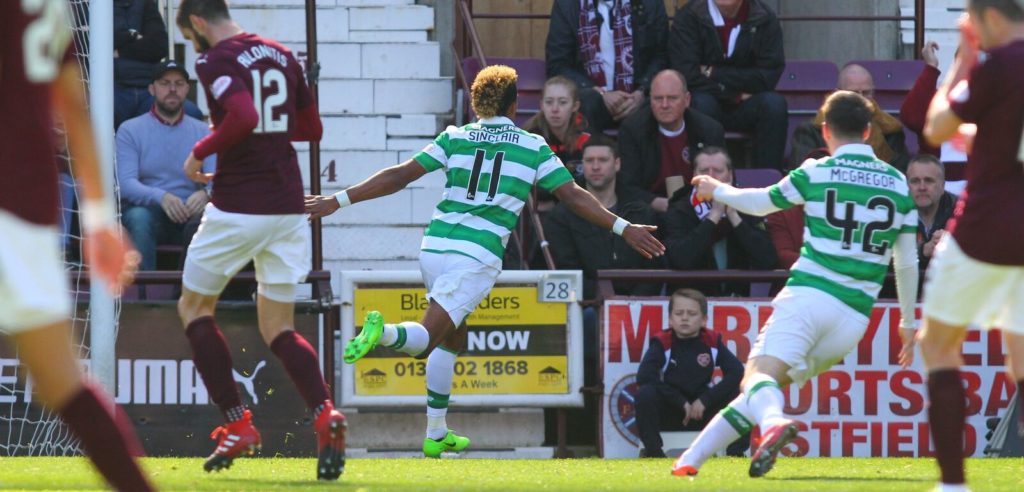 TAKING INSPIRATION FROM HEARTS AWAY
James Forrest and Kieran Tierney will sit deep in the wing back positions that Brendan likes and Ntcham and the captain Scott Brown will look to boss the centre of midfield.
Rangers have only ever taken something from Celtic at Parkhead because they could sit in and bring Celtic on to them. It didn't work the first time when they shipped five, but it has on the subsequent visits, which both had Murty in charge.  At neutral Hampden they have been relatively cautious in their approach and succeed in keeping the score down in defeat. At Ibrox though, where they have to come at us, Celtic have been able to punish them every singe time, scoring 9 goals in the 3 matches we've played there.
The more confident their support are ahead of the game the better it will be for Celtic on the day.
Aberdeen tried to sit in at Pittodrie last week, so the ONLY team domestically that has opened up and had a go at us all season was Hearts in December and they certainly got their reward.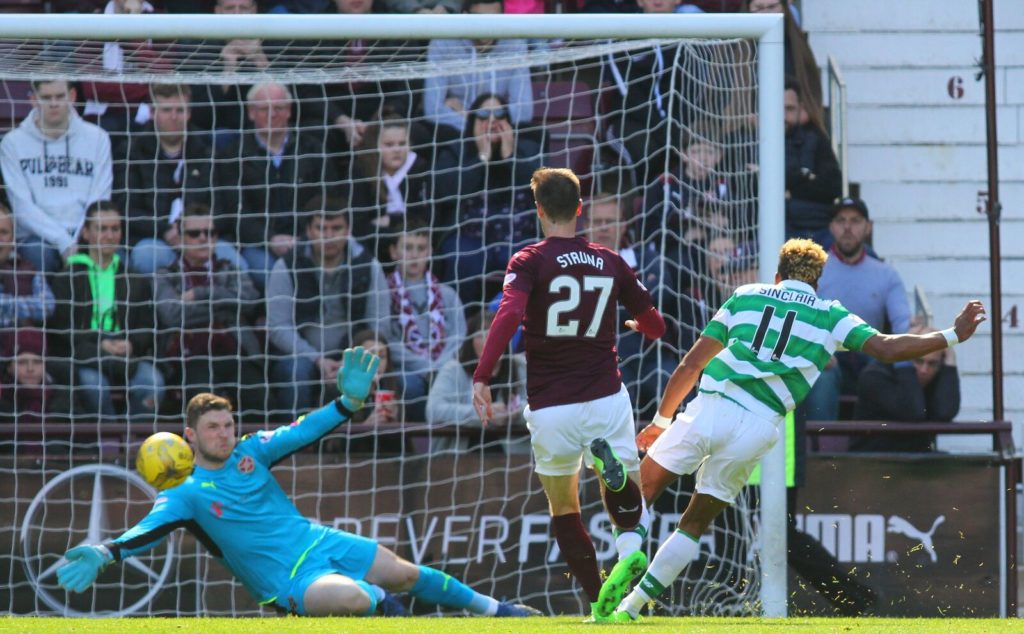 There were reasons for that defeat though. Celtic looked tired, the unbeaten run was becoming something of a burden, the grueling Champions League campaign was being felt in the players' legs, the poor condition of the narrow pitch, players out of sorts and so on. Hearts got lucky, deserved to  win and fair play to them. They had tried a similar approach last April and came at Celtic in the openings stages. Celtic though picked them off all afternoon and won 5-0.
If Rangers are thinking that the December defeat at Tynecastle gives them hope, then Brendan Rodgers will look to the game that Celtic wrapped up the title. And Celtic scoring 5 at Ibrox is something we could get used to!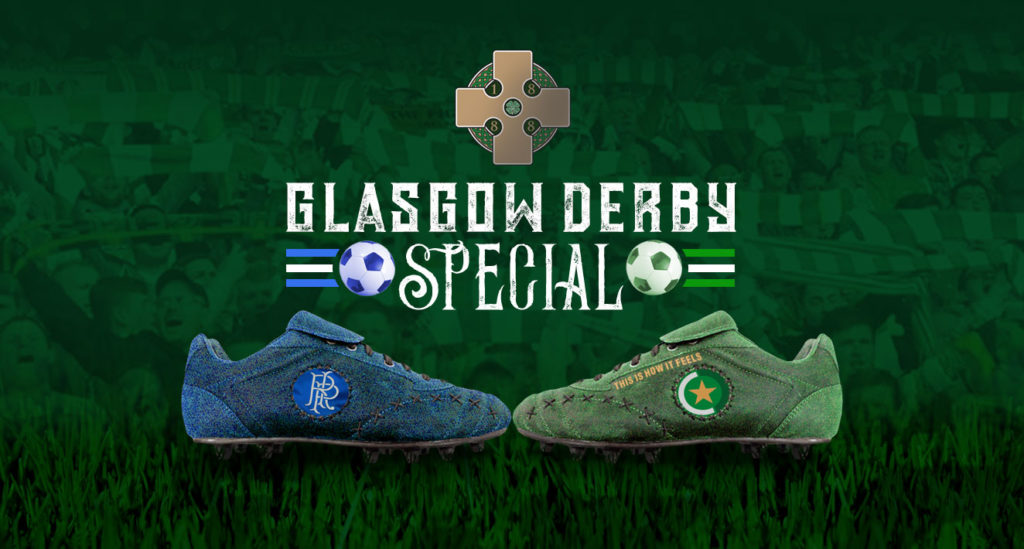 IT COULD HAVE BEEN 7-1
The offensive approach that a confident Rangers side will take, makes this game perfect for Scotty Sinclair.
On the podcast Kevin and Alan discuss Sinclair's apparently poor season – yet he is our top goalscorer. Alan points out that so much of what Brendan Rodgers' side achieved last season came down the left hand side and notes that it is only logical that other sides would try to close this danger down this term.
Scotty Sinclair, it seems, is a marked man.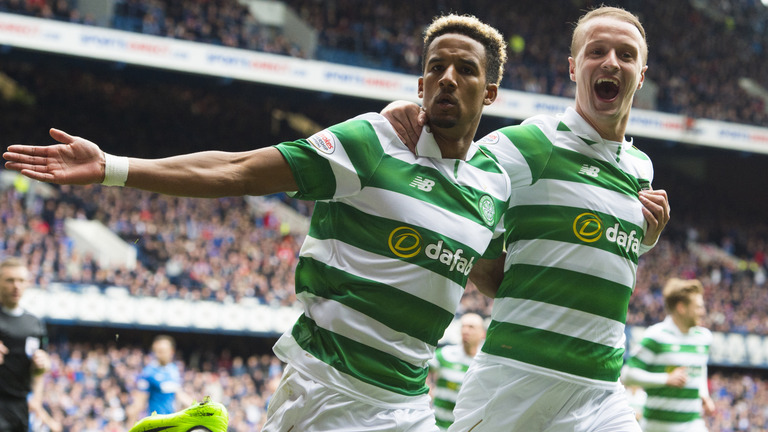 We were talking earlier about Jozo's popularity among the support. A factor in this is undoubtedly THAT tackle in the 5-1 game last season that sent Kenny Miller into orbit. If you recall, Celtic broke up the park and Scotty Sinclair had two relatively easy chances to score. In Brendan's book, The Road to Paradise, he mentions how disappointed Sinclair was that day because he feels he should have had a hat-trick, rather then the penalty he converted after Paddy Roberts was up-ended.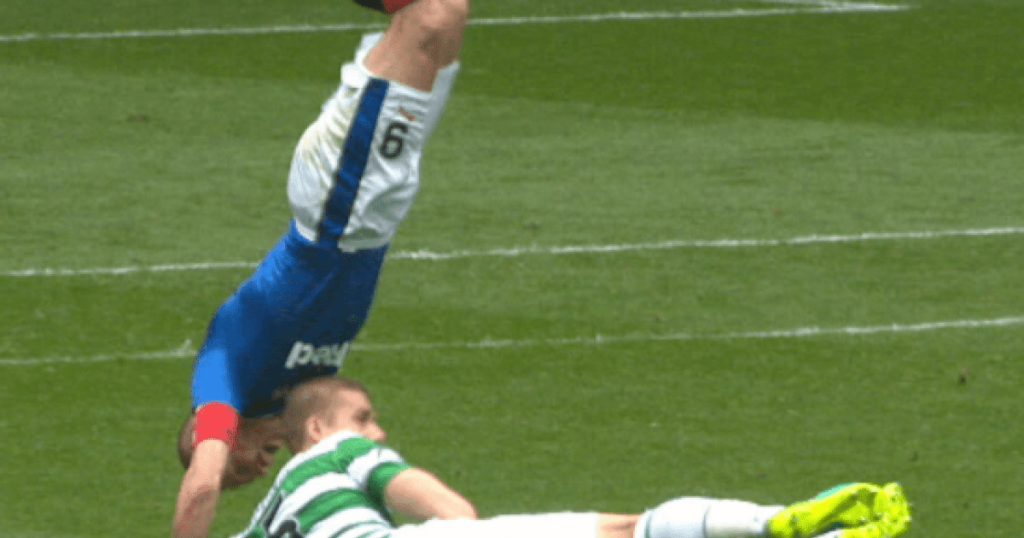 Just think it could have been 7-1!
The point though is the space that Celtic will get on Sunday, because Rangers push on, will be perfect for the 'fast as lightning' Scotty Sinclair.
And that's exactly the reason why Brendan will have him in the team.
The other two offensive players in the side are likely to be Tom Rogic, who opened the scoring in the 2-0 win on this ground earlier this season, and Moussa Dembele, who loves scoring against Rangers and has done so home, away and at  the neutral national stadium.
Both Rogic and Dembele are a real threat to Rangers but neither has Sinclair's pace.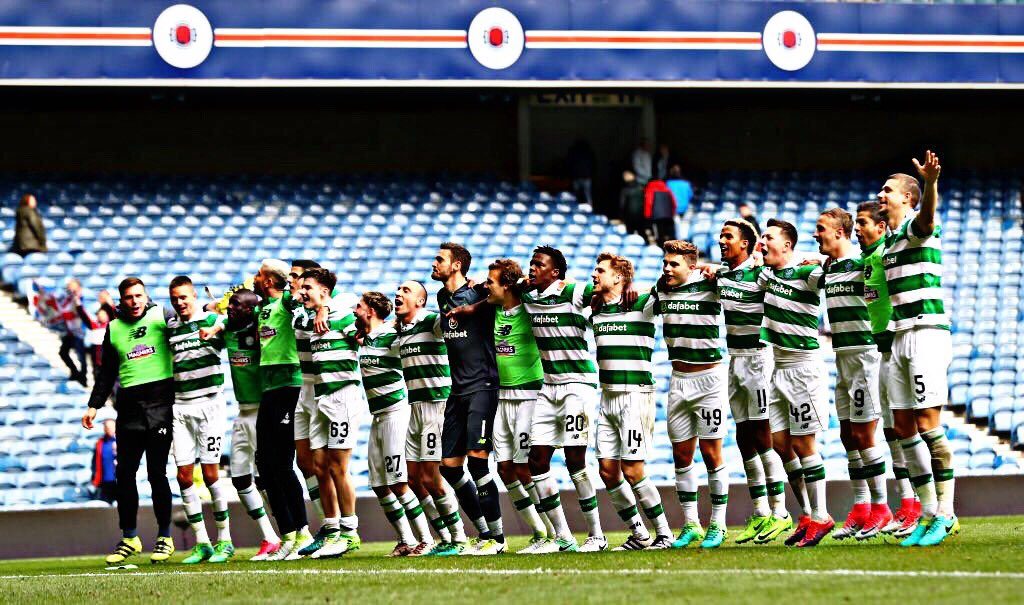 THE CELTIC TEAM FOR SUNDAY
So there we have it, the Celtic team that we think Brendan will play is as follows:
De Vries
Ajer, Boyata, Simunovic
Forrest, Ntcham, Brown, Tierney
Rogic, Dembele, Sinclair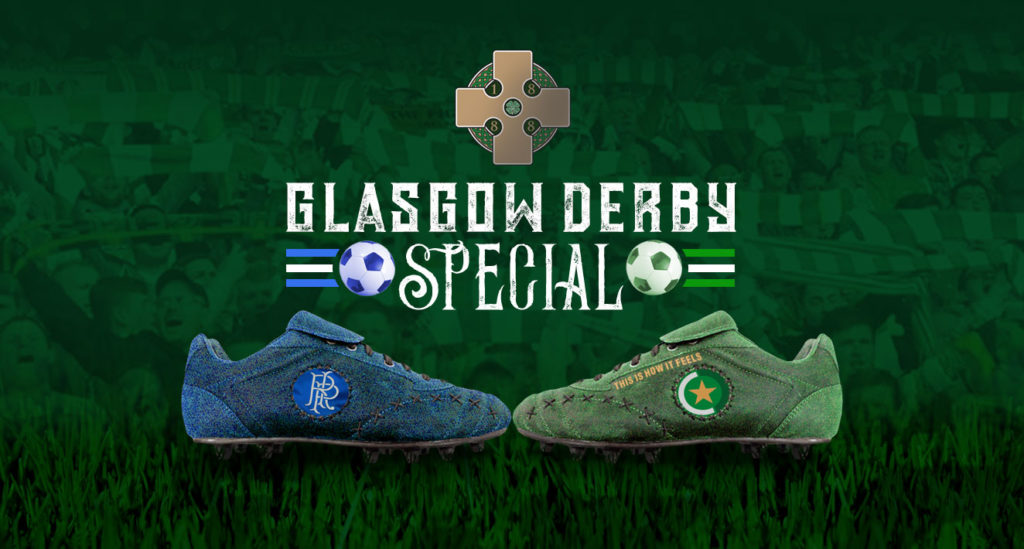 Here is The Celtic Star Podcast Extra with special guest Alan Morrison. Alan, as we have stated, is the man behind the Celtic By Numbers website.
Subscribe to the podcast via iTunes or Acast or Download or listen below
If you fancy writing for The Celtic Star we'd love to hear from you. Simply drop an email to editor@thecelticstar.co.uk and we'll get right back to you. You can write about any Celtic related subject you like! It's just got to be about Celtic (we're obsessed!).